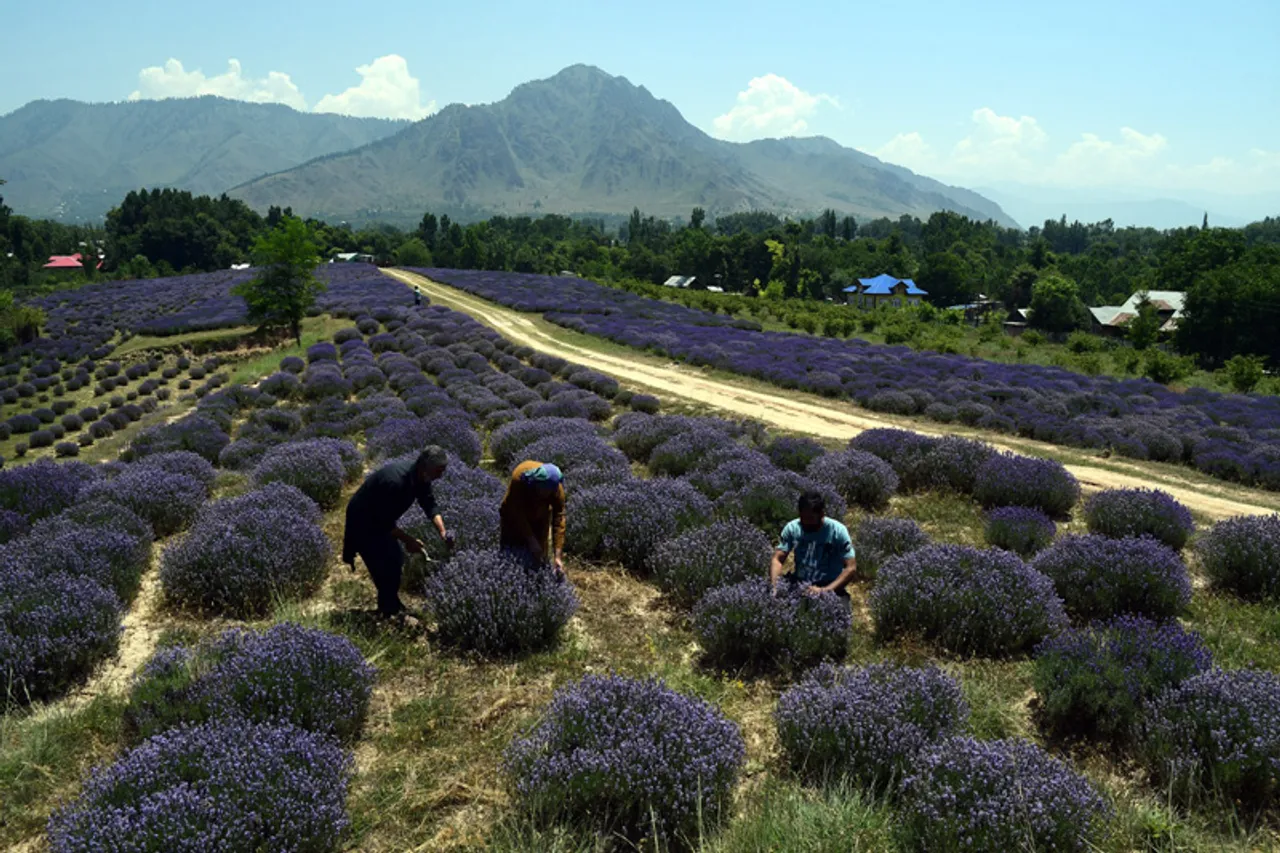 The Serhama lavender farm in South Kashmir's Anantnag district has become a popular visitor attraction during the bloom time. Every morning, Sabzar Ahmed, a gardener, and his colleagues guide visitors to the best spots for clicking breathtaking pictures on the farm.
"The farm wasn't known till last year when some visitors posted its pictures on social media. Around 8 hectares of land is used for cultivating lavender which gives a breath-taking view to the visitors," says Sabzar. 
Across the union territory of Jammu and Kashmir, thousands of farmers are shifting to lavender cultivation which has proved very profitable for them.
According to government estimates, around 5,000 farmers and entrepreneurs in J&K are cultivating lavender on more than 200 acres of land. It has increased their incomes 4-5 times.
Purple revolution
Farmers traditionally grew cereals such as maize, rice and millets but did not earn much. But with lavender cultivation, their earnings have gone up several times.
Also Read: Why is Kashmir's 800-year-old apple economy in shambles?
Lavender cultivation was introduced in 2016 in several districts such as Doda, Bhaderwah, Rajouri, Ramban and Pulwama.
Dubbed the 'Purple Revolution', it is an initiative of the Central government to improve the incomes of farmers in J&K. Many farmers have given up traditional farming and switched to lavender farming for profitability.
Farmers are happy with the farming of aromatic plants such as lavender under the Aroma Mission.
"We are very happy with switching to lavender farming, as traditional farming was not profitable for us. Lavender farming is not dependent on rainfall also," says Nisar Ahmed, a lavender farmer from Anantnag.
Also Read: At the mercy of nature, middlemen and politics, Kashmir's saffron growers plunge into losses
Lavender Cultivation was launched under the Aroma Mission in 2016. Pic: Wasim Nabi 
"Many farmers in and around south Kashmir have adopted this farming," he adds.
He says farmers get about 40 litres of lavender oil from lavender grown in one hectare of land.
Ahmed says traditionally farmers would earn Rs4,000-5,000 from crops grown over one kanal of land. However, after shifting to lavender cultivation, they have seen a spike of four to five times in their incomes. The oil extracted from the lavender increased from the second year of cultivation and farmers are earning between Rs15,000-20,000 from one kanal," he says.
He says one litre of its oil fetches Rs 20,000.
Lavender farming has not only helped increase farm incomes but also provided employment to women farmers who are growing the crop and earning a steady income.
Also Read: At the mercy of nature, middlemen and politics, Kashmir's saffron growers plunge into losses
Apart from lavender oil, lavender water is also obtained while processing the oil and it is used to make incense sticks. Hydrosol, which is formed after distillation from the flowers, is used to make soaps and room fresheners.
The aroma of success
The lavender plant grows well in a mild cold climate in summer. The plant grows in temperate areas and is drought-resistant. It is a low-maintenance plant and does not require much water or fertilizer.
A single lavender plant bears flowers for 15 years. Oil is extracted from the second year of cultivation.
The Lavender Revolution was launched in 2016 under the Council of Scientific and Industrial Research's (CSIR) Aroma Mission.
The mission aims at encouraging farmers to grow aromatic crops domestically and move away from imported aromatic oils to homegrown varieties. The aromatic crops are used to make essential oils that are in great demand by the aroma industry.
Under the mission, the first-time farmers were given free lavender saplings while those who had cultivated lavender before were charged Rs 5-6 per sapling.
Also Read: Kashmir: Visuals of cherry harvesting as government airlifts fruit from the valley
The Council of Scientific and Industrial Research (CSIR) and the Indian Institute of Integrative Medicine, Jammu (IIIM Jammu) are the two agencies under whose aegis the mission is being implemented.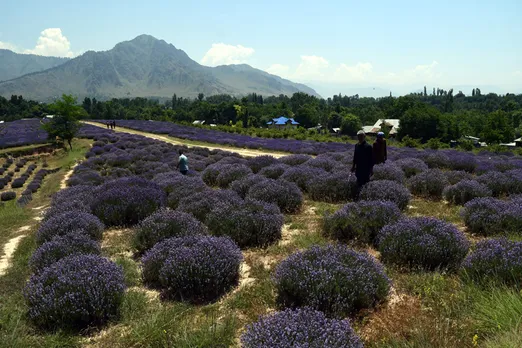 Farmers' incomes have gone up four to five times due to the high prices fetched by lavender. Pic: Wasim Nabi 
The two institutions will help farmers through various interventions and hand-holding in cultivation, processing and product development to boost rural employment and incomes.
An official from IIM-Jammu says farmers get help from the institution to sell their produce. The produce is mainly procured by private firms.
Lavender has been picked as the brand product for Doda district in the Jammu region under the centre's 'One District, one Product' scheme.
Doda is leading the way in cultivation and four distillation units have been set up by CSIR-IIIM Jammu in the district. Farmers from remote areas of the district bring their crops to the units for the extraction of lavender oil.
(Wasim Nabi is a Srinagar-based freelance multimedia journalist).
Also see: Repora: Visuals from Kashmir's grape village