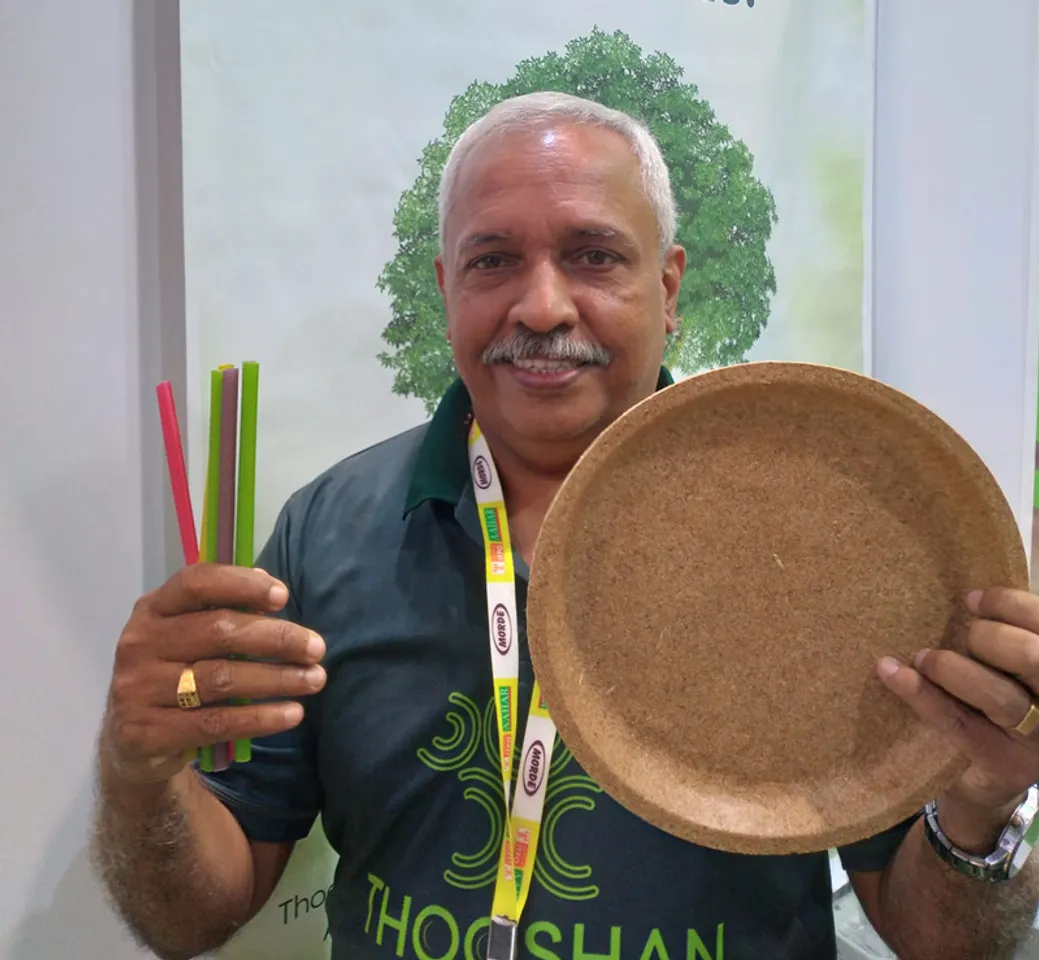 wp:html /
Geology, Railway Territorial Army, banking, insurance and biodegradable cutlery – it is the course Vinayakumar Balakrishnan's life has taken after he completed his post-graduation in Geology in 1988 from the University of Kerala. The turning point, however, came in 2013 when he saw an edible and biodegradable plate at an exhibition in Dubai.
"I enquired about the plate and wrote to the Polish company, which was its manufacturer. I said there is a lot of waste in India that could be used for making biodegradable plates. But I never heard back from them," recalls Vinayakumar, who was then working as the CEO of Island Life Assurance Company in Mauritius.
Today, he is the Founder and CEO of Kerala-based Thooshan.
Food waste to counter plastics
Having spent a large part of his life working in leadership roles in the banking and insurance sector, Vinayakumar decided to return to India in 2013 and began research on food waste that could be used to make biodegradable plates.
"I researched on using rice bran, corn, wheat bran and husk. I found that rice bran has oil content so the plate will get spoiled. I wanted a trusted partner for my work and approached the Council of Scientific & Industrial Research (CSIR)'s National Institute for Interdisciplinary Science and Technology (NIIST) in Thiruvananthapuram," he recalls.
Also Read: Neerja Palisetty's Sutrakaar: Weaving paper yarn to make ecofriendly handicrafts
"They agreed to work on it. I funded the project from my income, gave the machinery and in about 1.5 years, they developed the technology to make biodegradable plates with wheat bran," he adds.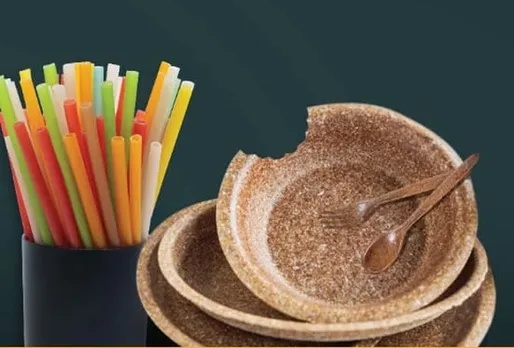 The next challenge, however, was to make the machinery that could churn out the plates. "I got the various parts developed through eight factories. The fully-integrated robotic plant is 100 percent Made in India," he says.
He realised that one, the exact amount of bran needs to be put into the machinery for a plate to be made. A gram extra or less could lead to the plate not getting made. Two, the moisture content and quality of bran differed from state to state and gave different results.
"There are seven parameters and only when all of them are met can a plate be made in the machine. It wasn't easy. It took us one year to fine-tune it and we could make the first plate only after about four years of working from the scratch," he says.
Thooshan has been incubated at three prestigious institutes – Indigram Labs Foundation, Delhi; Kerala Agriculture University and IIT Kanpur. "We are the second company in the world to have this technology," Vinayakumar says.
Also Read: How Coimbatore's organic cosmetics start-up reached 30 countries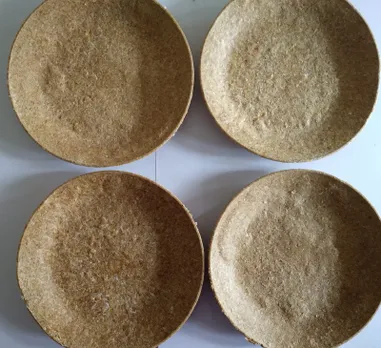 On August 17, 2021, Thoosahan went live. Vinayakumar's wife Indira also works with him at Thooshan, a name derived from 'thooshanila' or banana leaf used to serve food in Kerala and other states of India.
Thooshan makes plates, bowls, and straws from natural wheat bran and rice bran, which makes the cutlery edible. "But you don't necessarily have to eat them," he says.
According to estimates, producing just one pound of plastic cutlery can take up to 78 litres of water and release 2.5 lbs (1.1 kg) of carbon-di-oxide. This plastic is difficult to recycle and ends up choking animals and polluting water bodies and soil.
Also Read: Tamul's areca nut leaf plates travel from Assam to the world as plastic ban gets stronger
The making of edible cutlery
Biodegradable cutlery is a safer alternative. For its eco-friendly products, Thooshan has received the United Nations Development Program award under Green Innovation Fund, supported by Kerala Start-up Mission and Haritha Kerala Mission 2021. It also received the RKVY RAFTAAR grant instituted by the Union Ministry of Agriculture, 2021, apart from the Idea grant by the Kerala Start-up mission and Innovation grant by the Kerala start-up mission 2021.
The dishware is microwave-safe, has a long shelf life and is fungus and bacteria-resistant. Thooshan sources bran from mills in Kerala. "About 7,000 tons of bran is produced in Kerala every month after processing crops. It is mostly used as cattle feed every month. We procure it from mills," he says.
The plates are available in two sizes – dinner plates and side plates. Thooshan also makes biodegradable straws using broken rice.
This broken rice is procured from mills where paddy is converted to rice. This waste is otherwise used to make beer. The straws from wasted rice flour are made through contract manufacturing. "We procure one lakh straws per day," Vinayakumar says.
Also Read: Udaipur's Jovaki empowers tribal women by processing wild fruits & vegetable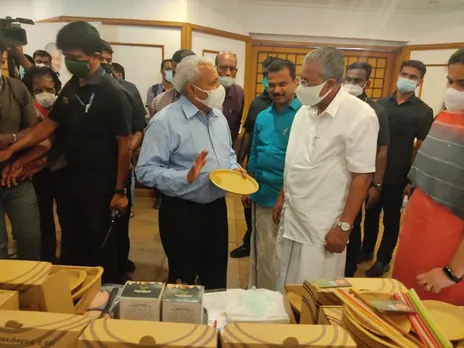 The products are available on Amazon and through the Thooshan website. "We have distributors in each district in Kerala. And there is another distributor in Bengaluru. We want to increase the manufacturing capacity before expanding to other markets," he says.
The straws can be ordered in bulk at just a rupee per piece and otherwise cost Rs5 per straw. "We are selling straws in Europe as well. Exports of plates can start only after we second manufacturing plant comes up," says Vinayakumar.
The startup is planning to set up its new plate-making plant in the next six months. "We are targeting to manufacture one lakh plates per day to meet the growing demand," he says.
Also in the pipeline are spoons, forks, cups, knives and containers which will be launched in August this year.
Also Read: GreenKraft: taking banana bark baskets made in Madurai to Sweden's IKEA & beyond
Bioplastic is a substance made from organic biomass sources, like sugarcane, unlike conventional plastics made from petroleum. "We have received all lab reports and are now ready for manufacturing. A separate unit in Kerala is getting finalized for production of spoons etc," he says.
Vinayakumar has been receiving a lot of inquiries about setting up a plant in Russia, Wales and Oman. "We are in discussion. I am looking for scaling up as our idea is to make it a very affordable product. That's the only way to get rid of single-use plastic cutlery," he adds.
(Rashmi Pratap is a Mumbai-based journalist specialising in business, financial and socio-economic reporting)
Also Read: Vistaraku: How Telangana's start-up is taking traditional Indian leaf plates to the world