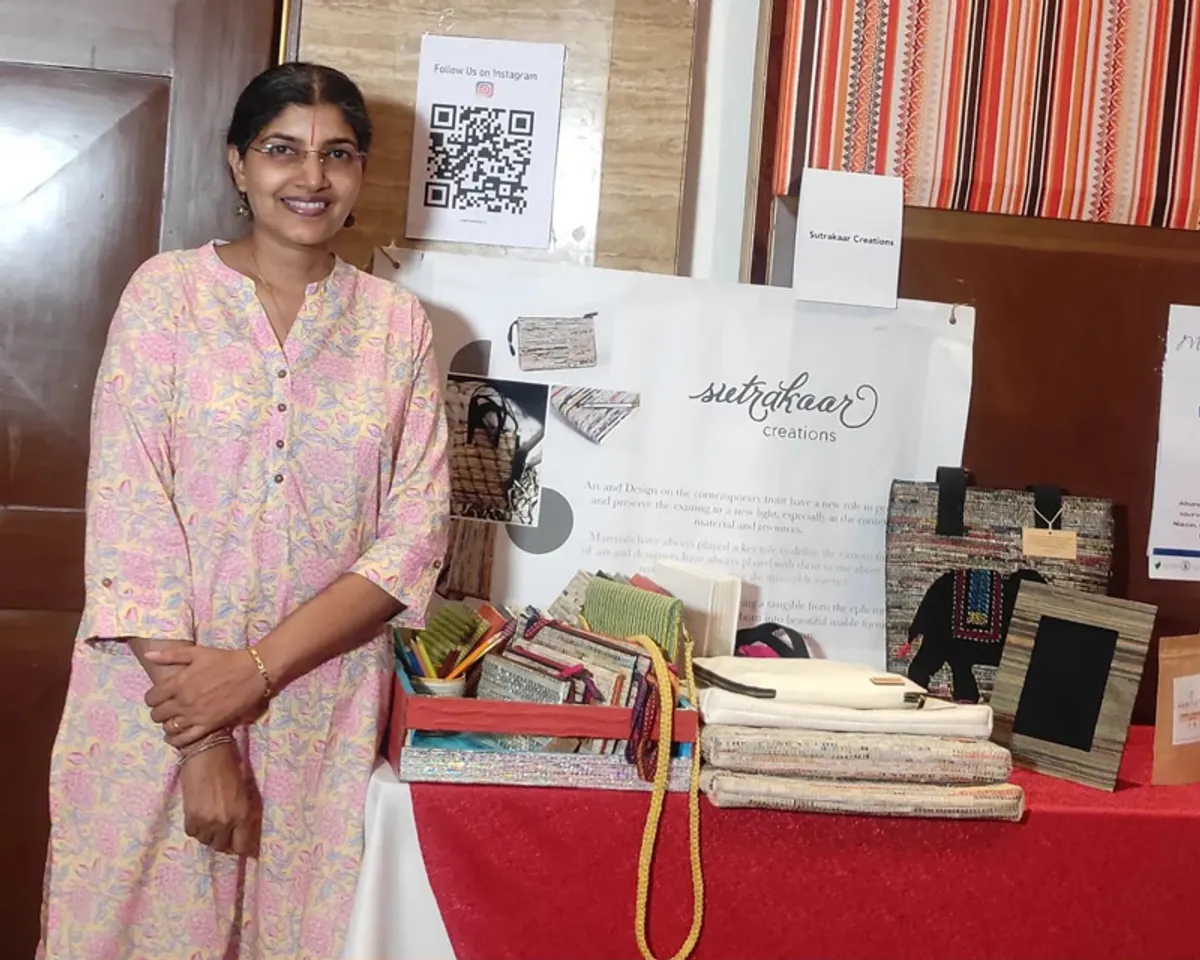 wp:html /
A small group of homemakers work with thin strips of discarded paper on a sunny afternoon in Jaipur. The paper strips are twisted and then spun into threads using a spinning wheel or charkha, which Mahatma Gandhi used as a symbol of self-sufficiency and sustainability.
The same principles drove Neerja Palisetty to set up Sutrakaar, a social enterprise that uses discarded paper and natural materials to handcraft sustainable home décor items, stationery, fashion accessories and other products while empowering artisans.
Being born in a family of weavers from Ponduru village in Andhra Pradesh, Neerja was always clear that she wanted to work in the handloom sector and towards the upliftment of weavers and women. "But I was not sure of the medium to use. Paper can be upcycled and it just stuck with me as it could be used to create ecofriendly products that also reduce carbon footprint," she says.
Upcycling paper to save the environment
Pulp and paper is the third largest industrial polluter of air, water and soil. The annual consumption of paper in India is around 13 million tonnes of which, only about 25 to 30 percent is recycled, according to the Indian Agro & Recycled Paper Mills Association. This means that about 70 percent of the waste paper does not come back to the paper mills for recycling.
Also Read: How Chennai's Walk for Plastic is recycling waste to fund education of underprivileged children
Her enterprise Sutrakaar sources discarded paper from vendors in Jaipur, and handmade paper mills in Sanganer for making paper fabric that is turned into handicrafts.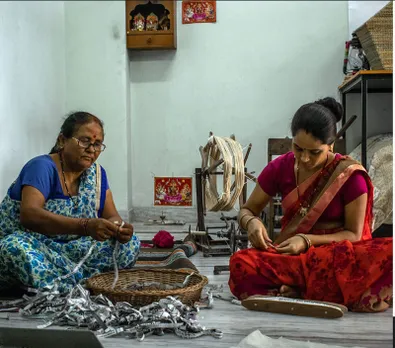 By not sending this paper to a recycling mill and using it as it is, the green enterprise saves 2 to 4 litres of water and also electricity that would be used at the recycling unit.
Also Read: Vistaraku: How Telangana's start-up is taking traditional Indian leaf plates to the world
The idea is to juxtapose crafts with reusable waste materials to promote zero-waste and craft empowerment. Moreover, she is providing livelihood while recycling paper.
Sutrakaar is now trying to be a zero-waste enterprise by using wasted materials in art installations done by Neerja.
After she started Sutrakaar in 2017, the first year went into experimentation and deciding what products could be made using recycled paper fabric. "It was all about experimenting with fabrics of different textures, weaves and weight and how they fall. Then we worked on products that could be made out of it," says Neerja, 47.
Also Read: From bamboo toothbrushes to probiotic dish wash bars, Chennai's Goli Soda takes sustainable living to the next level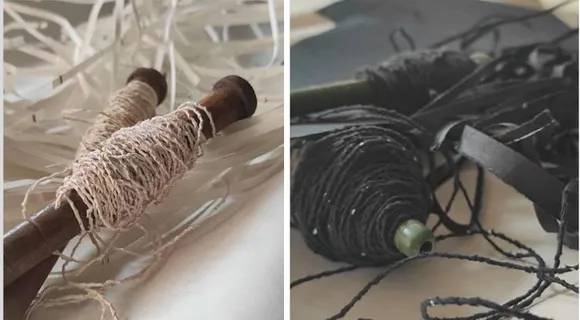 Prior to that, she spent 17 years working as a merchandiser at Tirupur (Tamil Nadu) and as a design educator in Coimbatore (Karnataka) and later in Jaipur.
The process of weaving paper fabric
It was in the Pink City that she saw the artisans in nearby villages and decided to work with them using an unconventional medium like paper.
At Sutrakaar, she started with recycled paper fabric handbags and gradually expanded the product range to include laptop bags, file folders, pen stands, lamps, lampshades, cushion covers and rugs etc.
Neerja says the process of making paper fabric starts with the procurement of discarded paper which is supplied to women spinners. "I have trained some housewives and provided them with a charkha. The paper can be twisted by hand and the charkha gives it a finer finish," she says.
Also Read: Pattachitra: Odisha's Raghurajpur turns hub of recycled art as artisans combine 12th century craft with sustainability
Since most of them are housewives, they don't work more than four hours a day. "We have a 4mm yarn and a 2mm yarn that is finer but tears off easily," Neerja points out.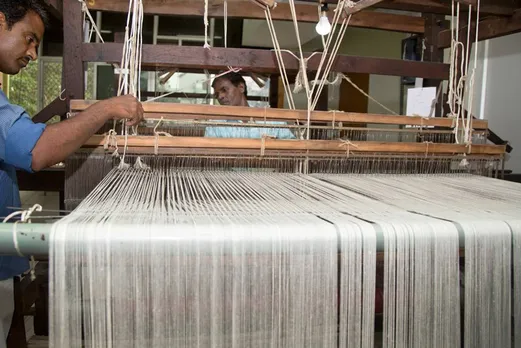 This paper yarn is then woven with natural materials like Ahimsa silk or cotton to create paper fabric. The weaving is done on shuttle looms by weavers around Jaipur.
"Weaving takes a lot of time due to the use of paper yarn. A skilled weaver can weave 2 metres of paper fabric in eight hours against 8 to 10 metres of cotton fabric during the same time. So the production process of paper fabric is slower and tedious," she explains.
Also Read: Pattachitra: Odisha's Raghurajpur turns hub of recycled art as artisans combine 12th century craft with sustainability
The spinners are paid at the end of the month depending on the amount of yarn spun while weavers are full-time employees and paid every month, Neerja says.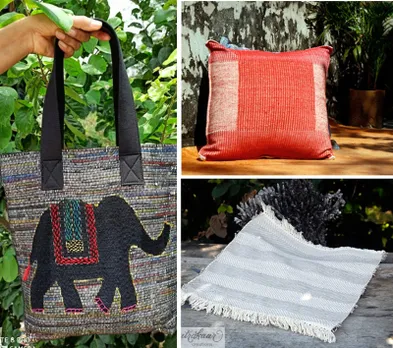 A cushion cover made by weaving paper yarn with Ahimsa silk and cotton yarn costs Rs 1500, rugs are priced at Rs 2500 per piece and an envelope clutch comes for Rs 2,000. The lowest-priced products are diaries priced at Rs 350 per piece while a big lamp shade can cost up to Rs 8,000. "We can customise designs as per requirements," says Neerja, who also does costlier art installations.
Also Read: Abira: Pune's all-women enterprise where slum dwellers handcraft ecofriendly products for global brands
"Like if your bag gets wet, just dry it in the sun. There will be no disintegration of the product," she says.
The challenges of being sustainable
But in a country where plastic bags are synonymous with durability, it has not been easy for Neerja to find buyers for her products that are upcycled, eco-friendly and sustainable. "We are still searching for markets and buyers who understand handmade and ethical. Many don't buy due to prices. So I am still facing the challenges of marketing," she says.
Also Read: Meet Bandana Jain, who uses cardboard to make furniture, sculptures and more
Locally, Sutrakaar's buyers are environment-conscious people who appreciate the rationale and hard work behind the products. "We are also reaching out to corporates who can buy them for gifting purposes," she says.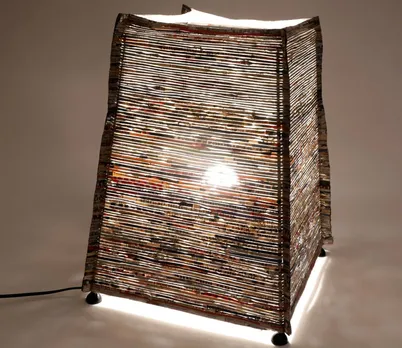 Sutrakaar sells through its own website, other online marketplaces as well as retail stores in Jaipur. "We have exported products to Milan in Italy, the USA, Netherlands, Tel Aviv and some other countries," says Neerja, who is now exploring the German market for sales.
Also Read: GreenKraft: taking banana bark baskets made in Madurai to Sweden's IKEA & beyond
The pandemic has also affected business. "In 2018, we began participating in exhibitions and we created a wave through our paper weaving for its uniqueness. But by the time we went international, the pandemic struck. Now we are picking up again," she says.
However, post the pandemic, people's appreciation of upcycling has increased which augurs well for Sutrakaar. "I am seeing a rise in sales every month and people are willing to pay for textures are such that they have never seen and felt before," she concludes.
(Rashmi Pratap is a Mumbai-based journalist specialising in business, financial and socio-economic reporting)
Also Read: Surat: 22-year-old engineer's startup recycles temple flowers into soaps, colours, candles & compost