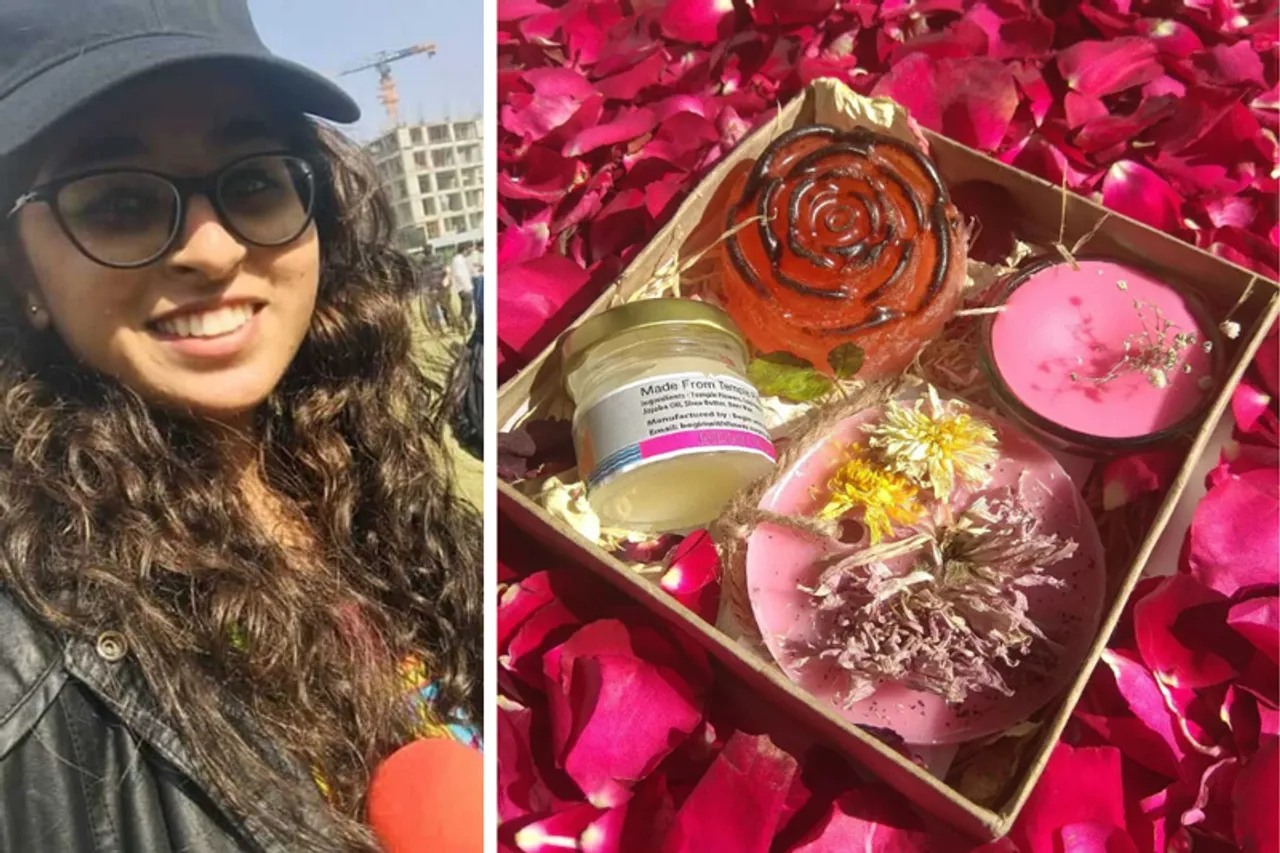 wp:html /
What began as a college project on waste management for Surat-based Maitri Jariwala has today morphed into a sustainable startup recycling flowers and coconuts from temples to make organic products that are sold across the country.
Maitri, the engineer turned entrepreneur, was in class 11 when she developed interest in waste management. She even pursued a project based on waste management during her chemical engineering course from the Bhagwan Arihant Institute of Technology, Surat.
"In school, I read that only 5 percent of the entire waste needs to go into landfills. The remaining 95 percent can be recycled, upcycled and reused in some way or the other. Since then, I got interested in waste management," says 22-year-old Maitri. She also worked briefly with Sachin Infra Environment Ltd, which works in the waste management sector. 
In the last year of her engineering course, Maitri began work on the project with a few of her classmates.
'Wasted' interest
After finishing her college, Maitri remained determined to pursue her work in waste management and thought of launching a startup. "I did not want to do anything else. So, I continued the project, christening it 'Begin with Flowers'."
Also Read: How Chennai's Walk for Plastic is recycling waste to fund education of underprivileged children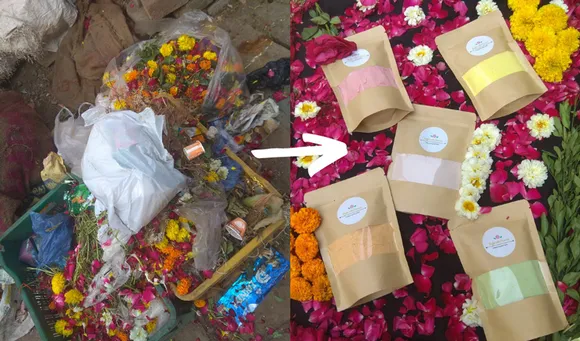 Maitri started in an old house her family owned in Surat. She set up a small unit to dry and process the flowers and coconut collected from temples in Surat.
Today, 'Begin with Flowers' is a zero-waste enterprise with minimal carbon footprint. It sells incense sticks, Holi colours, soaps, rose perfume, rose fragrance candles, vermicompost and other items.
And the average monthly revenue is around Rs1 lakh. "The number goes up during festival seasons when there is higher demand for products like incense sticks or colours around Holi," says Maitri.
Also Read: Vistaraku: How Telangana's start-up is taking traditional Indian leaf plates to the world
While Maitri decided to pursue her interest, her family was skeptical about the future of her enterprise. "My family was aware that I was doing something related to waste management. However, when I launched my startup, they were worried about how I would be able to make it successful," she says.
Maitri's father has a handloom business in Surat and did not know much about her area of interest. But still her family backed her decision fully.
Turning waste to wealth
After collecting the flowers, members at the unit segregate them on the basis of varieties and colours. They are then washed and dried under the sun for two to three days.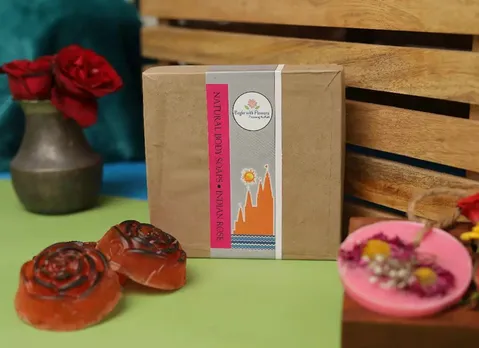 Maitri has trained nine local women in flower segregation, washing, drying, powdering and manufacturing of various products. They earn between Rs 3,000 and Rs5000 per month.
The fine powder is mixed with other natural ingredients and binding agents to make various products such as incense sticks, holi colours, soaps, rose soap, rose perfume, rose fragrance candles, vermicompost and other items.
Also Read: Chennai couple's startup Carbon Loops takes urban food waste back to farms
"Earlier we would visit the temples to collect flowers daily. But now we have tied up with the local municipal corporation which collects and segregates waste flowers and coconut for us and drops them at our unit. We are thankful to them for their cooperation," says Maitri.
"In the entire process, some waste is generated, which we use to make vermicompost. Eventually, nothing is wasted," explains Maitri.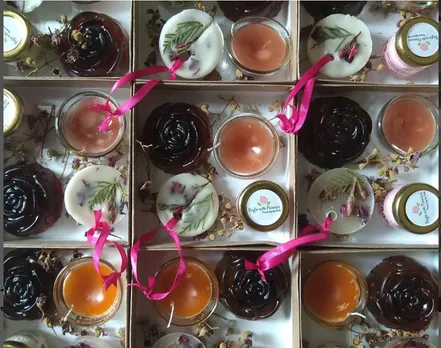 The setting up a flower recycling business
On the investment for her startup, Maitri said, "We received a funding of Rs77,000 from college to start with. However, it was a small amount given the investments required. Like I needed to buy a grinder and that cost Rs15000."
Also Read: From bamboo toothbrushes to probiotic dish wash bars, Chennai's Goli Soda takes sustainable living to the next level
Initially, Maitri herself went to shops in Surat and requested them to stock her products. She received good response for them. "The shopkeepers I approached were kind enough to showcase my products. My products sold well and the shopkeepers began to call me for more stocks. They were happy to sell sustainable and environment-friendly products," says Maitri.
She began selling her products from March 2021 and the first item she sold was organic Holi colours. Since November 2021, Maitri began online sales to reach to a wider customer base. The bulk of her orders come from Delhi, Bangalore, and Surat.
Also Read: Discarded temple flowers bloom into cosmetics, colours & compost
"The most sought after products are manure and incense sticks. Hindu devotees love the concept that the temple flowers are coming back to their homes in the form of incense sticks. As far as manure is concerned, many people have home or terrace gardens and need compost regularly. Especially after the Coronavirus pandemic, people are more aware about the importance of plants," says Maitri.
Awareness on waste management
Maitri believes that awareness about waste management is slowly catching up in India. "Four or five years back we were not doing anything about waste management. But now, youth are especially getting more environmentally-conscious and taking steps to avoid practices that have an adverse effect on the environment."
She explains that the waste generated by human activities has a huge impact on marine lives, animals and even human beings.
Also Read: GreenKraft: taking banana bark baskets made in Madurai to Sweden's IKEA & beyond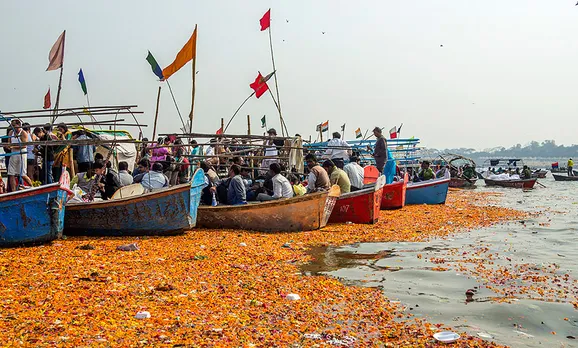 With rapid urbanisation, waste management presents a challenge in India.
"Let's take the example of flower waste. It goes directly to the ocean. So the chemicals that are used to grow flowers get mixed in the water which adversely affects marine life," she says.
Also Read: Abira: Pune's all-women enterprise where slum dwellers handcraft ecofriendly products for global brands
It affects humans similarly. "When we eat fish, we also consume toxins present in the waste flowers. This leads to diseases such as cancer. Moreover, the flowers don't dissolve in water which is a major cause of concern," explains Maitri.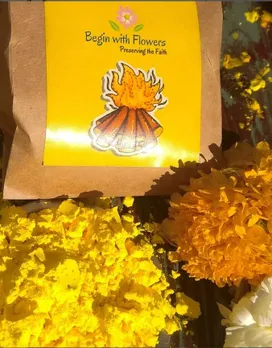 She plans to expand her start-up across India slowly. "I want to set up a unit at each temple across India so that every temple can upcycle waste and make various products for its devotees. This way, temples will also have an extra source of income and waste can be managed," says Maitri. 
(Bilal Khan is a Mumbai-based independent journalist. He covers grassroot issues, LGBTQ community and loves to write positive and inspiring stories.)
Also Read: Phool: where women turn temple flowers into incense, bio-thermocol & vegan leather