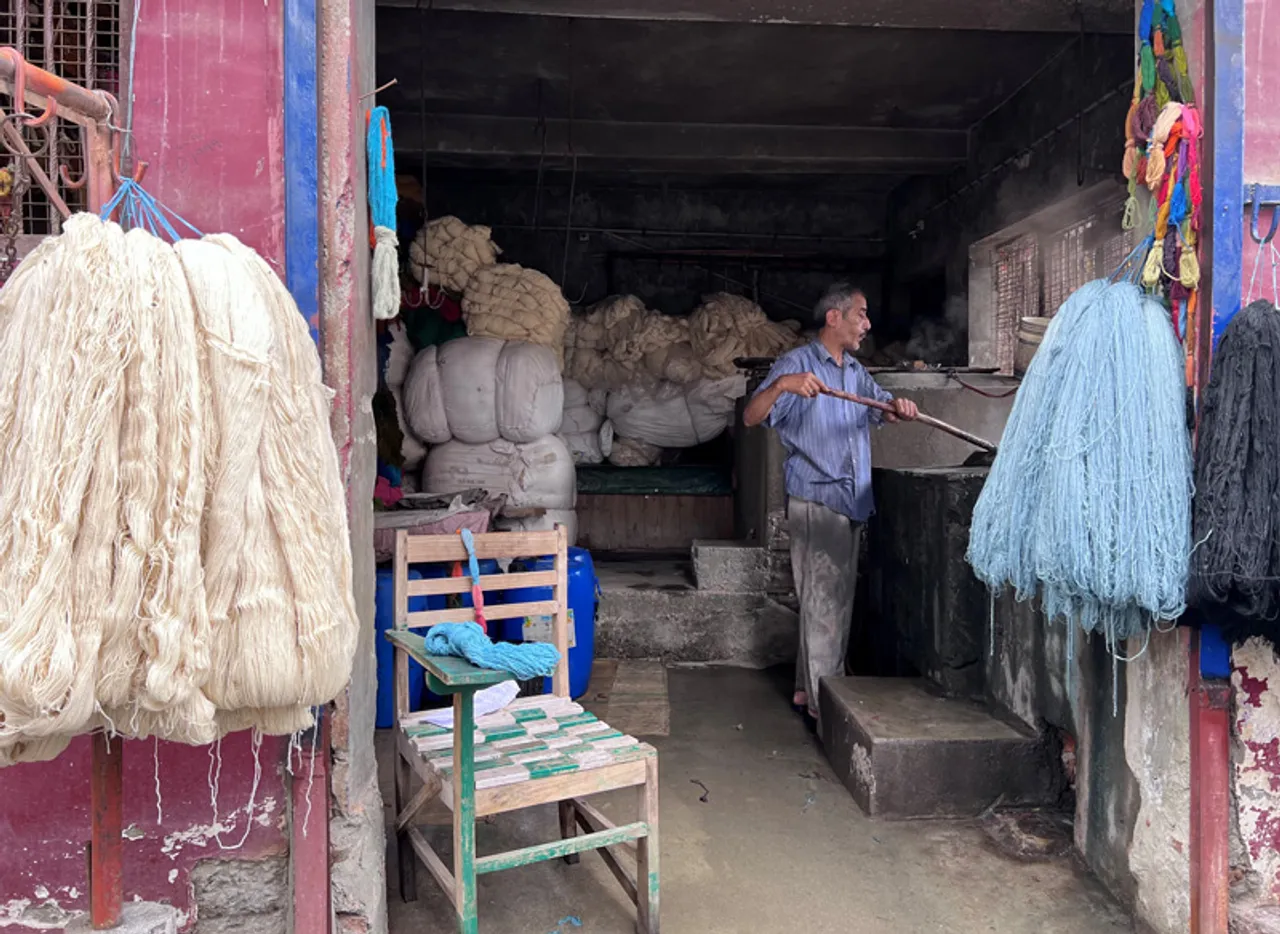 On a pleasant July morning, 70-year-old Bashir Ahmad is busy adding pigment to a large copper cauldron with boiling water at his dyeing karkhana (factory) in the Bohri Kadal locality of old Srinagar. The water soon takes on a pale sky blue hue. Bashir observes it closely and then adds more pigment. He wants a darker shade. 
A bale of wool goes into the cauldron, and Bashir stirs it with a long wooden stick. He is now satisfied with the tinge and leaves the bale in boiling water at the 122-year-old karkhana set up by his forefathers. 
"I was just 15 when my father brought me to the karkhana and taught me about colours and the art of dyeing. The smell of colours reminds me of my father and his love for dyeing," says Bashir reminiscing the bygone days.
Also Read: COVID-19: Padma Shri tie and dye craftsman for royals & Bollywood out of work after seven generations
Dyeing is the only work his family has been doing for generations. "My father, grandfather, great grandfather and others before him have all been dyers," he says.
Old Srinagar – once the hub of hand-dyeing
"Bohri Kadal was once the hub of dyers. Our shop was the busiest in the area as most of the customers preferred to get their yarn and thread dyed by my father, an expert Rangrez," he says with pride.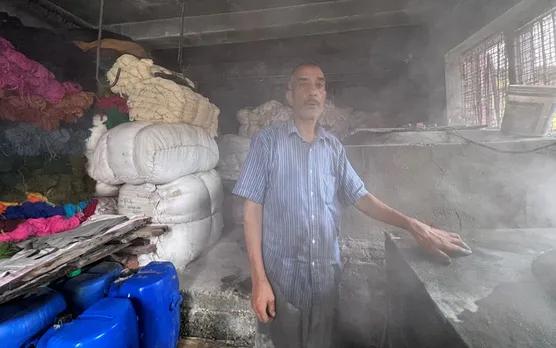 "Back then, hundreds of dyers in the locality used to dye clothes and threads to earn a living," Bashir says. The master dyer trained others in creating colours, getting the right shades, examining the dyed thread for quality etc. Those trained by him would work with him for years and some would open their own units later.
Weavers and other artisans would bring yarn and threads for dyeing at the karkhanas in old Srinagar. As their handmade products found a market in India and beyond, the dyers also had enough work to keep the cauldrons boiling with coloured water.
The history of hand-dyeing yarn and threads in Kashmir goes back over 600 years. Mughal Emperor Akbar, who reigned from 1556 to 1605, had a large collection of Kashmiri shawls, both Kani and Pashmina. 
Also Read: Kashmir's Kani shawl weavers develop new products to keep alive the ancient craft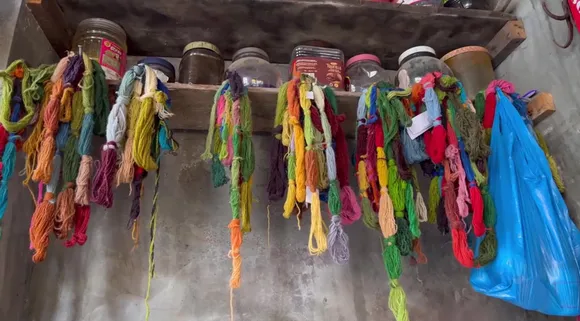 The number was later reduced to 64 shades. "We use only five colours -- brown, orange, pink, yellow and blue -- to make all the shades," Bashir says. The colours are mixed in fixed proportions to achieve a particular shade. If it turns out darker than expected, then bleach is added to lighten the colour. 
Colours of change
Earlier, the five basic colours were made at the unit and even vegetable dyes were used. "Now I use synthetic dyes. I buy the five dyes from the local market and make other colours using them because it is convenient and saves time," he says. 
"It is important to let the threads boil for long enough so that they absorb the colour fully and it is fastened," he adds. After removing them from the cauldron, the threads are checked to see if the colour matches the sample given by the customers. The bundles are then put on metallic hangers for drying.
Also Read: Soaking, boiling, dyeing, washing…the creation of Madhya Pradesh's Bagh print in pictures
Despite the labour involved in heating the cauldrons, boiling, drying, and mixing and matching colours, Bashir has no help on hand.
His two children learned early on that the craft was on a decline as machines invaded the dyeing units and there was no need for manual work. Machines are cheaper, faster and easier to operate.
"One of my kids is a doctor and the other is an engineer so I have no one to carry this craft onwards. While I regret that the shop will shut down one day, I am also happy that my children won't have to suffer like me," he says.
Also Read: Bagh Print: How Khatris are keeping the 500-year craft alive along with MP's tribals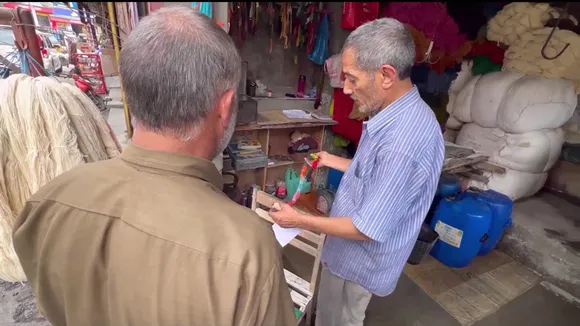 Earlier, a dyer's knowledge of colours and ability to bring out the accurate shade earned him a lot of respect. Times have changed now. Bashir is the last dyer keeping alive the family craft despite all odds and little earnings.
"After spending the whole day at the shop in sweltering heat emanating from boiling coloured water, I earn Rs1500 to Rs 1800. After deducting the cost of colours, electricity, and water, I don't get much for my hard work," he says.
Also Read: Rajasthan's Badshah Miyan takes 700-year-old leheriya craft & natural dyes to the world
Workers can earn Rs 700 by working as labour in factories or farms. "Who will come to work here?" he asks. "Earlier, we used to get orders for colouring clothes as well but with the availability of synthetic material from China in various colours, we don't get enough orders," he explains.
Most of the units, barring two or three, have shifted to machines for dyeing. 
Bashir's karkhana, set up in the year 1900, has been included in the itinerary of the Crafts Safari that was started after Srinagar was designated as a 'creative city' of craft and folk arts by UNESCO in 2021.
But that hasn't changed his fortunes. "Costs have gone up, the younger generation is not interested in hand-dyeing and I am the last one to work in this shop," he says, dipping the next bale of wool in the boiling water.
(Wasim Nabi is a Srinagar-based freelance multimedia journalist).
Also Read: Rajasthan: Titanwala family struggles to keep alive Bagru's hand block printing