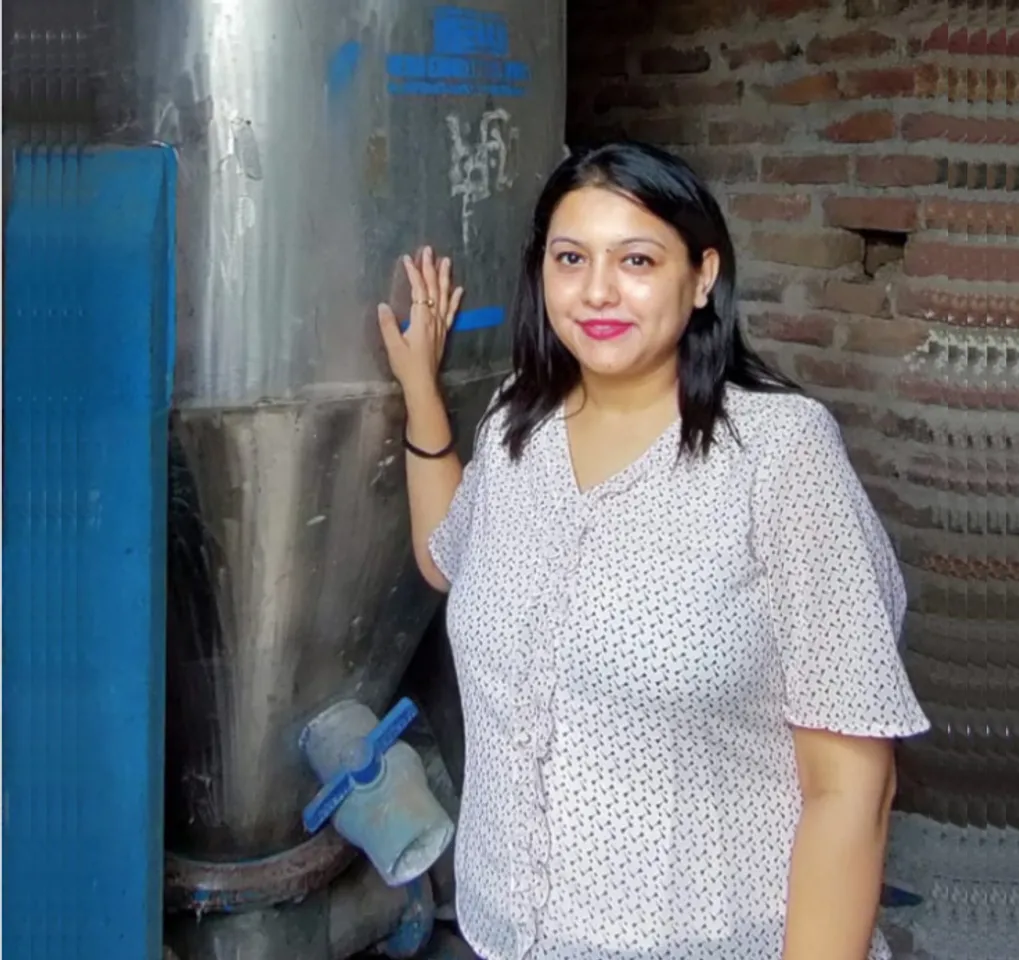 wp:html /
In 2018, when Akriti Verma decided to quit her well-paying job in Singapore to start a manufacturing business in her hometown Patna, Bihar, she was discouraged by her friends and acquaintances. Breaking stereotypes is never easy, but Akriti's mother supported her decision to venture into making wall putty used in the construction sector.
Wall putty is a cement-based mixture applied on the walls to smoothen them by sealing the cracks or imperfections.
She sells her products under the AKV Wall Putty brand.
Breaking the stereotypes
"In India, I don't see women venturing into traditional sectors like cement, steel, sugar," says Akriti, whose family had no prior experience in business.
Her father Atul Kumar Verma retired as the Director of Art, Culture, and Youth Department from the Bihar government, and her mother was a housewife.
After finishing her schooling in Patna, Akriti moved to Dayal Singh College, Delhi University, where she graduated in English Hons and went to Cardiff Metropolitan University, Singapore Campus, to finish her MBA in Project Management. She landed a well-paying job in Singapore at Selby Jennings, a leading financial recruitment agency, with an annual package of Rs 24 lakh. However, Akriti knew her true calling was in her own business.
Also Read: Samoolam: How Usha Varia's social business crocheted a success story while empowering rural women in Bihar
In 2015, soon after completing her MBA, she decided to start making goat cheese due to its popularity abroad, especially in Singapore. While still working in the Lion City, she began laying the groundwork for cheese-making in Patna. However, she could not receive the necessary licenses.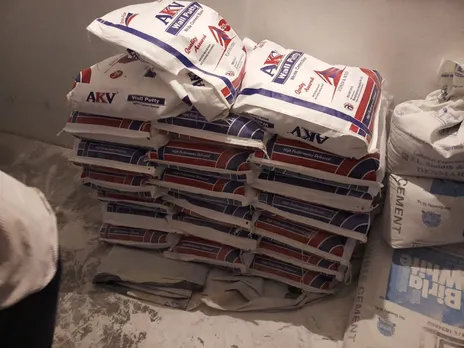 Akriti believes infrastructure is the backbone of every economy. "Whether you go abroad or look at the major cities in India like Gurugram or Mumbai, it is their infrastructure that attracts people from across India," says the 29-year-old.
While in Singapore, she thought of setting up a plant to manufacture white cement but gave up the idea since it is a capital-intensive product. Eventually, she zeroed in on wall putty because it involved less capital and risks.
Laying the foundation
In 2018, she quit her job and returned to Patna, where she laid the groundwork by registering her company with trade platforms.
Gradually, she started getting orders through online B2B marketplaces - IndiaMART and TradeIndia. "My first order was for 200 bags of wall putty from a Dhanbad-based customer," recalls Akriti.
"People often fail to recognize the gaps in a supply chain. Where there is a gap, there is also an opportunity. I knew that one, there was a demand for wall putty; two, there were no women entrepreneurs in this segment; and three, nobody wanted to set up a factory in Bihar. These factors worked in my favour," says Akriti whose brand AKV Wall Putty competes with established tycoons like Birla and JK Cement.
Also Read: How Bihar's Akansha Singh is converting agri-waste to clean fuel & electricity in rural areas
Starting with an annual turnover of Rs12 lakh in 2018, the number went up to Rs 1 crore within three years with her hard work and dedication. She expects the turnover for FY22-23 to cross Rs 1 crore.
Akriti's sharp focus on quality and adhering to production and delivery schedules helped her grow the business rapidly. "We don't compromise on quality, which is at par with JK, Birla and others industry leaders. And our prices are less than rivals, which makes AKV a preferred choice for buyers," she says.
As the word about her start-up and its quality product spread, her customer base also expanded.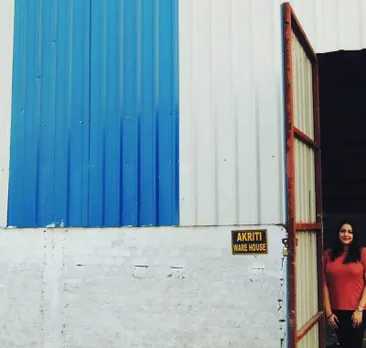 Another factor that played a critical role in boosting Akriti's business was her tie-ups with the builders. "I figured out that if you work with builders, your turnover would automatically shoot up as they place big orders. However, we do both B2B and D2C (direct to customers)," she says.
On women in the manufacturing business, Akriti says, "Although women are interested in business, they don't want to get into traditional sectors which involve setting up of a factory, sweating it out in plants and dealing with labour. They prefer e-commerce, edutech, agritech or apparels," she says.
Also Read: How this 12th-pass woman turned her organic food processing home business into a successful start-up
Currently, Renaissance Industry employs 50 people which include 20 women. Most of the women are part of marketing and content teams. "Even today, women don't prefer to work in a factory setting," says Akriti.
Challenges before the crores
Her journey, however, wasn't a bed of roses, and she had her fair share of challenges.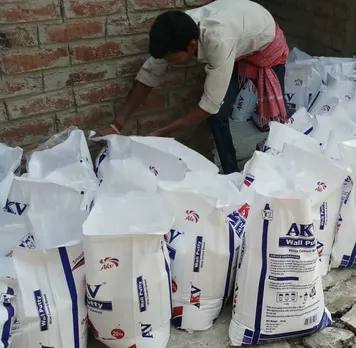 "Within a year of starting, in 2019, my mother passed away. In 2020 we encountered COVID-19. So, there have been a lot of challenges, and at one point, I felt it was a mistake to opt for manufacturing," she says.
During the pandemic, the company didn't receive any orders; the factory was closed, and all the projects came to a halt. However, soon after the restrictions were lifted, the orders shot up due to the pent-up demand.
In September 2021, the company received an order for 60,000 bags and currently sells around 75,000 bags every month on average.
Apart from the personal crisis and the pandemic, sourcing raw materials and licensing complications acted as major roadblocks in Akriti's path to success.
Akriti orders them from Delhi, Kolkata and various places in Rajasthan. "If all the raw materials were available in Bihar, the production cost would have come down as the transportation cost would be lower," she says.
Also Read: How Madhya Pradesh homemaker Lalita Mukati became millionaire organic farmer
The company's supply chain is spread across Uttar Pradesh, Jharkhand, Odisha and West Bengal.
It sources the main component of wall putty – dolomite -- from Alwar, Rajasthan while other raw materials like RD Powder, MHEC, Sodium Gluconate and chemical pigments are procured from Delhi and Kolkata.
The manufacturing cost is around Rs 250 per bag of 20 kg and it is sold for Rs 390.
"What happens on the ground level is very different from what you learn in MBA classes. Every day you are presented with a new challenge," says Akriti, who even turns into a technician when machinery requires repair or servicing.
As for the licensing complications, she says the government must simplify the process of getting approvals, which will make it easier to start businesses.
By the end of the year, Akriti plans to expand her business by setting up a new factory in Delhi NCR. She also plans to foray into the cement industry by 2023.
(Riya Singh is a Ranchi-based journalist who writes on environment & sustainability)
Also Read: Sangita Sawalakhe: The woman whose biopesticides turned saviour for thousands of debt-ridden farmers