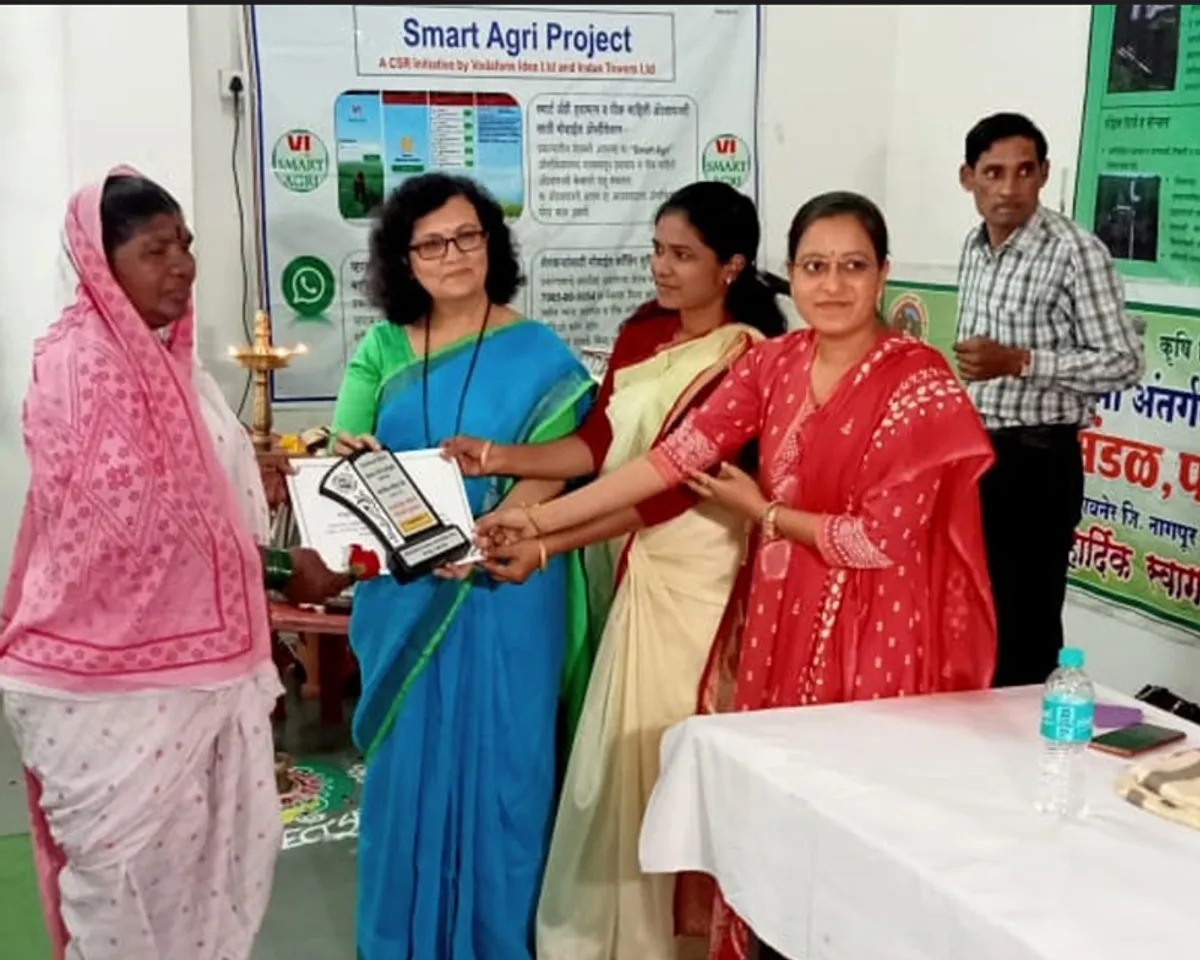 In 1990, Sangita Deepak Sawalakhe was on a college assignment to meet farmers. She was in a remote village, Sindhevahi, in the Chandrapur district of Maharashtra. The farmer she met was in his late 40s. Once well-to-do, spiralling debt to sustain his agriculture had pushed him into penury.
"When I reached the farmer's house, I saw a two-storied building, a tractor and farm implements. He seemed well-to-do. But when he asked his wife to make some tea, she said embarrassingly that there was no milk. So, we drank black tea," recalls Sangita, Director, Vidarbha Biotech Lab which manufactures biopesticides and fungicides.
As Sangita talked to the farmer, she learnt that he had taken debts from a local moneylender to buy pesticides, fertiliser and other inputs for his farm. But inclement weather spoilt his crops and his debts kept increasing. He had mortgaged his house, tractor and other items, Sangita recounts. His son, once from a well-off family, had to take up a job as a peon in a nearby town.
Also Read: Karnataka's MA, LLB woman trains 2,000 farmers in organic farming; helps schools to set up kitchen gardens for mid-day meals
Other farmers had similar stories to share. Sangita was shaken to see first-hand the dire situation of the farmers. This experience disturbed her and she spoke to her father, Prof NP Kahare, an agricultural entomologist at the Agriculture College in Nagpur, to find out if there was any alternative to chemical-based farming.
At the time, Sangita was pursuing her B.Sc in Agriculture and the field visit was part of her course. She went on to do her post-graduation in Agricultural Entomology.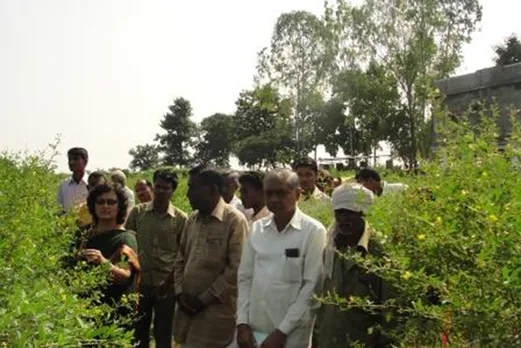 Over 15,000 farmers have shifted to organic farming & now use biopesticides instead of chemicals, thanks to Sangita's efforts. Pic: Vidarbha Biotech 
Agricultural entomology is the study of pests and friendly or beneficial insects of field crops, fruits and vegetables.
Her father told her about organic farming and that became the turning point in her life. She became a champion for organic farming and creating biopesticides that are a non-toxic and sustainable alternative to chemical pesticides.
As a result of her efforts, in 30 years, over 15,000 farmers have converted to organic farming and now use biopesticides instead of chemicals.
According to the Food and Agriculture Organisation, the use of pesticides in India amounted to 58,160 tonnes in 2018. The per hectare use was 0.31 kg which is much lower than other countries. However, uncontrolled and haphazard use of pesticides leads to high pesticide residues in the crops as well as the environment.
Also Read: How tribal women farmers are conserving native seeds & ensuring nutritional security
The death trap
Chandrapur falls in Maharashtra's Vidharbha region, which has the dubious distinction of reporting the highest number of farmer suicides in the country.
Vidarbha comprises 11 districts of Akola, Amravati, Buldhana, Bhandara, Chandrapur, Gadchiroli, Gondia, Nagpur, Yavatmal, Wardha and Washim.
Over 60 percent of the population in these 11 districts is dependent on agriculture and allied activities for their livelihood.
As per the NCRB data, the number of farmer suicides has been over 3,500 in 2014 and 2019. NCRB did not record the numbers for 2017 and 2018. In 2019, the figure was 3,927. In 2020, the number of suicides was down to 2,547 while in 2021, the number was 2,489. Over 50 percent of the suicides were reported from Vidarbha.
Also Read: Marathwada: Farmer in drought-prone Beed gets 60 tonnes papaya per acre through organic farming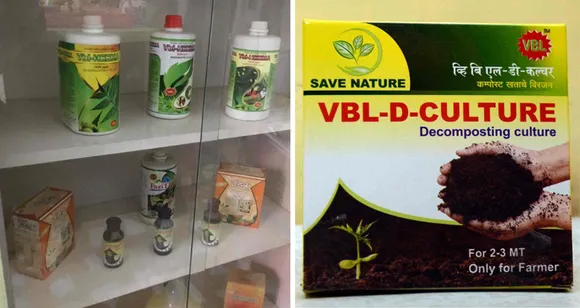 Vidarbha Biotech Ltd's products have certification from ISO, NPOP & the Central Insecticide Board. Pic: Vidarbha Biotech 
According to agriculture experts, there are multiple reasons for farmer suicides but the main cause is a financial crisis. Lack of access to easy credit by government institutions forces farmers to turn to private moneylenders and get into a debt trap.
The lack of irrigation facilities, increased cost of cultivation, lack of technological upgradation in farming, use of chemical fertilisers, poor prices for farm produce, poor rainfall and crop failure push farmers to suicide.
A sustainable alternative for farmers
When Sangita was doing her postgraduation in agriculture entomology in Nagpur, she recalls that she was the only woman student as the course was not a popular choice among girls at the time. However, motivated by her interaction with farmers, she wanted to do something to help them.
In 1994, Sangita got married and shifted to Yavatmal where her husband, an ENT surgeon, is based.
Here she set up a lab in her home for manufacturing biopesticides and bio fungicides. She also participated in agriculture meetings conducted by the local administration and would educate farmers about the harm caused by chemical-based farming and the benefits of organic farming and using biopesticides.
Also Read: Rasika Phatak: Maharashtra's 23-year-old millionaire farmer & agriculture consultant
"When I took part in the meetings, farmers would come up to me and tell me that they understood that chemicals are bad. But they would ask if there was any alternative to it. You give us something. That prompted me to start making biopesticides," says the 54-year-old.
In 2008, Sangita set up a production unit named Vidarbha Biotech Lab, in the industrial area in Yavatmal. She took a loan of Rs 40 lakh and got a 40 percent subsidy from the government.
Before setting up her enterprise, she took training in agri-clinics and agri-business programme from Krishi Vigyan Kendra in Durgapur, Amravati.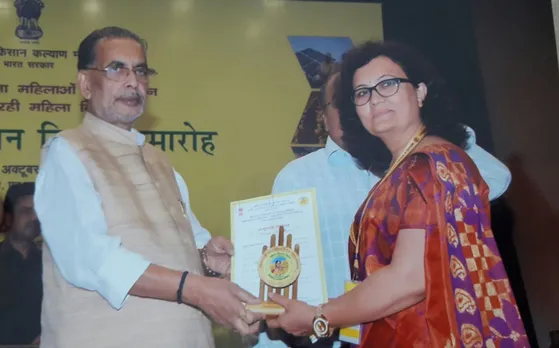 Sangita Sawalakhe has bee felicitated with many awards for her work towards helping farmers. Pic: Vidarbha Biotech 
The unit production capacity is 500 tonnes but the production depends on the orders that come in. Usually, demand is more during the Kharif and Rabi seasons. She has employed 30 women at the unit.
Initially, marketing the products posed a problem. Sangita says she supplied directly to farmers. As the farmers saw the efficacy of the biopesticides and bio fungicides, they told other farmers and demand spread through word of mouth.
Over time, Sangita has built up a strong client base. NGOs, farmer organisations and some corporates purchase biopesticides from her firm to distribute to farmers.
Also Read: How this Rajasthan farmer went from zero to millions with organic farming using his own manures & sprays
Sangita gets orders from across Maharashtra, Gujarat, Punjab and Odisha. The production seasonally is 60-80 tonnes and her annual income is around Rs 80 lakh.
In a bid to help women, Sangita has tied up with women's self-help groups in Maharashtra to distribute biopesticides. The SHGs get 20 to 25 percent commission. Around 10,000 women members of SHGs are associated with Sangita and are earning while also encouraging farmers to take up organic farming.
Sangita spends 8-10 hours daily in her lab, researching biopesticides.
Her firm manufactures16 products which have certification from ISO as well as the National Programme for Organic Production (NPOP). They are also certified by the Central Insecticide Board.
She has developed a new VBL Micro Bio Mix which is a combination of 10 organisms including bio pesticides, bio fungicides and plant growth regulators and decomposing agents.
Also Read: Organic farming of dragon fruit and lemon triples Punjab farmer's income
It can be used to decompose rural, urban and kitchen waste. It works quickly so it can help control the spread of diseases. It also helps to decompose the stubble on farms within 15-20 days which farmers usually burn, leading to air pollution.
Why Biopesticides
Biopesticides are derived from natural sources such as animals, plants, bacteria, viruses and fungi.
Bio-pesticide consumption is only 8 percent in India but given its advantages over chemical pesticides, its use should be promoted. They offer major advantages over chemicals.
They are less harmful than chemical pesticides.
Biopesticides usually affect only the targeted pest as against chemical pesticides that act on a broad spectrum of organisms.
Bio-pesticides are very effective and need to be used only in small quantities; they decompose quickly and are thus not polluting, unlike conventional pesticides. They are also very cheap as compared to chemical pesticides.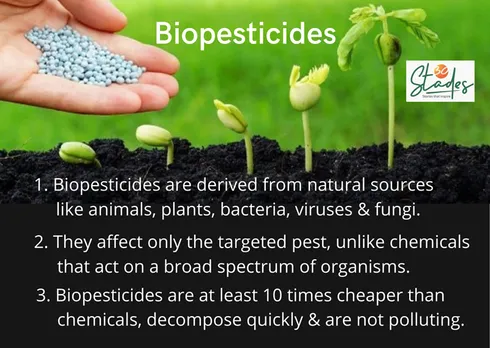 Biopesticides can be derived from microbes like bacteria, fungi or viruses. Or they can be made from substances found in nature such as corn gluten, garlic oil, and black pepper. These also include hormones that control pests without killing them by disrupting their mating or stunting their growth. Plant Incorporated Protectants are genes and proteins that are introduced into plants through genetic engineering.
Also Read: Seed conservation: This Madhya Pradesh farmer grows 115 native varieties of rice over just 2 acres; gives seeds free to other farmers 
"Biopesticides don't kill the friendly organisms in the soil. They work in a targeted fashion to eliminate only the harmful pests," says Sangita,
In addition, only half a litre of a biopesticide is adequate for 1 acre of land.
Chemical fertilisers cost Rs13,000-15,000 per litre whereas biopesticides cost only Rs700-800 in liquid and Rs 400-450 per kg in powder form. 
So, farmers can save a hefty amount by shifting to biopesticides.
Moreover, biopesticides do not have to be sprayed multiple times, unlike chemical pesticides. Once sprayed or used on the farm, the biopesticides multiply by themselves and control pests, says Sangita. Biopesticides also do not create resistance in pests or insects.
Organic farmers often depend on natural pesticides that they make on the farm themselves such as jeevamrit to control pests. Sangita says research shows that using only such organic pesticides and fertilisers promotes harmful organisms along with friendly organisms.
Also Read: Gujarat's MBA farmer Chintan Shah turns infertile land into organic farm of turmeric, ginger & wheat
"Nowadays new diseases are being reported and farmers are facing new challenges. So, they are going in for biopesticides," she says.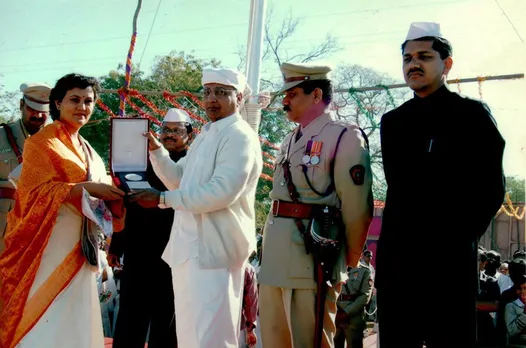 Sangita has worked with farmers for over 30 years and her work has been recognised both nationally & internationally. Pic: Vidarbha Biotech 
Sangita provides free services to farmers such as marketing of bio fertilisers and biopesticides, training to farmer organisations and consultancy services on organic farming.
Sangita has won several accolades for her work. She received the Honour of Excellence award by the Union Ministry of Agriculture during the Mahila Kisan Diwas in 2018. She won the Udyog Puraskar in 2005, and the Maharashtra Udyogini Purskar in 2008. In 2002, she won the Women's Creativity in Rural Life award, given by a UNESCO-linked organisation.
Having worked with farmers for over 30 years, Sangita feels their pain and says farming has become a non-remunerative occupation. "Farmers put in a lot of hard work but they don't get good prices for their produce. They hardly earn anything. Government support to farmers is very important. Middlemen should be cut out so farmers can sell directly to consumers and get the right price for their produce," she says.
(Urvashi Dev Rawal is a Jaipur-based journalist specialising in development, gender, and political reporting)
Also Read: Jayant Barve: Maharashtra's organic farmer who became manure millionaire