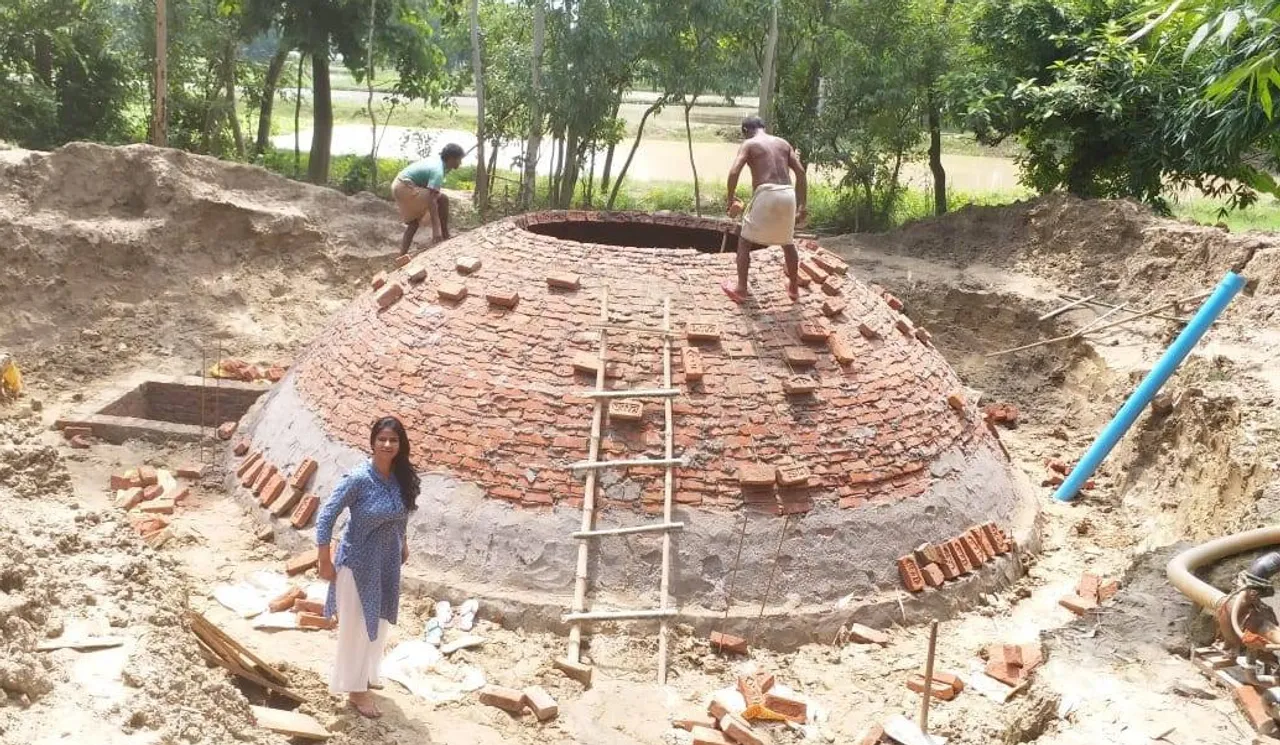 For 650 families in rural areas of Bihar, switching from cow dung cakes and wood to biogas has meant an end to inhaling smoke, watery eyes and cold food besides the added benefits of improved health and hygiene.
This biogas, which has changed the life of Reena and many others like her, is supplied by Swayambhu Innovative Solutions, the brainchild of Akansha Singh. The company provides biogas, bioelectricity and organic manure in rural areas of Sitamarhi, Gaya and Samastipur districts of Bihar.
Also Read: How Madhya Pradesh homemaker Lalita Mukati became millionaire organic farmer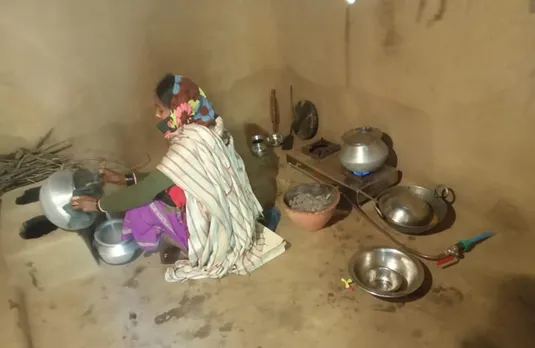 "More than 80 households now have access to electricity and cooking fuel, which they had never experienced earlier. They would earlier eat cold food as cooking was done before sunset to avoid working in the dark," says Akansha.
"The biogas model is very effective and old. It was introduced in 1970, yet it is not widely used as many plants have failed because of people's carelessness. They didn't feed the plant optimally," says Akanksha.
Also Read: Chennai couple's startup Carbon Loops takes urban food waste back to farms
The rural conundrum
Akansha is a postgraduate in Social Entrepreneurship from the Tata Institute of Social Sciences (TISS). Being born and brought up in Patna, she has always stayed close to her roots, closely observing the problems faced by the rural community.
While doing an internship in Jhabua district of Madhya Pradesh, Akansha observed the lives of the villagers closely. "I saw that they had no toilets and no electricity. The women cooked using cow dung cakes and inhaled thick smoke fumes," she says.
There were other issues. Farmers used pesticides and chemicals for farming which degraded their land and produced chemical-laden crops. The biodegradable waste from kitchens was also not disposed of properly.
Also Read: Tamul's areca nut leaf plates travel from Assam to the world as plastic ban gets stronger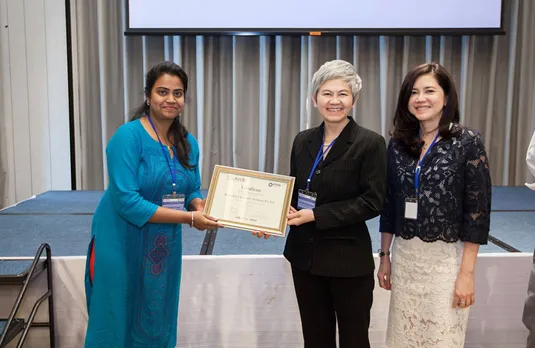 This peep into rural life gave birth to the idea of biogas and bioelectricity. "A biogas plant can generate electricity by using biodegradable waste and manure. The gas from the plant can be used as fuel in the kitchen. The slurry that is a by-product can be used as a bio fertiliser and bio-pesticide," says Akansha.
After a few months of convincing, the villagers saw the benefits of the project and agreed. "Those households received electricity for the first time through Swayambhu," says Akansha. 
Also Read: Vistaraku: How Telangana's start-up is taking traditional Indian leaf plates to the world
Swayambhu also supplies electricity for street lights. However, due to the increasing availability of electricity from the government, the company is now focusing on supplying biogas through pipelines. "Earlier people were apprehensive but with time they have started coming forward," says Akansha.
Community-based model
The Swayambhu model largely depends on establishing a circular economy in the communities where it sets up plants. The land is acquired from the village landlords, and a group of villagers are employed for the construction of the plant in order to boost both employment and ownership sentiment. 
The size of the plant is decided as per the needs of the community. Post-construction, the plant needs one month retention period before it starts functioning.
Also Read: How Bengaluru's Hasiru Dala has given identity & dignity to over 10,000 faceless waste pickers
Eventually, products like cooking fuel, electricity and by-products such as organic manure, pesticides are distributed in the community for a minimal amount.
Akansha secured the initial funding for Swayambhu from DBS Bank, Singapore. Several governmental and non-government agencies also came forward to support her project and the funds collected from the sale of the products of the plant were used for expansion and to meet other costs.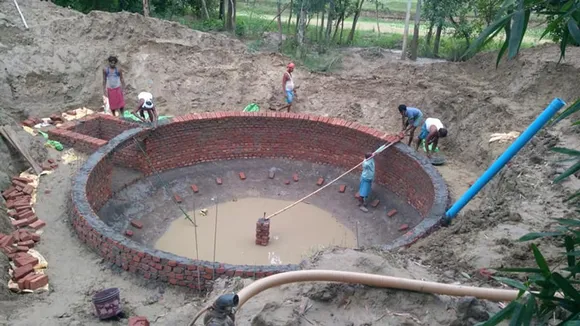 Swayambhu has been doing most of the plant construction on-site to date. However, Akanksha plans to set up a unit to pre-fabricate the plant's body to bring down the cost of production and time of construction.
Currently, it takes around two months to set up a plant. The timing depends on factors like labour availability, favourable weather conditions, political situation etc.
Also Read: Phool: where women turn temple flowers into incense, bio-thermocol & vegan leather
Swayambhu is currently operating in Bihar and Haridwar. Now it plans to set up more decentralized plants in the neighbouring areas of Samastipur, Sitamarahi and Gaya.
A green option
Akansha believes that renewable energy space is vibrant and it has the ability to meet the energy needs of people residing in remote areas. Close to 65 percent of the population in Bihar lives in villages, engaging in agriculture or some other livelihood activities but the waste produced by them is unmeasured. 
Almost 95 percent of biodegradable waste can be converted into energy that can be used to fulfil the basic needs of the rural population, she points out.
Also Read: 5 startups saving the environment by recycling banana bark, fabrics, food, flowers & more
India produces only about 2.07 billion m3 (cubic metres) biogas per year but, according to estimates, the production could go up to 48 billion m3 annually. 
According to the Ministry of New and Renewable Energy, about 32 percent of the total primary energy use in the country is still derived from biomass and more than 70 percent of the country's population depends upon it for its energy needs.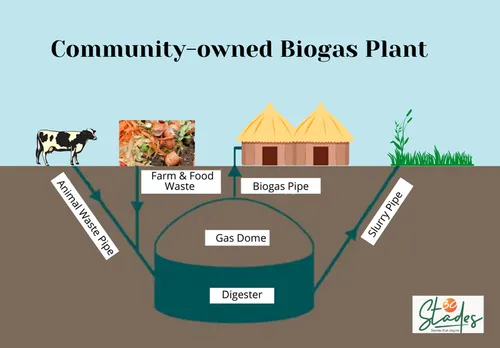 However, the failure of most biogas plants has been a deterrent to the development of this alternative energy source.
She points out that a lack of knowledge about the plants increases the chances of failure. People, especially in the village areas, are accustomed to feeding ashes, silt, mud in the plant, which in turn degrades the plant.
"Moreover, many are not aware that the plant releases gases such as sulphur and carbon that clog the pipelines. Installing purifiers prevents clogging, thereby, increasing the life of the plant. The purifiers can clean the biogas up to 90 percent," she adds. 
Also Read: Abira: Pune's all-women enterprise where slum dwellers handcraft ecofriendly products for global brands
Akansha had worked on a research project where she tried to understand the reason behind the failure of biogas plants. Her study helped her chalk down a few prominent reasons with the centralised structure of biogas plants topping the list of reasons behind failure.
Centralized biogas plants are often not successful as they require proper maintenance and even the availability of raw materials becomes a concern. "The centralized model never works. Hence, we focus on creating decentralized models in small communities," says Akansha.
The start-up has won several business plan competitions. It was selected as a finalist at Decarbonathon challenge and emerged as the winner in a competition organized by Bihar Industry Association and the "Women-Led Clean Energy Business – project development and financing workshop" organized by USAID and PFAN in Bangkok in 2017.
(Riya Singh is a Ranchi-based journalist who writes on environment & sustainability)
Also Read: Intel to IITs, biogas is the new fuel in institutional kitchens