Fourteen years ago, a villager from the remote region of Nubra in Ladakh gave away his four Bactrian or double-humped camels to a distant relative due to a lack of resources to feed them. He, however, did not part with one of them. Thanks to that one Bactrian camel, his 32-year-old son Mohammad today runs a successful camel safari business in the cold mountains of Nubra (also called Dumra). 
Ibrahim says he has vivid memories of his father, then 56 years old, taking the four Bactrian camels for over 7km across the white dunes to hand them over to an acquaintance in Diskit, famous for its Buddhist Monastery. 
"Luckily, the one camel we kept back has become a source of prosperity for us. I have raised a dozen Bactrian camels and use all of them for tourist safari," says Ibrahim. With his two brothers, Ibrahim is now running a successful camel safari business at Nubra Valley's Hunder village, located on the ancient Silk Route.
Also Read: Save the camel; it may be extinct in a few decades
It is found in small numbers in India, Pakistan, China, Mongolia and some Central Asian countries.
Once regarded as a burden and used only for carrying loads and ration in the remote parts of Ladakh, the Bactrian camel is now the main source of livelihood for scores of families in the region.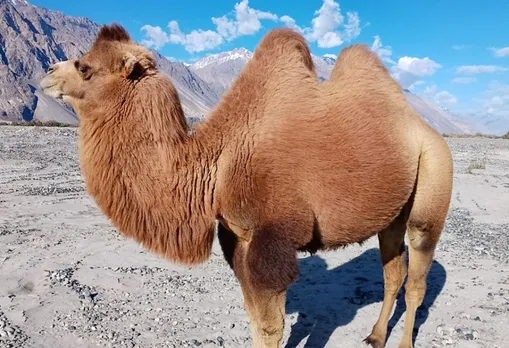 Not only Ibrahim but many youths from the historic tribal village are now engaged in running camel safaris and other tourist-related services for their livelihood.  
Every day hundreds of tourists visit the dunes for a ride between Hunder and Diskit villages on the double-humped camel ride.
A famed ride
Nubra's remote Hunder village has added a new dimension to mountain tourism. Separated by Nubra and Shyok rivers, Nubra Valley is a tourists' paradise because of its cold desert and beautiful landscape dotted with orchards, monasteries and the Bactrian camels. A large number of tourists in the village can be seen riding the camels and taking selfies with the animal. 
Also Read: Phugtal monastery: Ladakh's 2500-year-old cave of liberation
"I had heard about this camel from a friend who visited this place earlier. Since then, I wanted to take a ride on the Bactrian camel," says Raveena, a school teacher from Pune, who was on a visit to Ladakh along with her husband. "It is a lifetime experience," she adds.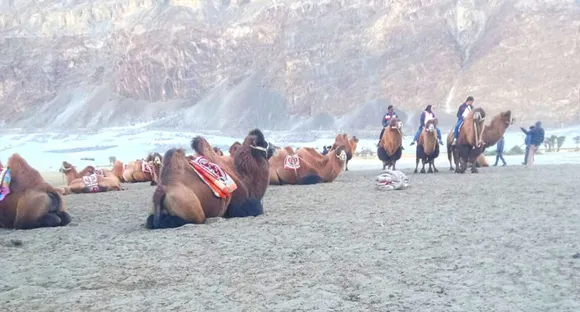 This is a steep rise from the 527 tourists, who visited the region in 1974 when Ladakh was first opened for tourists. The construction of Atal Tunnel, which was opened in October 2022, has boosted tourist inflow into Ladakh.
According to Feroz Ahmad, a tour operator from Nubra Valley, hundreds of tourists visiting the valley every day engage in mountain biking, trekking, heritage trips and cultural exploration. 
Also Read: Rajasthan's Camel Charisma builds a superfood business with camel milk and cheese
Given the rising love for camel rides, the government is now planning to issue fitness certificates for the animals apart from clearly demarcating camel grazing areas. 
Growing Numbers
The Bactrian camel, which was struggling to survive some decades back, has seen an uptick in its population in Ladakh. From about 40 camels in Nubra a decade ago, there are hundreds of them now in the region. 
According to Mohammad Iqbal, Chief Animal Husbandry Officer, Leh, there are 298 Bactrian camels in the region as per the latest census conducted by the department. 
Experts believe that the main reason behind the growth in the population of otherwise critically endangered species in the region is their usefulness in generating income for many local families through tourist safaris. 
Also Read: How Dolphin IBA's donkey milk beauty products from Kerala reached 40 countries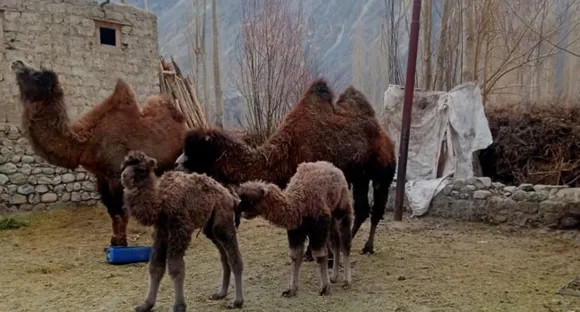 Double the Hump, Double the Care
Bactrian camels, however, need special care.
Ibrahim says it is tough to feed the animal during winters, as the region's climate does not support plant growth due to severe cold. "Our women collect alfalfa hay from the wild to feed the animals during the winter season. But as the number of animals has increased, it is not easy to get sufficient hay for the animals. So every winter, the fodder for the camel becomes unaffordable," says Ibrahim. 
He adds that during winter they spend a good amount of money to feed them. 
Also Read: How Nomadic Woollen Mills is taking 'Made in Ladakh' Pashmina to the world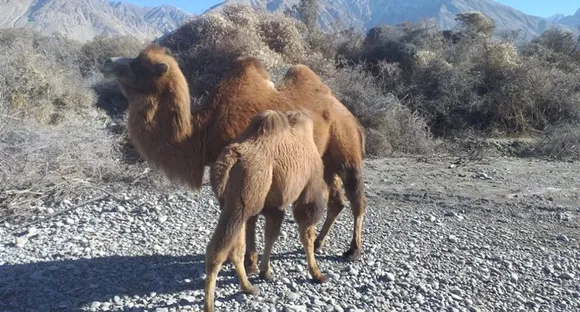 Hard work apart, the double-humped camel has given a new identity to the historically important Hunder village. 
The Last Remnants of Silk Route
Found in good numbers now in Nubra Valley's Hunder village, the double-humped camel is believed to have come to Ladakh from the neighbouring Tibet region during the 17th century. 
Apart from Ladakh in India, it is also found in the Hor region of Central Asia. 
According to P Stobdan, who works as a teacher in the Government-run higher secondary school at Chochut, Leh was a part of the famed Silk Route. Till recently, the region remained an important transit point on the historic route. These camels were widely used to carry loads and goods for trade. However, after the closure of the Silk Route in 1950, few camels were left back in the region and are now widely used in tourism activities.
(Nasir Yousufi is a journalist based in Srinagar. )
(The lead image at the top of this page has been clicked by Nasir Yousufi. This story first appeared in Village Square)
Also Read: Kutch: Mangrove loss threatens Kharai swimming camel; hurts livelihood of pastoralists