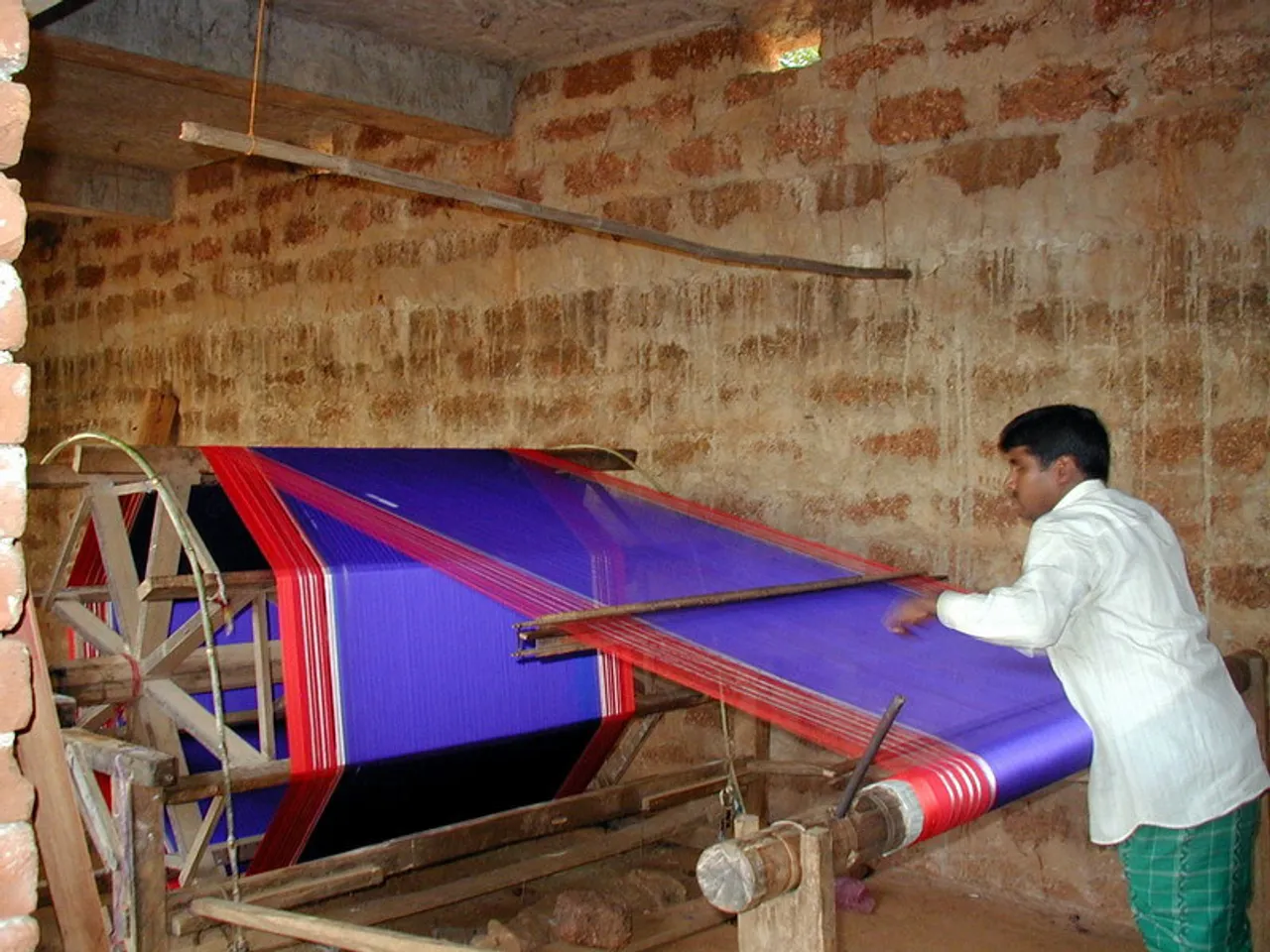 Weavers, weaving at break of day,
Why do you weave a garment so gay?
Blue as the wing of a halcyon wild,
We weave the robes of a newborn child.
Weavers, weaving at fall of night,
Why do you weave a garment so bright?
Like the plumes of a peacock, purple and green,
We weave the marriage veils of a queen.
Weavers, weaving solemn and still,
What do you weave in the moonlight chill?
White as a feather and white as a cloud,
We weave a dead man's funeral shroud.
Freedom fighter, political activist and poet Sarojini Naidu's poem 'Indian Weavers' above symbolically represents the three stages of life, from birth to death. The poem also highlights the weaver who tirelessly weaves from morning to night. The threads they weave are intertwined with our very lives.
Indian weaving tradition goes back a long way. Samples of Indian cotton have been found from 5,000 years back. Over time, distinct weaving traditions developed in towns, states and communities in India.
Beautiful weaves were developed in all kinds of fabric, from coarse cotton (khadi), wool and fleece to silk and muslin. Ancient India was well-known for its woven fabrics which were much in demand.
Amir Khusrau, the 12th-century classical poet, said about muslin, "One could fold a whole piece of this cloth inside one's nail yet it was large enough to cover the world when unfolded."
India owes a huge debt to Kamaladevi Chattopadhyay, freedom fighter, activist, art enthusiast and politician, whose contribution to the revival of Indian handicrafts is immense. She was the driving force behind the revival of the Indian handicrafts and handloom sector, realising its potential for social and economic upliftment.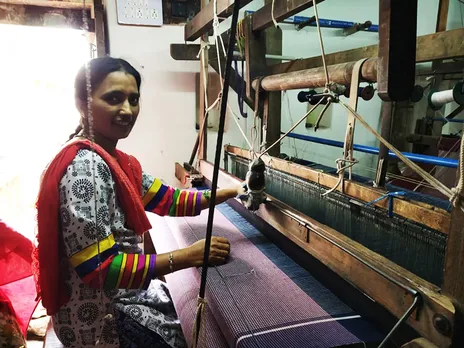 She also promoted Indian dance, drama, theatre, music, and puppetry and set up institutions like the All India Handicrafts Board and Central Cottage Industries Emporia, the Crafts Council of India, the Crafts Museum and the National and State Awards.
The textile and weaving sector is an important part of the Indian economy and sustains some 4.3 million people.
However, over time some weaving traditions were on the verge of extinction due to a lack of support. Some nonprofit entrepreneurs stepped in to revive and preserve these crafts.
Here's a look at five individuals who have taken it upon themselves to preserve and promote ancient weaving traditions.
1. Rubi Rakshit from Bengal is working to revive the craft of muslin weaving. She founded the non-profit MG Gram Udyog Seva Sansthan (MGGSS) in 2010 to work with the weavers in Memari and other villages of the East Burdwan district in West Bengal.
Rubi has created a complete chain of sustainability. From procurement of organic climate-friendly cotton to spinning, weaving and sales, the processes do not require electricity, generate local livelihood and leave a minimal carbon footprint.
Rubi says her aim was to make weavers independent, preserve their craft, and help them find a market for their products.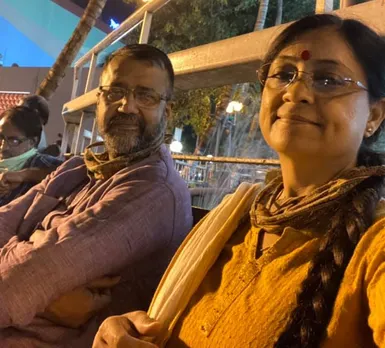 MGGSS provides sustainable employment to more than 250 families. Rubi along with her husband Arup and daughter Prerona also holds workshops on charkha spinning in schools and institutions across the country.
Read her story: How this Bengal family is reviving traditional muslin weaving using organic cotton
2. Biren Basak migrated from Bangladesh to Bengal in 1961 due to growing communal tension. As a young boy, he had to leave his education and join his father's weaving business to make ends meet in Kolkata.
When he started working with his father in the 1960s, there weren't any Jamdani weavers in the area. Biren's father started training weavers in Phulia and gradually his weaving technique became popular.
Biren set up his company Biren Basask and Company in the late 1980s and has trained over 450 weavers in Phulia free of cost. Basak has given employment to over 5,000 weavers in Phulia.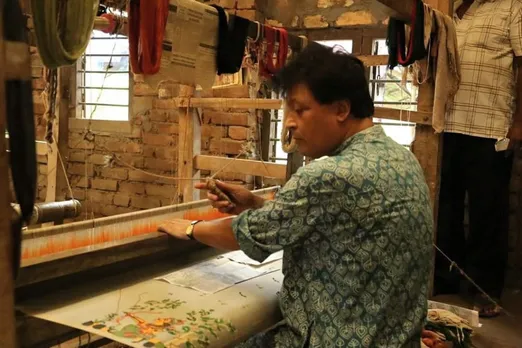 Today, Biren is India's handcrafted sarees tycoon, with an annual turnover of over Rs50 crore. He sells over 1.8 lakh Jamdani, Tangail and Kantha sarees every year. His high-profile clients include Bengal Chief Minister Mamata Banerjee, Bangladesh Prime Minister Sheikh Hasina, the late Lata Mangeshkar, Sourav Ganguly, Satyajit Ray, Ustad Amjad Ali khan and a host of film stars.
Read his story: Biren Basak: The boy from East Pakistan who became India's handcrafted saree tycoon
3. Vivek Srivastava is an electrical engineer from IIT Kanpur. He Vivek quit the corporate world after 20 years in the telecom and IT industry to work with dhurrie weavers. He founded Kalavilasa, a non-profit Forum for Rural Weavers to revive eco-friendly handmade rugs.
Vivek says he chose textiles because of their tremendous depth in terms of weaving techniques, the variety of raw materials for the yarn, and the immense possibilities for surface ornamentation.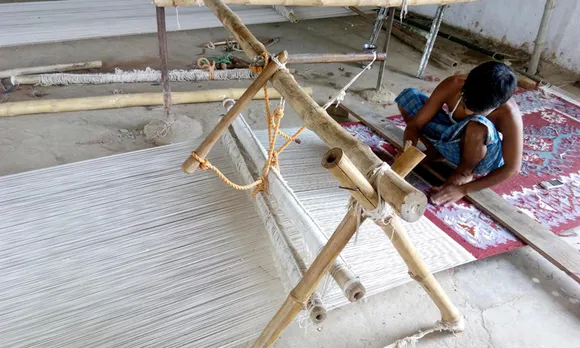 Kalavilasa employs a master weaver and artisans who work in Madhya Pradesh and Rajasthan. These artisans get consistent work and are paid fair wages which have enabled them to continue their family tradition after they associated with the non-profit. Regular wages allow weavers to educate their children and provide them with better nutrition.
Today, Kalavilasa specialises in eco-friendly Punja or Panja dhurries, famous for their exquisite styles, high quality and sturdiness.
Read his story: This IITian quit job to revive ecofriendly handwoven dhurries; brings artisans back to the 2000-year-old craft
4. Dr Hemalatha Jain is a teacher, textile revivalist and entrepreneur, passionate about India's handloom traditions. She travelled through the remote villages in Karnataka to search for weavers and learn about their local weaving traditions, most of which were becoming extinct.
On one of her visits, Hemalatha met an 85-year-old devadasi who had an old piece of saree woven using the Patteda Anchu technique. Patteda Anchu weaving dates back to the 10th century when these sarees were woven in and around the villages of Gajendragarh, Belgaum, Raichur, Kodal, Bedar, Bellary, Gulbarga and Dharwad.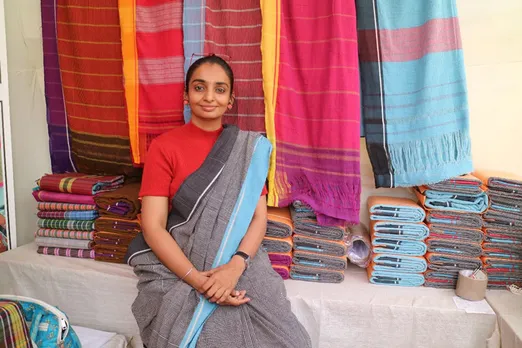 This heralded her journey towards the revival of the forgotten Patteda Anchu sarees. Patteda Anchu means 'thick border with checks on the body'. The traditional Patteda Anchu has fine checks and two pallus which can be reversed and worn.
Beginning work with just one weaver, she founded the Punarjeevana Trust in 2014 to resurrect and popularize the dying handloom traditions of Karnataka. So far, Hemalatha has revived 14 forgotten saree-weaving traditions of Karnataka including Gomi Teni, Hubli, Annehejje, Sada Pata, Sudha Kadi, Lakundi, Gajju and Dhotra.
Read her story: Dr Hemalatha Jain: The professor reviving age-old handloom weaving of sarees in Karnataka
5. Ananthoo is the man behind Tüla, the Chennai-based non-profit that has been trying to restore the equilibrium in the cotton value chain by reviving desi cotton cultivation and weaving.
During his textile trail across India, Ananthoo discovered that most weavers were giving up cotton weaving following competition from power looms and the low income from their hard work. He realised that the skill and craft of growing and weaving desi cotton were going to be extinct if nothing was done.
"We felt that if we could bring esteem and economic viability into it, we could revive the cotton weaving and its value chain," Ananthoo says.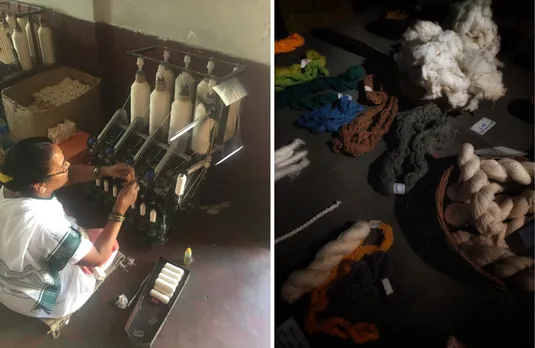 Tüla began working with a few cotton farmers and then approached women groups in Gandhigram in Dindigul and asked them to spin cotton into yarn. The yarn was dyed using natural colours and given to weavers for making fabric. This was sold as plain woven fabric and stitched into some basic clothing too. Today, Tüla is a profitable and fully self-funded entity providing livelihoods to 300 people who cultivate, spin and weave organic cotton.
Read the story:: How Chennai's Tüla has made organic farm-to-fashion viable by reviving desi cotton cultivation & weaving