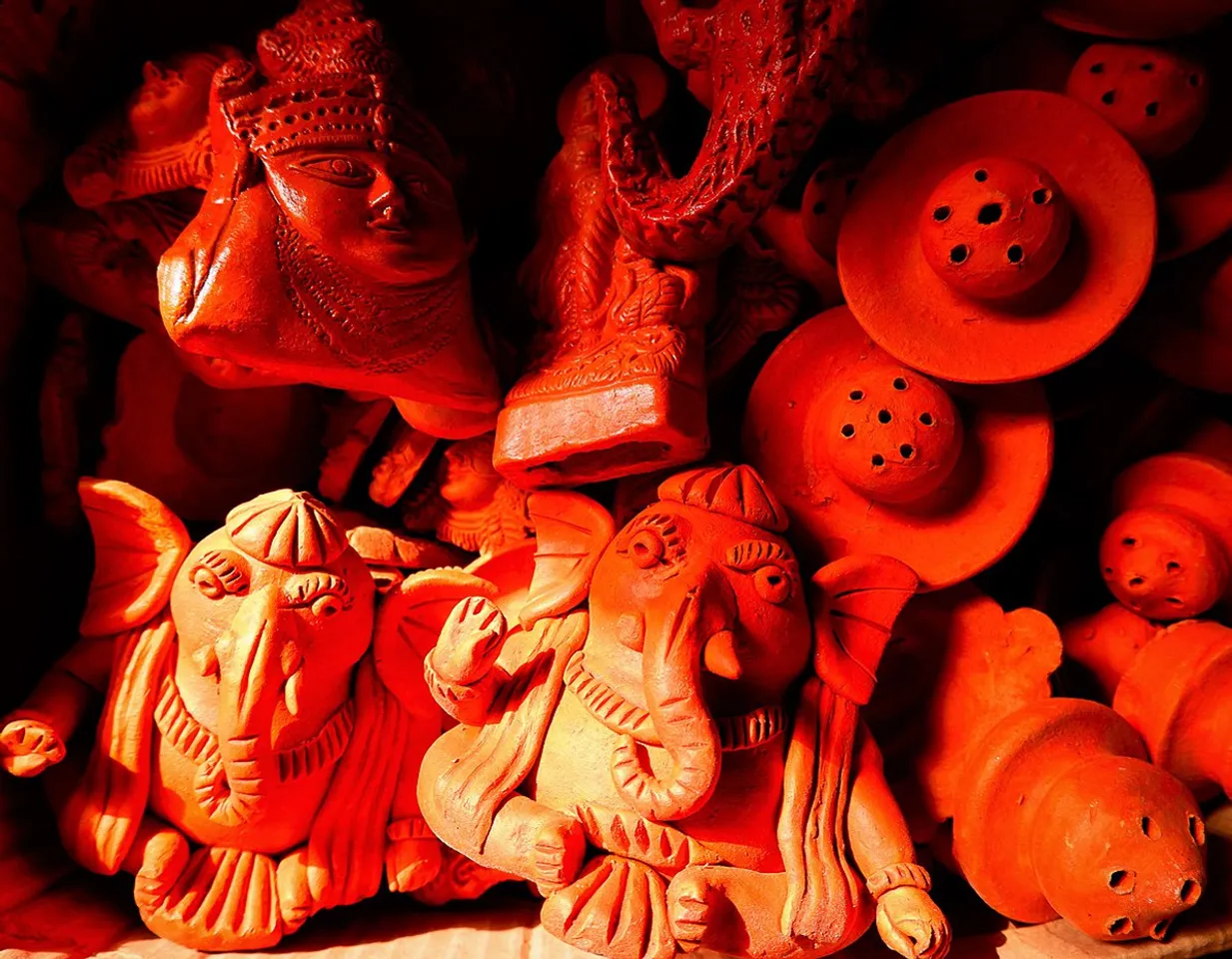 In the early 19th century, some families migrated from the Pabna district of East Bengal (now Bangladesh) to a village in Assam's Dhubri district. They belonged to the Paul (potter) community and continued with their profession after settling down in the Asharikandi village by the mystic river Gadadhar, a tributary of the Brahmaputra.
Over the next 200 years, the families (now around 150) gave a new identity to Asharikandi, which has come to be known as the terracotta and pottery village of Assam. While terracotta refers to artefacts made using clay and fired in a kiln, pottery is objects which are made on the potter's wheel.
Terracotta toys, figurines and kitchenware have also been found in the Indus Valley Civilization. In Asharikandi, men, women and even children work together to handcraft terracotta toys, dolls and pottery items which are now sold across India and abroad.
Ashar+Kandi=Asharikandi
The village's low-lying area is flooded during the rainy month of Ashar (around mid-June to mid-July). Due to this, the potters stop working as they are unable to dry and bake their products. They shed tears due to the havoc caused by floods, which has given the village its name Asharikandi. While Ashar is the rainy season, Kandi means shedding of tears by the potters.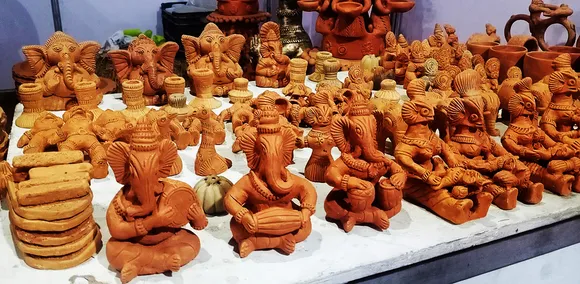 Yet, they have been entrenched here for generations because of two factors. One, the connection with the Brahmaputra River through its Gadadhar tributary provides a marketing network with other cities. Potters carry their wares by boat, a low-cost means of transportation, and then by road, which gives them access to a wide market. 
Two is the proximity to the source of their main raw material – clay. This sticky clay is called Hiramati and is collected from riverbeds during winter and spring using a wooden spade called kodal. 
The stickiness of clay helps shape the products easily and its quality determines the strength and finish of the final product. Since they are handmade, the final product varies from artisan to artisan depending on their experience and creativity.
Also Read: Molela: Rajasthan's terracotta plaque art patronised by Bhil, Mina & Garasiya tribal communities
The process begins when artisans go to collect clay from the banks of river Silair, which is in the nearby Silairpar village. They bring it to Asharikandi by boat through the Gadadhar River. 
The clay is soaked overnight after which impurities are manually removed. The raw clay is mixed with water, sand and caustic soda to avoid cracks or bends when it is put for sun drying. 
Now the clay is kneaded with hands and feet for about two hours to bring about elasticity. After this, the clay is ready for being shaped.
To make pottery, the clay is thrown on the wheel. The coiling and pinching technique, also used in Manipur's Andro pottery, is used to give the desired shape. 
The objects are sun-dried for two days after which, a coat of kabish (a glaze prepared using red clay) is applied to them. For kabish, the red clay is collected from nearby hills.
Also Read: How Nizamabad's 500-year-old black pottery is regaining lost glory
Livelihoods & international acclaim
The terracotta figurines of Asharikandi received international acclaim after the artisan late Sarala Bala Devi made the famous Hatima Putul. 
She also received the national award for Hatima Putul, which translates to 'mother with elephant-like ears'. 
It has a baby on her lap and is one of the most well-known Asharikandi pieces. Her son Dhirendra Nath Paul is also an internationally acclaimed terracotta artisan.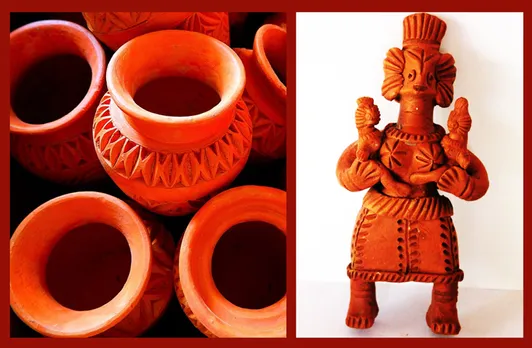 The other terracotta products made at Asharikandi include horses, elephants, rhinos, idols of gods and goddesses, many types of dolls, utility and decorative items etc. 
Earlier, the products were made for local zamindars and rich people. Now the artisans sell their products at various trade fairs and exhibitions organized by NGOs and government departments across India. 
The Barmans, traditionally fishermen in Asharikandi, are also now sellers of terracotta products. Due to dwindling fish catch, and better opportunities in terracotta products, they switched over to selling local artefacts. Bulk buyers approach the village artisans directly and place orders for products, which are also exported.
With the intervention of the government and innovative designs by Aksharkandi artisans, the craft continues to thrive and grow in a world where many arts are struggling for survival.
Also Read: On a bullock cart to the world: How this Jaipur man set up a successful Blue Pottery business