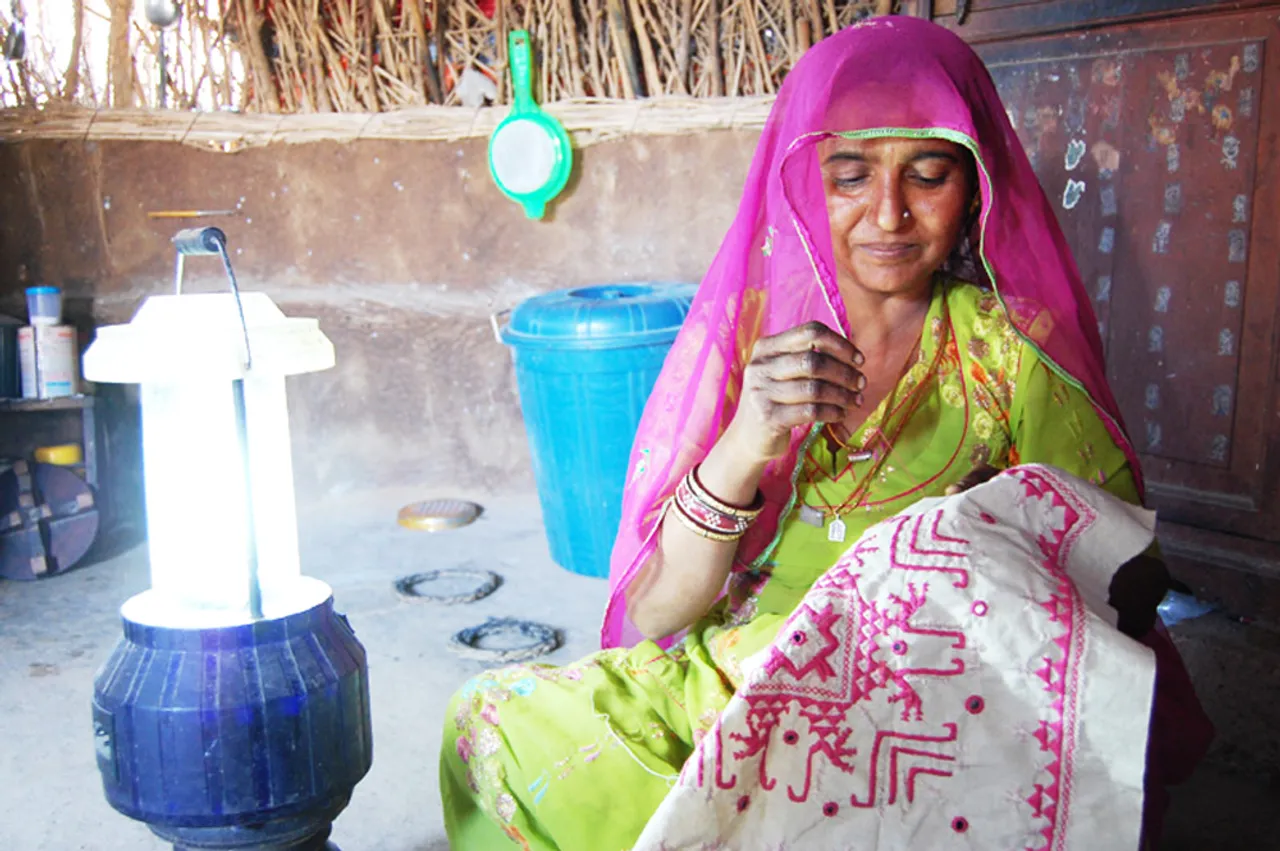 India is home to a rich tradition of handicrafts. Almost every state has its tradition of beautiful weaving and embroidery that was used to make dresses and linen and . The embroidery items were also part of a bride's trousseau and the dowry that was given to the boy's family.
Embroidery is the art of decorating cloth or clothing with patterns which are sewn directly onto cotton, silk or other fabrics using colourful threads and a needle. The threads are also mostly made of cotton or silk and come in many colours to add richness to the embroideries. 
Traditionally, each embroidery style had its own motifs and patterns. Today, in addition to the old ones, artisans are experimenting with newer themes and figures to contemporize the craft and appeal to a larger audience.
Over the centuries, embroidery has been done only by women. 
The embroidery craft involves both precision and patience and women did it mostly as a leisure activity after finishing household work. 
Some of these embroidery traditions faded away over time as the younger generation did not have the time and inclination to pursue them and they were not remunerative as well. 
However, some enterprising people saw potential in these traditional embroideries and undertook efforts to revive and promote them. They trained others in the craft and helped in women empowerment. They also created entrepreneurs on the way. These embroideries, a part of India's rich art and culture, gained national and international recognition due to their efforts.
Here are five individuals and institutions that have given a new lease of life to the embroidery arts practised in different regions of India:
1. Himachal's Chamba Rumal revived by Lalita Vakil: 
Growing up in an impoverished household, Lalita Vakil overcame many challenges. She says the only thing that kept her going was learning new things. She learnt embroidering, knitting and sewing by observing other women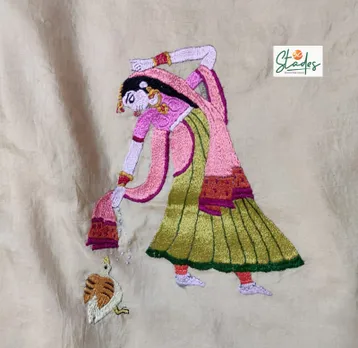 Her life changed for the better after her marriage. Her husband, Manmohan Singh Vakil, was a topper of the Mumbai-based JJ School of Arts and his cousins were artists. Lalita had learned Chamba Rumal or Rumaal embroidery at school.
Chamba Rumal is a square embroidered handkerchief that was patronised by the rulers of the Chamba kingdom during the 17th and 18th centuries. 
But the craft was almost dying out in the 20th century. Lalita's father-in-law suggested that she train local girls and women in this embroidery as it would empower them with a skill and also keep alive a dying craft.
In the last five decades, Lalita has trained thousands of people in Chamba Rumal embroidery, creating a network of artisan-entrepreneur women who are earning a living from the craft. She has received the Shilp Guru award in 2009, Nari Shakti Puruskar in 2017 and Padma Shri in 2022 for reviving the Chamba Rumal embroidery.
More on her work here: Himachal: Married at 15, how Lalita Vakil revived the dying art of Chamba Rumal embroidery
2. Punjab's Phulkari by Lajwanti Chabra:
The colourful embroidery done with silk threads to create geometric and floral patterns on fabrics is intrinsically associated with the life of people in Punjab. Whether on births, weddings or other occasions, Phulkari is used to celebrate milestones in life.
Earlier, the craft was passed on from mother to daughter and considered an essential life skill. It was customary to give Phulkaris to the bride and the groom's family at the time of marriage.
With time, however, machines took over the craft and the original embroidery techniques began fading away. However, Lajwanti Chhabra in a small village in Punjab has the credit of reviving Phulkari.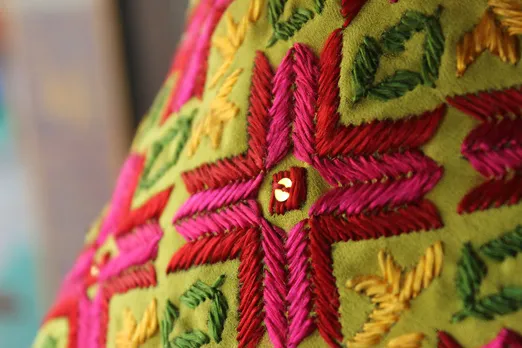 She started doing embroidery on sheets, pillow covers and other linen at her home after marriage. Slowly she built up a market for her range of products and runs a successful business today. Alongside, she also started training women across Punjab which has given a fillip to the craft.
She received the Padma Shri in 2021 for popularising Punjab's embroidery tradition.
Here's her story: Lajwanti Chabra: The woman who took Punjab's folk embroidery Phulkari to the nooks & corners of India 
3: Tamil Nadu's (Nilgiris) Toda embroidery by Sheela Powell: 
The Todas are a small pastoral community living for generations in the Nilgiris, one of the oldest mountain ranges, located at the tri-junction of Tamil Nadu, Kerala and Karnataka. Their population is dwindling as there are only about 2000 Todas as per the 2011 Census. 
The Toda women practice traditional Toda embroidery which is done using red and black woollen threads on a white or off-white cotton base.
Sheela Powell is trying to preserve this embroidery. She opened her store, Shalom, in 1992 as a point of sale for household items handmade by local Toda women in Ooty.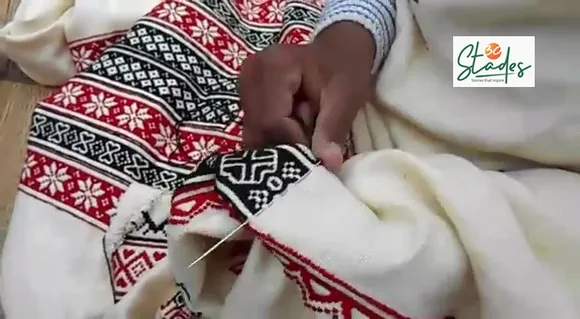 Sheela buys shawls, cushions, and bedcovers that the women make with traditional patterns and designs. She has trained women to make small products like clutches, coin purses, and mobile covers to popularize embroidery.
Over time, the store has transformed into a social enterprise giving a new lease of life to 250 Toda women and their traditional embroidery.
More here: Toda embroidery: Preserving tribal craft from the Nilgiris stitch by stitch
4. Karnataka's Lambani embroidery by Sandur Kushala Kendra (SKKK):
Women from the Lambani tribe in Karnataka make embroidered handicrafts from scrap by pulling out thread from old saris and sewing together patches of cloth, which is then embellished with embroidery, mirror work, cowrie shells, beads and coins.
These stitches over pieces of fabric mostly follow geometric patterns like triangles, rectangles, squares, circles and diagonal lines made by using threads in different colours.
The Lambani women have put their traditional embroidery craft on the international map by adapting to the changing demands of international fashion. And the craft has moved beyond clothes to phone covers, bags, pouches, cushion covers and other items.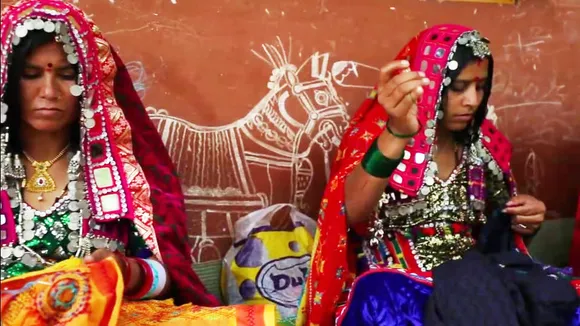 About 500 Lambani women are being assisted and handheld by the not-for-profit crafts initiative Sandur Kushala Kendra (SKKK) at Sandur in Karnataka's Bellary district. SKKK has trained the women in new designs and products and pays them wages and benefits such as subsidised ration, bonuses and a provident fund.
More here: Also Read: Lambani: How bold Banjara embroidery with cowrie & coins travelled from Bellary to the world
5. Rajasthan's Kashidakari by Lata Kachhawaha:
Thousands of migrants from Pakistan are settled in villages in the Barmer district of Rajasthan along the India-Pakistan border. The migrants faced financial difficulties due to limited opportunities for work in the desert area when they first arrived in the 1960s.
The Meghwal community migrant women knew Kashidakari, a type of embroidery that creates natural motifs with multi-coloured threads and beads.
Activist Lata Kachhawaha turned their talent into their strength. She brought in trainers from design institutes to teach the women new embroidery designs that could be used in clothing and linen and were in line with consumer demand.
Today, over 40,000 women in Rajasthan, including Pakistani refugees, are earning a living through traditional embroidery, besides animal husbandry and agriculture.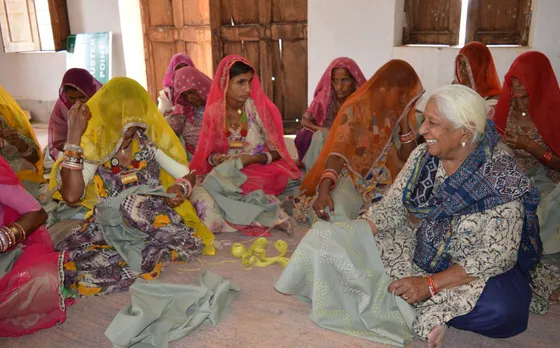 Sindhi Kashidakari is practised by women in western Rajasthan. Among the Meghwals, Kashidakari was taught by mothers to daughters. The women made Kashidakari items for their wedding trousseau and to be given as part of the dowry to the groom's family.
Kashidakari is done using thick, colourful threads and beads to make various beautiful patterns. Most motifs are inspired by nature, such as flowers, trees, birds, and peacocks. Bright geometric patterns are also created and mirrors are sewn to add to the beauty of the design. The mirrors are also added because the Meghwals believe mirrors repel the evil eye.
More here: Thousands of Rajasthan's rural women empowered through up-skilling in embroidery
image widget