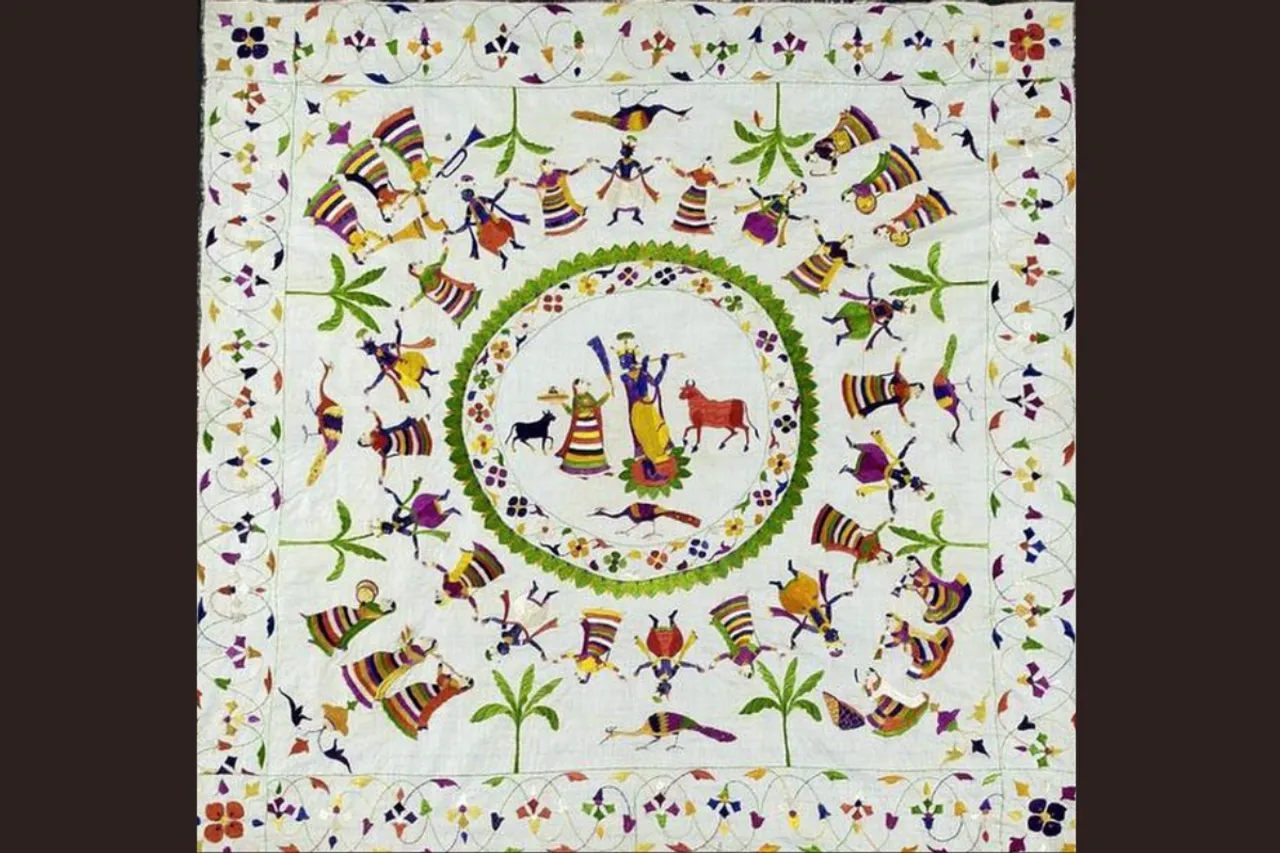 Chamba Rumal, the craft of embroidering miniature paintings on fabrics, was patronised by the kings of Chamba in the erstwhile princely hill state of Himachal Pradesh. The craft, with a Geographical Indication tag, flourished in the 17th and 18th centuries. It reached its zenith during the reign of Raja Umed Singh of Chamba (1748-68), a patron of miniature artists who had fled from the courts of Mughal rulers. 
The craft of embroidering Chamba Rumals continued to grow under the king's successors for the next century-and-a-half. A Chamba Rumal can be as small as a handkerchief and as big as a bed sheet. With bright embroideries on white or off-white fabric and based on themes from the Mahabharata, Ramayana, Krishna Leela and other epics, it was an essential part of a girl's wedding trousseau.
Chamba's King Sham Singh, who ruled from April 17, 1873, to January 22, 1904, was coroneted when he was just seven years old and was entrusted with full ruling powers in 1884. The king was a visionary and also a connoisseur of arts, including the Chamba Rumal. 
Jessie Ann Tully was governess to Raja's children. She was a graduate in education and was responsible for teaching English and other curriculum to the kids. When Jessie was betrothed to John Anderson McNie, who was involved in the Hazara campaign in the North West Frontier in the early 1890s, she received an unexpected gift from the Rani of Chamba.
"In July 1898, the Rani of Chamba on the betrothal of my grandparents presented my grandmother, Jessie Ann Tully with this remarkable Rumal she had made for her. My grandmother was governess to Raja's children," Jessie's grandson James T. McGregor McNie, told 30Stades in an email. 
Jessie and John got married in Scotland on July 29, 1898, after which he fought in the Boer War in South Africa (1899-1901). The Chamba Rumal, featured at the top of this page, was gifted by the Rani to Jessie and the image has been shared by James, now 76. 
Also Read: 5 traditional embroideries that found a new lease of life in the 21st century
It is of cream-coloured silk and embroidered using gilt wire braided thread. "The design depicts the circular dance of Lord Krishna and the gopis (milkmaids) in a meadow. The flute-playing Krishna in the centre magically causes each of the gopis to believe that he is dancing with her alone. Other gopis accompany the dancers on musical instruments," James explains in the mail.  
"The border consists of a design of flowers, peacocks and palm trees," he adds.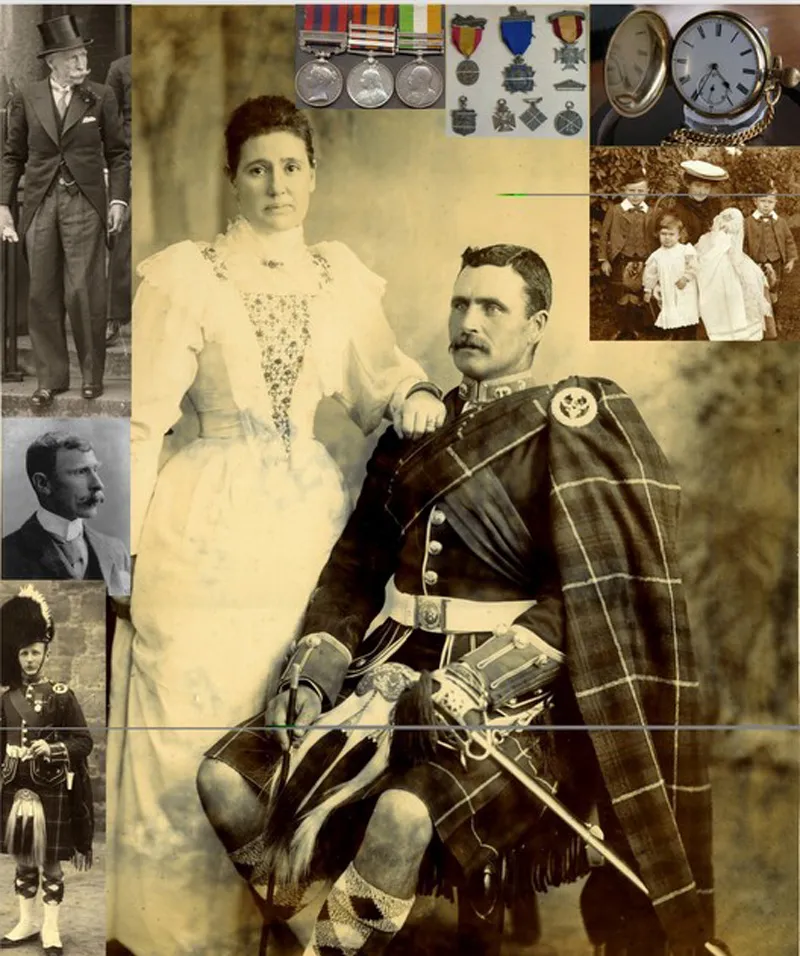 "I know that the then king (Raja Sham Singh) was a very keen photographer and undoubtedly he will have taken many images of his children with their governess," he says, hoping that some of them could be preserved in the museum at Chamba.
Jessie and John had four sons. Two of her sons served in India. "My uncle Col T 'Gregor' McNie, was a consultant gynaecologist with the British Army based in North-West India and my father, Ian Anderson Brand McNie worked on the sub-continent from 1923-1963. He retired as Superintendent of James Warren's tea gardens in South Sylhet," James says.
James was born in Shillong in 1947 and subsequently worked for Grindlays Bank in both Calcutta (now Kolkata) and Bombay (now Mumbai) between 1969 and 1972.
The Rumal was preserved by the McNie family for over 90 years.
One of James' cousins donated the Chamba Rumal to the Glasgow Museum in Scotland in 1990. 
It was displayed by Glasgow Museum at the Hinduism exhibition in 1992. "The Rumal is now housed in the reserve collections at Glasgow Museums Resource Centre in Nitshill, Scotland. It is a piece of great importance, being of fine quality and with a direct connection to a 19th century Rani of Chamba," James says.
Also Read: Lajwanti Chabra: The woman who took Punjab's folk embroidery Phulkari to the nooks & corners of India 
Historic Chamba Rumals
Another iconic Chamba Rumal, depicting the Battle of Kurukshetra, was gifted by Chamba's Raja Gopal Singh to the British in 1883 and is now in the Victoria and Albert Museum in London.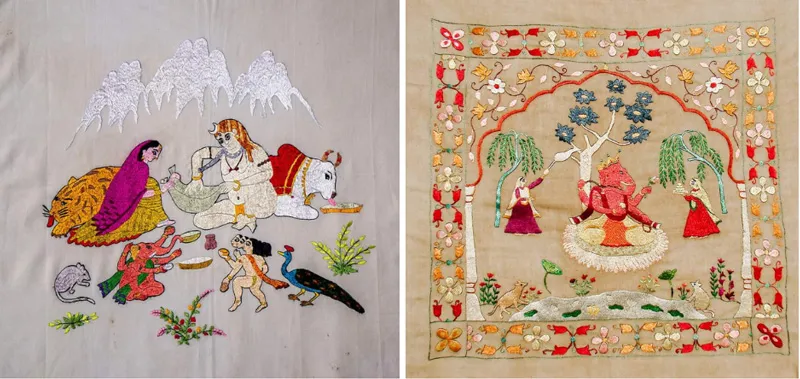 The oldest dated handmade Rumal belongs to the 16th century and is said to have been embroidered by Bebe Nanki, the sister of Guru Nanak. This piece is now preserved in the Sikh shrine in Hoshiarpur district, Punjab.
For making the Chamba Rumal, first Pahari miniature paintings were drawn on coarse cotton fabric (khaddar) or soft mulmul by painters and then embroidered by women.
The embroidery technique of Chamba Rumal is double satin stitches, also known as do-rukha tanka, where the thread is carried forward and backwards alternately.
So both sides of the cloth are embroidered simultaneously and look identical. Occasionally, other stitches like the cross stitch, the herring-bone stitch and button-hole stitch are also used.
The craft faded into oblivion about 100 years back and was recently revived by a handful of artisans. One of them is  Lalita Vakil, who also received the Padma Shri for training hundreds of women free of cost in the craft and creating embroidery entrepreneurs in Himachal Pradesh.
Also Read: Lambani: How bold Banjara embroidery with cowrie & coins travelled from Bellary to the world