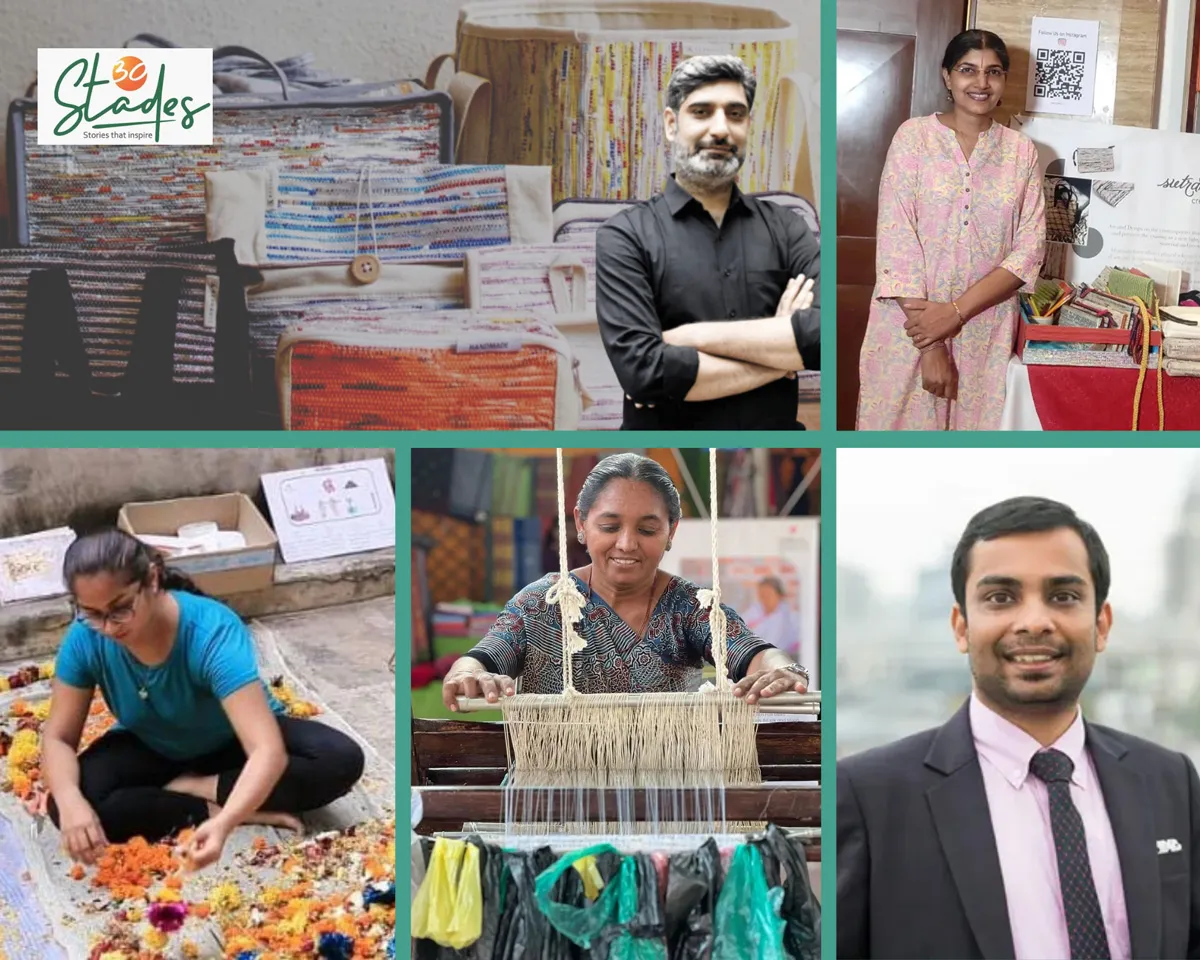 When it comes to making money, the last thing on anybody's mind is trash or waste. After all, the two seem opposite. But today, when waste has reached every nook and corner of the world, it's possible for any smart entrepreneur to make money through management, recycling or up-cycling waste.
Plastic, which is choking the oceans and mountains alike, lends itself to multiple uses through upcycling. From bags to cushion covers and pouches to mats, there is an endless list of products that can be made using discarded plastic. The priority, however, should be to reduce or stop the use of plastic altogether. And then follow the attempts to reuse, recycle and upcycle plastic.
Upcycling and recycling are different though often used interchangeably.
Recycling involves the processing or destruction of waste to create something new, like compost from discarded temple flowers which otherwise end up polluting water bodies. Upcycling, however, creates something new from waste in its current state like weaving plastic strips with cotton to create a fabric that can be used to make interior décor items.
Some social entrepreneurs in India are using both recycling and upcycling to process waste and achieve the twin purposes of cleaning up the environment and creating sustainable enterprises. 
These entrepreneurs are an integral component of the circular economy, which reduces material use, redesigns materials for reuse and recaptures waste as a resource to manufacture new products.
Alongside this, they empower underprivileged communities, especially women, by creating livelihood opportunities for them. 
June 5 is World Environment Day and it reiterates the urgency towards beating plastic pollution and combating waste in all forms. 
Here are five Indian entrepreneurs making cash from trash while reducing pollution:
1. Nandan Bhat: His Pune-based social enterprise, EcoKaari, upcycles around 60 tonnes of plastic waste annually. Nandan was working with Sony India when he decided to quit and focus on combating plastic pollution.
As a regular trekker, he would encounter plastic waste scattered amid hills and mountains which made him think about resolving the problem. EcoKaari collects plastic waste from NGOs and corporates. It is washed and dried under the sun and then segregated depending on the thickness and other factors.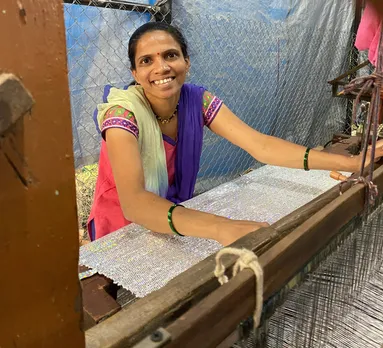 The segregated waste plastic is then cut into thin strips, which are spun using a charkha or spinning wheel and the yarn is then woven into fabrics, which are used to make sustainable utility and home décor items sold globally.
EcoKaari produces bags, pouches, backpacks, cushion covers, pencils, laptop sleeves, and other products by combining traditional Indian crafts with its upcycled and handwoven fabrics.
The company clocked a turnover of Rs1 crore last fiscal through sustainable products.
Ecokaari's 95 employees are mostly women who are paid between Rs 6,000 and Rs 12,000 depending on their work and the time they put in. All the women belong to underprivileged communities.
Read his story here: This Kashmiri man quit Sony India to upcycle plastic waste; clocks Rs 1 crore annual turnover through sustainable products
2. Neerja Palisetty: Her enterprise Sutrakaar weaves paper yarn to make eco-friendly handicrafts. Being born in a family of weavers from Ponduru village in Andhra Pradesh, Neerja was always clear that she wanted to work in the handloom sector and towards the upliftment of weavers and women. 
"But I was not sure of the medium to use. Paper can be upcycled and it just stuck with me as it could be used to create eco-friendly products that also reduce carbon footprint," she says.
Pulp and paper is the third largest industrial polluter of air, water and soil. However, about 70 percent of the waste paper does not come back to the paper mills for recycling.
Sutrakaar sources discarded or waste paper from vendors in Jaipur, and handmade paper mills in Sanganer, for making paper fabric that is turned into handicrafts.
By not sending this paper to a recycling mill and using it as it is (upcycling), the green enterprise additionally saves water and electricity that would be used at the recycling unit. Sutrakaar's buyers are environment-conscious people who appreciate the rationale and hard work behind the products.
Here's her detailed story: Neerja Palisetty's Sutrakaar: Weaving paper yarn to make eco-friendly handicrafts
3. Ankit Agarwal: Back in 2015 on Makar Sankranti, Ankit was sitting on the ghats of Ganga in Kanpur with his Czech friend when he saw truckloads of discarded temple flowers being dumped into the river and their colour washing off. 
He watched hundreds of Hindu devotees taking a holy dip in the river and performing aachman (sipping water while reciting the names of Lord Vishnu) despite the visible muck. The sight unnerved him and jolted his conscience.
He decided to work around waste temple flowers so that they did not end up choking rivers, ponds and other water bodies. After 14 months of research in makeshift labs, he hit upon the best 17-ingredient recipe to turn flowers into bio manure, using earthworms. Next was making incense sticks from floral waste.
He quit his job at cyber security firm Symantec to start Phool.co, which collects and processes floral waste from temples to create incense, compost and other decorative items. It employs women from marginalised sections of society, some of whom were earlier into manual scavenging.
In October 2021, Bollywood actress Alia Bhatt invested in the enterprise that has been doubling revenues annually since 2020. Moreover, Phool.co's circular economy model combines the benefits of environmental, social, and financial sustainability.
The story:  Phool: where women turn temple flowers into incense, bio-thermocol & vegan leather    
4. Rajiben Vankar: Having seen plastic polluting her village, Rajiben, an expert weaver, felt upcycling it through weaving would generate income and also check pollution. Her eponymous enterprise collects around 600 kg of plastic every year of which about 400 kg is used for weaving and the unusable ones are sent to recycling units.
She has trained hundreds of women in upcycling plastic through weaving. 
Women collect plastic, which is soaked in detergents for a few hours and washed. Then hot water is added to remove oil or grease and it is washed again. It is dried for two days after which it is cut into strips. The plastic strips are then spun into yarn on the charkha or spinning wheel.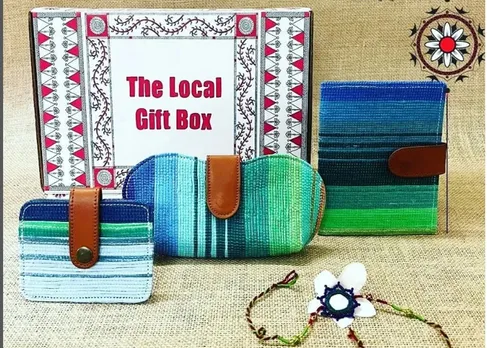 Rajiben works with 30 women from Bhuj, Bhujodi, Kukma, Lakhond and Madhapar villages of Bhuj taluka to create upcycled plastic bags, pouches, trays, planters, spectacle cases and other products. They are sold online and also bought in bulk by other social enterprises involved in marketing recycled products.
Her story: Gujarat's Rajiben Vankar: From living in a tent to weaving upcycled plastic, how this housewife set up a successful business from waste
5. Maitri Jariwala: A chemical engineer by training, Maitri, now 24, got interested in recycling temple flowers following a project done at her college -- Bhagwan Arihant Institute of Technology, Surat.  
After finishing college, Maitri remained determined to pursue her work in waste management and thought of launching a startup. "I did not want to do anything else. So, I continued the project," she says.
While she earlier named her enterprise 'Begin with Flowers', it is now called Kalla with a tagline of 'Begin with flowers'. Kalla is a zero-waste enterprise that recycles waste temple flowers into incense sticks, soap bars, gulaal (dry colours), vermicompost and aromatic candles. Her monthly revenues are over Rs2.5 lakh and she employs local women for flower segregation, washing, drying, powdering and manufacturing of various products. They earn between Rs 3,000 and Rs5000 per month. 
Read this young engineer's story here: Surat: 22-year-old engineer's startup recycles temple flowers into soaps, colours, candles & compost