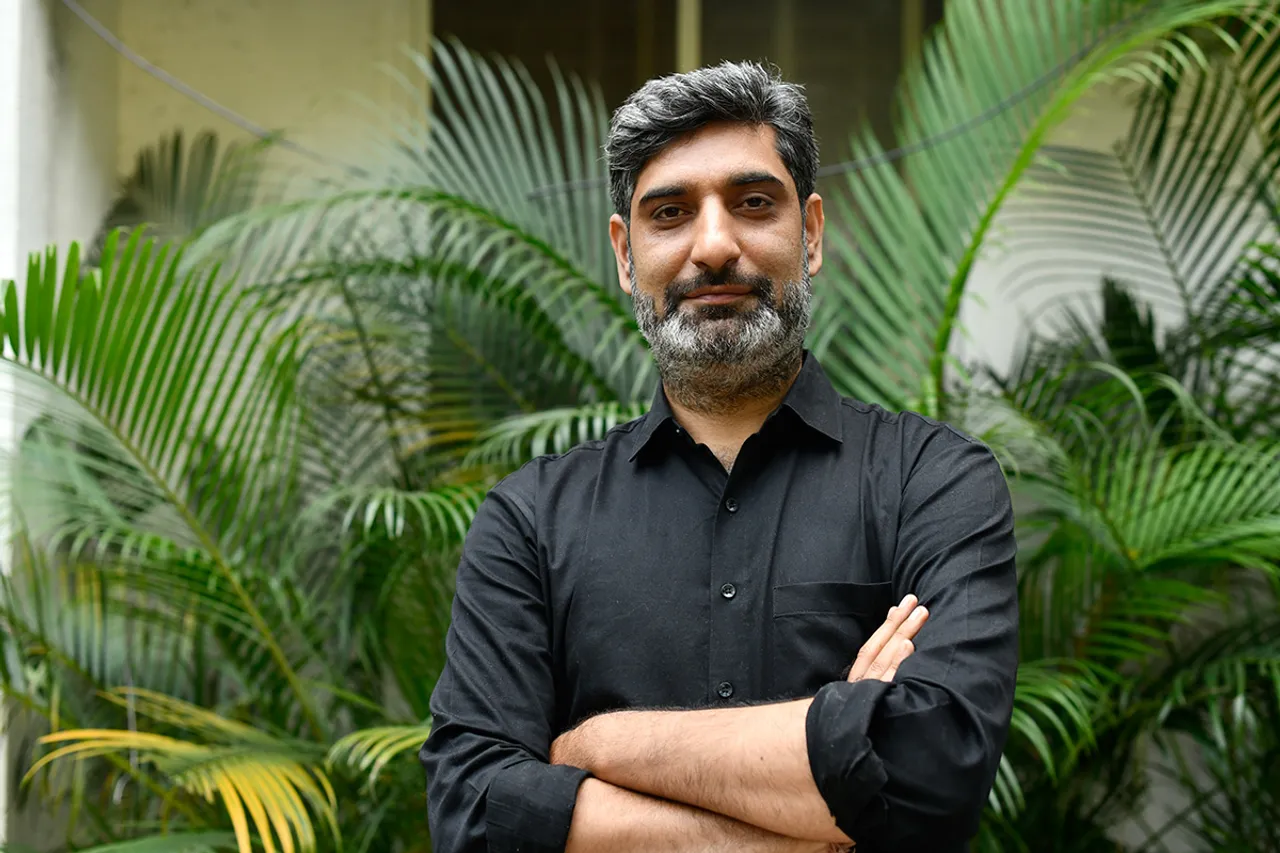 Ashvani Mandre from Warje in Pune was earning just Rs 70 per day by tailoring from her home. Her husband, a construction worker, would get Rs 500 on days he got work. At other times, her family had to rely only on her tailoring income to meet daily expenses. With three children, it was extremely difficult for her to run the household.
"We would always worry about daily expenses. I decided to take up tailoring to earn money. But after finishing the household work, all I could do was stitch a blouse a day that brought in only Rs 70," says Ashvani.
About a year back, a neighbour asked Ashvani if she wanted to earn a steady income. She readily agreed. It was then that Ashvani was introduced to EcoKaari- Humanising Fashion, a sustainable and eco-friendly brand that upcycles waste plastic into handcrafted fabrics using charkha and handloom. 
EcoKaari produces bags, pouches, backpacks, cushion covers, pencils, laptop sleeves, and other products by combining traditional Indian crafts with its upcycled and handwoven fabrics. 
Ashwani received training and began working in the manufacturing unit of EcoKaari. "I cut the dry plastic waste into strips and weave it into a fabric. Before joining here, I did not know at all about this process but I received comprehensive training. Now I earn Rs 6000 a month," says a happy Ashvani.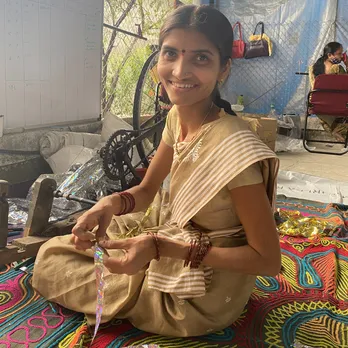 "Now, we don't have to worry about our children's educational expenses. Also, I can save something for the future. The financial stress has reduced greatly," she says.
Also Read: Neerja Palisetty's Sutrakaar: Weaving paper yarn to make ecofriendly handicrafts
Ashvani is among 95 employees, most of them women, who are now earning a stable income by working with EcoKaari. "The women working with us are paid between Rs 6,000 and Rs 12,000 depending on their work and the time they put in. All the women belong to underprivileged communities," says Nandan Bhat, founder of EcoKaari.
From Kashmir to Pune
Nandan, 42, belongs to Kashmir. His family was well off and they owned apple orchards. However, due to insurgency, Nandan and his family were forced to move out of the valley. 
Nandan was nine when the family moved into a refugee camp in Jammu where they lived for seven years.  
In 2003, the then Shiv Sena government in Maharashtra granted a fixed quota in educational institutes to Kashmiri Hindus to help them get back on their feet.
Keen to complete his higher education, Nandan moved with his family to Pune where they had to rebuild their life from scratch. The situation improved when Nandan finished his MBA in Sales and Marketing from Savitribai Phule Pune University and got a job with the Tata Group. He then worked with many other companies as a sales professional.
Also Read: Surat: 22-year-old engineer's startup recycles temple flowers into soaps, colours, candles & compost
But some things bothered him. "As a regular trekker, I would go on treks. Amid the beautiful scenery, I would also encounter plastic waste scattered on the way which spoiled the treks and it made me think what I could do to resolve the problem," says Nandan.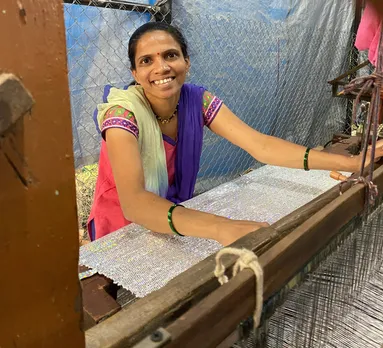 According to a report by the Marico Innovation Foundation released in January this year, around 34 lakh tonnes of plastic waste is generated annually in India. And only 30 percent of it is recycled.
Eventually, in 2015, Nandan left his high-paying job at Sony India in Mumbai to work on his plan of making products out of plastic waste. 
In partnership with a friend, Nandan started a company to upcycle plastic waste and turn them into various products such as bags and stationery items. However, the brand shut down during the pandemic.
But Nandan did not give up. In 2020, Nandan started his business alone under the EcoKaari brand. "We manufacture 45 products including backpacks, bags, cushion covers, pencils, laptop sleeves, pouches, and other products," says Nandan. 
He invested around Rs20 lakh from his savings to get the business off the ground.
Also Read: How Chennai's Tüla has made organic farm-to-fashion viable by reviving desi cotton cultivation & weaving
Plastic waste to eco-friendly products
Upcycling has many environmental benefits. Most importantly, it reduces the amount of waste going to landfills and reduces plastic pollution. Upcycling also reduces the need for production using new raw materials, which helps bring down water consumption, energy use, greenhouse gas emissions and carbon footprint.
Detailing the upcycling process, Nandan says the plastic waste is collected from NGOs and corporates. It is washed and dried under the sun. Once dried, it is segregated depending on the thickness and other factors. The segregated plastic is then cut into thin strips, which are then spun using a charkha or spinning wheel.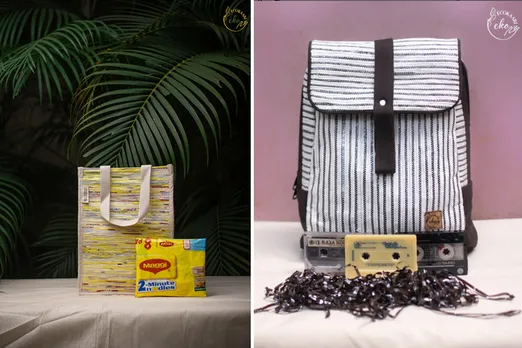 The plastic yarn forms the weft (horizontal thread) and cotton is used for the warp (vertical thread) to weave fabrics that can be used to make bags, pouches and other eco-friendly, upcycled products. The products have a cotton lining at the back, which increases their durability.
"We don't use machines. We work with handlooms and charkha. Even the products are handmade by the artisans to create maximum livelihood opportunities," says Nandan. 
He stresses that no colour is added to the final products and they retain the original colour of the plastic waste.
EcoKaari upcycles 4 to 5 tonnes of plastic waste every month. "We upcycle single-use plastics like polythene, grocery plastic bags, multilayered plastic wrappers of cookies, chips, detergents, glittery gift wrappers, and old audio and video cassette tapes," says Nandan. Currently, EcoKaari has two manufacturing units - one in Pune and the other in Bellary, Karnataka.
Also Read: Sagarmitra Abhiyan: How Pune and Jalgaon school children are recycling over 1 lakh kg of plastic annually
Nandan says the firm is getting orders not only from India but also from European countries. "The majority of our orders come from corporates which comprise around 60 percent of the total sales. The rest are from exhibitions and the EcoKaari website," he says.
About 15 percent of the total sales are from European countries, Nandan points out.
Some of the resellers in Europe sell the products under the EcoKaari brand while others rebrand them.
EcoKaari's turnover in FY2022-23 was Rs 1 crore. "Many people expect our products to be sold free of cost as it is produced out of waste. But they don't realize that a lot of hard work goes behind manufacturing that one beautiful and eco-friendly bag. Now consumers are getting more and more aware and conscious," says Nandan.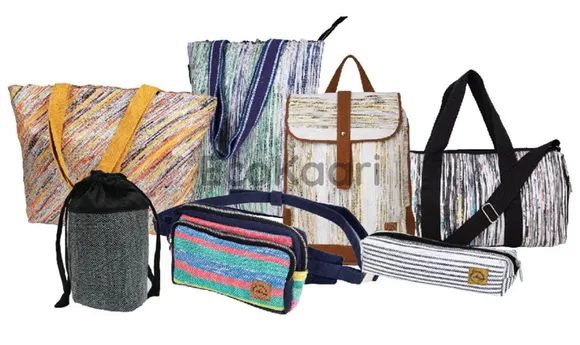 EcoKaari not only employs underprivileged women but also students who face financial constraints. One such student is Priyanka Patil, 22, whose father is an ironworker and has a small shop in Pune's Kothrud area. With his meagre earnings, he finds it difficult to pay for Priyanka's education.
Also Read: Recycling: Five cafés offering food in exchange for plastic
"I wanted to study and change my fate. I came to know about EcoKaari and joined it two years ago. I supervise the entire process, from collecting waste to the final products. I also take part in exhibitions and marketing the products," says Priyanka who has completed her graduation this year. She says she did not take money from her father for her education since she started working.
She explained what she learnt working with EcoKaari. "Apart from earning money to pay my college fees, I have also gained knowledge about marketing and how a manufacturing unit runs. So I am planning to pursue my further education in marketing and then get a better job in the same sector," says Priyanka.
Now Nandan is setting up two more manufacturing units, one in Jamshedpur, Jharkhand and another one in Odisha. "Through the brand, I want to generate employment for 5,000 underprivileged people and upcycle 100 tonnes of plastic waste every month," says Nandan.
(Bilal Khan is a Mumbai-based independent journalist. He covers grassroot issues, LGBTQ community and loves to write positive and inspiring stories.)
Also Read: Gujarat's Rajiben Vankar: From living in a tent to weaving upcycled plastic, how this housewife set up a successful business from waste