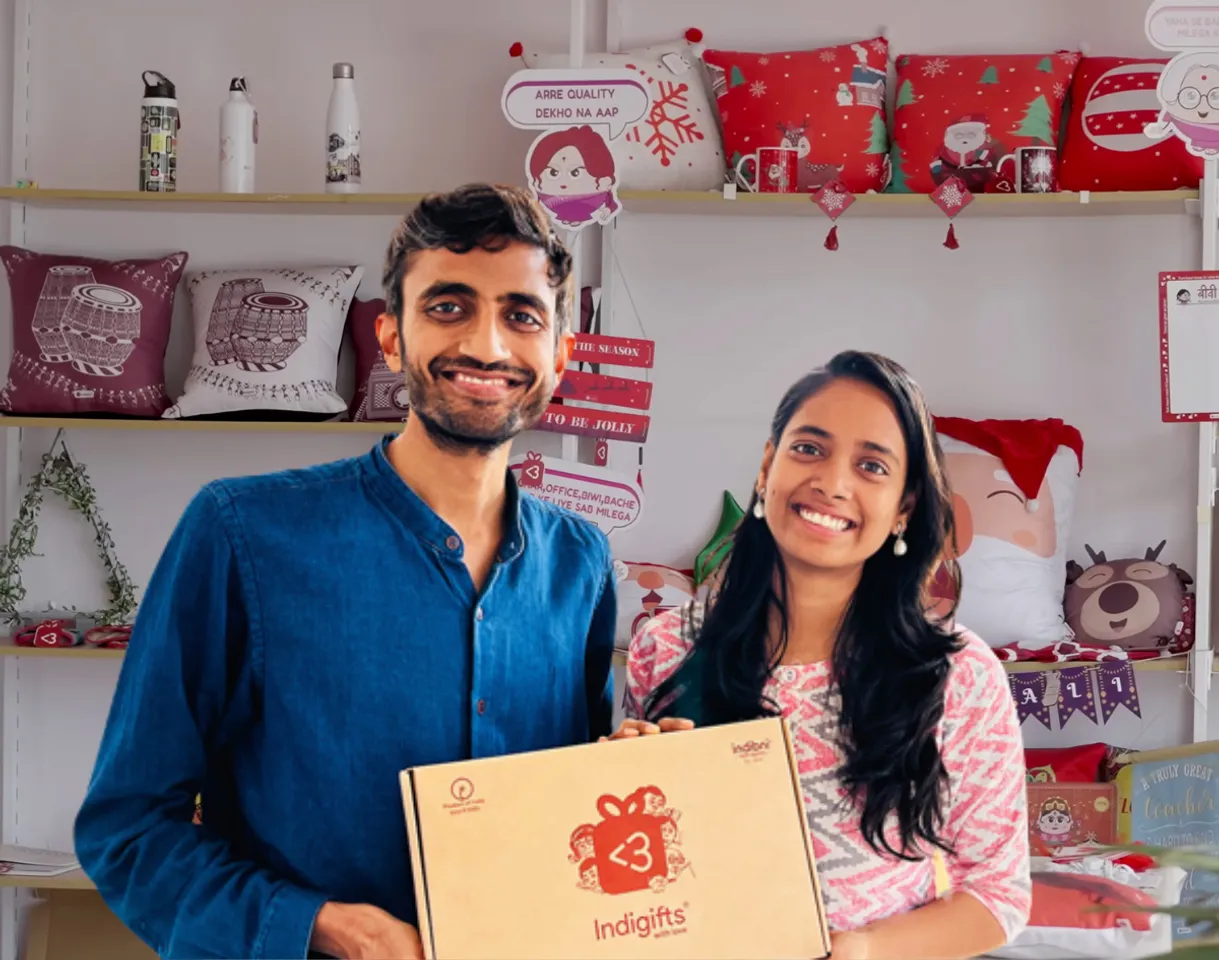 Nitin Jain was in college when his father passed away in 2008. His mother and sister started working to manage the household. Nitin too wanted to chip in and began freelancing in graphic designing. From there, he never looked back and today runs his customised gift items business, earning in crores.
Nitin, 35, grew up in Ajmer. His father was a banker. The family led a comfortable life till Nitin's father passed away in 2008. At that time, 19-year-old Nitin was pursuing his Bachelor of Animation and Multimedia from Birla Institute of Technology, Mesra, Jharkhand.
After his father's death, the family moved to Jaipur in 2009 where his mother started working as a social worker. "Because of my mother and elder sister, I got the freedom to pursue what I wanted. They took care of the family's expenses and I didn't have to worry about it," says Nitin. 
Designs for success
He too decided to earn for himself so that his mother and sister did not have to provide money for his expenses. Having done a design course earlier, Nitin began freelancing in graphic design. "I would grab any designing work opportunity that came across. I remember earning about Rs 5000 per month," he says. 
"Inexperienced, I did not know how much to charge from the clients. I began with a fee of Rs 500 for designing a logo. Now, the amount for the same work runs in lakhs."
Since the income from freelancing was inconsistent and often inadequate, he started a designing and merchandising company in 2012 in partnership with five friends and named it Indibni. "We were doing well and worked for some marquee clients like the royal family of Mewar, the Rajasthan Government, the Bachchan family and 300 other big brands. At the peak of our business, we would make Rs 5-6 lakh a month in revenue from product branding, merchandising and designing services," says Nitin.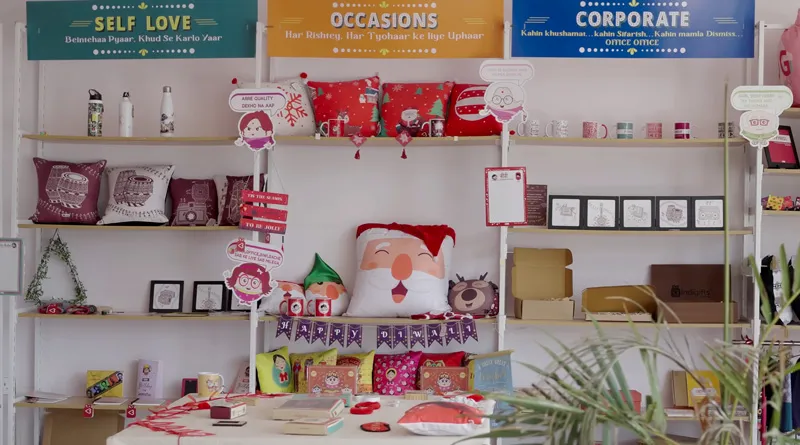 But then, Nitin realised that he needed to venture into product manufacturing with a different mindset. "We thought of promoting our rich Indian culture through utility items with contemporary designs that would appeal to people of all ages," he says.
Also Read: How Gwalior's iTokri became international e-tailer of handcrafted fabrics & artworks
Diversifying the business
In 2013, while providing product designing and merchandising services to a company at the Jaipur International Film Festival, Nitin also exhibited a few products of his own. "We had items like key chains, wall clocks, cutlery holders, hanging signs. I invested about Rs 15,000 for the same," says Nitin.
Nitin got a good response to his products. "We did not make a huge profit, but we observed that people liked our products. I recovered my investment. Since I was testing the products, I was satisfied with the results," he says. That was the beginning of entrepreneurship for Nitin, who branded the products as Indigifts.
After the successful trial, Nitin sold his products at exhibitions, and cafes and also listed them on e-commerce platforms including Amazon and Flipkart. "Since we were more focused on client servicing than revenues, sales did not matter much to us. We would get 200-300 sales orders a month," he says.
Also Read: Also Read: GreenKraft: taking banana bark baskets made in Madurai to Sweden's IKEA & beyond
In 2017, Nitin sharpened his focus on products and became selective in servicing clients. By then, he had created a portfolio of around 500 products ranging from daily utility and home decor items to gifts. Indigifts' online sales began to soar.
"More and more people began to trust us for online shopping. We began to receive orders from across India. In that one year, we clocked Rs1.5 crore revenues," he points out. The majority of sales came from tier one and tier two cities. By then, his partners had left and Nitin managed the business single-handedly.
Nitin has about 8000 unique products (35,000 stock-keeping units) ranging from coffee mugs, lamps and key chains to towels, t-shirts, cushions and more. The products are priced between Rs200 and Rs1500.
Tradition with a quirky twist
Talking about the USP of the Indigifts gifting products, Nitin says, "Our products are handmade and based around traditional values and emotions. For instance, we have created some products around mothers under the category 'Mummy Da Dhaba' with emotional and funny messages."
"Our products are quirky, affordable and functional. We also infuse traditional Indian art in our designs," says Nitin. "We try to make the products environment-friendly. We are not 100 percent sustainable, but we are trying to be as much as possible."
The brand has come up with eco-friendly seed rakhis which can be planted in a pot after use. 
"We Indians use 50 to 60 crores of rakhis on Rakshabandhan festival every year and the very next day they go to trash, harming the planet. Through our environment-friendly seed rakhis, we are trying to tackle this issue," says Nitin.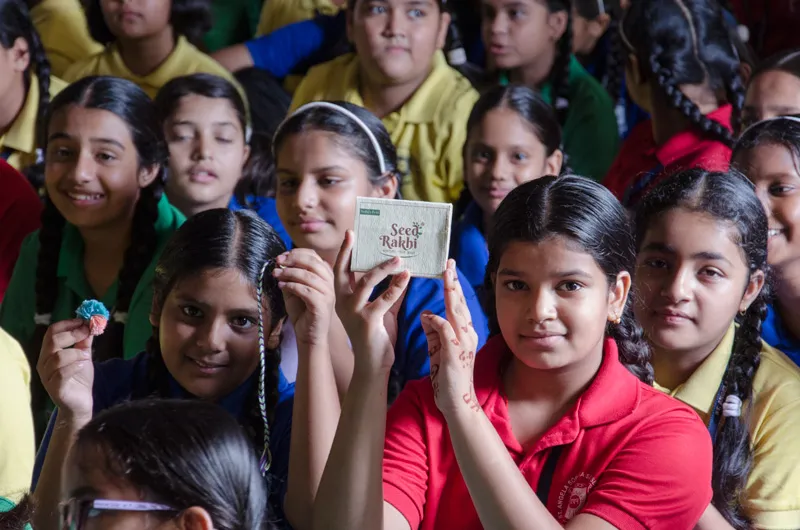 Indigifts sold around 40,000 seed rakhis last year. The biodegradable rakhi is made of cotton and has plant seeds in it. The rakhi is priced between Rs50 and Rs500. The price increases depending on the additional products like stationary added to the rakhis.
Indigifts sends around 5,000 rakhis to soldiers as a gesture of thankfulness for their service to the nation. "We have received about 2,000 thank you cards from soldiers so far. This means a lot to us," he says.
Also Read: Samoolam: How Usha Varia's social business crocheted a success story while empowering rural women in Bihar
Giving a helping hand
Indigifts products are made using glass, ceramics, textiles, paper, and wood. "We source raw materials from different parts of India," says Nitin. 
Nitin has tied up with women's self-help groups (SHGs) across Rajasthan, Kerala, Maharashtra, Madhya Pradesh and West Bengal who are provided with designs, training and raw materials to manufacture the products.
"They do not work solely for us, but because of our orders, their income has gone up significantly," he says.During festivals, these women artisans earn Rs15,000 to Rs20,000 per month. Around 200 women are associated with the enterprise.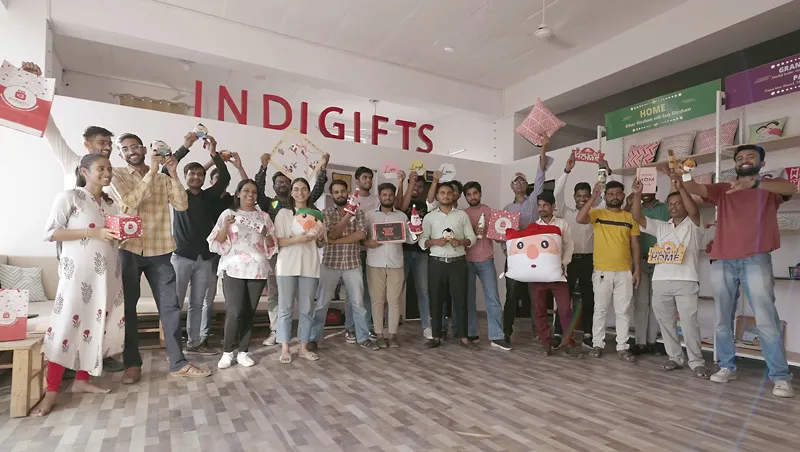 Nitin has three channels for sales -- e-commerce platforms, corporate sales and retail. 
"We are listed on 12 e-commerce platforms which account for 60 percent of our sales, 30 percent come from corporates and the rest is through the company website and retail sales," he says. 
Indigifts products are also showcased at two outlets in Jaipur. Initially, the company would receive 300-400 orders per month but now they get around 1,000 orders per day.
"We have even dispatched 10,000 orders in a day on many occasions. This is the momentum we got once the online sales picked up. We usually receive about 1,000 orders a day," says Nitin. His wife Divya joined him two years ago and looks after the operations of the company.
Also Read: Indian Yards: Bengaluru couple quits top MNCs for the love of hinterland; empowers indigenous women of the Nilgiris through Macramé craft
Talking about the revenue, Nitin says, "In the last fiscal year (FY 23) we crossed Rs 7.5 crore in revenues. We started with just one employee and now we have 30 employees. Earlier we operated from two offices. But now, we have a 12000 sqft space in Jaipur. The building includes an office and manufacturing unit," says Nitin.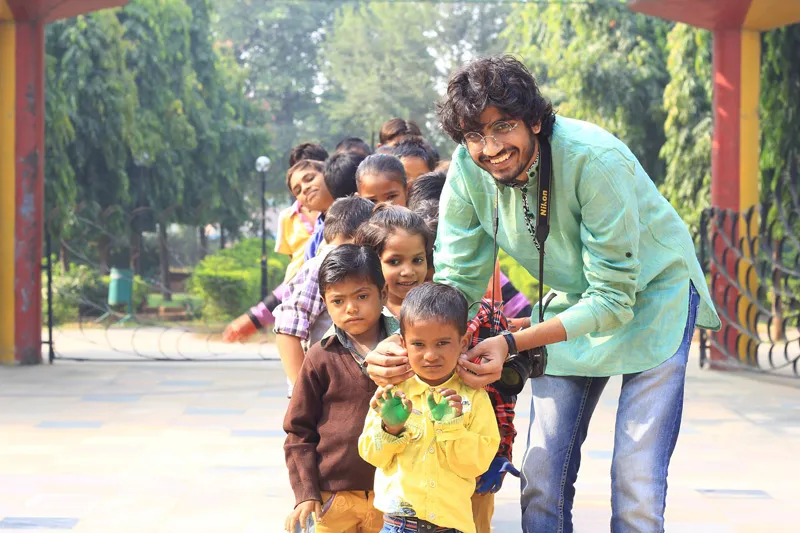 Initially, they would outsource the entire manufacturing process, but now they have a dedicated team for some of the products.
Nitin believes, to succeed with any product, there are four Ps - product, price, positioning and promotions. "I think we have got all the Ps right. That is the reason we managed to do well from the beginning," he says.
Nitin and Divya also run the Indigifts Forward Box. Customers can place an order for the same through the website and write a short story about the person to whom they want to send the gift. "We use the story to curate a gift and dispatch it for free. Currently, we are doing one story a day. So far we have dispatched 50 such free gifts. It is to promote the essence of priceless gifting," says Nitin.
Nitin has come a very long way through his successful business but believes in living a simple life. "We still live at our parental house in Jaipur. We don't own any cars or anything expensive. I want to create a world where we blend traditional art and culture with modern utility products that reach customers across the globe. I want to build a platform where every artist can find their art being appreciated," he says.
(Bilal Khan is a Mumbai-based independent journalist. He covers grassroot issues, LGBTQ community and loves to write positive and inspiring stories.)
Also Read: Bengaluru's Kottanz contemporizes traditional gifting with eco-luxury products handcrafted by rural women