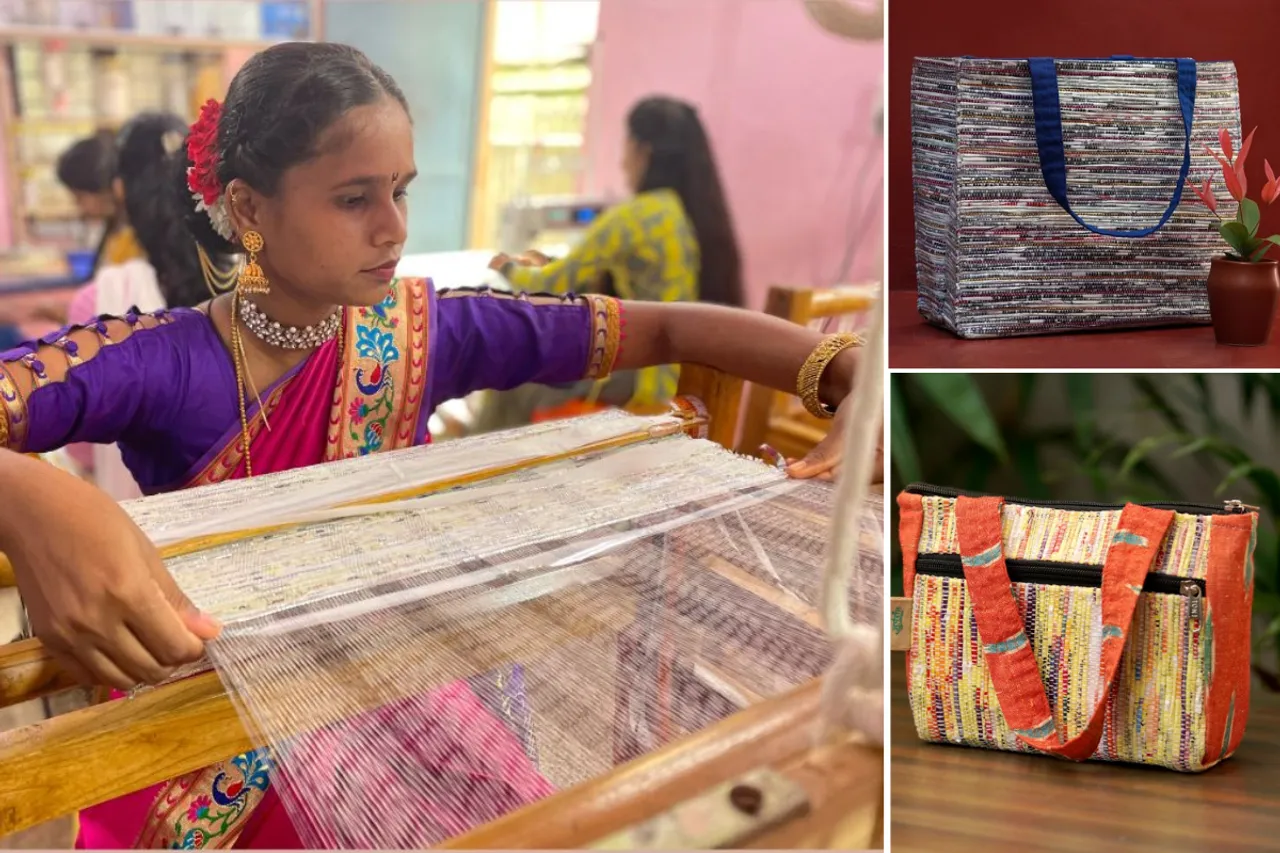 In the vast expanse of the ocean, amid the crashing waves and hidden treasures, a tragic sight unfolded along the coast of Maharashtra over two decades back. Turtles, graceful creatures of the sea, were falling victim to the silent killer lurking beneath the waves: plastic. When Chiplun, Ratnagiri-based NGO Sahyadri Nisarga Mitra (SNM) embarked on a turtle conservation project in 2002, their hearts sank on witnessing the devastating impact of plastic on these majestic creatures. 
Founded in 1992, SNM has successfully orchestrated numerous projects to protect and educate people about nature, ecology and biodiversity conservation. One of SNM's most widely acclaimed initiatives has been the turtle conservation project, which started in Velas, a small village on the northernmost boundary of the Ratnagiri district, and has now spread to the state's 720-km coastline. 
Every year, during the nesting season, the beaches along Maharashtra's western coast have once again become a safe haven for the endangered Olive Ridley and other species of turtles, thanks to SNM's efforts.

Olive Ridley turtles are considered endangered because of their few remaining nesting sites in the world. The species is legally protected under Schedule I of the Wildlife Protection Act, 1972 and Appendix I of the CITES Convention, which prohibits trade in turtle products.
Painful Plastic 
During February and March, Olive Ridley turtles come to the western coasts of Maharashtra for laying their eggs. Earlier, these eggs, rich in protein, were consumed by the locals, sold in the market or destroyed by dogs, hurting the population of turtles. 
Compounded by rising plastic pollution, turtles stopped coming ashore as they were unable to find clean spaces to build their nests. The accumulation of plastics at nesting beaches also puts baby turtles at risk of entanglement, which prevents them from reaching the sea.
Moreover, turtles end up eating plastic, mistaking it for jellyfish. Sharp plastic can rupture their internal organs or cause intestinal blockages leaving them unable to feed, resulting in starvation.
Also Read: This Kashmiri man quit Sony India to upcycle plastic waste; clocks Rs 1 crore annual turnover through sustainable products
Determined to bring about change, 60-year-old Bhau Katdare, founder of SNM, started Aparant, an initiative to achieve the twin objectives of biodiversity conservation and women empowerment by recycling and upcycling plastic – the biggest pollutant. The word Aparant is derived from Aparantaka (meaning Western border), which referred to the northern part of the Konkan region in ancient India. 
Aparant began its journey in 2020 in Chiplun with the support of Dow India through its Corporate Social Responsibility (CSR) fund. Their mission was twofold: to raise awareness about the harmful impact of plastic pollution and to transform waste plastic into beautiful bags, pouches and other eco-friendly items.
Plastic collection drive
Aparant educated the public about the importance of disposing of plastic responsibly, urging them to refrain from throwing it away as waste. The waste ends up in the oceans through water streams and hurts marine plants and animals, including turtles.
Aparant, however, faced an uphill battle as people remained indifferent to the matter, says Katdare, as it collected only 1,300 kilograms of plastic during the first year.
In their efforts to encourage upcycling, Aparant began purchasing plastic items for Rs5 per kilogram. They even introduced a unique lottery system called 'Plastic Bhishi'.
Under this scheme, all types of plastics are purchased from self-help groups of citizens, traders, students and women in 16 villages around Chiplun. They are given coupons for every kilogram of plastic.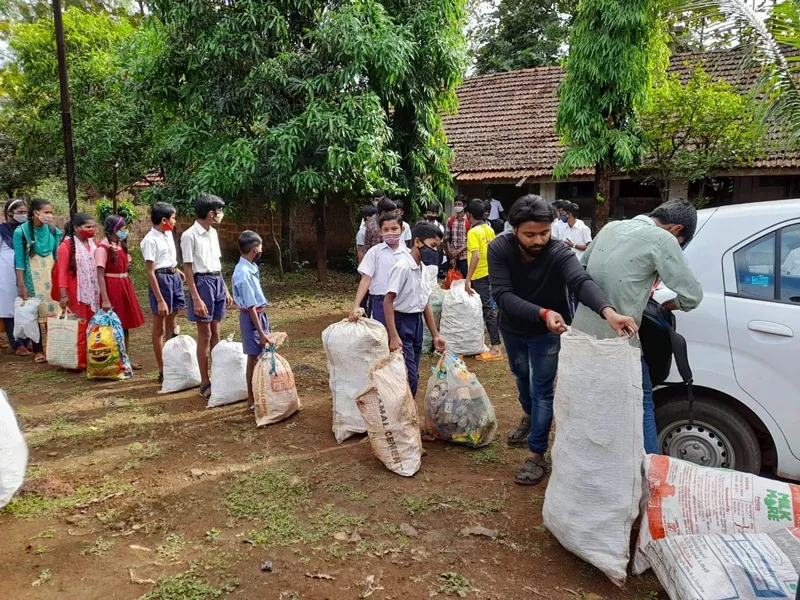 From the coupons collected, a lucky draw takes place once a month and the winners are given prizes. This incentivized participation in the plastic collection. Slowly, Aparant's message began to resonate. 
In the next two years, Aparant collected 44 tonnes of plastic waste, which threatened the lives of innocent creatures and released harmful toxins in the water bodies.
Recycling and upcycling plastic
Aparant's work extends beyond collecting plastic waste; they recycle as well as upcycle the plastic. The multilayer plastic that is difficult to recycle, like packets of Maggi and Kurkure, are upcycled to make eco-friendly products. 
Also Read: Sagarmitra Abhiyan: How Pune and Jalgaon school children are recycling over 1 lakh kg of plastic annually
While recycling involves the destruction of waste to create something new, like incense sticks from discarded temple flowers, upcycling creates new products from waste in its current state like weaving plastic strips to create a fabric that can be used to make interior décor items.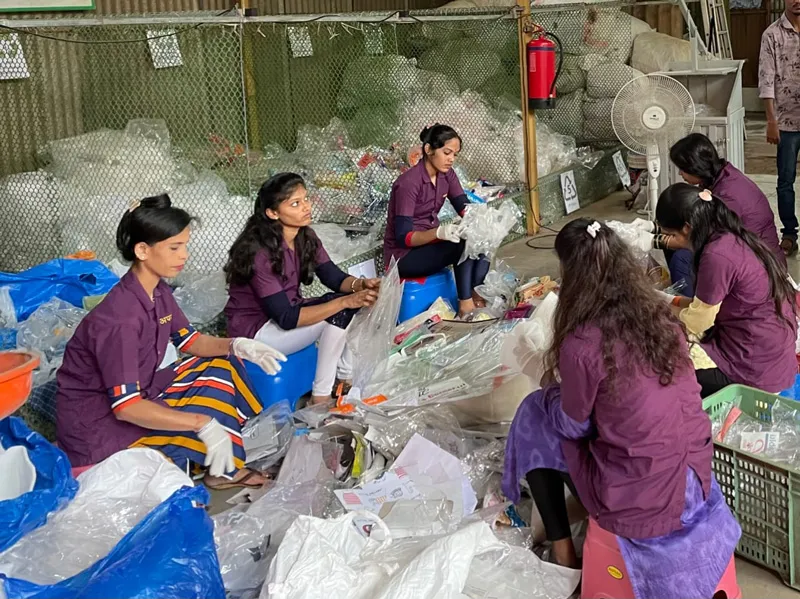 "Thin plastic, often overlooked by scrap merchants, ends up polluting our water bodies. This threatens marine biodiversity," says Katdare. 
Aparant collects dry and clean plastic from households around Chiplun once a week. Upcycling cuts down the amount of plastic waste going to the sea as well as landfills. 
More importantly, it reduces the need for production using new raw materials, which helps bring down water consumption, energy use, greenhouse gas emissions and carbon footprint.
On entering Aparant's facility, the multilayer plastic undergoes careful segregation based on melting points, followed by thorough sanitization and cleaning. The non-biodegradable and hard-to-recycle plastic is then dried and cut into strips of 0.5-inch width.
Also Read: Gujarat's Rajiben Vankar: From living in a tent to weaving upcycled plastic, how this housewife set up a successful business from waste
A team of women processes the plastic strips into threads. It takes a woman 8 hours to create a 5-metre plastic thread. These are then woven on a 22-inch handloom. The plastic yarn forms the weft (horizontal thread) and cotton is used for the warp (vertical thread) to weave upcycled fabrics.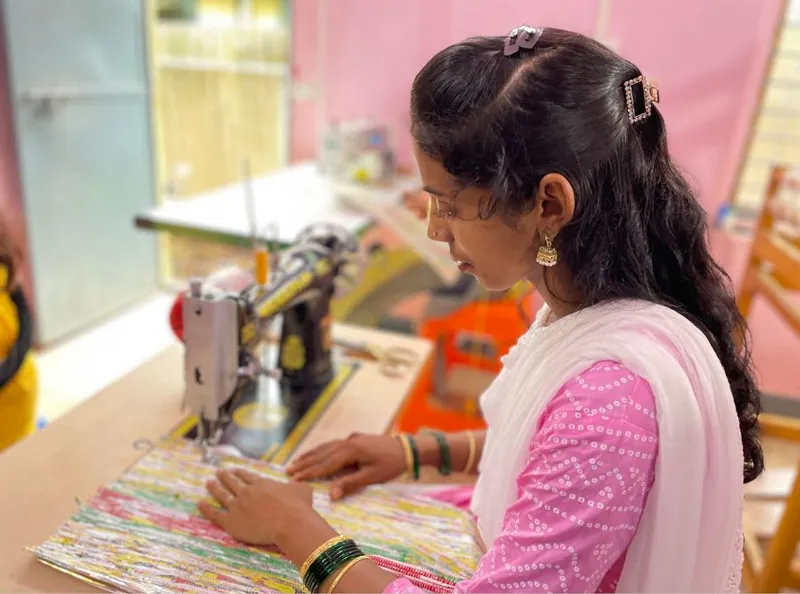 These fabrics are used to make bags, pouches, ladies' purses, etc. priced between Rs300 and Rs700. The products have a cotton lining and casement to improve their durability.
Each product uses 10 to 50 plastic bags, saving as much plastic from being dumped in the garbage.
Aparant employs 12 local women and the initiative empowers them with a steady income of around Rs7,000 per month, fostering financial independence and self-confidence. 
However, Aparant is facing marketing challenges. The handmade nature of their products has made it difficult to sell them in local markets as the production costs are higher than mass-produced alternatives.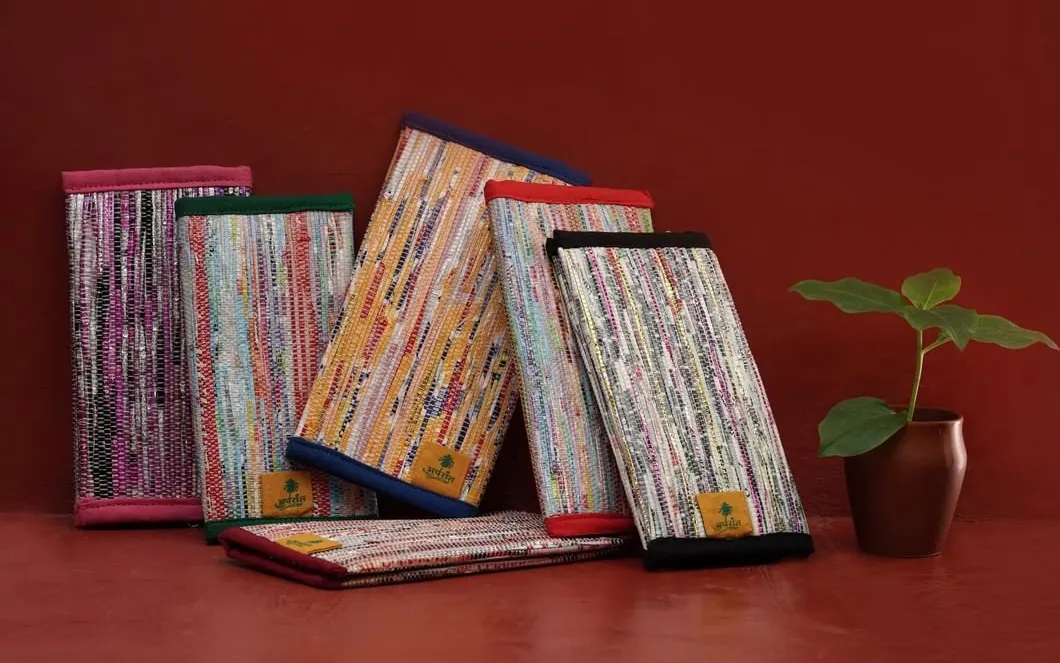 Katdare says while people understand the need to conserve nature and reduce plastic usage, they often fail to translate that awareness into action. "Selling upcycled products is very difficult. Most people understand the need to stop the use of plastic bags but they don't want to act on it. They don't think it is every individual's responsibility," says Katdare. 
Nevertheless, there are people who embraced the opportunity to make a difference. "These enthusiastic individuals recognize the value of eco-friendly products and buy Aparant's offerings," Katdare adds.
(Riya Singh is a Ranchi-based journalist who writes on environment, sustainability, education & women empowerment)
Also Read: How Waste Warriors cleaned up over 60 lakh kg of trash from the Himalayas