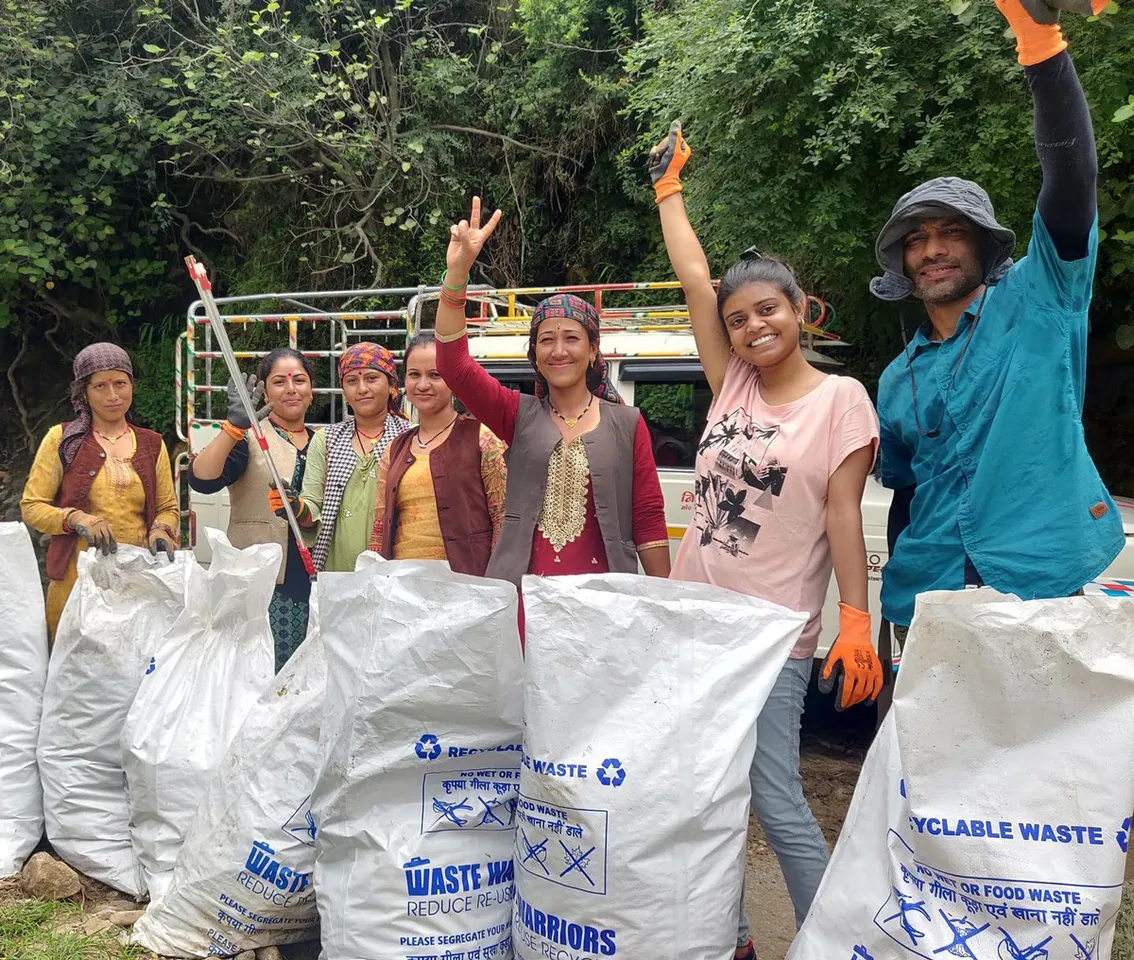 Any possible trip to the Himalayas conjures images of pristine snowcapped mountains in all their glory. But what if the majestic beauty of the peaks is interspersed with plastic bottles, wrappers and burning of trash besides disposal of toxic waste in valleys and streams contaminating the biodiversity in the Indian Himalayan Region (IHR)?
"Plastic is effortlessly reaching these ecologically fragile areas where there's probably no network connectivity, no roads, no hospitals, and no education. For us, every day is an exploration about how far plastic has travelled to end up in the remote corners of the mountains," says Rajkumar Vavilapalli, Project Manager with Waste Warriors, a non-profit working to transform waste generation and management in the Himalayas.
Founded in 2012, Waste Warriors deploys both short and long-term measures to promote  responsible tourism and works with local communities to create and sustain a trash-free ecosystem in the IHR, spread across 13 states and union territories over 2500km. 
War against waste
The seed for working towards this cause was sown by Jodie Underhill, a British woman who visited India in 2008. Jodie was fascinated with the country's beauty during her journey but she also discovered the not-so-good side of it - tonnes of waste across places.
She realised that mismanaged waste, specifically in the Himalayas, was one of the biggest crises staring the country. Jodie initially started clean-ups at an individual level and was soon joined in by people from local communities. The participation and support from locals motivated her to create a hyper-local volunteer group called 'Mountain Cleaners' during the same year, says Angad Khanna, Communications Lead with Waste Warriors.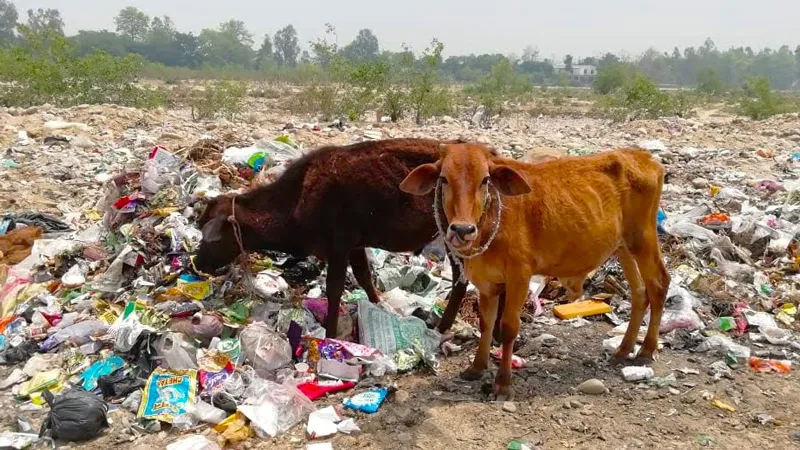 The group started conducting weekly clean-up drives in Himachal Pradesh's Triund and Dharamshala. With time, the team grew in strength and in 2012, it was registered as Waste Warriors Society to connect with like-minded people and empower them to fight the war against waste.
Initially, the non-profit organised community cleanups. However, after understanding the severity of the problem it shifted to a collaborative model to work with the government for triggering systemic improvements in solid waste collection, segregation, and management. Waste Warriors has collected over 6000 metric tonnes (60 lakh kg) of waste in the past ten years from cleanup drives and awareness workshops. 
Also Read: Sagarmitra Abhiyan: How Pune and Jalgaon school children are recycling over 1 lakh kg of plastic annually
"Over the years, the organisation has grown exponentially. The leadership changed and Vishal Kumar, an IIT-Varanasi alumnus, took charge. Under his guidance, we streamlined the structure, scaled up the operations and implemented sustainable systemic changes over the last three years," Angad says.
"We evolved from being a volunteer-based group operating in just one zone to over 160 warriors spread across nine locations working in tandem with the government and the corporates in Himachal Pradesh and Uttarakhand," he adds.
Challenges in the Himalayas
IHR is home to around 50 million people and generates over eight million tonnes of waste annually. As per a 2021 report by the World Bank, India: Sustainable Solid Waste Management in Mountain Areas, waste collection coverage is lacking in most mountain areas and it is commonly disposed of in valleys and waterways besides being burnt in the open.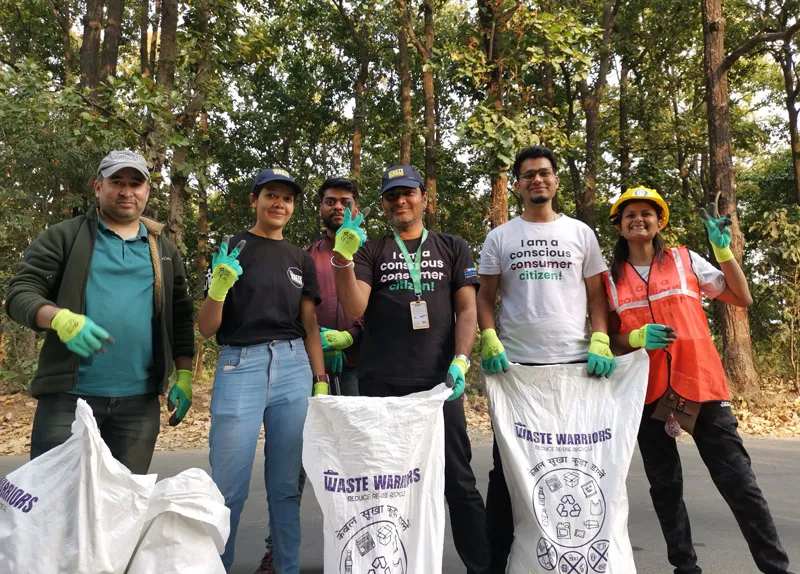 Limited livelihood opportunities and an influx of tourists have changed the consumption patterns in the mountains. Non-bio-degradable plastic products, a cheaper alternative, are used by shops and stalls. Along with a lack of efficient waste management mechanisms, it poses a serious threat to the health and hygiene of mountain-dwelling communities and wildlife.
Around 8.4 million tonnes of waste is generated every year in the IHR. Of this, at least 60 percent is dumped and burned.
Waste Warriors in Action
Waste Warriors deploys a multi-faceted approach to address these challenges. It conducts workshops to educate the residents and business owners on understanding waste and its management. The stakeholders are encouraged to avoid single-use plastic for consumption and commercial purposes.
The organisation partners with schools and colleges to conduct sessions and activities aimed at sensitising the youth on waste management and safeguarding their environment.
Many hill communities are not even aware of the hazards of improper waste disposal. Raj shares the example of a low-income and lower-caste community in a village on the Uttarakhand border. "They were dumping garbage next to their houses and the area had become a permanent landfill site. When we tried to explain the adverse effects of the waste, they said they had grown used to it. But we were persistent that the pollutants were detrimental to their well-being like the methane emitted from trash or carcinogenic pollutants released into the environment," he says.
Also Read: This Kerala-based geologist is making edible & biodegradable cutlery to replace single-use plastic
Over time, consistent interaction triggered a behavioural change in the group. They started segregating their trash and handing it over to the collection vehicles instead of open dumping and burning.
Angad says practising 'refuse, reduce, reuse, repurpose, and recycle' in everyday life would help cut down on consumption and waste generation.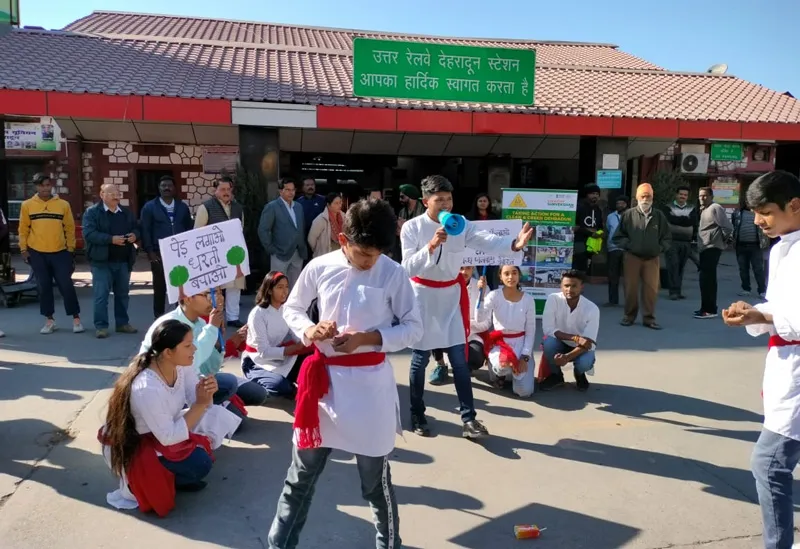 "During our work, we interact regularly with the residents and businesses. But the floating population, the tourists, is tricky. We don't believe in temporary fixes. Inclusive participation is a must to keep changes sustainable. We co-create solutions with the local communities to achieve this," he adds.
For commercial establishments, Waste Warriors has designed an initiative called the 'Clean Business Program' which on-boards local businesses to help them switch to sustainable alternatives.
For instance, there's a small-scale food vendor, Sonu Chaat Bhandar, in Himachal Pradesh's Bir. "He has been using plastic cups and plates. Through our Bartan Bank project we donated steel utensils to him to eliminate plastic usage," Angad says.
"Connecting and monitoring these vendors is crucial as they are the communication touch points with the tourists. Imparting knowledge on sustainable choices as well as encouraging and supporting them with resources is the key," Angad adds.
Waste Warriors also uses murals, signposts, art installations and nukkad natak (street plays) to create awareness and engage with the target audience.
Organizing clean-up drives and participation of volunteers from other cities and tourists in clean-up drives is another approach, he says.
Also Read: Jammu: From cleaning rivers to making cow dung logs for crematoriums, how Disha is greening the City of Temples
Visual communication and relevancy are extremely important to drive home the idea against littering, reduction of waste and adopting recycling and upcycling practices to aid the circular economy. "A signpost that says don't litter your waste is not going to be effective. In this age and time, we need out-of-the-box ideas to trigger and bring a shift in people's mindsets. Waste is not fun so we are trying to make caring for the environment cool," he shares.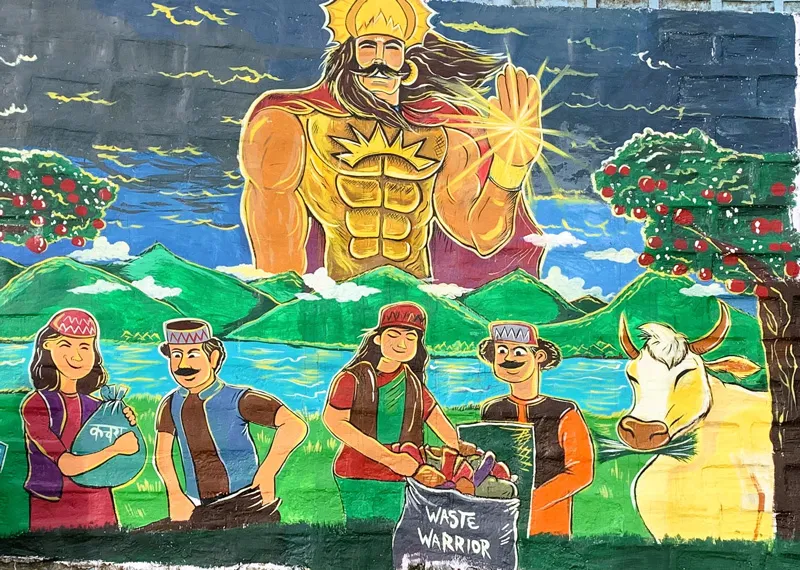 Citing an example, Angad says that they use Bollywood characters to resonate with the younger generation and it has a trickle-down effect.
"We painted Amrish Puri's character from the movie Mr India with the slogan: 'koode ko koodedaan mein dala, Mogambo khush hua' (tossing waste in the dustbin made Mogambo happy). We witnessed several youngsters taking selfies and pledging to do the same."
Safai Saathis
Waste workers or Safai Saathis are the face of Waste Warriors and their upliftment is one of the objectives of the organisation.
"Belonging to the informal sector, they are unaware of the benefits they are entitled to, the safety requirements of the job, and even the health concerns that arise due to the nature of the work. Hence, a lot of effort is put into capacity-building, and nurturing a sense of pride in them while providing a dignified livelihood. It takes a lot of time," Raj explains.
"We aim to build an identity for these waste workers, to formalise them with government schemes like for housing, and healthcare," Angad says.
"We sit together for lunch every day and organise learning sessions for their children. It is important to integrate the waste generators and the waste collectors in the neighbourhood."
Also Read: How Bengaluru's Hasiru Dala has given identity & dignity to over 10,000 faceless waste pickers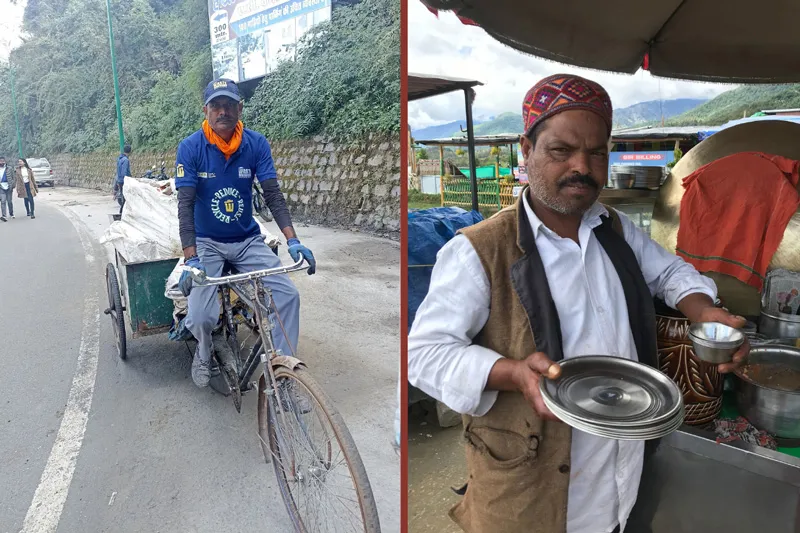 Open dumping and burning of waste cause soil and groundwater pollution. Greenhouse gas emissions from the decomposition of biodegradable substances can lead to excessive air pollution and trigger health issues such as respiratory diseases. Moreover, it diminishes the cleanliness and aesthetics of the area.
Plastic from landfills often ends up in water bodies that adversely impact aquatic ecosystems. Recently, many reports have highlighted the presence of microplastics in the human body that made their way through contaminated water sources after entering the food chain.
"We should remember that every action has a positive or negative consequence on the environment and people. In this fast-paced world, we must go back to our roots to learn the sustainable lifestyle of our ancestors whether a kulhad (earthen pot for drinking) or cloth bag," he adds.
"Let's not change the way we think about the mountains. It should remain peaceful, mystical, and inspiring and not make headlines for garbage piles and plastic menace. For that, we, the warriors need to unite and build a movement to protect the Himalayas," Angad concludes.
(Palak Agrawal is a Bengaluru-based freelance journalist. She loves to write about the environment, sustainable practices and human interest stories)
Also Read: Shobana Chandrashekar's initiative to 'Make Ooty Beautiful' brings down plastic use in the hill station; reclaims public spaces