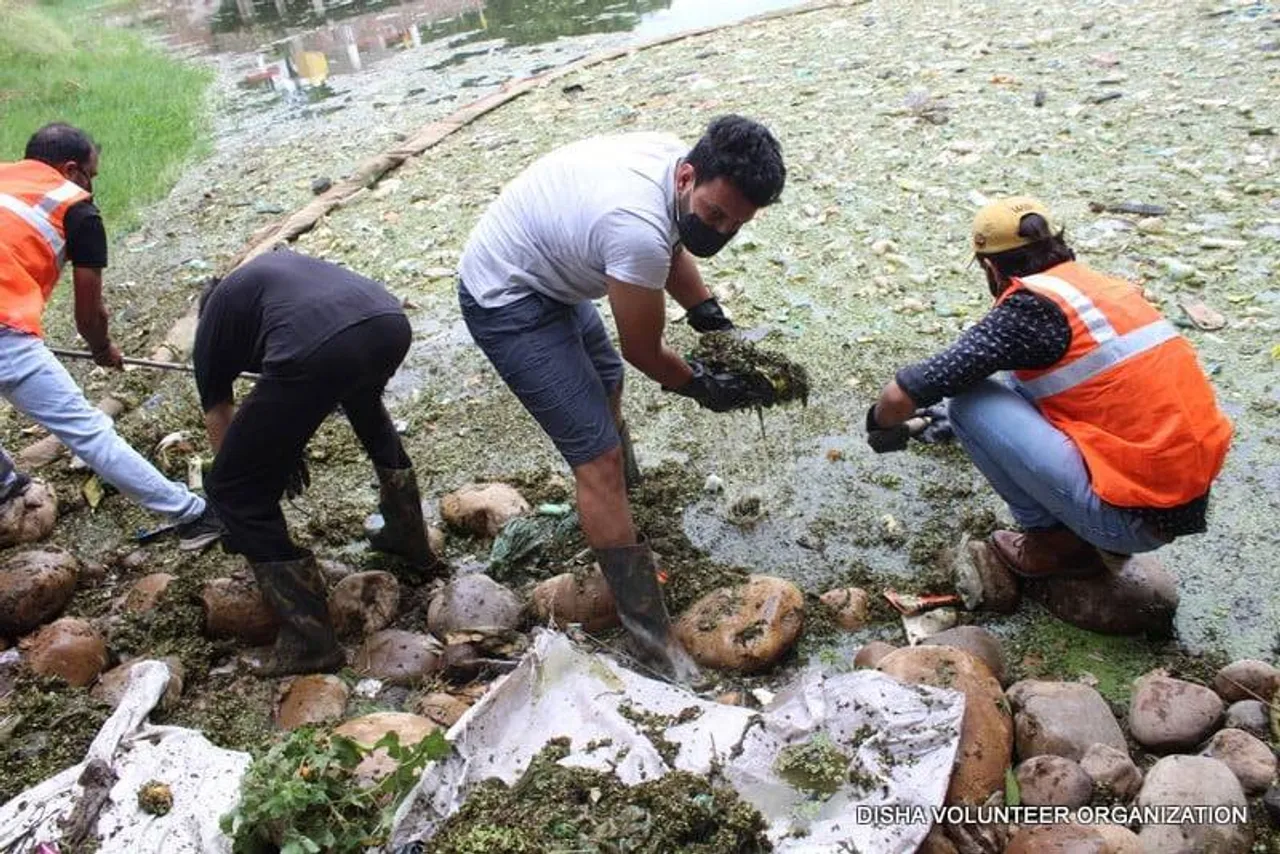 During the Navratri festival in October 2012, a group of friends from Jammu University were walking along the Tawi river bank. The river was choked with plastic wrappers, bottles, matchboxes, and other puja material that devotees had thrown in along with idols of goddess Durga who is worshipped during the nine-day Hindu festival.
The sight of the littered river caused much distress among the friends. But they did not just shake their heads and walk away. They decided to take action.
"When we started the 'Save River Tawi' campaign 10 years back, we collected so much garbage that around 10 trucks were required to cart it away. All the Disha founders with some friends from the university and cleaners from the municipal corporation would clean from morning to evening. We would feel sick after cleaning so much filth. But someone has to do it," recalls Anil.
Green campaigns
Anil says in the last 10 years, Disha has consistently carried out awareness campaigns and cleanliness drives during Navratri and other festivals to instil a sense of responsibility among the people. And the results are showing.
Also Read: How Chennai's Walk for Plastic is recycling waste to fund education of underprivileged children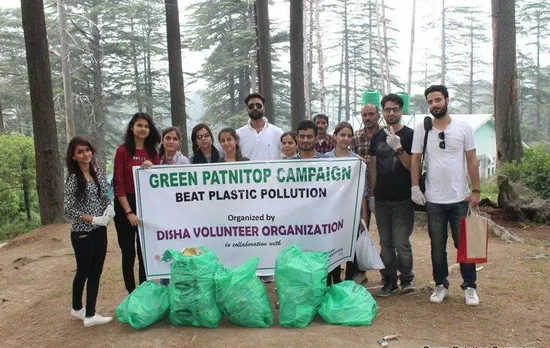 Disha puts up a stall near the Tawi River ahead of Navratri or Ganesh Chaturthi festivals, asking people to keep the plastic and other waste at collection sites. During these campaigns, college students join in to help in the collection and segregation of the material for disposal in an environment-friendly manner.
The municipal corporation sends its cleaners who sort out the waste, take away non-recyclable items and sell the rest to scrap dealers.
In the past few years, Disha also started manufacturing eco-friendly Ganesha idols, diyas and decorative items made from cow dung which are sold ahead of Ganesh Chaturthi and Diwali. Anil says the diyas made from cow dung and small earthen pots are much in demand.
Also Read: This Kerala-based geologist is making edible & biodegradable cutlery to replace single-use plastic
Anil says they procure cow dung from a gaushala (cow shelter) free of cost. It is collected in two or three 100-litre capacity drums and then transported to the office. The dung is dried and rolled in the shape of round cakes. The dung is procured in summer so that it dries easily and cakes can be made and stored.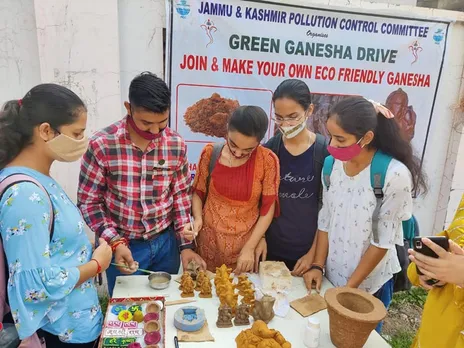 Once dry, the cakes are put in a grinder and made into powder. One of the volunteers associated with Disha, Rajat Salgotra, acquired the grinding machine. The powdered dung is mixed with guar gum and other organic material. The paste is then put into moulds of different shapes to create diyas and ornamental items which are painted and decorated.
Also Read: Gujarat's Rajiben Vankar: From living in a tent to weaving upcycled plastic, how this housewife set up a successful business from waste
Employment generation for women
They have also acquired five small machines to make diyas that have been given to a women's group.
 "It is not a large number but in our own way we are trying to generate employment for women and help them earn some income," says Anil.
"This time we have got orders for 400 Ganesha idols. We tell the women three or four months in advance and provide them with all the raw materials and the moulds. We train them using the mould to make the idols which are 3-4 inches high. The women are paid Rs10 per idol."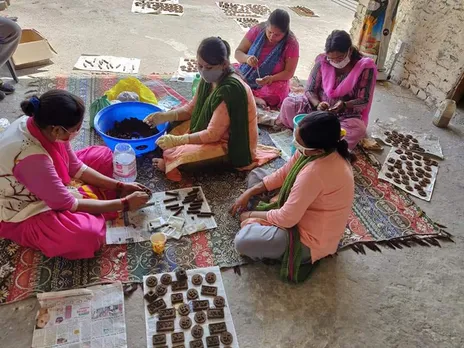 The three SHGs working with Disha have 8 to 10 members each. The women are from the peripheral areas of the city. "Women are not allowed to work outside. The work we give them is convenient as well as respectable. They can do it for a few hours at home and earn some money," says Neha Uttam, who has been working with Disha since 2017.
Lovely Sharma, team leader of one SHG in Mishriwala, says the women make items as per the orders placed by the Disha team. "Currently we are making clay Ganpatis and sanitary pads," says the 42-year-old, adding that the earning is a welcome boon for the women who don't want to sit idle at home.
Each SHG member has to make a saving of Rs300 per month and the money is given to any member in need. "Women are becoming financially independent. It's a big step for us," she says.
Also Read: Pune: Mitti Ke Rang connects rural women entrepreneurs with customers across India; triples their incomes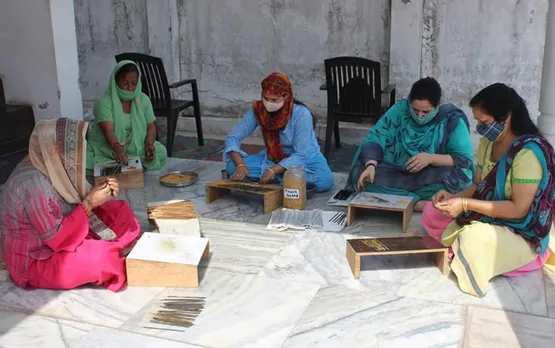 One SHG is involved in making incense sticks and small decorative items. Last year, they made 2,000 incense sticks. The incense sticks are made from dried flowers that are collected from temples. "We collect temple flowers daily and use them to make the incense sticks. The flowers are dried, crushed and processed," she adds.
The incense sticks are either made by hand or with a machine. The handmade ones sell for Rs25-30 per packet of 10 sticks while the machine-made ones sell for Rs5 per packet.
The third women's group is trained in tailoring and making cloth bags and cloth sanitary pads which is emerging as an eco-friendly alternative to disposable pads. 
Also Read: Abira: Pune's all-women enterprise where slum dwellers handcraft ecofriendly products for global brands
Neha, who is heading the project, says they are testing it as a pilot. "I have given 50 samples to women in Jammu and Rajouri and have received positive feedback. Some changes have to be made which we are working on," she says.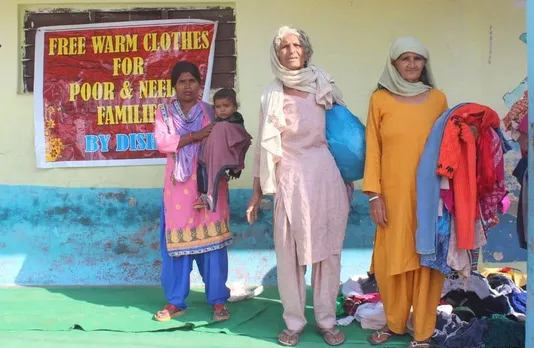 The cloth pad has an absorbent sheet and is reusable. The pad will last three to four years. The cost of one pad is about Rs60. Once ready, the pads will be sold in stores and online. The money from the sales will be used to sell the napkins to women in rural areas at half the price, she says.
Neha, 26, is pursuing her PhD from the Sociology Department of Jammu University and her thesis is on menstruation and its sociocultural practices.
Small is beautiful
On future plans, Anil says the JK State Pollution Control Committee has provided Disha with a machine to make cow dung logs. These logs will be provided to cremation grounds where large amounts of wood are used to burn dead bodies. "These cow dung logs will be an eco-friendly alternative. People will also save money. Usually, wood worth Rs3000-5000 is used in cremations. The logs will cost Rs4-5 per kg," says Anil.
The team members fund all the campaigns and activities from their own pockets. All the team members are professionals and are unable to devote too much time to planning and operations.
"Perhaps that's why our scale of operations is small. We finance it ourselves and work with a few team members and volunteers, says Anil who works in the J&K government education department.
Also Read: Surat: 22-year-old engineer's startup recycles temple flowers into soaps, colours, candles & compost
Among other activities, Disha undertakes plantation drives, cleanliness drives at tourist spots and distribution of clothes to the poor during winter. They set up collection centres in the city where people can drop off clothes. The clothes are sorted and the useable ones are distributed in villages. Each year, the team selects a village and donates the clothes there.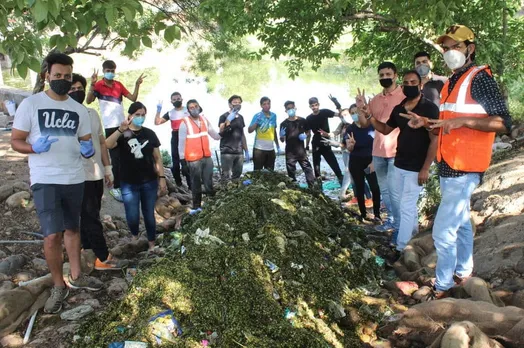 The organisation has adopted a village called Grand near the India-Pakistan border. "This was the village where I had my first posting as a teacher. So, I have a close connection with it," says Anil.
The team members and volunteers go to the village every year and organise activities such as singing, dancing, painting and drama competitions for children. They are given small gifts and meals.
"We have developed a bond with the villages. They now turn to us in times of need and we help them in
Former British prime minister, author and statesman Sir Winston Churchill once said, "We make a living by what we get. We make a life by what we give." The Disha team seems to be inspired by the same ideology. "We are doing this because we want to make a difference in society. We are happy we can help people even if in a small way," he says.
(Urvashi Dev Rawal is a Jaipur-based journalist specialising in development, gender, and political reporting)
Also Read: Shobana Chandrashekar's initiative to 'Make Ooty Beautiful' brings down plastic use in the hill station; reclaims public spaces