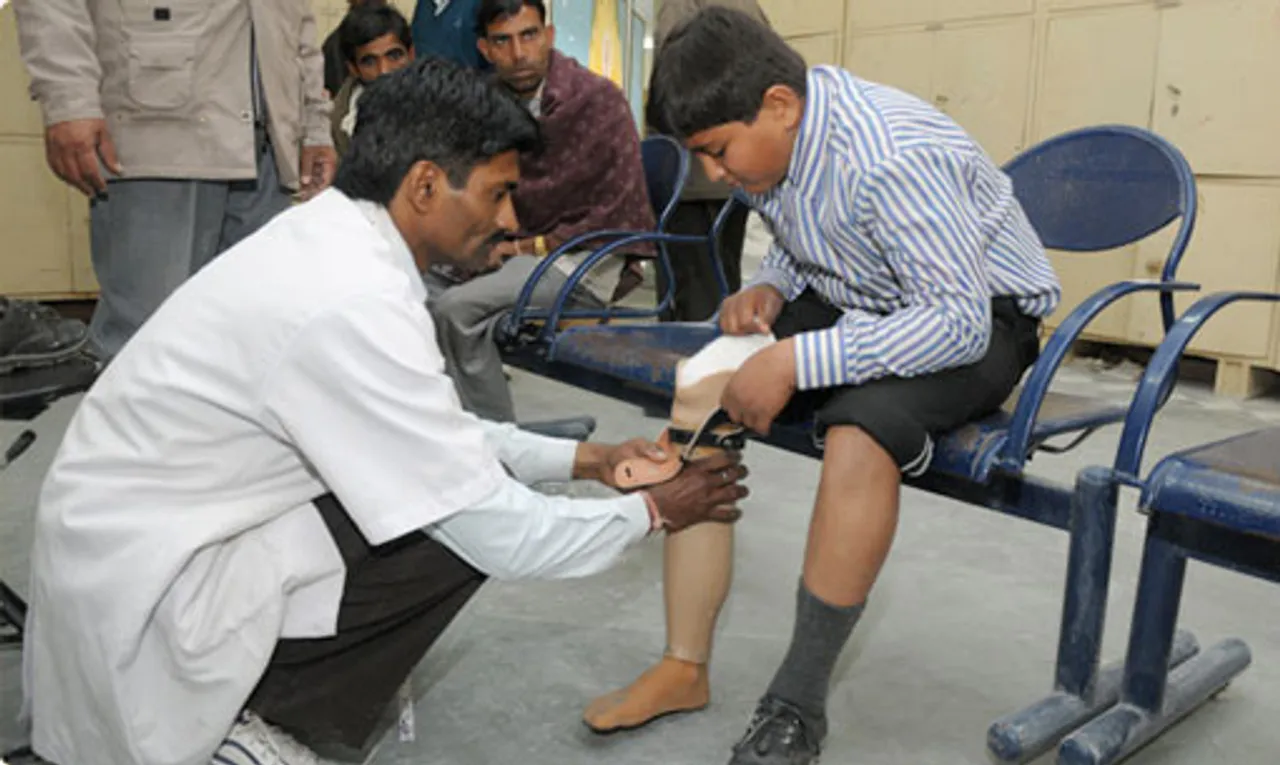 Faribo Bi lost both her legs in a landmine explosion in Afghanistan's capital Kabul in the 1980s. Then 23, she was in the police department but her life lay shattered after she was  crippled. Farbo Bi spent several long years in a wheelchair and later was provided prosthetic limbs by the Red Cross. They however didn't fit properly. She did not want to be a burden on her family but remained helpless.
In 2014, Faribo Bi's brother brought her to an artificial limb fitment camp organised by the Jaipur-based Bhagwan Mahaveer Viklang Sahayata Samiti (BMVSS) in Kabul. She was provided artificial limbs, popularly known as Jaipur Foot, manufactured by BMVSS in the Pink City.
 "Tears ran down her face as she walked with the aid of the prosthetics. She said she had been in pain and misery for so many years but the artificial limbs provided by BMVSS were very comfortable and had put her out of her misery," recalls DR Mehta, founder and chief patron of BMVSS.
He says the fitment camps have generated a lot of goodwill for India and recalls that at a camp in Kabul a man told him, "Other countries bomb us. India repairs us."  
Also Read: How Coimbatore-based Swarnalatha J used her multiple sclerosis diagnosis to promote mobility friendly facilities
Thousands of people in strife-torn zones of Syria, Afghanistan, Iraq, Angola, Rwanda, Somalia, Mozambique, Philippines, Cambodia, Vietnam who have lost limbs in landmine blasts, civil war or accidents are today able to walk, thanks to the Jaipur Foot. 
The yeoman service of BMVSS 
In 2018, the government announced an 'India for Humanity' programme and forged a tie-up with BMVSS to hold artificial limb fitment camps in different countries. Sponsored by the Ministry of External Affairs, the initiative led to 13 camps in 12 countries where more than 6500 artificial limbs were fitted. The government has extended the agreement with BMVSS till 2023.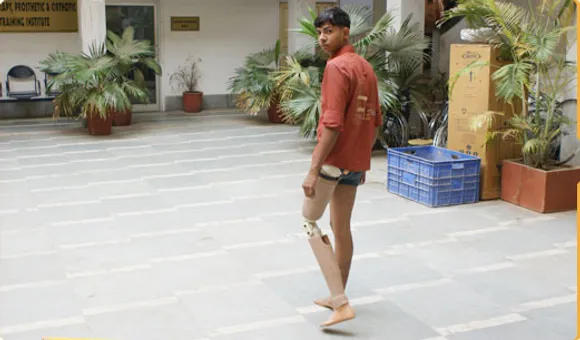 The prosthetic leg is not only water-resistant and quick to fit and manufacture, it is also inexpensive. The Indian government provides financial aid to BMVSS.
Also Read: COVID-19: From farmers, migrants to sex workers, Goonj's 'dignity for work' rebuilds life across India
 BMVSS has a team of 300 persons in India of which 150 are in Jaipur. The artificial limbs are manufactured at their workshop. Doctors and technicians take one day to manufacture a below-knee foot while an above-knee foot takes 3-4 days. BMVSS is now developing an artificial hand in association with Santa Clara University in the US. 
The specialty of the Jaipur Foot is its lightness and flexibility. It allows the wearer to run, jump, squat, sit cross-legged and ride bikes or cycles. The best part is that while the Jaipur Foot is comparable to limbs made abroad, it costs only a fraction of their price. 
SEO-friendly content writing from experienced faculty
How the Jaipur Foot came about
Mehta, a retired civil servant, says that the BMVSS was the outcome of a personal misfortune. In 1969, he met with an accident while he was posted as the Jaisalmer collector. "I broke my femur bone at several places. Doctors had little hope of my survival. But I survived. I was on a hospital bed for six months with my foot up in a sling but at least it was not amputated," recalls Mehta.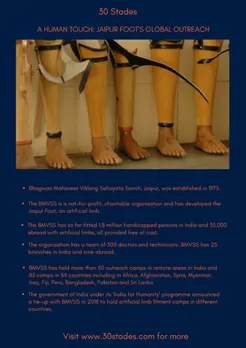 While laid up in bed, it occurred to him that if he had lost a limb, the government would have sent him abroad for treatment and borne the expenses but how would poor people cope with such an adversity?
Since he was a civil servant, he could not set-up an organisation. But in 1975, he got a resolution passed by a special committee, of which the governor was the patron, and it was headed by the Secretary to the then Chief Minister, to set up an NGO.
Also Read: 102-year-old freedom fighter rues: 'This is not the India we gave our blood for'
In the first year, they provided artificial limbs to 59 people but the number has constantly grown. Today, BMVSS has 25 branches in India and nine abroad. They have held more than 50 outreach camps in remote areas in India and 83 camps in 34 countries including in Africa, Afghanistan, Syria, Myanmar, Iraq, Fiji, Peru, Pakistan and Sri Lanka.
"Right from the beginning I had decided that BMVSS was a social organisation and all services would be provided free of cost. So anyone who comes gets free accommodation, free food, free prosthetics or tricycles, crutches and wheel-chairs," he says.
Mehta manages the finances of the organisation through generous donations from philanthropists from around the world. "Mother Teresa too visited our centre and gave us her blessings," he says.
He is very sure of his cause, and is convinced that if one is helping the poor and working honestly and efficiently, others will not hesitate to help.
Maintaining international standards at a low cost
Also Read: India's tribal & ethnic groups dodge the Coronavirus minus sanitisers, science or support
Mehta says they are able to keep the cost low because they use local materials. "In the US, they use a socket or shank with carbon fibres which increases the cost. We use ordinary pipes which are very strong. The advantage is that we don't have to make a joint. We use ordinary bandages and plaster of Paris and other locally available material. Our technology by itself is very good," says Mehta.
Mehta claims  the below knee and above knee joints made in Jaipur are better than the ones made abroad because they are suited to Indian and oriental cultures. "The US limbs have no movement in the ankle. Our limbs have all movements of a normal foot and allows a person to squat or kneel," he says.
At that time, it cost US$20 (Rs 1500 now) while a comparable limb in the US would cost US$10,000 (Rs 7.5 lakh). "We believe in highly efficient but frugal engineering," says Mehta.
Management guru CK Prahlad has also studied the BMVSS model and praised it for its efficient operations. In his book, 'The Fortune at the Bottom of the Pyramid', he noted that only 4 percent of expenditure went towards administrative and overhead expenses.
Mehta and Jaipur foot have already changed the lives of millions in the last four decades. When the artificial hand being developed with Santa Clara University is ready for use, it will herald a new life for millions more around the world.
(Urvashi Dev Rawal is a Jaipur-based journalist specialising in development, gender, and political reporting)
Also Read: How a Jharkhand schoolgirl, once teased as 'Sulabh Shauchalaya', is leading a 'Swachhata' mission