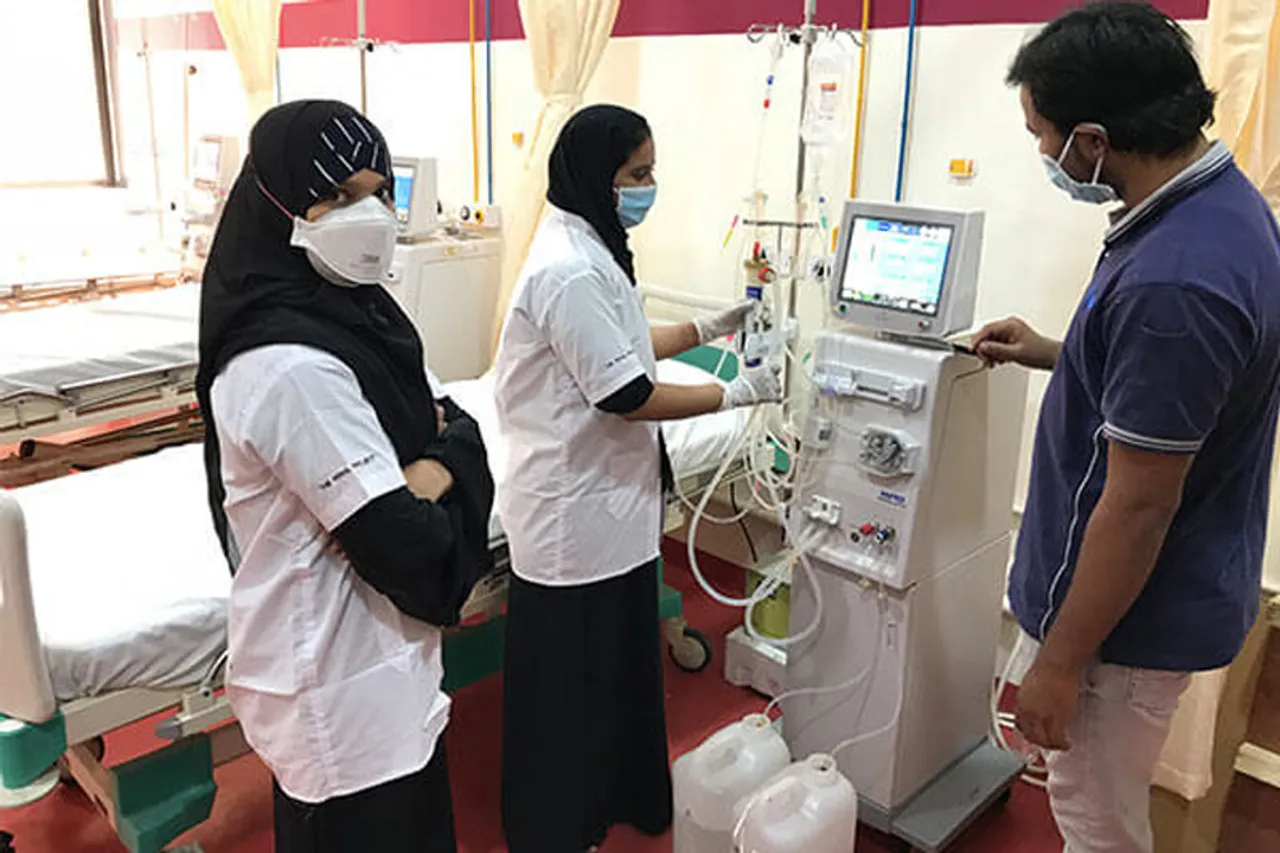 At the peak of Coronavirus pandemic in June 2020, four kidney dialysis centres in north Mumbai's Borivali, Kandivali and Gorai areas had to be shut down due to the spread of COVID-19. Patients suffering from chronic kidney disease need dialysis three times a week and the pandemic worsened things for them. But a newly-opened facility in Borivali began absorbing all the kidney patients, maintaining social distancing, disinfecting and ensuring that nobody contracted the virus while undergoing dialysis.
Soon, it opened two more centres – in Dombivali and Kandivali - to offer dialysis to kidney patients who had contracted COVID-19.
Elizabeth from Borivali is a case in point. "I was worried when I heard that the dialysis centre, where I had been going for the last one year, had shut down due to COVID-19," she says.
Also Read: 5 tips to buy health insurance during COVID-19 & beyond
"We trained the staff to disinfect and follow all the rules as we took in as many patients as possible. The technicians who worked with COVID-19 patients didn't work with negative patients. Our costs went up but we didn't worry about the bottomline," says 40-year-old Moddhia, who gave up his job with American multinational healthcare company Baxter International to start TRP in 2019.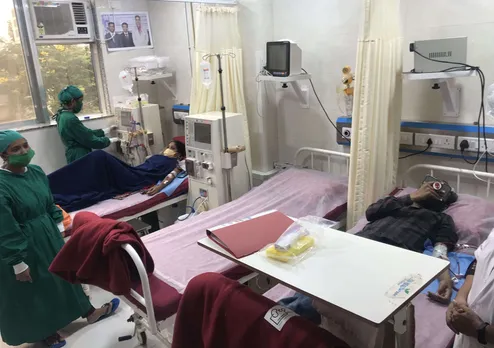 TRP's work during COVID-19 was lauded by Gopal Chinayya Shetty, Member of Parliament from Mumbai North.
Kidney dialysis – high demand, low availability
It was while working with Baxter that Moddhia saw the contrast between kidney care in India and other countries where the government offers support for the services.
Also See: Coronavirus Lockdown: Suicide helplines clogged as janta curfew takes toll over mental health
And about 10 percent of India's population suffers from chronic kidney disease (CKD), implying lasting damage to the kidneys that may end in kidney failure or ESKD.
"But most dialysis centres are concentrated in tier-1 cities, making it difficult for many to access the service," he says.
Moddhia met Nagpur-based nephrologist Dr Dhananjay Ookalkar, who asked him to learn in detail about dialysis. So he spent the next 3.5 months with the doctor and studied not only about the process but also the infrastructure and its accessibility to patients, especially in smaller towns.
Two-thirds of India's population lives in rural areas where the availability of hemodialysis is limited, according to the Million Death Study, an ongoing human premature mortality study which began in 1998 in India.
Also See: More women line up to become surrogates, egg donors as economy slows down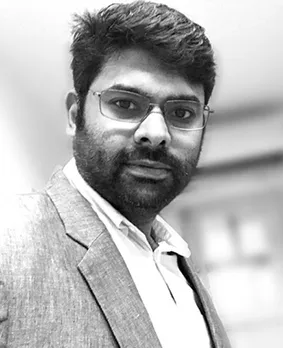 "The burden of travel increases costs. And these are the issues that TRP is looking to address. We plan to take hemodialysis centres closer to patients in tier 2 and tier 3 cities," says Moddhia, who holds a Masters degree in Biomedical Engineering from University of Texas, USA.
Most of the local hospitals in India have 20 to 25 beds. While they have the space, they don't offer dialysis services even as some beds remain unutilised for most part of the year. "We decided to partner with these hospitals to give us 200 sq ft space and set up TRP centres there, operating and managing the facility ourselves," he says. Incubated by the Niti Aayog under the Atal Innovation Mission initiative in March 2019, TRP was bootstrapped by Moddhia for the first few months when he invested Rs 25 lakh towards market research, incorporation, and investment in the first centre at Borivali within Mangal Murti Hospital.
TRP then received seed funding of Rs 25 lakh in December 2019 from100X.VC followed by pre-Series A round for Rs 2.3 crore through a clutch of angel investors in August 2020.
Also Read: Jaipur Foot helps 1.8 million amputees take new strides
How TRP keeps costs low
The Renal Project opens all its facilities in outsourced spaces, brands them and operates them.
With 14 lakh dialysis patients, each needing around 10 sessions a month, dialysis is estimated to be a 3.1 billion dollar industry in India as per session cost ranges anywhere between Rs 1100 and Rs 4500.
"The Indian dialysis market is estimated to be growing at a rate of 31 percent per annum compared to 8 percent in the rest of the world," as per an August 2020 study by Kidney360, a global journal publishing kidney research.
"We keep costs under check and pass on the benefits to clients," Moddhia says.
Since TRP has 13 centres under operation in suburban Mumbai and other parts of Maharashtra (10 more are in the pipeline), it derives economies of scale by sourcing supplies from the same vendors and receiving bulk discounts. So the supply chain is optimized.
Setting up a three-bed dialysis centre costs about Rs 20-25 lakh, with each machine costing Rs 3.5 lakh apart from other expenses. "We set up such a centre with Rs 5 lakh investment as we don't buy but lease our equipment, paying Rs 8,000 per machine per month," explains Moddhia. This saves capex, as well as the interest burden associated with it. The Rs 5 lakh investment is spread over marketing, team building, supply chain optimisation and CRM software development.
Also Read: Rajasthan's Camel Charisma builds a superfood business with camel milk and cheese
Moreover, since the facilities are set up within an existing hospital, TRP saves the investment required for setting up a fresh centre. "So instead of setting up a 15-bed hospital, where capacity will not be fully utilized, we set up multiple centres of 3 to 6 beds in various locations, which gives us access to greater populations," he adds.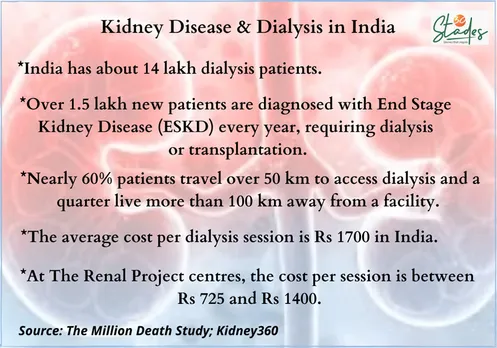 All this gives TRP the wherewithal to offer low rates to patients even after retaining a profit margin of about 20 percent.
TRP also cross subsidises, charging higher rates at centres in premium locations and low rates in smaller towns. Like in Mumbai's upmarket Bandra, the TRP centre charges Rs 1600 per session while in its Shirdi facility, the price is only Rs 725, one of the lowest in the country.
TRP offers home dialysis services as well. "In home dialysis also, we have higher-than-industry margins and we pass this on to our customers, resulting in lower costs for them," he adds.
After building a dedicated clientele and a robust low-cost operation model, TRP is now looking to raise Rs15-20 crore to set up over 100 centres in western India. Given TRP's track record, it shouldn't be a difficult task. And when that happens, more chronic kidney disease patients will be able to access life-saving dialysis services.
(Rashmi Pratap is a Mumbai-based journalist specialising in financial, business and socio-economic reporting)
Also See: From chopping, cooking to serving, how the differently-abled run Mumbai's Café Arpan