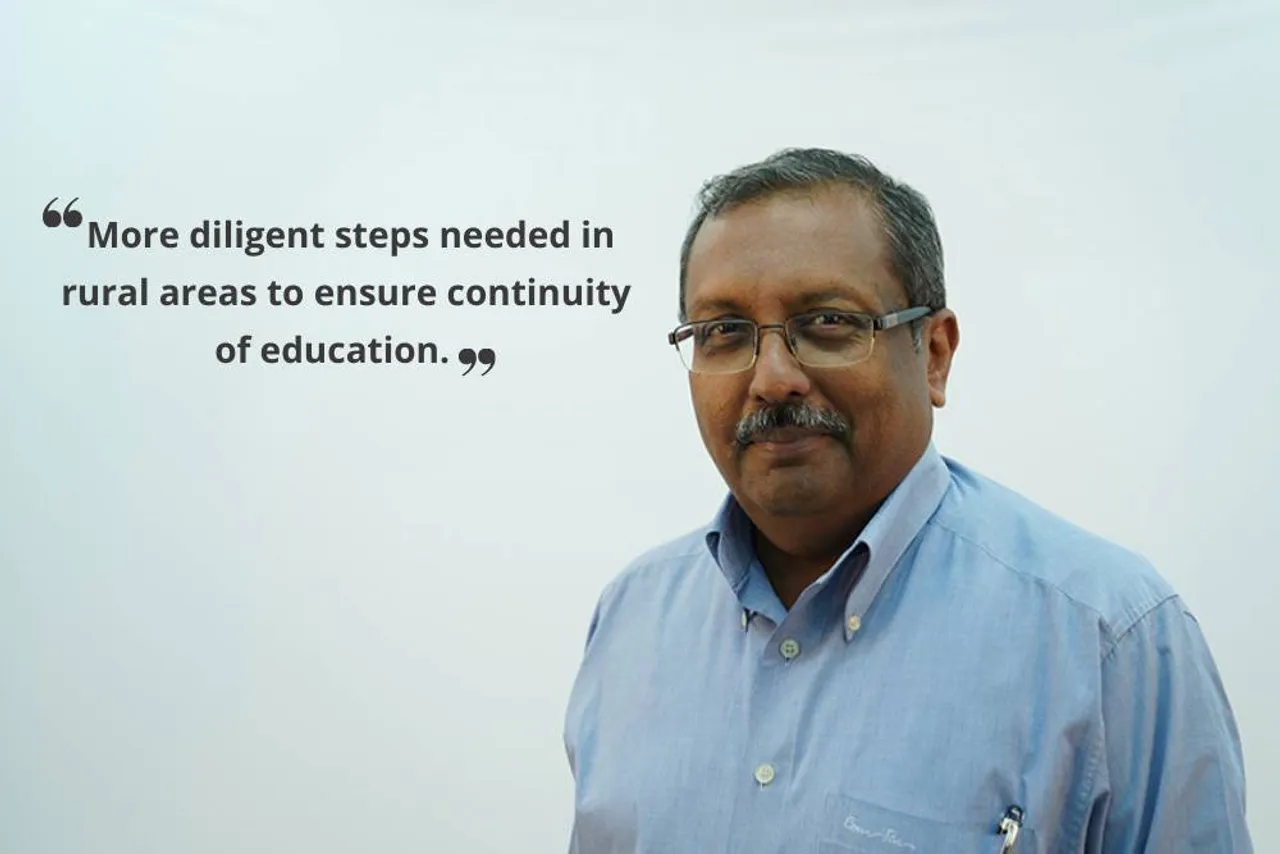 India is a growing economy and is expected to have the highest number of young people in the world in the next decade. Education is at the core of this growth, which has been adversely impacted by the Coronavirus pandemic. The global economy has been severely affected by COVID and so has been the traditional education system. Educational institutions have been finding innovative ways to ensure the continuity of classes, workshops, and teaching-learning. We need to minimize the damage caused by the pandemic on the academic pursuits of a whole generation of children.
We have seen in recent media reports how the underprivileged sections of society have tried to procure basic smartphones and internet data for their children to ensure continuity of studies. Despite poor internet connectivity and power failures, what we see as more important is the spirit and the willingness among people to overcome all odds. 
We are also aware that there are several schools like SOBHA Academy at Palakkad, Kerala, which are working with empathy. They have gone a step further during these unprecedented times. They have trained their teachers to conduct outcome-oriented online classes and also procured the required devices besides paying for Wi-Fi connectivity for their students from underprivileged families.
Also Read: Kerala: How Sobha's CSR arm shifted underprivileged students to online education
According to an estimate, the pandemic has impacted nearly 90 percent of the global student population.
To combat this situation, educational institutions across the country have embraced online education to fill the gap left by the discontinuation of in-person classroom teaching. 
With this, India's previously marginalized digital education has taken centre stage and is being mainstreamed. With the advent and adoption of e-learning methods, the future of education is likely to change. The pandemic has certainly accelerated the adoption of emerging technologies to impart education. Soft media, multimedia, webinars, virtual classes, teleconferencing, interactive tests, and evaluations have become the new normal. 
Also Read: How i-Saksham's young education leaders are driving change in Bihar's most backward districts
The EdTech (education technology) market in India is expected to reach $4 billion by 2025 from the current $750 million with the spurt of technologies and their large-scale use in providing education solutions. 
Unfortunately, many students below the poverty line faced a challenge using devices and connectivity along with their parents. 
A study from the global education network Quacquarelli Symonds (QS) claims that India's internet infrastructure is still not ready to embrace the change. In rural India, only 4 percent of the households have access to this infrastructure.
Also Read: Sakhi for Girls' Education: 100% pass, zero dropouts among girls in Mumbai slums
Stakeholders and teachers were not completely equipped to make the overnight transition to online education.
With e-learning becoming the "latest standard," the government has started working towards the digitization of education and making it available for all. The central government is putting a lot of effort into its BharatNet project, which aims to boost connectivity by providing broadband to gram panchayats across the country through fibre-optic internet. Rural schools will be able to offer online education to students who do not have access to the internet at home. 
The government has also introduced holistic educational programmes such as PMeVIDYA, Pragyata, Swayam, and Manodarpan, which use digital learning resources to improve educational outcomes for children. These steps are indeed laudable. 
Also Read: 7 golden rules to save and invest for your child's education
However, awareness needs to be created at the grassroots level regarding these programmes. These initiatives are likely to provide multi-mode and equitable access to education for students and teachers. The central government's e-learning platform, Swayam, Massive Open Online Course (MOOC), platform has so far translated 521 courses into vernacular languages including Bangla, Gujarati, Kannada, Malayalam, Marathi and Telugu. 
The HRD minister launched Manodarpan to provide psycho-social support and counselling to students for their mental health and well-being. It seems that the intent is there. What is needed is effective implementation to ensure these facilities reach the intended recipients.
Many smartphone companies have come forward to offer mobile phones to underprivileged kids in remote areas while others have taken initiatives to educated students and parents about their usage.
Along with course books, there are important aspects of education and growing up like - resilience, adaptability, collaboration, communication, empathy, creativity, and emotional intelligence which are required not just for careers, but also to face real-world challenges.  It is being imparted in few schools right now and is likely to be mainstreamed soon as people begin to see value in it.
Also Read: Gyanada: where children from Mumbai's slums code, compute and create apps
Learning in schools will have a new purpose, which will be a significant departure from today's information-focused education. It must be broad-based, focusing more on developing an aware, confident, capable, sensitive human being who can strengthen society and live a purposeful life.
Good quality education indeed plays an important role in children's lives as it allows them to think critically and creatively, as well as improve their imagination and thought processes. Hence, the need to enable e-learning, expand to co-curricular activities and be able to track outcomes is the first step towards building an inclusive and equitable society. 
(T P Seetharam is Whole-Time Director at Sobha Ltd.)
Also Read: Nirmaan: A BITS Pilani students' initiative that's now empowering millions of youth, women & tribals