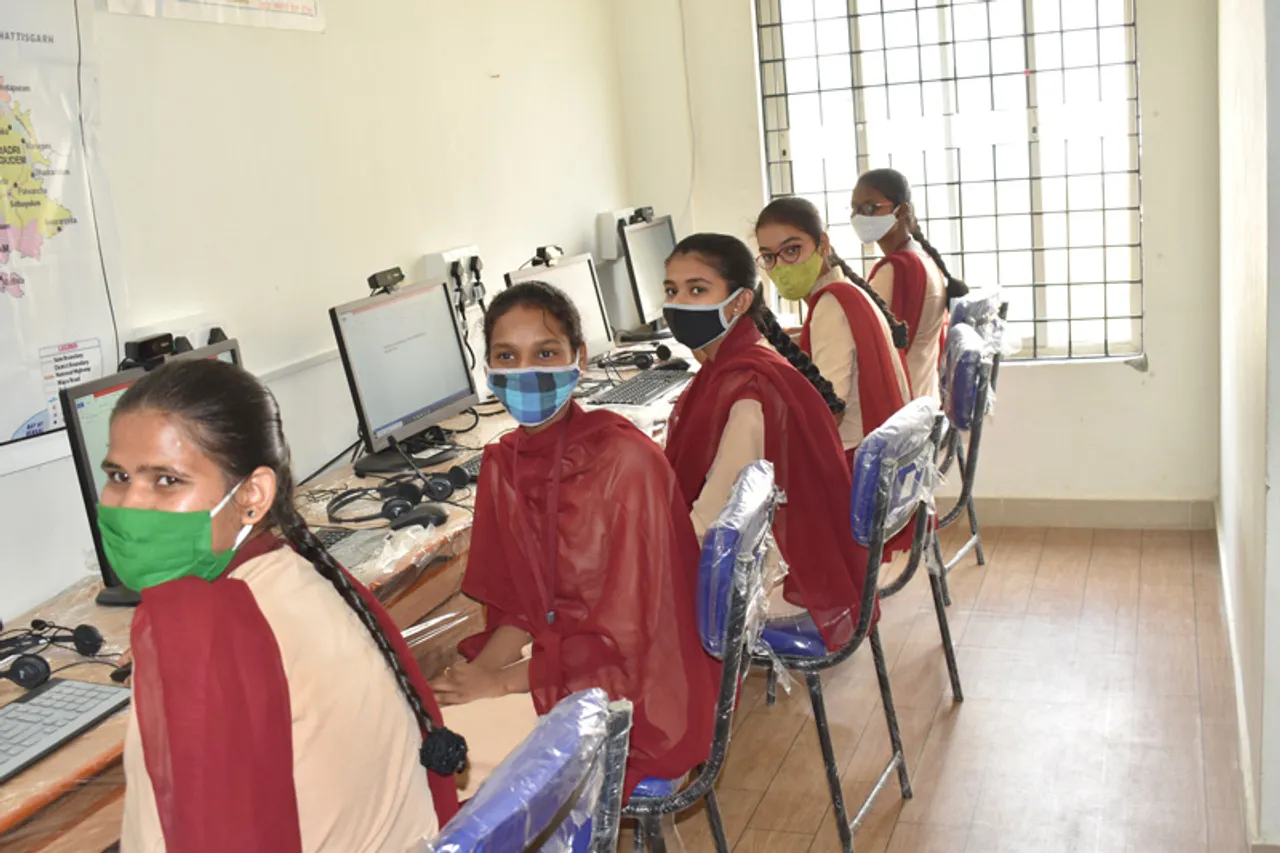 In 2005, ten students of the BITS University in Pilani, Rajasthan, got together to teach underprivileged children near the campus. One day, when a rickshaw puller's daughter did not turn up for the class, the students went to her home to find out the reason for her absence. They were taken aback by seeing her living conditions and how she managed to attend school and study under such circumstances.
It was then that about 200 students pooled together Rs6000 to help the underprivileged students and the 'My India' initiative was born. Almost 16 years later, that little initiative has morphed into Nirmaan Organization, a nationwide social impact organisation that has benefitted close to 15 lakh people across India.
Also Read: How i-Saksham's young education leaders are driving change in Bihar's most backward districts
Nirmaan works in Telangana, Andhra Pradesh, Maharashtra, Karnataka and Chhattisgarh. It also has student chapters on four BITS campuses.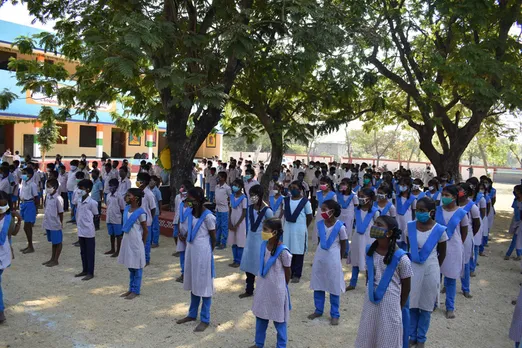 Mounika Konatham, chief operating officer at Nirmaan based in Hyderabad, says the organisation has four verticals - education, health, employment and environment.
Also Read: Sakhi for Girls' Education: 100% pass, zero dropouts among girls in Mumbai slums
Modernising schools & education
With the help of funding from corporates under their CSR programmes, Nirmaan has helped modernise and upgrade government schools. "We adopt government schools and are trying to create model schools by providing them infrastructural support such as smart classrooms, clean water, hygienic toilet facilities, playgrounds, libraries and so on," she says.
They are trying to convert them into model schools with upgraded educational infrastructure.
Also Read: Bharti Foundation provides zero-cost education to over 40,000 underprivileged kids
With a focus on providing computer education, Nirmaan has tied up with the Hyderabad Software Enterprises Association to set up computer labs and provide coordinators in 35 government schools in Telangana. So far 13,000 children have become computer literate.
"We also have a scholarship-mentorship programme for poor meritorious students. A volunteer from a company guides and mentors the students on their career goals. So far, 500 students have been given an annual scholarship of Rs10,000," she says.
Employment & entrepreneurship
Nirmaan is providing employment opportunities to youth and women by providing them skills and training them to be entrepreneurs. "We provide placement to the youth and women in different industries such as mobile repair, tally, IT, BPO, depending on their educational background."
Also Read: Abira: Pune's all-women enterprise where slum dwellers handcraft ecofriendly products for global brands
"Women are given training in vocational courses such as tailoring, beautician, bag-making, candle-making. We then help them set up their home-based ventures or get them jobs," she says.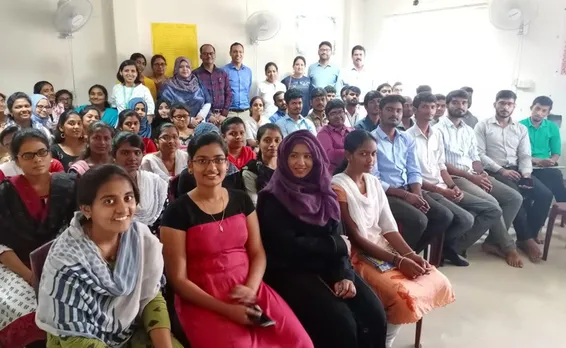 They have set up 14 training centres in Telangana and one in Maharashtra. Each centre is funded with the help of corporates through CSR funding.
The health vertical was launched during the Covid pandemic last year. The organisation has helped provide much-needed ration, medical supplies and equipment to six government hospitals in Telangana. "We also organise health camps in government schools and medical services to tribals through mobile vans in villages which we have adopted in Adilabad district of Telangana," she says.
Also Read: COVID-19: From farmers, migrants to sex workers, Goonj's 'dignity for work' rebuilds life across India
Helping farmers in Naxal-hit Dantewada
Nirmaan is also working with tribal farmers in the naxal-affected Dantewada district in Chhattisgarh. The level of poverty and malnutrition is high in the district. As per the NFHS data (2015-16), 43 percent of women in Dantewada have a Body Mass Index below normal and 76.8 percent of women in the 15-49 years age group are anaemic. Among children, 53.3 percent under 5 years are underweight and 71.8 percent under five years are anaemic.
Nirmaan is working with 10,000 farmers in Dantewada to improve their productivity by the adoption of scientific cultivation techniques, leading to an increase in incomes. The organization has been working in 120 villages of Dantewada since 2016. It has a team of 30 people at the district level and 100 community resource persons in villages who impart training to other farmers.
Also Read: Tribal women turn entrepreneurs with Tasar silk farming
Akash Badave, who looks after the operations in Dantewada, says the objective is three-fold – to create food security for the farmers, to provide nutritional security and help them sell excess produce so they can earn additional income.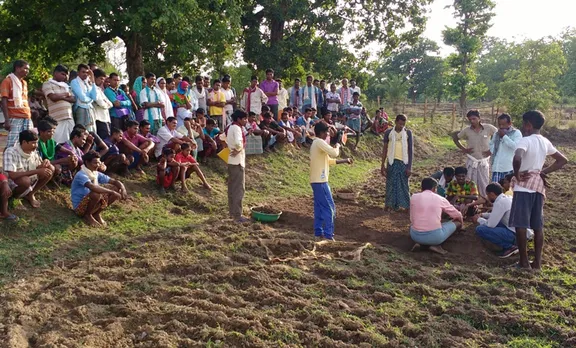 "The farmers have an average landholding of 3 to 5 acres but productivity is not very high as the soil is not too fertile and farming is mostly rain-fed," says Badave.
Also Read: How mushroom farming is increasing incomes for women in Jharkhand
Nirmaan has trained farmers in techniques that have increased productivity. "Farmers here practice organic farming and don't use chemicals. We have trained them to adopt organic techniques of cultivation, better planting, distancing of crops, waste management, and production of organic inputs," he says.
"We also ensure that farmers get prices which are 5-25 percent higher than the market rates." The farmers mostly grow traditional varieties of paddy, millets, oilseeds and pulses. The crops are harvested, de-husked, graded and sorted. Some value addition is done, for instance making ragi flour or puffed rice.
Some farmers now also grow vegetables through which they earn additional income of Rs60,000-1 lakh per annum, says Badave.
Also Read: Lemongrass oil slowly replacing opium production in Jharkhand's Maoist stronghold Khunti
The entire operation is taken care of by the Bhoomgaadi collective. They have tied up with different retail chains, consumer organisations for the sale of the produce, says Badave. The FPO has an arrangement with transport companies to transport the produce.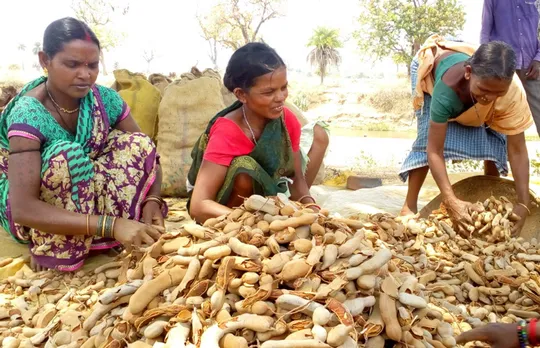 "Since our location is remote, we take minimum orders of 50 kg and go up to 500-1000 kg," says Badave.
Badave who is also a BITS Pilani alumni worked in Dantewada from 2012 under the PM rural development fellowship scheme but later continued here with Nirmaan.
"I wanted to continue here as I felt it would be unfair to the people. They reposed faith in us and worked with us for their development. It would not be right to just up and leave suddenly," he says.
(Urvashi Dev Rawal is a Jaipur-based journalist specialising in development, gender, and political reporting)
Also Read: Rajasthan: Women turn entrepreneurs and earn in lakhs thanks to microcredit