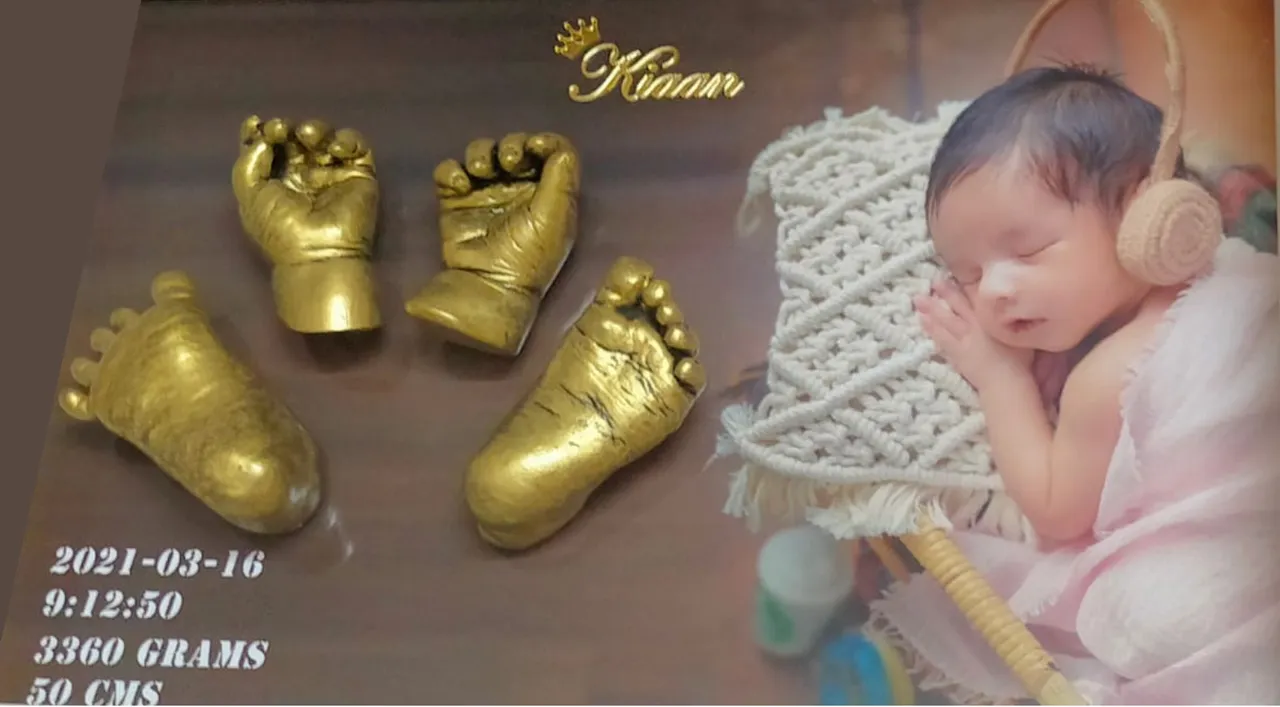 The journey from childbirth to sending the little one to playgroup is a short one. Before the mother realises, the child is already playing with her newfound friends. That's why 34-year-old Namitha Naveen decided to make keepsakes through everyday jewellery so that mothers could cherish for a lifetime their journey of breastfeeding, cleaning the umbilical cord stump and cutting those tiny nails for the first time. 
The Bangalore-based homemaker-cum-entrepreneur makes a variety of souvenirs that contain invaluable first moments of babies – breastmilk, umbilical cord, first cut nails, milk teeth, hair and more.
Also Read: Abira: Pune's all-women enterprise where slum dwellers handcraft ecofriendly products for global brands
Entrepreneurial journey
Namitha started exploring the idea of making breastmilk jewellery in 2019, but that wasn't her first venture.
Lifecasting is the process of making a 3D representation of a body part through moulding and casting. She would call parents with the newborn to her house to cast the baby's body part.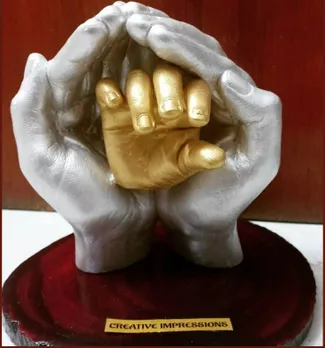 "First, the ingredients are mixed and the moulding liquid is poured onto the newborn's hands or legs in a bowl. Once it solidifies, a casting liquid is poured into it to get the impression of the baby's body part. It is de-moulded, and the finishing touches involve painting the impression and framing it for the client," she explains.
"I couldn't pursue a career in art post-marriage even though I've learnt professional drawing and painting. Starting lifecasting was the first step in creating a career in crafts," says Namitha enthusiastically. 
Also Read: Tamil Nadu: How Deepika Velmurugan set up a successful home business by taking Kolam from doorstep to drawing room
"When I was pregnant with my second child, the idea of preserving breastmilk struck me. I researched about the prospects of this idea and came up with my own formulation to turn breastmilk into an everyday keepsake," says Namitha. 
Her MSc in Biotechnology helped with research and experiments. But she was surprised to see a few in India already working on this. Namitha started reaching out to her existent client base which she established through her first venture and slowly expanded the business to customers all over India.
She has catered to more than 80 customers across the country and many from other countries too have taken interest in her breastmilk jewellery. 
Also Read: Kashmir's Sabira Mattoo: Pickling her way to success through home business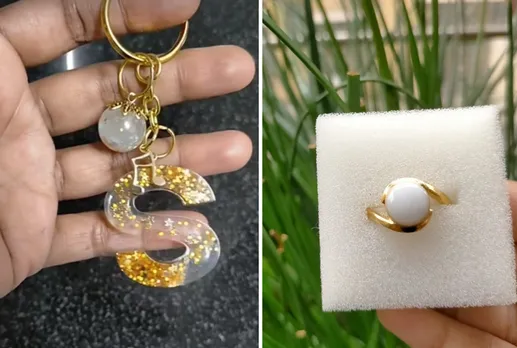 The Trial-and-Error phase
The task of turning breast milk into jewellery is arduous and tiresome, admits Namitha who says that it takes at least a month to get the end product. But before that, she had to get the research right. 
Namitha's first jewellery - a locket - was made from her own breastmilk. "I wanted to preserve my breastmilk when I was feeding because it was such a beautiful phase. Almost every day we'll be able to feel and express our emotions during that time, but later on, we won't be able to see the milk. I thought of freezing the milk first, but then worked on this method because I was able to access the milk myself," she elaborates.
Also Read: Toda embroidery: Preserving tribal craft from the Nilgiris stitch by stitch
"Cow milk and breastmilk have different textures and components," says Namitha adding that she faced a great challenge while transforming the breastmilk into a powder form without it getting decayed.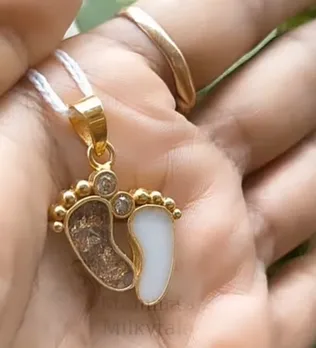 "Once you add the chemical for the breastmilk to harden, it needs to be preserved properly. If not, it turns into a black or brown colour. There were many components I used to preserve it and some failed as they had a colour change."
The process of making breastmilk jewellery
Once she receives an order, Namitha asks her customers to send in 10-15 ml mother's milk in a clean, sterile, leak-proof container, neatly labelled with their name.  
"When we receive the breastmilk, it is frozen until we start making jewellery. I spread out 5 ml of breastmilk for drying in the sun for two to three days. If the weather isn't suitable, I use a heating tool to dry it out. The next step involves powdering the milk preserve into a fine powder using a pestle and mortar," she says.
Also Read: Once a vegetable vendor, how this Manipur woman turned entrepreneur by making silk cocoon ornaments
Namitha then takes the powder and mixes it with a particular chemical to set it for it to harden. "For a few designs, we can directly set it in the pendant and for some, a stone needs to be made out of the hardened preserve and then fixed in the jewellery," she states.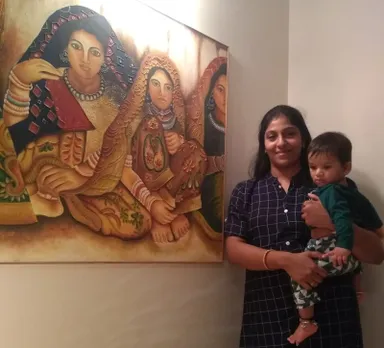 If there's an umbilical cord, nail or hair involved in the design, she sets the breastmilk first and then adds the other elements into the jewellery the next day according to the preference of her clients. "It takes three to four days for the setting process alone," she tells. 
Namitha does most of the work at her house with a lab coat and gloves, but she takes the help of goldsmiths to make the jewels using gold or silver. "We make the basic designs and keep them ready as they are frequently ordered. For the customised ones, including rings and designs made in gold, we work with goldsmiths," Namitha says.
Also Read: How a Manipur mother's hand-knitted shoes found global market
She stresses the importance of following each step properly though it is a long process. "If I make a pendant or a ring, I have to give it a name and code to be used for the entire process. Before setting the breastmilk, it will be coded and tagged or else we won't know whose milk it is. That is why it takes a long time. Some customers don't understand how much hard work and time goes into making it," she says.
Marketing Mumma's Milkytale discreetly
Ask her how the response to her products was and she says, "I did not reach out to my relatives because I was apprehensive about their reactions. This lead me to create another Facebook account called 'Mumma's Milkytale' from where I reached out to customers through my already-existing Facebook page for lifecasting newborn babies' body parts – 'Creative Impressions'."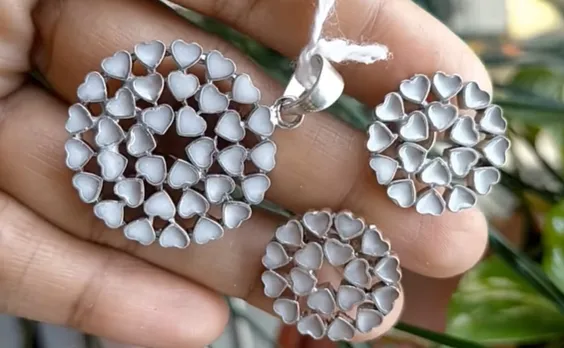 Her page on Facebook received a good reach, but her products became even more popular when she created an Instagram page for the same. 
Soon, the word spread and even her relatives and their friends came forward to place orders with her. "They can get both lifecasting as well as breastmilk jewellery made at the same place. That was an added advantage for my business," she noted.
Also Read: Kashmir's women entrepreneurs combine innovation with social media to run successful start-ups
Namitha mentions that her rings and pendants are bestsellers along with a newborn baby's foot chain which contains both breastmilk as well as the umbilical cord. 
She earns around Rs 30-40,000 per month through this business. Currently, she handles every process on her own - from preservation to shipping the product - other than making the jewel, but hopes to expand her business in the future by moving her work in a separate office space in a couple of months. 
(Narayani M is a Chennai-based writer specialising in longform writing and human interest stories.)
Also Read: One knot at a time: Chennai's Vidya Sam sets up successful home business using age-old macramé art in household décor