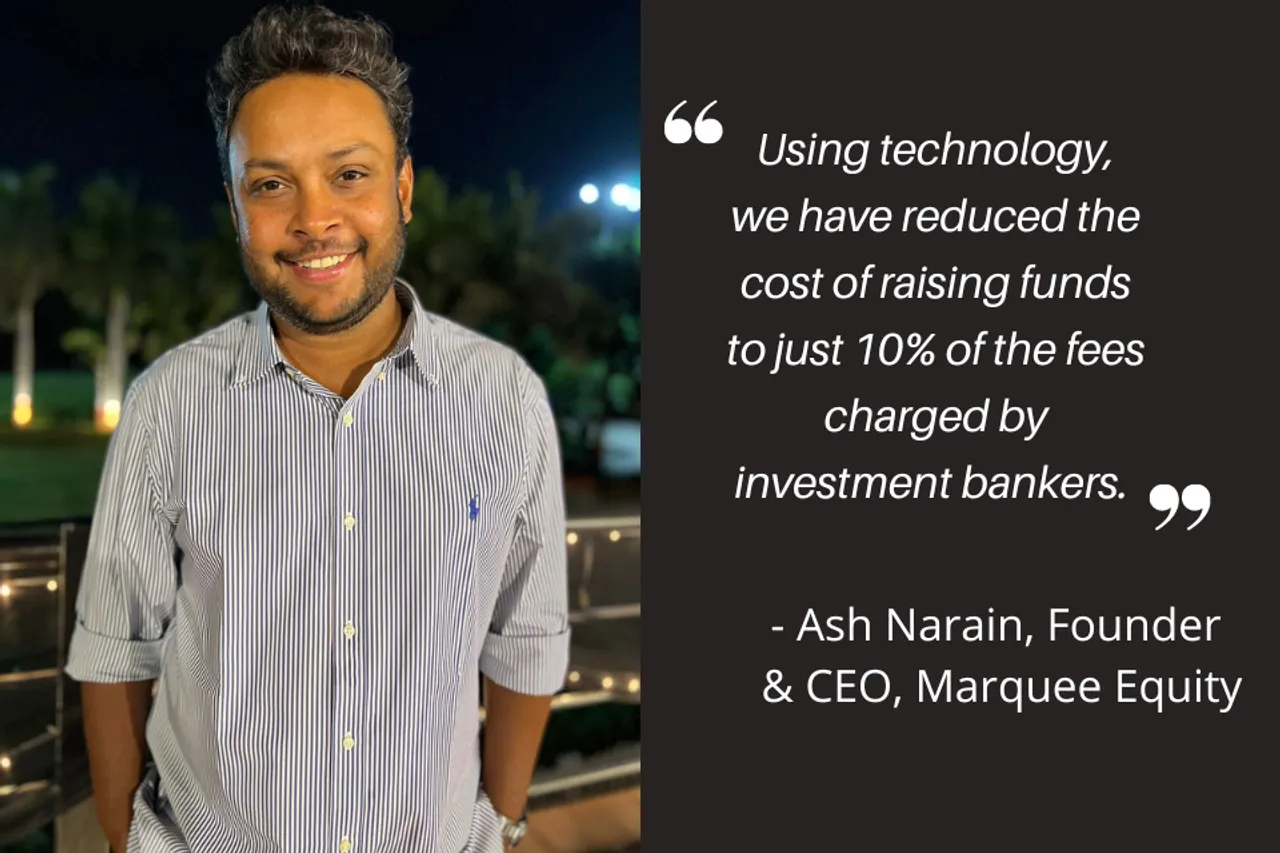 In 2012, when Ash Narain needed to raise capital for his startup BankerBay Technologies, a deal origination platform for financial institutions, he hit the hurdle faced by most early-stage startup founders – lack of personal connections with good quality investors. 
Also, top rung investment bankers are only interested in big deals that pay larger commissions, reducing the window for early-stage companies to access capital.
So to raise money, Ash moved to San Francisco and lived in a hacker house. "I raised capital for my company and when I took an exit (from BankerBay), I decided to solve this problem of raising funds for other entrepreneurs," says Ash, a lawyer by education.  
Along with co-founder Raj Kabir, Ash founded Marquee Equity in 2016 to bridge the gap between startups and global investors at a price point that works for early-stage companies. 
Also Read: Sequretek gets a lockdown leg-up as enterprises rush to enhance cyber security
Its commission is between 1 to 3 percent of the deal size and it does not take any equity in the companies it helps get funded. 
Matching startups with investors
Marquee, which set up its India operations last year, closes about 40 transactions every quarter.
"Using technology, we have been able to reduce the cost of raising money. We have built a technology stack at the backend of which is every investor in the world –venture capitalists, angel investors, PE Funds and others. Our resource team onboards investors and screens their criteria. Many times investors come to us as we have a lot of deal flow," Ash says.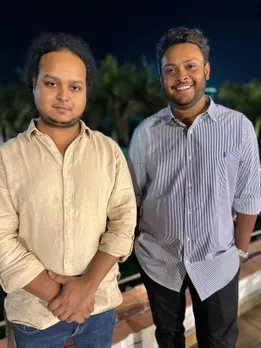 Alongside, Marquee's intelligent tech can predict which companies are likely to raise capital and when. Based on that, it reaches out to them and many companies also approach the SaaS platform directly with their fundraising requirements. 
Handholding early-stage companies
"We know that most entrepreneurs don't understand the technicalities of fundraising, the right valuations; they don't know whether to raise equity or debt. So there is a knowledge gap," says Ash.
To address this, after a startup is on-boarded, Marquee's analysts prepare pitch decks and define its financial model. Its team of investment bankers gives their feedback. The deal then gets passed on to the transactions execution team which generates a list that matches the company with potential investors.
Also Read: How a daily wage earner set up Rs 250-crore breakfast company ID Foods
"Once the investors have engaged, the team helps organise pitch calls. Our clients need to only pitch their ideas to investors. If needed, our team can do the pitching on behalf of the company and help answer all queries etc. and facilitate terms negotiation," says Nikita Garg, Director, Private Placement.
The bootstrapped company is profitable and has been funding its own growth so far. 
Since its inception in 2016, Marquee has worked with over 1500 investors and startups. "VCs and PE funds also use our services to raise money from Limited Partners," he says.
Marquee, says Ash, is a no-judgement platform and does not take a call on a company's operations or its quality. "If they are doing a legal business and want to raise money, we support them," he says.
Low costs = Low fees
Despite the high failure rate in the business of fundraising (only 10 percent of companies succeed in getting funded), Marquee has done much better than the industry average. 
Marquee's investors fall into two categories – one, those who are paying to receive the deals and two, who are not paying to receive the deals and just invest in its clients. "But paid investors are the ones who get to see the deals first," Ash says.
"The setup fee is a small one-time payment to use our services because a lot of background work is required and documents are to be prepared. This fee depends on the amount of work a client wants us to do," says Ash.
Also Read: Spocto frees banks of loan recovery headaches; saves borrowers from collection agents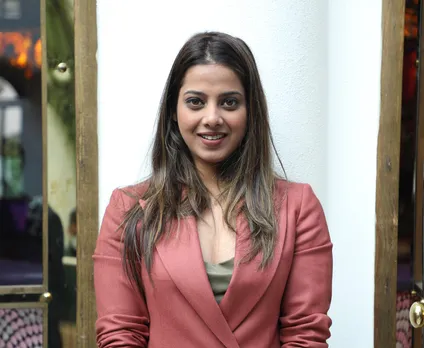 The setup fee is typically between Rs75,000 and Rs1lakh and may go up if the client also wants help in negotiating and closing the deal. 
Most investment banks charge a fee of Rs5 lakh a month or about Rs15 lakh to Rs20 lakh over a three-four month period. "We do equally good quality work for just Rs2 lakh. Even compared to corporate finance boutiques, we deliver 70 percent cost advantage," Ash says.
A lot of the tasks manually executed at investment banks have been automated at Marquee like shortlisting the right investor or approaching people at an investment firm etc. "With technology, we have reduced the reliance on the workforce by 50-60 percent. We have only 80 full-time people," Ash points out. 
Also Read: Pune: Mitti Ke Rang connects rural women entrepreneurs with customers across India; triples their incomes
While an analyst at an investment banking firm typically handles three or four transactions, an analyst on Marquee's system handles 60 transactions, which helps deliver services at lower costs due to reduced overheads.
More importantly, women form about 75 percent of Marquee's team. "One of the biggest stereotypes we have been able to break is that investment banking and tech are male-dominated industries," he says.
The road ahead
Unlike most investment bankers, Marquee is turning into an investor as well. "By next year we will come out with substantial funds for investment. Unlike other brokerages, we will deploy our own capital," he adds.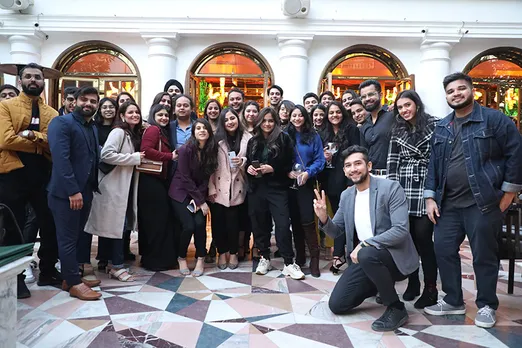 "Our research team is compiling data on every CSR department in the world and hopefully in a year, non-profits will be able to raise institutional CSR grants through us. We have also compiled information on 9,000 banks worldwide. We will be able to help Indian companies raise money from foreign lenders who typically lend at much lower interest rates than Indian banks," he says.
Before its India foray last year, most of Marquee's work was in the US, Europe, SE Asia and the Middle East. "India was earlier a small percentage of our business. But we wanted to be present here as there are a lot of investors who want to invest in India," says Ash.
"We expect India to be one of our largest geographies in the next 2-3 years given the rising startup activity here," he says, adding that Marquee will soon announce four Indian transactions.
(Rashmi Pratap is a Mumbai-based journalist specialising in business, financial and socio-economic reporting)
Also Read: Meet Shashank Moddhia: the man disrupting kidney dialysis industry with his low-cost micro-centres model