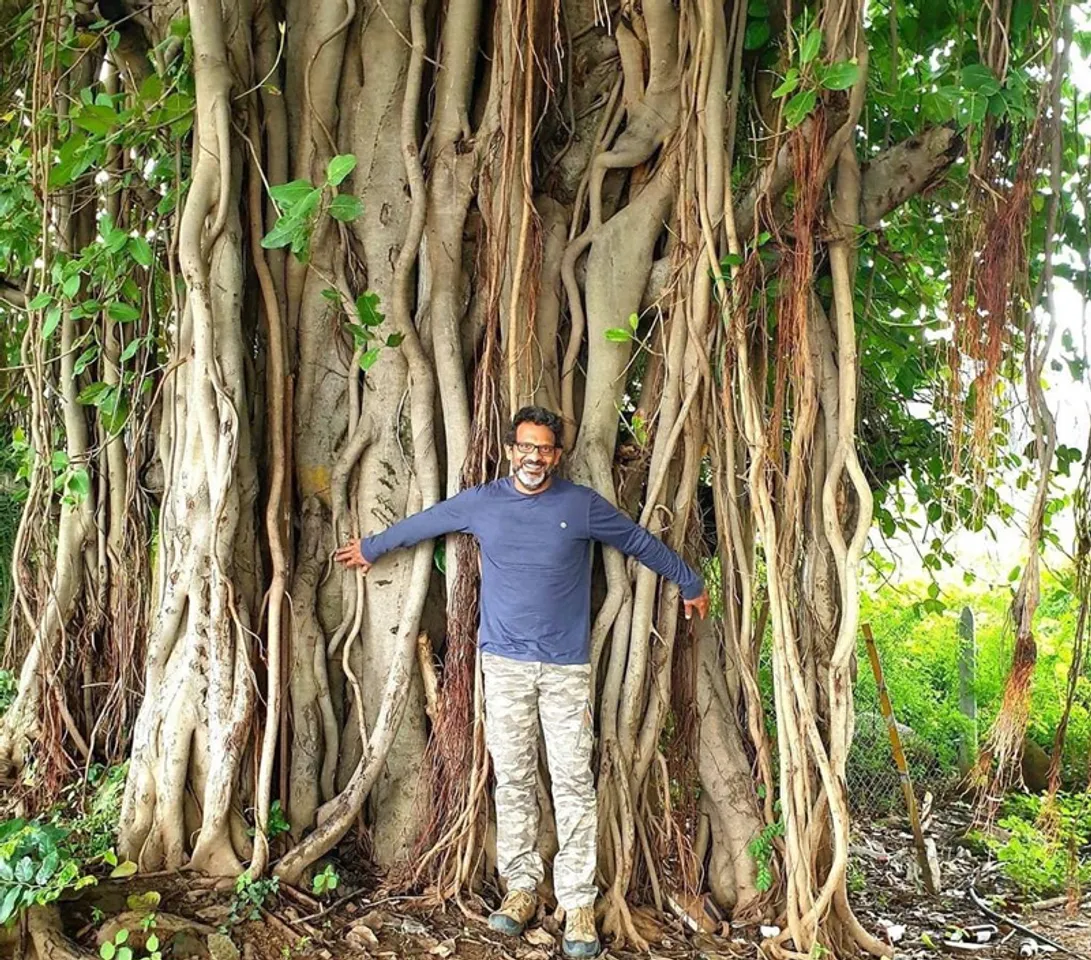 In June 2017, 100 Peltophorum (copperpod) trees were to be cut down for a flyover in the Kukatpally area of Hyderabad under the Telangana Government's Strategic Road Development Plan (SRDP). The contractors were in a hurry to move ahead, but the Manikonda Gram Panchayat did not want the trees to be axed. The locals wanted to translocate them to some other area where they could continue to flourish instead of being chopped down. 
"Translocation requires a minimum of three weeks. But I was given just two days to move these 100 trees from the middle of the city. We brought in five earthmovers (JCBs in common parlance) and transplanted the trees at the Manikonda graveyard about 25km away," says Uday Krishna Peddireddi, Co-founder of Hyderabad-based Vata Foundation which is saving urban biodiversity and also the tiger and its habitat.
The locals agreed to bear the costs of this translocation. "We got the trees trimmed and then they were moved. Twenty of the trees went to the factory of one of the donors and 80 were planted in the graveyard. Of these 80 trees, 70 survived," says Uday.
Accidental environmentalist
It was in 2010 that Uday first moved 16 copperpod trees that would have otherwise been cut down for the construction of a foot overbridge in Kukatpally. "My foray into this work was accidental. The local government had permitted me to cut the 16 trees while building this overbridge. But I didn't want to cut them. I saw that a lane nearby did not have any trees and I asked the residents if they could take care of the trees if I transplanted them there. They agreed. Of the 16 trees, 13 survived," he says.
Also Read: Environment: Gujarat couple quits US jobs to build own food forest; creates orchards & gardens for others
And that was the beginning of Uday's journey of translocation. "I look for places like schools and graveyards where the tree will most likely not be disturbed again," Uday says.
People take care of fruit-bearing trees themselves but it is trees like neem, peepal and banyan which are felled at the first opportunity due to lack of ownership. "We take care of these trees," he adds. Vata is the Sanskrit and Hindi word for banyan tree, after which the NGO has been named.
The process of translocation is costly as it involves machines, heavy vehicles, as well as manual labour.
For translocation, says Uday, first the branches and the root ball are trimmed and left for three weeks for new shoots and roots to develop. Since the tree is not fully uprooted, it is like a transition stage. "But practically, I have never had this luxury to wait for three weeks as the trees have to be moved within two-three days in most cases," he says.
Also Read: Growing green lungs: How Thuvakkam is creating urban forests in Tamil Nadu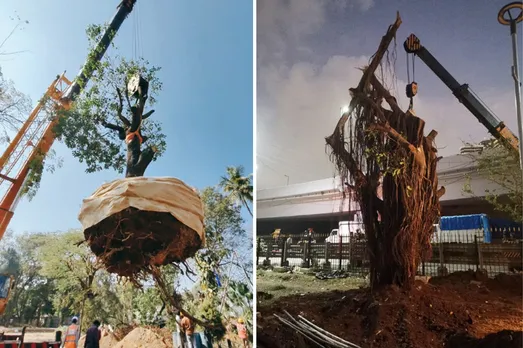 "After trimming the branches, we apply a bio fungicide to prevent any bacterial or fungal infections. Earthmovers and hydraulic cranes are used to lift the trees and place them in trucks or trailers depending on their size," says Uday.
His NGO has transplanted and restored trees of all sizes including 100-year-old trees which were 60-70 feet tall. "We apply organic root enhancer or booster to stimulate root development while replanting the trees," he says.
The trees are lowered in a pre-dug trench and the roots are covered with soil. Post-translocation care in the form of watering and monitoring the plant for any diseases is also done.
Crowdfunding supports translocation & revival of trees
"Now we also get calls to revive a tree if it falls. We have revived and translocated trees in six states -- Goa, Andhra Pradesh, Telangana, Maharashtra, Madhya Pradesh and Uttarakhand," Uday says.
On August 5, 2020, heavy showers of rain and gusty winds uprooted a 90-year-old banyan tree in Arambol, the largest coastal village in Goa's Pernem district. Just 500 metres from the famous Arambol beach, the banyan tree was not just home to birds and an absorber of carbon-di-oxide. It was under this tree that the locals and tourists held yoga and meditation classes, danced and discussed community issues.
Also Read: Udaipur youths turn barren lands green; help 1200 farmers go back to traditional farming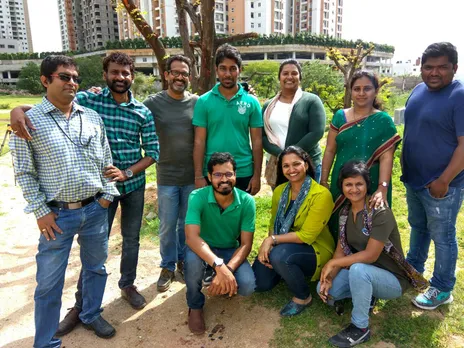 "We cut the heavier branches to make it easier for the tree to stand up. We then tied ropes to the branches and got a JCB to pull it up. A 4-feet deep trench was dug for the roots to sink in," he says.
And this is the method Vata Foundation has been following so far. "Initially, I used to put money out of my pocket and request people for funding through social media. Like when we had to translocate 320 trees in LP Nagar, we raised over Rs 4 lakh through crowdfunding," he says.
In another instance where two banyan trees were cut and abandoned on the roadside, the translocation was crowdfunded by school children. The trees were transplanted about 75km away in a school. One of the trees survived. "This year, we have become eligible for receiving funds through CSR," he adds.
Also Read: Return of the native: How Maruvan is restoring Rajasthan's desert habitat
Why it's important to translocate and not cut old trees
Besides a constant group of 15 people, Vata has worked with more than a thousand volunteers so far. "We have three types of volunteers – information providers, doers and donors who adopt trees. Donors fund the costs and also provide post-operative care," he says.
While high costs are often cited as a reason for opting against translocation, it cannot be ignored that it takes decades for a plant to become a sturdy tree.
Trees prevent soil erosion, absorb carbon-di-oxide, improve biodiversity by providing a home to birds and bees and increase the number of pollinators. Most importantly, trees give out oxygen, which is the lifeline for human beings and animals.
According to various studies, a mature leafy tree produces as much oxygen in a season as 10 people inhale in a year.
Also Read: How a sociology professor is turning arid Rajasthan green
This makes it important to protect trees of all sizes because their benefits cannot be measured in terms financially.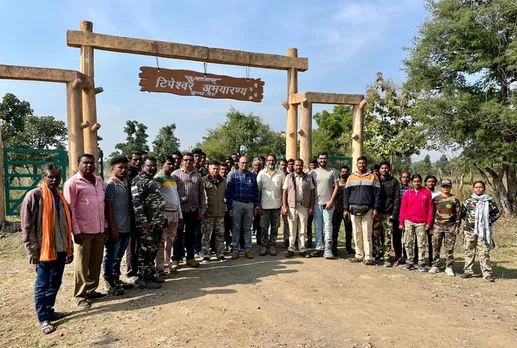 Banyan, Peepal, Neem, Ashoka and Arjuna trees are also among the highest producers of oxygen. "You are saving something very valuable by transplanting a tree. In the case of banyan, even regular branches can grow back into a tree," says Uday, who replants all the sections of trees that are likely to grow into new ones.
Also Read: Sheeba Sen: Lawyer-turned-conservationist creating income-generating forests for local communities
"In Sircilla in Telangana, one translocated tree of about 120-130 feet died. I had to cut it down but two of its branches were replanted and they survived," he points out.
He also provides jackets and shoes to forest staff besides helping in monitoring through drones etc. Yavatmal is a dry area and the rainwater runs off. "We have turned a small pond into a lake and also made another lake for water harvesting and conservation," says Uday, who also runs Foxtail Eco Retreat within the Tipeshwar Wildlife Sanctuary.
"We complement the work of the Forest Department by providing firefighting equipment and through other means. It had two tigers in 2015 and now there are over 25 tigers in the 143sq metre area. It is not even a tiger reserve," says Uday, who wants to work towards strengthening the tiger corridors as well.
(Rashmi Pratap is a Mumbai-based journalist specialising in business, financial and socio-economic reporting)
Also Read: Meera Chandran: This woman quit TCS to fight invasive plant species & restore degraded forests of the Western Ghats