Bengali boy Neel Chakraborty and non-Bengali girl Paridhi Kedia had travelled from Germany to Kolkata to have an Indian wedding in February this year. They decided to break from convention and have their wedding ceremony officiated only by female priests. So, on February 2, 2022, the day of the wedding, a team of women priests arrived at Bawali Rajbari in South 24 Parganas district of Bengal to legally bond Paridhi and Neel as husband and wife. 
The mandap (stage) was attractively decorated with flowers that filled the place with their fragrance. However, the NRI family members, especially the elderly women, gave the priests a frigid greeting. Some visitors even questioned their professionalism.
It was only when Dattatriya Ghoshal, the 23-year-old head priest, made an opening address on weddings in Milton's language, that the whispering stopped and the sudden silence in the room could only have been shattered by a pin. While some visitors started taking pictures, others opted to minutely observe these women carry out the Vedic marriage process.
The introduction of 'Pushpa-brishti' (rain of flowers) at the conclusion without a doubt stole the show. The newlywed couple and their families were thrilled with the way the wedding rituals were conducted.
Even some of the guests who had raised eyebrows at the idea of women priests conducting the wedding ended up warmly appreciating the young women.
Also Read: How Bihar's Akansha Singh is converting agri-waste to clean fuel & electricity in rural areas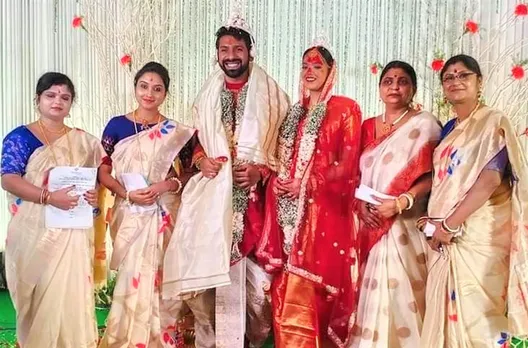 The league of women priests
Dattatriya Ghoshal, 23 and Soma Chakraborty, 39, both hold a master's degree in music. Dattatriya is a Bharatnatyam dancer, while Soma is a voice actor and theatre performer. Tanushree Chakraborty (35) is a homemaker, Keya Banerjee (52) is a teacher and Subrata Acharyya (54) is a homemaker who enjoys Sanskrit and music.
Women who are both married and single make up the squad. These female priests between their early twenties and mid-fifties include both Brahmins and non-Brahmins. They are associated with The Calcutta Event, an event management organisation. Eighteen women priests are spread over four teams.
The women started their training in 2018 at their premises in central Kolkata under the tutelage of Shobhakar Chakraborty and Gautam Chakraborty, experts in Vedic literature. They learn Sanskrit hymns and mantras from the Rig, Sama, Yajur and Atharva Vedas which serve as the foundation for performing Vedic ceremonies including weddings, childbirth puja and other rituals.
Also Read: The golden Goddess who appears from a bank vault at Joypur Rajbari during Durga Puja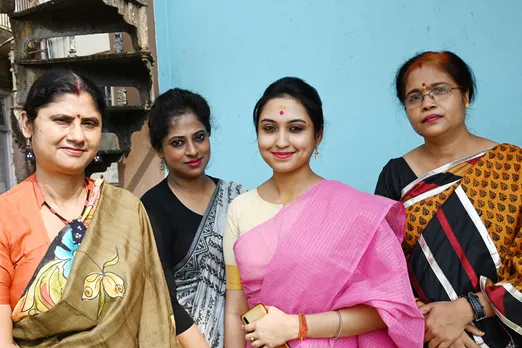 They are given theoretical and practical knowledge of the mantras and hymns with an emphasis on the correct pronunciation. They practise for two hours every day to memorise mantras in Sanskrit with clear pronunciation and the procedures for performing rituals. During the occasion, these female priests wear the same attire. They wear a red zari-embroidered Garad saree as part of their uniform, but during Durga Puja, they dress differently. They wear white saree with crimson borders on them.
Facing patriarchy 
The number of women priests conducting pujas, religious ceremonies and wedding are on the rise. But it still evokes scepticism and even ridicule.
In the patriarchal culture, the idea of female priests is still unacceptable. Male priests have historically followed the custom of marriage or puja. Traditionally, pujas are conducted by male priests as they wear the janeu or the sacred thread. Women are largely not allowed to wear the sacred thread and thus, many people do not consider them competent to conduct religious ceremonies.
Also Read: Pala: Odisha's 16th-century folk ballad with roots in Hindu-Muslim unity
"Even my family and friends forbade me from attempting this. They were concerned that the ladies themselves might be implicated in some blame game," he adds.
Acharya says many of the women who had come to attend the wedding quickly left due to pressure from their families. Their spouses or in-laws received anonymous or fake calls alleging that the organisation ran a call girls' racket behind the scenes.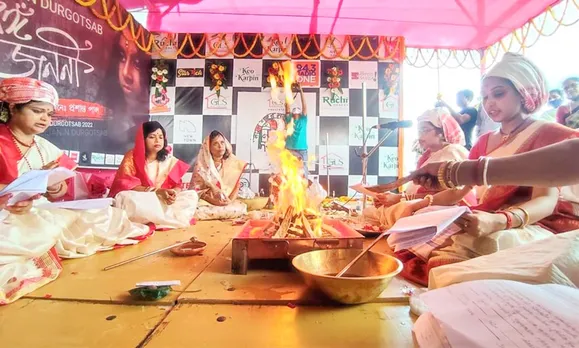 The women priests agree that societal norms have been the biggest hurdle faced by them. "When I told my kin about the work, they tried to demoralise me. They made fun of the fact that I could do puja or other ceremonies even when I don't wear the janeu. In addition, women were seen to be impure during their monthly cycle. We don't mind doing things outside of the box. We still struggle to overcome parochial thinking, which is what worries us," adds Dattatriya.
Tanushree says that society has not given due respect to women priests.
Also Read: Sholapith: Bengal's eco-friendly ivory craft intrinsic to life and death
Challenging the norms 
However, the growing tribe of women priests is breaking gender barriers and some established norms and creating more equitable nuptial ceremonies.
The Vedic style of marriage takes less than three hours since the Kanyadaan and Kanakanjali rituals are not performed. Keya argues why should only the bride be presented and not the groom under the Kanyadaan tradition. Both the bride and the groom are offsprings. Why doesn't the groom's father present his son to the father of the bride?
"As part of the Kanakanjali ceremony, which entails the bride saying goodbye to her mother from her house, she is required to repay her parents' debts. Can parent debts be paid?" queries Keya. 
Also Read: Nachnis of Purulia: Folk dancers who feed many families, fight for their rights & live to entertain others
"Our area of expertise is the use of Vedic hymns and Rabindranath Tagore's music in marriage ceremonies. Gitabitan (Tagore's work), which is based on the Upanishad, describes how Tagore compares God to a beam of light. Brahma Sangeet will eventually be used as a mantra," says Subrata.
Taking forward a progressive heritage
Sanjay Acharya, the administrator of The Calcutta Event, says in the Vedic period women were allowed to wear the Yajnopavita or Janeu and conduct ceremonies. The Yajur Veda says that women can have the Upanayanam ceremony and wear the sacred thread.
He cites examples of great intellectual women in India's past who have made significant contributions. Sanjay says the likes of Khana (a renowned astrologer and poet from Bengal in the 9th and 12th centuries) and Lilavati (an Indian mathematician who published a treatise on mathematics in 1150 AD) must serve as examples today.
A Brahmin child widow from Burdwan named Hotee Vidyalankar became an expert in Sanskrit grammar, poetry, Smriti, and Navya-Nyaya. She established 'Chatuspathi' in Kashi in 1774–1775 to provide education through Rig Veda, Shyam Veda, Yajur Veda and Atharva Veda. She was awarded the title of Vidyalankar by the pundits of Banaras.
The ladies of Jorasankho in Kolkata, where Tagore has a home, conducted pujas in the 19th century. Digambari Tagore, the wife of Dwarakanath, was referred to as a Brahmin pandit, while Jnanadanandini, the wife of Satyendranath Tagore, was the first to introduce the idea of a nuclear family in the early 20th century.
"We want to carry forward this glorious heritage," says Sanjay.
"In the time of the Ramayana or Mahabharata, surnames were not important. Have you ever heard of Arjuna Roy or Dhuryadhana Chattopadhyay? The last name is decided upon through actions. Ratnakar was a dacoit who became a Brahmin, and Parshuram is a Kshatriya, who, by his actions, became a Brahmin," says Soma.
Also Read: Yakshagana: Karnataka's ancient theatrical dance art adapts to reach global audience
In the Vedic era, there was no practice of wearing sindoor (vermillion) at the time of marriage or later. Today, the practice of putting vermillion on the bride's hair parting is known as sindoor-daan. "She is then given a 'lajja-bastro' (garment of modesty). Why should such a practice continue? We ask the bride to place sindoor on the groom's forehead," says Subrata.
Keya says that the women priests insist that the couple enter the mandap together, holding hands and not the bride following the groom. 
Breaking down gender bias
These female priests have so far performed six Durga pujas and 42 weddings.
"The Bengali community in Dubai has been celebrating Durga Puja for the past five years, and this year they want to make history by having female priests conduct the rituals. It's also a big responsibility for us to carry out our task on a global stage," says Soma.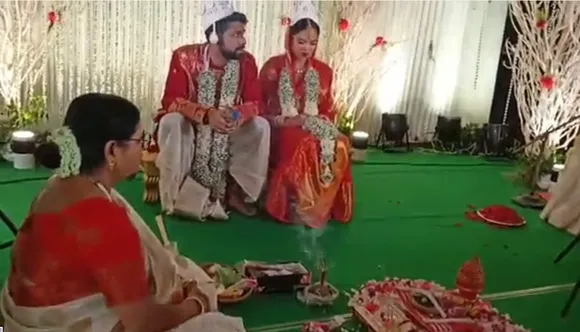 Along with Dubai, their team will also perform Durga Puja ceremonies for the New Town Sarbojonin Durgotsav Samiti in Salt Lake, Kolkata and Serampore, Hooghly District.
Their workload is unpredictable. Sometimes they receive multiple requests for weddings on a single day, and other times it can be only a handful of weddings in a month.
Despite all the odds, the women are upbeat and enjoy their vocation. The happiness and praise from clients after a ceremony is successfully conducted is the best return for the priestesses.
"An elderly non-Bengali woman approached me and hugged me while her eyes were streaming with tears after I had concluded the marriage of Riyanki Roy Chowdhury (a Bengali bride) and Shikar Singh (a non-Bengali groom), who travelled from the USA to have a combined ceremony in Bhopal in April 2022. We received a great deal of praise from about 2,000 visitors from Gujarat, Maharashtra, Tamil Nadu and Madhya Pradesh," recounts Dattatriya.
(Partho Burman is a Kolkata-based award-winning journalist. He writes inspiring human interest and motivational stories.)
Also Read: Defying stereotypes and bullies, Patna's Ankita Raj makes a statement with street art