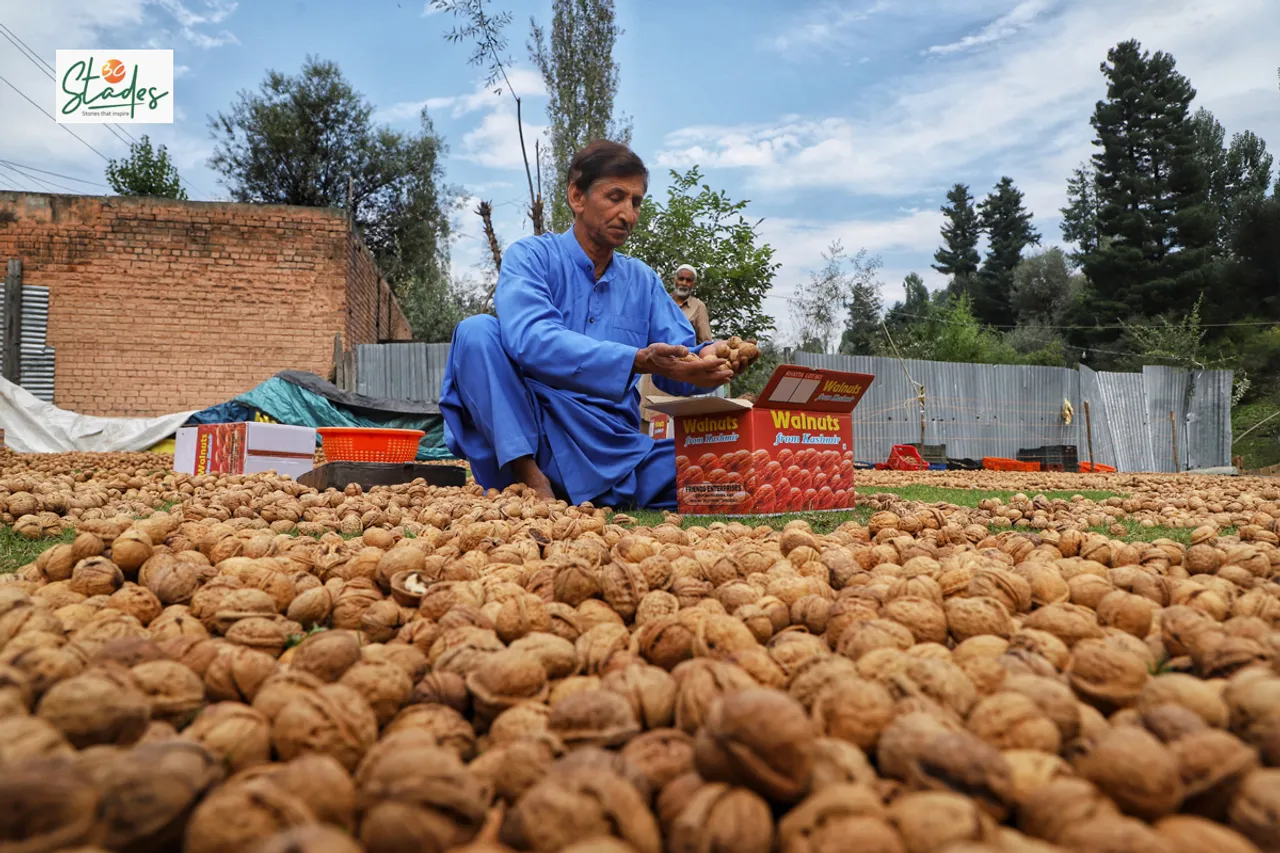 Khursheed Ahmed Wani, a walnut grower in Shopian, South Kashmir, is busy packing walnuts in a cardboard box at his orchard. It is walnut harvest time in Kashmir but Khursheed is not a happy man. The output from his trees has been dwindling every year. And now, the rates are also going down in the market flooded by imports from China, Chile and California (USA). 
"We don't use fertilisers on walnut trees as they are grown organically. But the old trees are now in the grip of many diseases which has affected both the quality and quantity of walnuts," he says.
Jammu and Kashmir accounted for 92 percent of India's walnut production of 2.82 lakh tonnes in 2021-22. The other states where walnuts are grown include Himachal Pradesh and Uttarakhand.
The challenges of Kashmir's walnut orchards
However, Kashmir's walnut orchards are now grappling with problems of dwindling productivity, diseases and pests. In most cases, it will be best to cut down unproductive trees and plant new ones. But growers are unable to do so due to many reasons. 
Also see: Repora: Visuals from Kashmir's grape village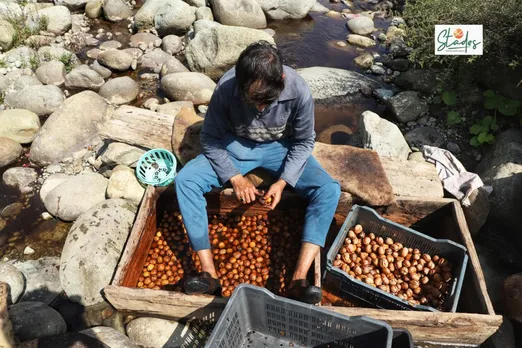 Secondly, walnut trees have a long gestation period. A tree gives its first fruit after 6 years but is completely mature for fruit production only after 12 to 13 years. Growers don't want to take the risk of uprooting old trees and then waiting for years for the new trees to yield walnuts.
"Pest management is a big constraint in walnuts because of the giant size of trees," says Shahnawaz Ahmad Mir, Research Scholar, Department of Botany at Rabindranath Tagore University.
"Walnuts are susceptible to several diseases and pests. Most of them threaten the life of plants and they may ruin a sizable portion of the edible nuts and the visual appearance of the fruits," he says.
Also Read: Why is Kashmir's 800-year-old apple economy in shambles?
Alongside, there is now a wide variation in the quality of walnuts in Kashmir – old and infected trees are giving smaller or uneven-sized nuts which don't fetch good market rates.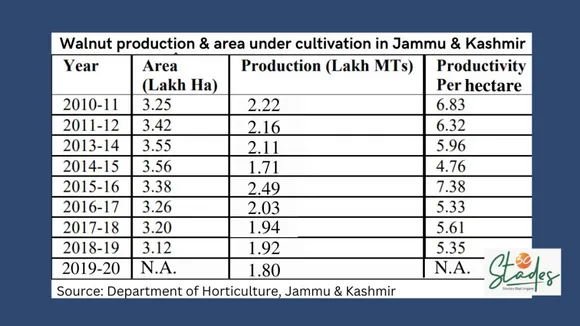 In contrast, imported nuts have a uniform colour, size and taste, which make them a preferred option for buyers despite the import duty on walnuts from Chile (110 percent) and the US (132 percent).
Also Read: Lavender cultivation pushes up J&K farmers' incomes 4 to 5 times
Dwindling market rates hurt growers
"For 1,000 walnut kernels, we get between Rs 1,000 and Rs 1400 depending on the quality. This translates into just one rupee per kernel for our efforts in cultivation, post-harvest processing and packaging," Khursheed says. 
In better times, even four to five years back, walnut growers received Rs 2500 to Rs 2750 for 1,000 kernels. 
Ali Muhammad Dar, 55, a walnut grower in the Pulwama area of South Kashmir, blames the availability of imported walnuts and the "non-serious approach of the government" for the low price in the market. "From the last few years, the prices of walnut kernels have been falling due to the availability of imported walnuts. To top it, there is a GST (Goods and Service Tax) of 5 percent on walnuts," he says.
Also Read: Flowers turn into a big blooming business in Kashmir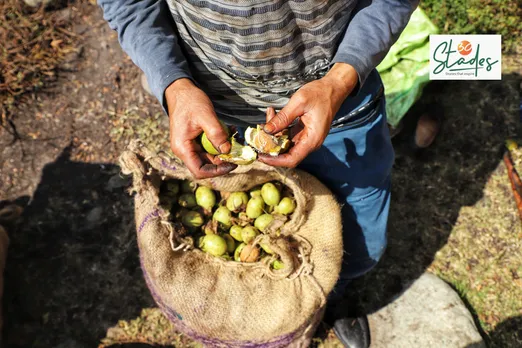 "The Government has never been serious about farmers' issues, especially walnut growers," he complains.
The three main walnut varieties in Kashmir are kaagzi, burzul and wonth. The first two are good varieties with thinner outer shells and light-coloured nuts and are mainly grown in Kupwara and Shopian belts though many areas of Jammu and other places also have walnut plantations.
Districts Anantnag and Kupwara are the main producers of walnut with 11, 939 and 8,797 hectares under production respectively.
High costs of production & processing
While the process of walnut cultivation is not very labour intensive after the tree starts giving fruits, its harvest and processing is an expensive exercise. Walnut trees are about 65 feet to 100 feet tall. Walnut pickers climb the tall trees and beat the fruit-bearing branches with a long stick called laaenz in a risky exercise that causes the fruit to drop to the ground.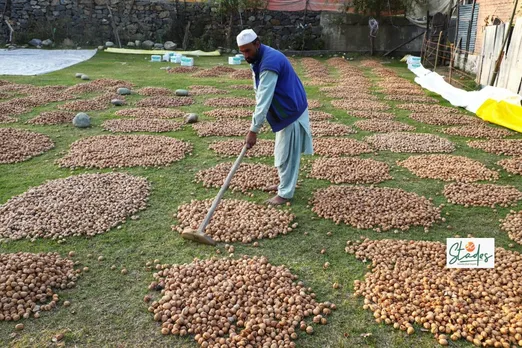 Walnut pickers also fall from these trees and it is a cause of morbidity and even death during the walnut harvest season between August and October in Kashmir.
Khursheed explains that the outer green shell of walnut is removed manually. The fruit, with its well-known brown shell, is then washed in running water, mostly in nearby streams. 
After repeated washing, walnuts are spread out on the grass, where ample sunlight is available, for drying. Once fully dried, they are sorted and packed for transportation.
An official from the Department of Horticulture says the government has set up 13 nurseries with various varieties of walnuts, including foreign ones. "Imported walnuts are the main reason behind the low price of our products. We are trying to grow foreign walnuts in Kashmir so that growers won't face losses in the future," he says.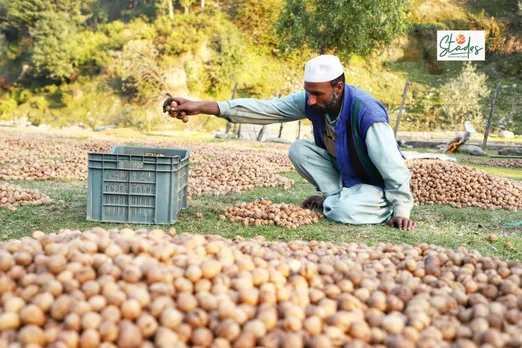 However, to encourage farmers to opt for high-density new plantations, the government must permit cutting down old trees. As long as orchards continue to be occupied by traditional walnut trees, which are not bearing good quality fruits, it will be extremely difficult for Kashmir's walnut growers to plant new varieties and improve their fortunes.
(Wasim Nabi is a Srinagar-based freelance multimedia journalist)
Also Read: Kashmir's farmers get peanuts for walnuts as lockdown hurts rates