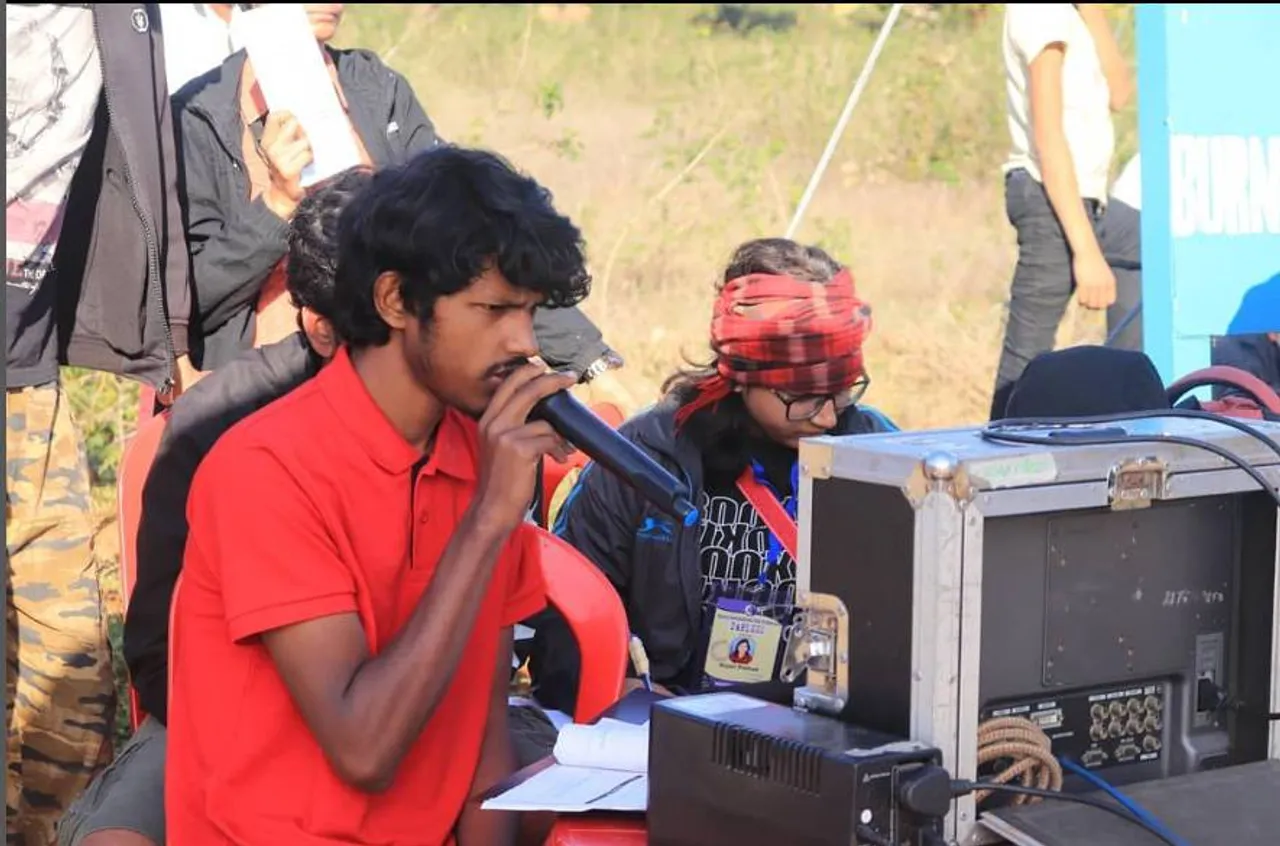 A well-written script, realistic characters and brilliant direction gave a fresh perspective to the story of a loan shark usurping a poor man's land in Bandha Khet, the critically-acclaimed Nagpuri short film that was made on a budget of less than Rs 500. Bandha Khet (Mortgaged Farm) is the work of Purushotam Kumar, a 25-year-old Munda tribal filmmaker from Nagpur known simply by his initials NPK. He is among a clutch of untrained, young, creative filmmakers beating budgetary boundaries to blaze the path for movies from India's tribal hinterland.
But unlike big movie plotlines, tribal filmmakers are churning out an unexpected reality. They highlight provocative socio-economic and environmental subjects, ranging from a greedy moneylender and the role of education in tribal emancipation to deforestation and mining. 
Tribal India's Shakespearean themes
The moneylender story is as old as Shakespeare's Merchant of Venice, but its relevance isn't lost. The same template of many Shylocks snaring the poor in debt traps plays out in rural, tribal areas of Jharkhand. 
With little or no access to financial institutions, the poor often mortgage their soul – the small landholding they own.
NPK's 19-minute movie gives a raw context to modern slavery that melds perfectly with the narrative. "The situation in the villages hasn't changed much in 75 years since India became independent. The exploitation of illiterate villagers is rampant. I tried to portray this reality," NPK says.
Also Read: Fagun: India's only Santhali newspaper giving a fresh lease of life to tribal language & culture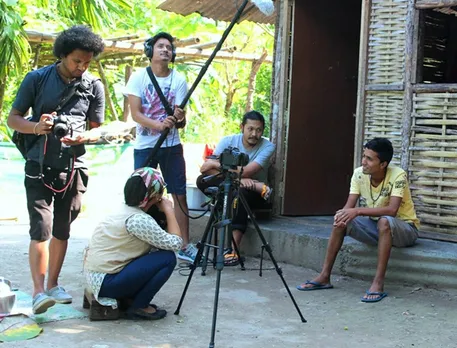 Making movies on phones with family in starring roles
In another state, another young filmmaker used his cell phone camera to drive home the importance of education for the tribal people. The outcome: Inhunjolahaa (I Will Also Study), a short Santhali language movie made by CM Marandi, 28, a tribal youth from Odisha's Baripada.
 When social woes become plotlines
For Minket Lepcha from the tea-growing hills of Darjeeling, the Lepcha tribe's revered river is the muse in her Voices of Teesta. 
It is a well-researched 41-minute documentary about the challenges posed by hydro-electric dams to people living off the Teesta, a 414km river that rises in the eastern Himalayas of Sikkim, flowing south through West Bengal and draining into the Brahmaputra in Bangladesh. 
Also Read: Village in Jharkhand's Maoist hub transforms into eco-tourism spot reviving lost arts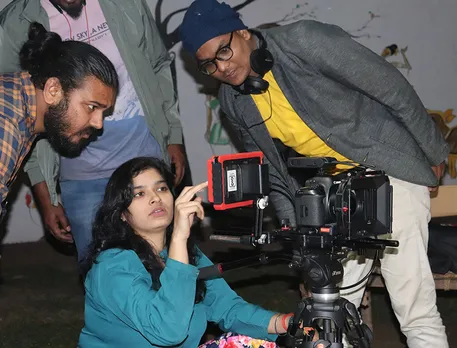 The 39-year-old delves deeply into the topic with examples that are relatable and remarkable – capturing the environmental vulnerability that offers no margin to cushion the blow on millions. 
"I had an office job in Delhi till 2012. Quit and returned to the hills to make movies, pursue my passion," says the inexperienced filmmaker whose debut documentary won the Green Film Makers Award at the 2016 International Film Festival in Delhi.
She was among 16 filmmakers from India's eastern and north-eastern states who showcased their work at a national short film festival, Samuday Ke Saath, held in the steel city of Jamshedpur this August. The event was a prologue to Samvaad, a tribal conclave held each year in November.
The festival has two categories: institutional and community. The institutional section features movies made by professional media houses, like the Film and Television Institute in Pune and the Satyajit Ray Film & Television Institute in Kolkata.
Also Read: Jharkhand: Saving Khovar and Sohrai arts of 'painted villages'
"Then there are the community movies made by filmmakers with no formal training or big budgets and equipment either. We encourage them," says Kumar Gaurav of Tata Steel Foundation which organises Samvaad.
A budget trap
In an industry where bigger is presumed to be better, there is little room for movies made on a low budget and themed around topics like issues affecting tribal societies, which are far from the bankable box-office plots populating theatres and multiplexes.
NPK needs money for his next project. But finding a distributor – to get his movie seen – is another hurdle. "I will show my film in tents and charge a small entry fee from the villagers," says Kumar.
Pragya Singh, a 25-year-old filmmaker, says Jharkhand is brimming with stories begging to be told, but people need funds to broadcast them. 
Also Read: Tribal women turn entrepreneurs with Tasar silk farming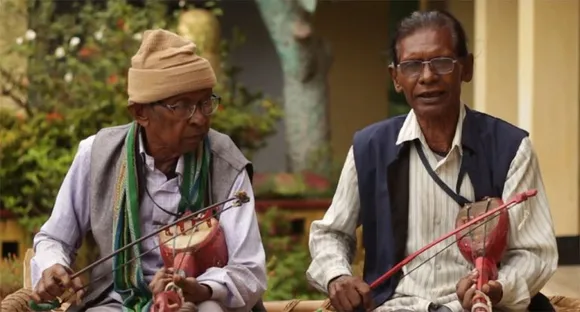 "I recently made a documentary on banam, an ancient musical instrument on the brink of extinction. There are so many subjects that can be highlighted through proper research and funding, which is lacking," she says.
Lower budgets allow them to make movies no one imagined would get made, but the purpose gets defeated when only a handful get to watch them. Santhali actress Shalini Murmu, 24, acknowledges the limited opportunities for tribal cinema. 
"Our audiences are spread over Jharkhand, West Bengal, Assam and Odisha. Still, mainstream Santhali cinema doesn't have any professional directors. What we have are office workers and traders, amateurs driven by the passion to make movies," Murmu says.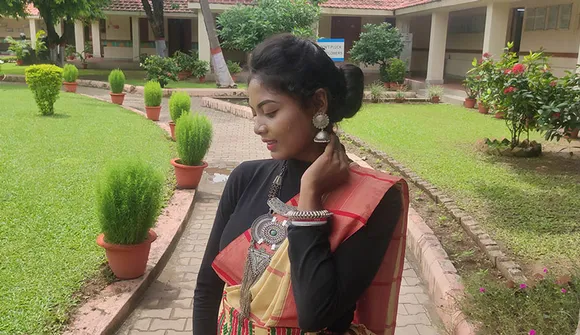 Experienced documentary filmmakers say the youngsters need a theatre audience, rather than government aid that might force them to make hagiographies or propaganda films.
"They are highlighting social evils and other aspects of society. These should reach a wider audience," says Prabal Mahto, maker of 150 documentaries over the past 25 years. "There should be small auditoriums in villages with a nominal, affordable entry fee," he suggests.
(Gurvinder Singh is a journalist based in Kolkata).
(The image featured at the top has been sourced from NPK's Instagram page)
This story first appeared in Village Square.
Also Read: Seral Murmu: The Santhali filmmaker highlighting tribal issues and culture through cinema