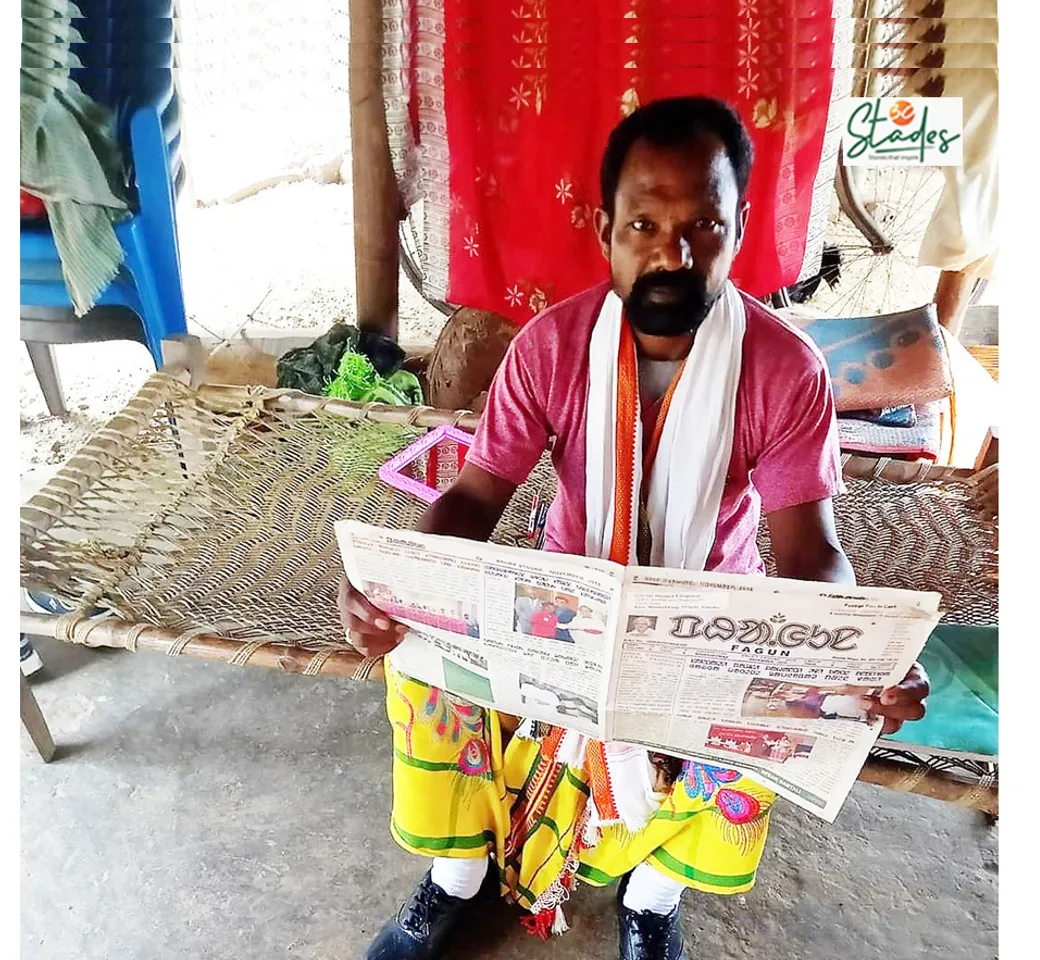 Some 15 years ago, the sight of hawkers distributing newspapers in English, Hindi, Bengali and Oriya languages in Bhubaneswar, Odisha, upset Malati Murmu because she had nothing to read in her mother tongue. Malati's dismay gave birth to a newspaper that would preserve as well as uplift Santhali (also Santali) - the 22nd official language of the Indian Constitution that is not used in any government work.
The 8-page monthly paper turned 13 this year. Behind its success is the vision of Malati, who was associated with the movement for the inclusion of the Santhali language in the 8th Schedule of the Constitution of India. It culminated in the inclusion of Santhali in 2004.
Also Read: How a Santhali folk singer & orphans turned barren land into forest at Bengal's Ajodhya Hills
Preserving Santhali culture
Santhals or Santals are a Munda ethnic group native to India, with a population of 7.4 million predominantly settled in Jharkhand, Odisha, West Bengal, Bihar, Assam, Mizoram and Tripura, as per the Census 2011. The Santhali community living across the country reads Fagun. The tabloid not only bridges the gap between members of the ethnic group but also updates them with current affairs.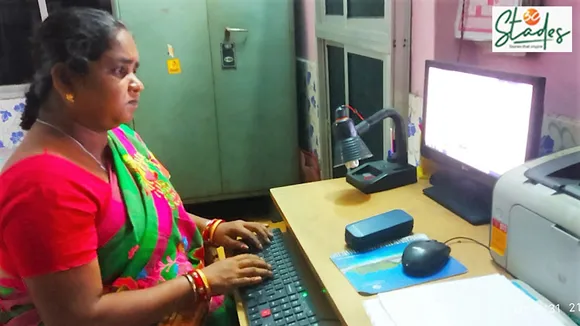 Santhali is written in Ol Chiki script, which comprises 30 letters derived from natural shapes like the earth, bending trees or overflowing rivers changing course.
Also Read: How one Siddi woman in Gujarat's Jambur changed her community's fortunes
At the initial stage, only 500 copies were printed at a manual press. However, the readership and circulation were augmented with each passing year.
Now around 5,000 copies are printed in an automatic press, each priced at Rs5. The paper is read by Santhalis in Andaman and Nicobar Island, Bhagalpur, Chennai, Cuttack, Dumka, Delhi, Guwahati, Jagdalpur, Kolkata, Mumbai, Puri, Ranchi, and Visakhapatnam.
Also Read: Village in Jharkhand's Maoist hub transforms into eco-tourism spot reviving lost arts
Each edition of Fagun covers educational news, arts and cultural programmes of the tribal community, conferences conducted by Santhali and Adivasi societies, government announcements about tribals, traditional Santhali culinary recipes, book reviews, plantation drives, jobs information, campaigns against prejudice and awareness campaign against the consumption of country liquor.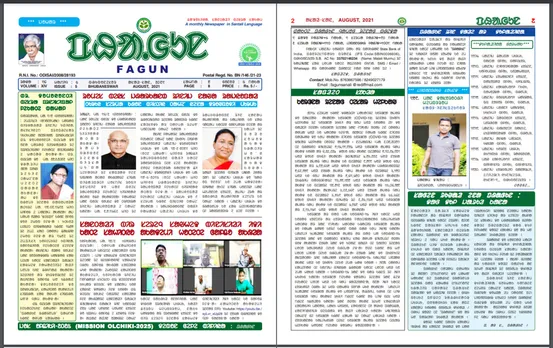 Malati says national news gets priority in the newspaper. Any discussion or debate about Santhali in any state assembly or Parliament gets front-page coverage. Santhali or Adivasi programmes held in Odisha, West Bengal or Jharkhand come next in priority.
The entertainment page carries news related to cinema, arts or music while the sports page covers events participated in by the tribes. The editorial page enfolds current affairs and cuisine recipes. A standalone inspirational or informative picture also finds a slot in the paper.
Also Read: Kolkata Little Magazine Library: one-man effort to preserve rare books & periodicals
Contribution of Fagun
Despite being a small newspaper, the contribution of Fagun is much bigger in terms of its social, cultural and educational impact on the tribal community.
Malati says cultural amalgamation is on the rise nowadays in Bengal and Odisha, where young members are marrying non-tribal communities and leaving behind their tribal culture.
Not only that, Fagun also creates awareness among Santhali natives who live in other states and speak Hindi or English.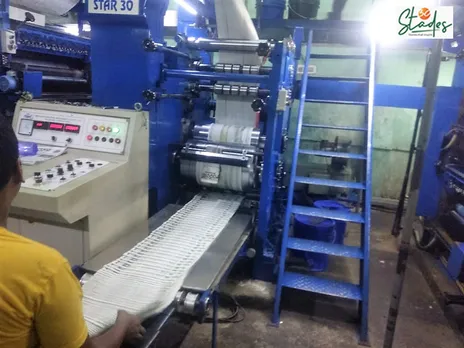 "I believe we should not mix cultures at home. Some people move away from their tribal culture owing to their inter-caste marriage," she says.
"We encourage them to take up Santhali art, music and literature and stay connected. It won't affect their marriage or social status," Malati says.  
Also Read: From ragi momos to snails, how tribal food is becoming the ambassador for Jharkhand's indigenous culture
"Our community observes Sidhu Kanhu festival on June 30 but it is not covered by the mainstream media," says Mangat, who works with the Odisha government.
The festival commemorates the Santhal Rebellion which started on June 30, 1855, to end the revenue system of the British East India Company and the zamindari system in India.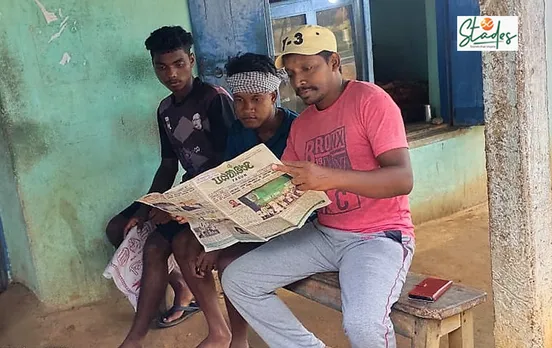 Mangat points out that every Santhali village also has a place of worship called Jaher – a sacred grove comprising Sal trees within which their deities reside. The saplings of Sal are planted there with customary rituals.
Fagun is promoting 'Mission Ol Chiki 2025' to celebrate the centenary year of Pandit Raghunath Marmu's invention – the Ol Chiki script. "We are inviting school and college students who don't know Ol Chiki to learn with the help of Adivasi Socio-Education and Culture Association in Bengal, Bihar, Jharkhand and Assam," he informs. 
Also Read: Nanga Hittu: Reviving tribal cuisine of the Badagas from Nilgiris
Teamwork
The Fagun reporting team comprises five journalists stationed at Mayurbhanj, three at Ghatshila, and one each in Kharagpur, Ranchi and Bhubaneswar.
Besides, a handful of friends from Bankura, Kalyani and Purulia send news items either through WhatsApp or email in Ol Chiki script while some reporters send type-written or handwritten copies through the post. Important national news gets translated.
Before the edition goes to the press for printing, the pages are checked through the experienced eyes of the editor and her team, which includes R. Aswanibhanjan Murmu, the chief reporter and Malati's husband Mangat.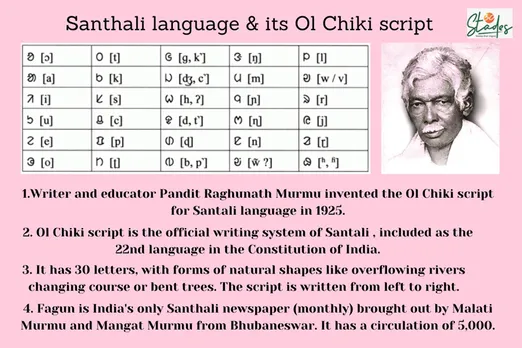 The edition closes by the 7th or 8th of the month, carrying about 16 news items including the editorial.
Also Read: Adavi: organic coffee that brewed a new life for Karnataka's Soliga tribe
Besides thousands of regular subscribers, the newspaper also has140 life members.
The paper also goes to the President of India, the Prime Minister, the Finance Ministry, the Irrigation Ministry, the Tribal Ministry, the Governors of Jharkhand, Odisha, West Bengal, Assam and the Chief Ministers of these states. It is circulated among all District Headquarters of Odisha.
The lockdown due to the Covid-19 pandemic has affected everyone, including printers and publishers of the newspapers and Fagun is no exception. The edition couldn't be delivered to its readers residing far-off from Bhubaneswar since buses were called off roads, which forced them to reduce the number of copies from 5000 to 2000. But numbers are expected to be back to normal soon as restrictions ease up across the country.  
Also Read: Last Forest takes honey & beeswax products from Nilgiri forests to global markets
Creating an identity
Malati's persistence in developing Santhali vernacular through short stories, poetries and creative writings has drawn the attention of several forums. The All India Small and Medium Newspaper Editor Council, Odisha presented her with an award for 'Excellence' in 2010.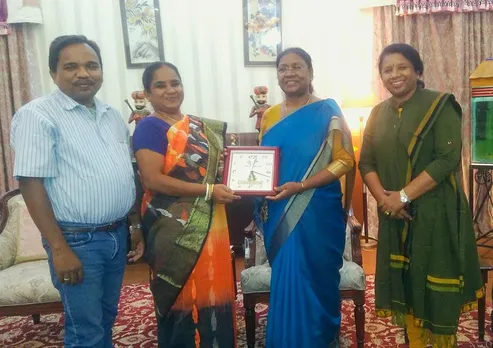 A social organisation of Jhargram, Marshal Gaonta handed over an award for outstanding contribution for upliftment of Santhali language and literature in May 2015. She was also honoured with the Telegraph True Legends Award in February 2016.
While the tribal community is determined to move ahead, lack of education and addiction to country liquor hooch remain a hindrance. Malati says improvement is possible through continuous awareness programmes.
"We plan to reach out to every gram panchayat for education," she says.
Also Read: Build digital capacity in the education sector
Malati plans to bring an online edition of the newspaper. "Fagun will soon be available on social media as well. We keep spreading messages to everyone through Fagun – 'Love Ol Chiki, Speak Santhali'," she says with a smile.
(Partho Burman is a Kolkata-based award-winning journalist. He writes inspiring human interest and motivational stories.)
Also Read: How Bihar's Lahanti Club is preserving Santhali culture