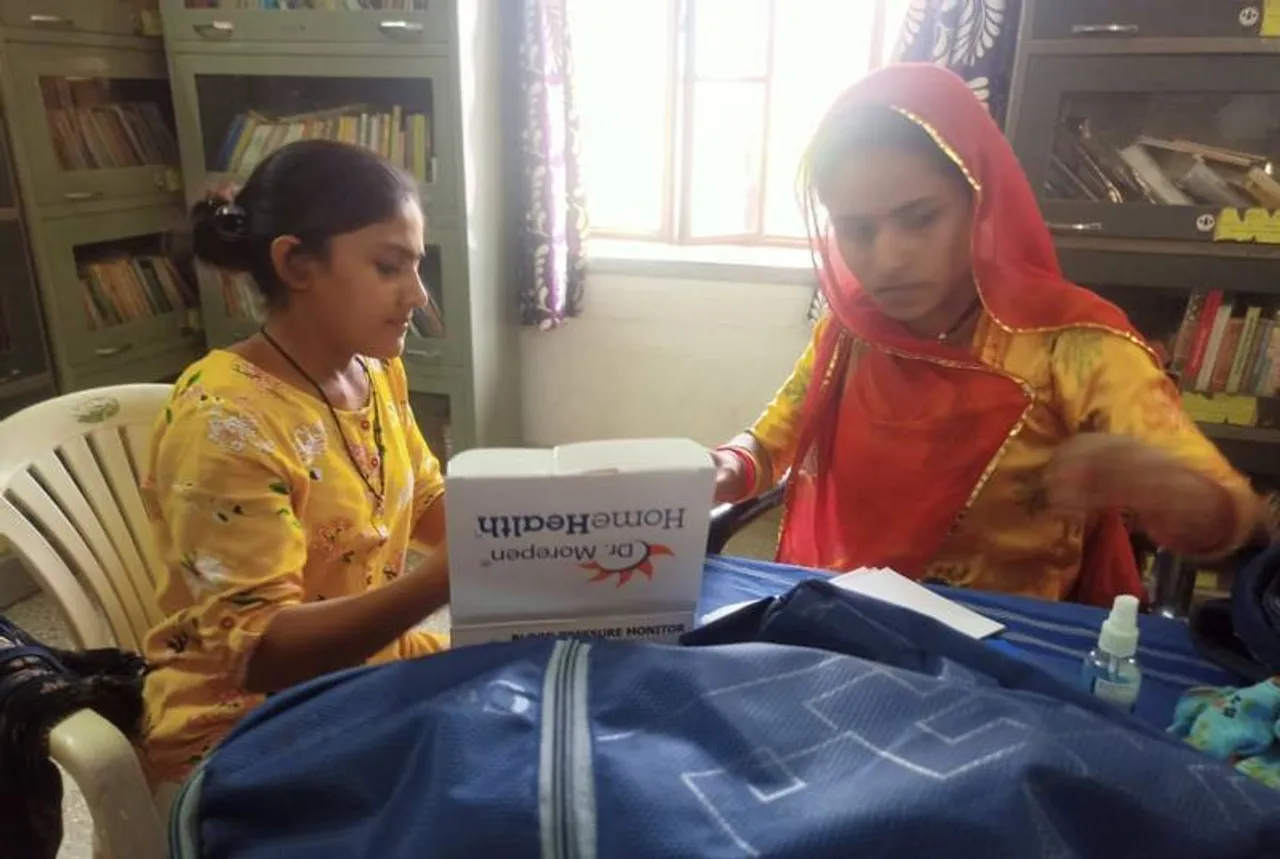 Maya Baghel, 28, lives in a village in the Khandwa district of Madhya Pradesh. She goes to the houses of villagers who require a basic health check-up like blood pressure, blood glucose, haemoglobin, weight, height and pulse oximeter reading, for a fee. She also sits with a doctor in Roshni, a town five km from her village, and facilitates phone consultations for villagers.
"I talk to the patient in their dialect and explain it to the doctor in Hindi. I earn Rs 4,000 to Rs 4,500 a month. I feel good that I can help people. I plan to study and obtain certification so that I can work as a medical technician," says Maya who has started her own diagnostic service in the village.
She has recently completed the Community Health Entrepreneurs (CHE) fellowship offered by the non-profit Plustrust to rural women for turning entrepreneurs.
A recent initiative of Bengaluru-based Plustrust, CHE addresses the need for simple diagnostics in rural areas. Plustrust has collaborated with Bahaar Foundation, which is involved in healthcare work, for this initiative.   
Also Read: Rajasthan: Women turn entrepreneurs and earn in lakhs thanks to microcredit
Maya was selected for the fellowship based on her proposal for diagnostic services in her village which did not have such a facility. Plustrust supported Maya to start her healthcare service. She was trained to use simple equipment and check basic health parameters which people in rural areas don't often bother about. As she goes door to door, women are especially happy to get home service.
Through training and handholding, Plustrust aims to make women financially independent and work to bring change at the grassroots level.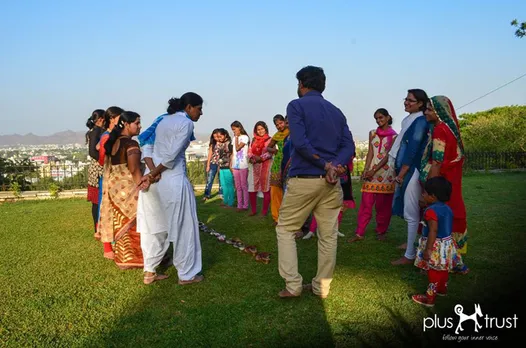 The projects of the fellows are in diverse areas such as women's health and hygiene, catering, tailoring, social inclusion, education for citizenship, employability and skill development, science and arts education, and animal welfare. The fellows are trained by domain experts who volunteer their time. Today, Plustrust alumni lead 55 stable ventures.
Also Read: Gulmeher: Delhi's social enterprise turns women ragpickers into artisans; sells ecofriendly products globally
Creating women entrepreneurs
The Global Entrepreneurship Monitor 2020-2021 shows that the female adult population engaged in entrepreneurship in India is just 2.6 percent. Plustrust seeks to improve this.
"Urging women to get out of their comfort zone and take risks is a big challenge," says Dr Lalitha Iyer, Managing Trustee of Plustrust. A former banker and author, Dr Iyer is a consultant with a special interest in institutional change-facilitation in the social sector.
"Initially, we were a small, informal initiative. The trigger to set up Plustrust was my daughter's passing away. We wanted to do something in her memory. We set out to offer a few fellowships to youngsters who wanted to do something different. The money we gave was a stipend for the individual, not for the project. Beginning in 2015, we took the call to focus on rural women. We began conducting workshops to identify such women."
Read: Millet farming brings nutrition, financial security for women farmers in Bihar
Plustrust operates primarily in four states – Madhya Pradesh, (Nagda near Ujjain) Rajasthan (Udaipur), Uttar Pradesh (Faizabad), and Bihar (Muzaffarpur). Its work is more meaningful in these states as they find women there need an extra impetus to become entrepreneurs. 
Anchor network & Selection process
Its anchor network is the biggest strength of Plustrust. It currently has 15 anchors most of whom are former fellows. They are not employees but receive a commission of Rs2000 for each fellow they mentor.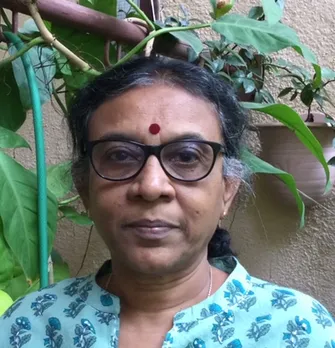 Typically, anchors run a grassroots initiative and are connected with the local people. They identify prospective fellows in their areas who have interesting, viable ideas. Anchors visit the fellows once a month and are available on the phone for problem-solving and moral support. Anchors are trained to conduct workshops. Peer learning is a core belief of the organization. Anchors arrange talks, interactions, and visits to the projects of other fellows to facilitate this. 
Dr Iyer says they get 100-110 applications before a workshop and select the promising ones. These candidates are interviewed over the phone and 25 are called for a workshop.
Workshops are a three-day intensive process. Some women would have stepped out of their homes for the first time to attend a workshop. Some bring their little children with them, she says.   
Also Read: ANANDI: Changing the face of rural Gujarat by mentoring women to take up leadership roles
The participants of the workshop are asked to prepare a value proposition describing the beneficiaries of their initiative and what they will gain from it. This is followed by a concrete proposal. From each workshop, 10 fellows are identified in consultation with the anchors.
Most fellows are in their early 20s or 30s, though some are older.
It is a process of learning by doing. Fellows are encouraged to address local needs and problems. This way, the impact of the venture is felt in the community the fellow belongs to.
Variety of fellowships
Plustrust offers different kinds of fellowships tailored to meet individual needs. The Changemaker Fellowship is for educated, urban youngsters.
The Rural Women Entrepreneur's (RWE) Fellowship is given to women who want to make a difference in the field of education. This includes quality of education, building life skills of adolescents, leadership, fine arts, or physical training. Around 15,000 children have been impacted by the RWE fellowship work.
Also Read: Pune: Mitti Ke Rang connects rural women entrepreneurs with customers across India; triples their incomes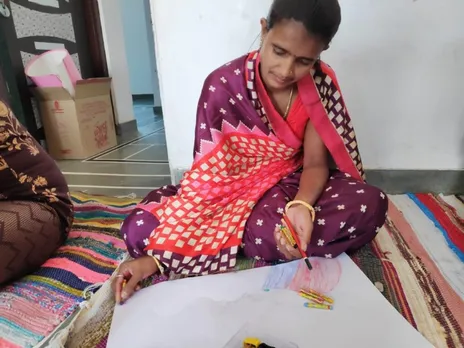 "Very often the women want to take up initiatives that cover what is left out of the school set-up. The ideas are their own. We just help refine them. I believe that you can never build an entrepreneur by telling them what to do," says Dr Iyer.
The Return to Roots (RTR) Fellowship emerged during COVID when migrant labourers were returning to their native places. It focuses on skill development, digital inclusion and waste management.
Impact of fellowships
The fellows build three strengths, namely, personal effectiveness, project management and professionalism. "We call this the 3P framework," says Dr Iyer.
Also Read: Käse Cheese: Chennai's all-women artisan cheese startup empowers people with hearing impairment; expands operations to Gujarat & Rajasthan
Many women have never spoken to a man outside their family before they became fellows. Now they address village meetings," she adds.
Identifying objectives, setting goals, developing a method, planning, and improvising are all part of working on a project. The fellowship inculcates professionalism and many women want to enrol in a course to further build their skills, she says.
Persistence is the key
"It's okay for somebody to try and fail but somebody needs to try," is Dr Iyer's strong belief. Persistence is the key that drives the women fellows.
However, not all initiatives can achieve the intended goals. Take Aarati Porwal's case. From a village near Ratlam in Madhya Pradesh, Aarati was just 20 years when she set out to train rural women who aspired to join the police force. She got Plustrust's RWE fellowship. Around 30-35 women from villages attended the online training (due to COVID) and followed a diet and exercise regime for physical fitness.
Also Read: 5 women entrepreneurs with successful startups that combine innovation with tradition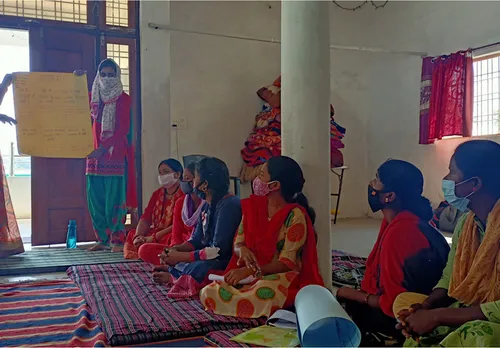 "The women would get up at 5 am and go running. We got hold of textbooks and they studied in a group. Unfortunately, they were not selected for the police force. But they benefited from the training. Many got engaged in kabaddi and other sports. They were taught karate so they became adept in self-defence," says Aarati.   
What happens when a fellowship ends? "Right through the planning process we tell the fellows they must charge for what they do. So, they get some revenue. We also help them network to obtain funds through a platform called Samvaad which builds relationships between individual donors and small enterprises (with annual budgets of less than Rs 20 lakhs). We are trying to ensure that some of our fellows (who need it) are given additional training and mentoring from corporate coaches," says Dr Iyer. 
Future plans
Initially, Plustrust was funded by family and well-wishers. A Mumbai-based network called 'Caring Friends' supported the organization and introduced the team to individual donors. Plustrust is looking for funding support, especially CSR support for the CHE programme. 
"We want to expand the CHE programme as we find a big gap in rural healthcare. We started as a pilot project of 21 women and want to have 100 women CHEs next year. We are likely to touch 180-200 fellowships by the year-end. We also want to work towards strengthening grassroots NGOs," says Dr Iyer.
(Aruna Raghuram is a freelance journalist based in Ahmedabad. She writes on parenting, personalities, women's issues, environment, and other social causes.)
Also Read: From supporting micro-entrepreneurs to providing education & improving slums, how NGO Saath is empowering Gujarat's urban poor