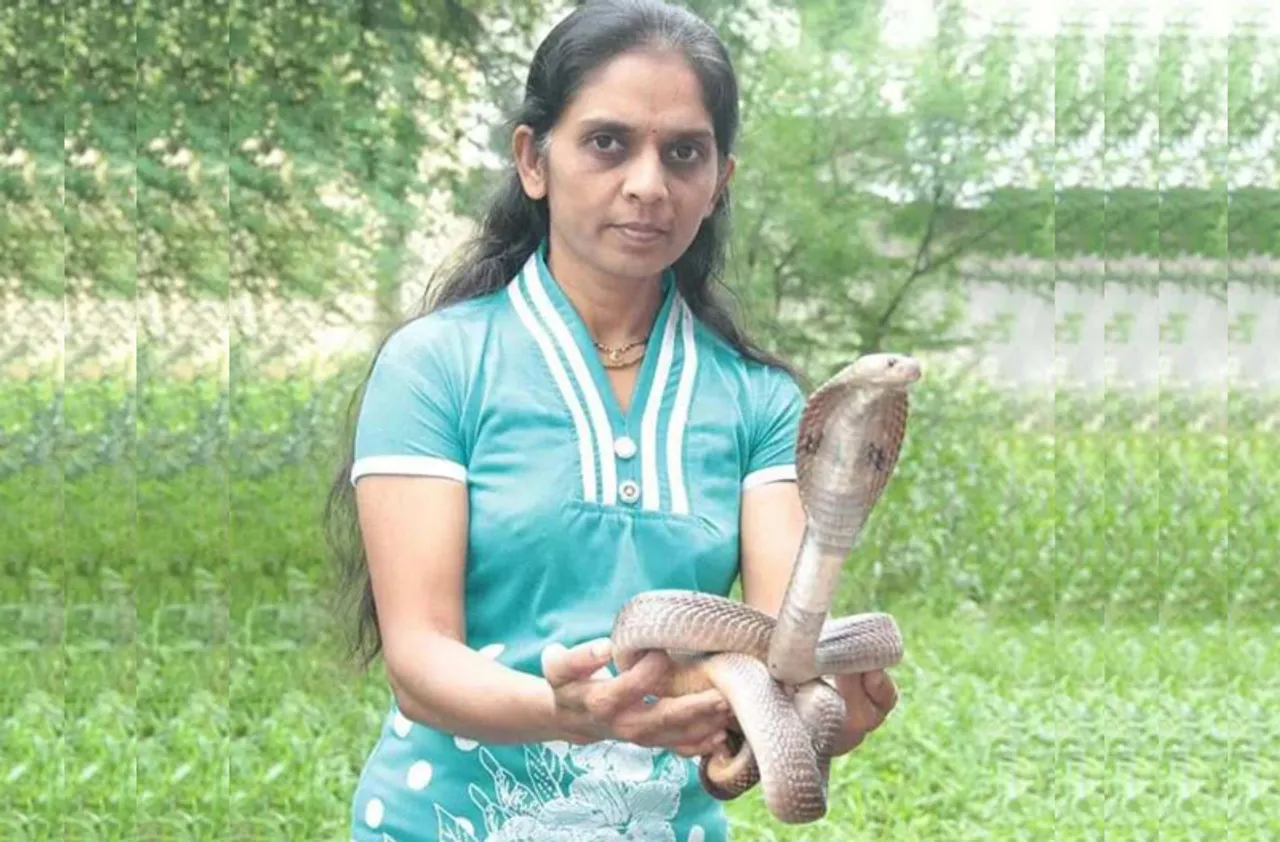 When Vanita Jagdeo Borade was 10 years old, she would spend her holidays playing on her father's farm in the Naigaon Deshmukh village in the Buldana district of Maharashtra. The fields were next to a forest and Vanita was friends with children of the tribals who worked on the farm and lived nearby.
With these children, Vanita learned about wildlife including honey extraction from beehives and fishing. Often, their fishing net would trap water snakes along with the fish. But the children fearlessly separated the snakes from the catch and released them back into the water.
Also Read: Arunachal: How environmentalist Jibi Pulu is using ecotourism to turn Mishmi tribe conservationists
"I learned that those water snakes were not venomous. I also became comfortable with wildlife in general as we kids caught chameleons and other non-venomous snakes during the monsoons and released them in the wild," recalls Vanita, now 47.
From play to rescue work
What began in 1985 as a child's pastime took a serious turn when Vanita caught a red sand boa (commonly known as do-muha saap) that had entered her house in the monsoon. She released it in the forest before anyone could kill the snake.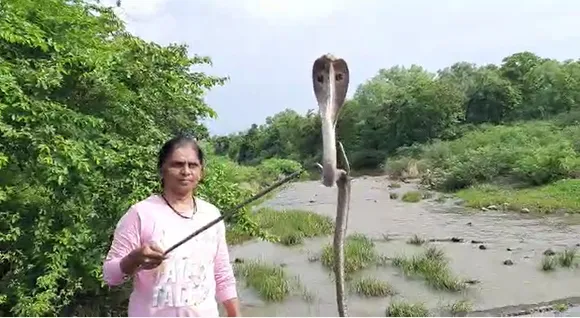 "Soon I began getting requests from people in our village to catch snakes, which frequently entered the mud houses looking for food (rats and lizards) during the rainy season," says Vanita.
While her family initially discouraged her, fearing for her safety, Vanita had learned to differentiate between venomous and non-venomous snakes and knew how to handle the reptile without harming them.
"My father, being a spiritual person, believed in saving all forms of life and did not stop me. That allowed me to pursue my passion of saving snakes, which play an important part in the ecosystem by regulating the population of their prey," she says.
In 2020, Vanita received the Nari Shakti Puruskar from President Ramnath Kovind for her work towards snake rescue and biodiversity conservation. She has received multiple awards for her unique efforts.
Also Read: From hunters to forest guides, how tourism & education are transforming the semi-nomadic Pardhis of Panna
She does not charge any money for her services. "Most people in rural areas can barely make ends meet. I don't want to burden them with additional charges. I work without any fee," she says.
Every time Vanita rescues a snake, she informs the local Forest Department, which maintains a record of the wildlife rescued and released into the wild. "After catching any animal, we send a letter to the Forest Department and their officials are present at the time of release," she says.
"Her courage and affection for the reptile has made her rescue and safely release a total of 51,000 snakes in their natural habitat," the record book says. Vanita adds that with more catches in the last few years, the number now stands at 75,000.
Also Read: Tana Tapi: Forest officer who transformed poachers into protectors at Arunachal's Pakke Tiger Reserve
Vanita has also set up the Soyre Vanchare Multipurpose Foundation which works towards wildlife research and conservation and is involved in rescuing snakes, foxes, cheetahs and other wild animals which venture into human territory.
Marriage that gave a mission
"As a child, I had developed a compassionate attitude towards wildlife in general and snakes in particular. Most of the snake species are quiet by nature and don't intend to harm humans," she says.
Maharashtra is home to 52 species of snakes including the rock python, keelback, the red sand boa, Russels sand boa, Indian krait and common krait among others. "Only 12 of these 52 species are venomous. Out of these 12, eight species live in water and deep forests and are unlikely to have an encounter with humans. It is only the four remaining species that are venomous and have to be dealt with carefully," she explains.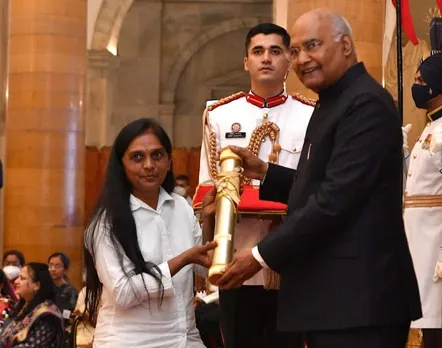 When Vanita was 15, she got married to D Bhaskar, who was also a social worker. "My husband believes in saving every life possible. And while he encouraged me to continue my work, he did fear for my life," she says.
It was Vanita's husband who gave a new direction to her snake rescue work.
Through books, I learned in detail about venomous and non-venomous snakes," she says.
Generating awareness about snakes
Armed with knowledge, Vanita and Bhaskar began creating awareness among locals about the importance of snakes in the ecosystem and why they should not be killed. "We combined our practical experience with learning from the books to help people understand that not all snakes are dangerous. And most importantly, the first line of treatment after a snake bite was medicine and not taking the victim to some temple or local healer," Vanita says.
"The main difference between a snake and other animals is that other animals understand our feelings. They cooperate, but a snake is fully wild and does not understand if we are its friend or foe. So we have to deal with them carefully, without hurting them," she says.
Also Read: How Maldharis & Rojamdars live with Asiatic lions in Gir forest & help in conservation
"I don't use forked sticks or other instruments as they can hurt the fragile creature. As for people, they prefer to make videos instead of lending a helping hand," she says with a laugh.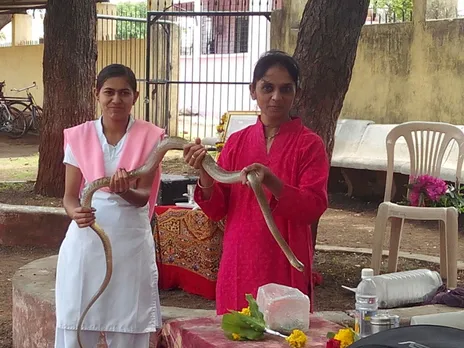 About four years back, she rescued a huge python which had fallen into a well during the monsoon. "It was about 9 feet long and slipped out of my stick twice. Nobody was willing to come down into the well to help me. I asked for a big gunny sack and managed to shove the reptile into it in the third attempt," she says.
Forest officials later weighed the python and found it to be 15kg, which was the heaviest snake they had ever seen, she adds.
Vanita says there is a lot of misinformation about snakes, mostly perpetuated by movies and folklore. "This results in fear towards the reptiles. After years of efforts towards awareness generation, people are now accepting that they should go to the doctor after a snake bite. Non-venomous snake bites don't require any treatment. Now they have started believing us," she says.
Also Read: Reverse migration in COVID-19 may increase tiger poaching: Padma Shri tiger expert Dr Karanth
Annually, Vanita and Bhaskar prepare a calendar with photos and details about snakes and how to distinguish between venomous and non-venomous varieties.
About snakes entering homes, Vanita says as the grass grows in the rainy season, snakes enter stealthily looking for food like rats. "If we keep the house well-lit and clean, then the snake will have no place to hide and leave immediately. But if it gets food or can hide behind some clutter, then it will stay on," she says.
Vanita's two sons and daughter have also learned how to rescue snakes. And through her foundation, she hopes to continue and grow her biodiversity conservation work in the years to come.
(Rashmi Pratap is a Mumbai-based journalist specialising in business, financial and socio-economic reporting)
Also Read: Meet Aaliya Mir: Kashmir's math teacher-turned wildlife rescuer