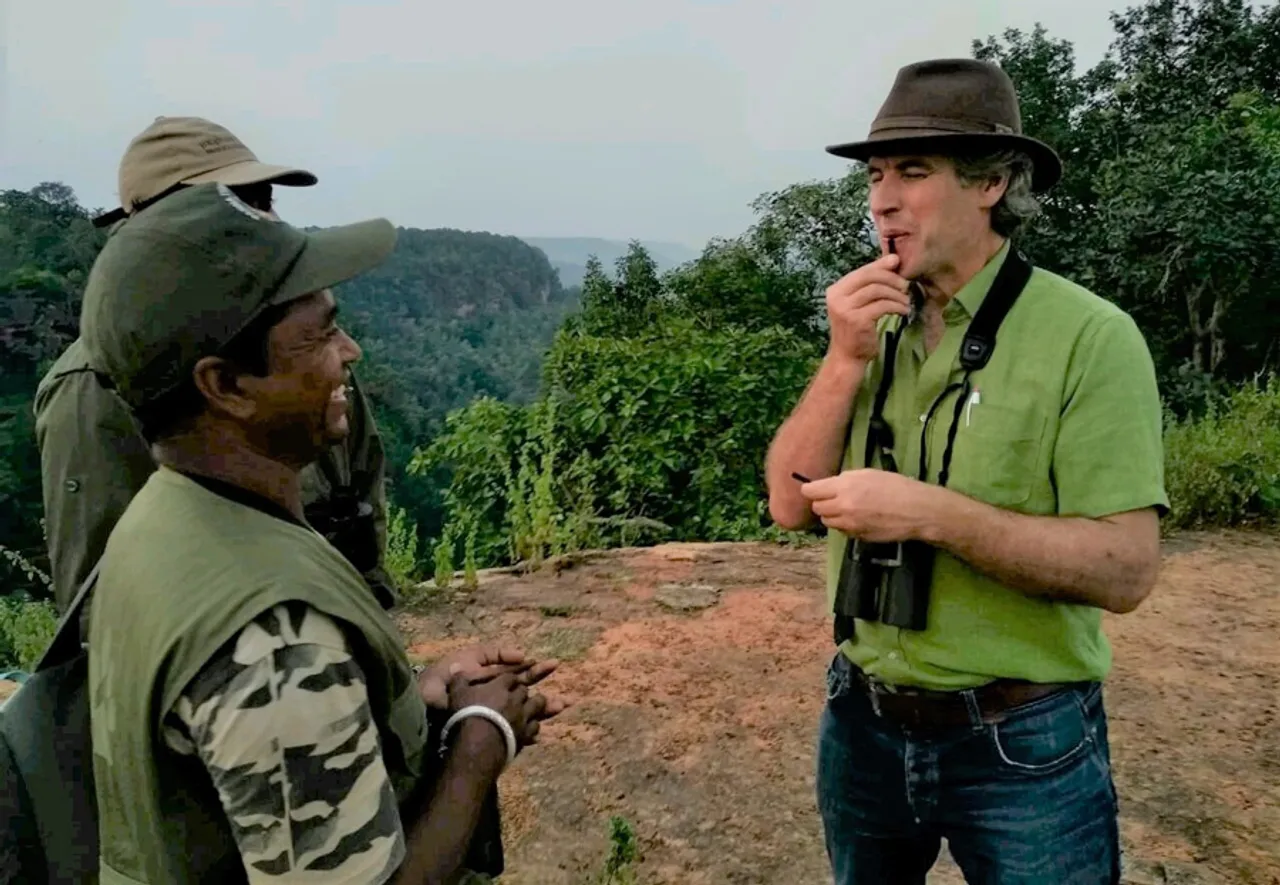 After decades of hunting down tigers, leopards, francolin, peacocks and other wildlife, members of the tribal Pardhi community, who lived within the Panna Tiger Reserve in Madhya Pradesh, began to run out of luck around 2006. The last female tiger in the reserve had died, the number of males was dwindling and forest department officials began tightening the noose around poachers.
But the trade came to an end when tigers became locally extinct from the reserve in 2009 and the forest administration began working towards their re-introduction. The then forest officer, G Krishnamurthy, understood that moving Pardhis out of the PTR was the first step towards wildlife conservation.
Also Read:  Meet Aaliya Mir: Kashmir's math teacher-turned wildlife rescuer
Though the Act was repealed in 1952 after Independence, Pardhis continue to live with the stigma even today, inhabiting forested areas in Madhya Pradesh, Chhattisgarh, Gujarat and Maharashtra. 'Paradh' in Marathi means hunting and Paradhi means hunters. 
Also See: In pictures: hands that feed stray animals during COVID-19 lockdown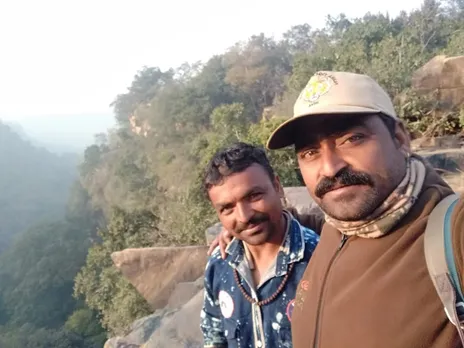 "When we heard that Panna forest officials were trying to get in touch with Pardhis, we ran away to a nearby village. We feared arrest and did not return to our home in the forest for many weeks. Ultimately, we agreed to a talk as there was no other way out," recollects Batal Pardhi, who gave up hunting in 2007.
Creating livelihoods away from hunting
The forest administration convinced the Pardhis to settle outside the Panna reserve in what is now called the Gandhigram village under the Janakpura panchayat area. About 50 families are currently staying there. "We were assured of employment and children's education so that our future generations don't have to depend on poaching for survival," he adds.
Also Read: How Maldharis & Rojamdars live with Asiatic lions in Gir forest & help in conservation
One of the initiatives to provide them livelihood is the 'Walk with the Pardhis' on a designated trail in Panna.
LWF has been working with not only the Pardhis but also other communities like Baigas in the Kanha, Bandhavgarh and Panna areas by mitigating human-wildlife conflict and creating alternate means of livelihood.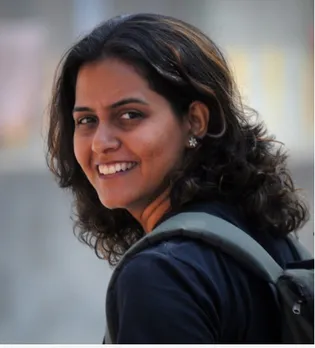 "Instead of imparting new skills, we felt it was better to make use of what the Pardhis already know," says Vidya Venkatesh, Director, LWF and conservationist. 
Also Read: Reverse migration in COVID-19 may increase tiger poaching: Padma Shri tiger expert Dr Karanth
Pardhis understand the forest well and all they needed was an orientation and some training to become experts in telling stories of the forest to visitors. "We have trained 15 guides with help from Taj Safari through basic and advanced rounds of training," she points out. 
The Foundation started the walk in 2018 and has hosted over 3,000 guests since then. COVID and resultant restrictions impacted the walks but tourist interest is returning gradually. 
The charges are Rs 300 per person for a group of minimum four people. During the 4km walk (one way), Pardhis not only talk about the forest, birds, and mammals but also mimic bird calls and animal sounds.
Also Read:  Growing green lungs: How Thuvakkam is creating urban forests in Tamil Nadu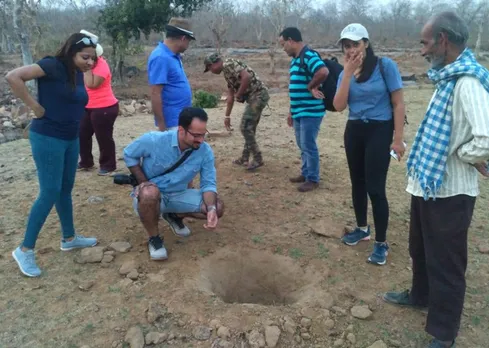 Earlier, their response helped Pardhis identify their location for hunting. "Today, we do it to entertain our guests," says Batal.
During the walk, Pardhis stop at two waterfalls -- Lakhanpur Seha and Ranipur Seha. It is at these places that they call out to the animals and birds, who often reply.
Vidya says what also makes these walks interesting is the ability of Pardhis to "read the land" and narrate what would have transpired there a few hours back or the previous night.
Also Read: From creating world's first mangroves app to mapping new species, how Godrej & Boyce balances conservation with business
Last Wilderness has also trained 30 Pardhis for its next project 'Camping with the Pardhis' where guests will spend the night in a tented camp in the forest. The bookings will open from October with a per person charge of Rs 2500 for a minimum of 4 people.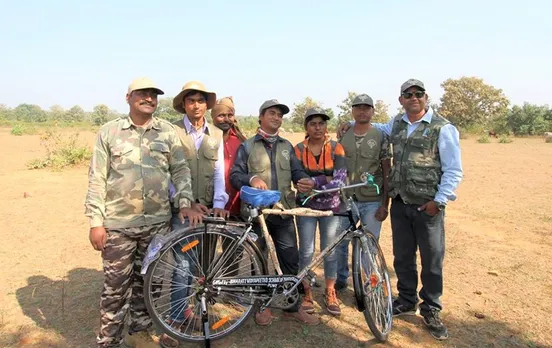 "They will be served the traditional food made by Pardhis in the open air kitchen. There will be story-telling sessions as the tribe has a rich and interesting history," says Vidya. 
Educating the Pardhis
According to the 2001 Census, the total population of Pardhis in Maharashtra is 159,875. The figures for other states are not available.
Also Read: From weathering cyclones to tiger attacks, how Sundarban inhabitants forge resilient lives
Batal says Pardhis are Rajputs and descendants of Maharana Pratap, the 16th-century ruler of Mewar who preferred to live in the jungle instead of surrendering to the might of Mughal ruler Akbar.
The largely meat-eating community excels in making non-vegetarian dishes. In the forest, wrapping the marinated chicken in Sal leaves and covering it with other leaves and cow dung cakes for cooking is a common practice.
Chapatis are made over earthen wood-fired chulha and they relish coriander-chilli chutney and gooseberry (amla) chutney with their meals, says Batal.
Also Read: From ragi momos to snails, how tribal food is becoming the ambassador for Jharkhand's indigenous culture
He works as a watchman at Baheliya Chatrawas Bhawan at Panna where 65 girls from the Pardhi community are studying in classes 1 to 12. There is a separate hostel for Pardhi boys where 40 students are currently enrolled.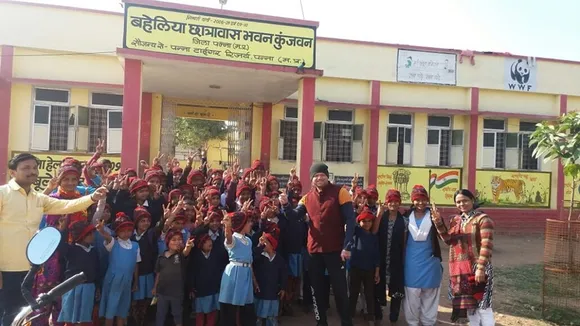 The institutions were set up in 2008 by the Panna Tiger Reserve management in association with World Wildlife Fund (WWF) and Sarva Shiksha Abhiyan (SSA). However, the school was only up to class 8.
"By class 8, most children would drop out. We beefed up the hostel till class 12 so that those interested in studies are not deprived," Vidya says. The foundation is supported through funding by donors besides internal resources. 
"Two of our Pardhi boys are now undergraduates and one girl has completed graduation. This is a big achievement for our community," Batal says proudly.
Also Read: Village Ways: How eco-friendly holidays are lifting Uttarakhand villages out of poverty
Long road ahead in the forest
While generating local employment is not easy given the remoteness of the area, the LWF is trying to create as many opportunities as possible. "Pardhis also make wooden whistles, which they sell to tourists. And if visitors are interested, we conduct workshops where they showcase their skill of making whistles by carving out wood," Vidya says. The charge per workshop is Rs3,000.
"We wear it around the neck while walking through the forest," Batal says.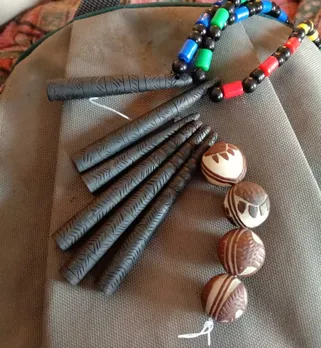 Vidya says they also conduct workshops on hand-crafted beads made by Pardhis. These beads depict wild animals, their pugmarks or hoof marks and also the beliefs of the community in the shape of religious symbols.
Given their semi-nomadic lifestyle, most Pardhis go out for work across north and central India around October and return around Holi.
Also Read: From hinterland to Europe, how Jaipur-based Raksha is helping birds & animals reach home
"Around harvest, when farmers fear attack by pigs, chinkaras, rats and other animals, Pardhis are called to protect the crops. We scare the animals away or catch them," Batal says.
Some of the Pardhis sell bangles; others sell herbal concoctions as medicines. While there are emerging newer means for them to learn and earn, what hasn't changed is the discrimination against them due to their background. And LWF hopes to change that through its many initiatives in the near future.
(Rashmi Pratap is a Mumbai-based journalist specialising in financial, business and socio-economic reporting)
Also Read: Tana Tapi: Forest officer who transformed poachers into protectors at Arunachal's Pakke Tiger Reserve