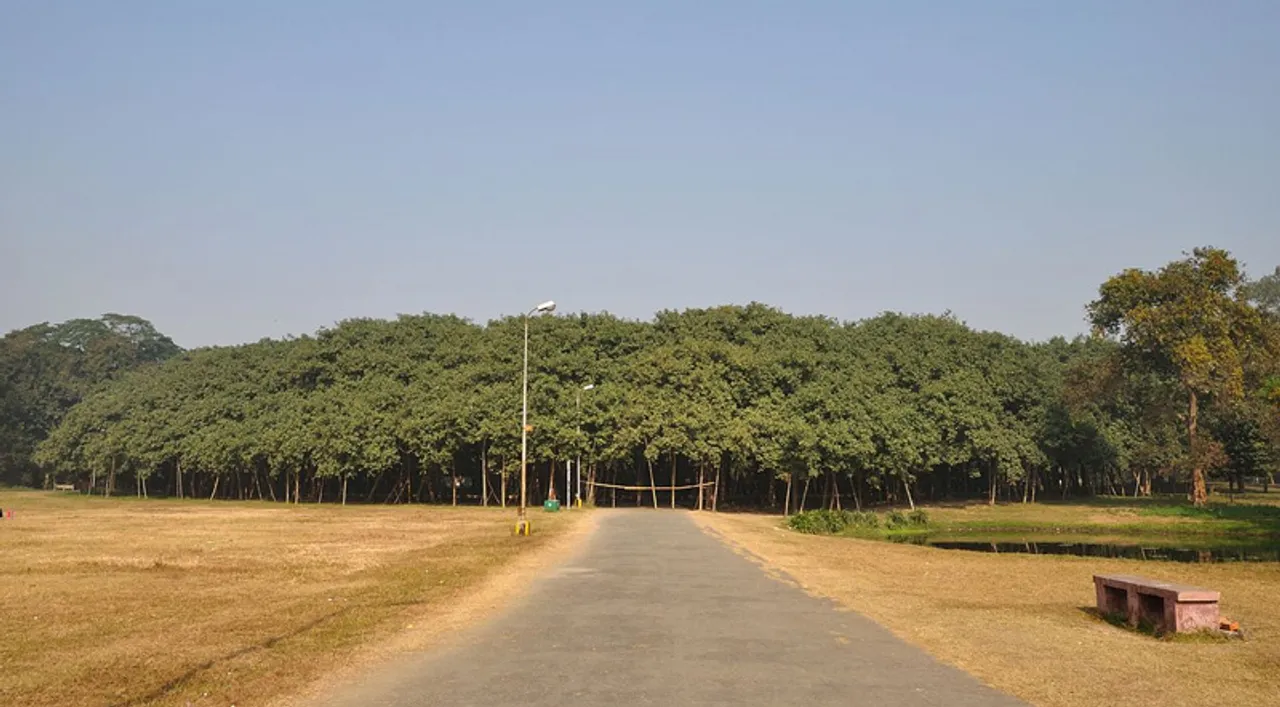 wp:html /
The Banyan tree is well known for its aerial roots that extend from branches towards the earth. Belonging to the fig family, the tree develops accessory or secondary trunks from these aerial roots which allow it to spread outwards indefinitely. As these secondary trunks continue to cover more and more land, the tree can survive for hundreds of years.
The average lifespan of banyan trees is estimated to be between 250 and 300 years. The tree has religious significance for Hindus as well as Buddhists. In Hinduism, the bark of the tree is said to be Lord Vishnu, Lord Brahma is the roots, and Lord Shiva is the branches. Buddhists consider it holy because Lord Buddha achieved the great awakening under a Banyan tree.  
Also Read: Meera Chandran: This woman quit TCS to fight invasive plant species & restore degraded forests of the Western Ghats
Banyan tree is called Kalpavriksha, Bargad, Vatavriksh and Barh in Hindi and Sanskrit. India is home to many banyan trees that are over a hundred years old but five of them stand out not only for being ancient but also for the area they are spread over. 
1. Peerla Marri (Saint's Banyan) or Pillala Marri (Children's Banyan) in Mahabubnagar, Telangana
It is an 800-year-old banyan tree about 4km from Mahabubnagar town. Due to its many prop roots, like its children, it acquired the name of Peerla Marri. The tree is spread over four acres of land.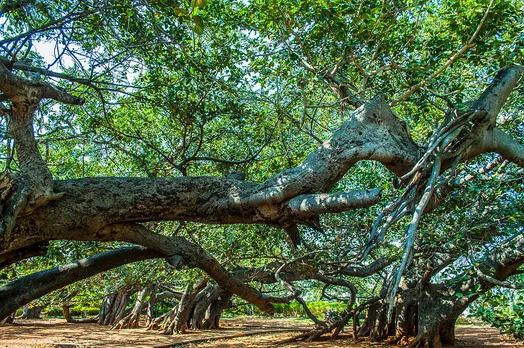 Tombs of two Muslim Sufi saints, Jamal Hussain and Kamal Hussain are in the vicinity. Some believe that the tombs are under the tree, giving it the name of Peerla Marri. The shrine of the saints is at a slight distance from the tree. The premises also have a reconstructed Sri Rajarajeshwara temple, which was transplanted from Erladinne on the left bank of the Krishna river.
Also Read: Environment: Gujarat couple quits US jobs to build own food forest; creates orchards & gardens for others
2. Thimmamma Marrimanu in Anantapur, Andhra Pradesh
This is the world's biggest tree and was recorded as the largest tree specimen in the Guinness Book of World Records in 1989. 
The banyan is said to have originated at the place where a local woman, Thimmamma, committed Sati by throwing herself on her husband's funeral pyre in 1434. The tree sprouted from one of the poles used in the pyre.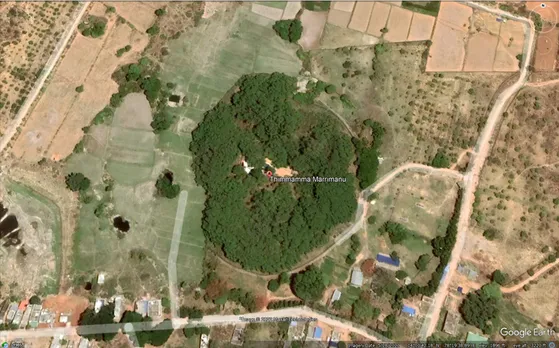 A small temple dedicated to Thimmamma lies under the tree. Locals believe that if a childless couple worships Thimmamma, they will have a child the very next year. 
3. The Great Banyan of Kolkata, West Bengal
This well-known banyan tree is located in Acharya Jagadish Chandra Bose Indian Botanic Garden of Howrah, Kolkata. It is over 250 years old and is spread over 3.5 acres. The tree's main trunk decayed and had to be removed in 1925. A monument to the dead trunk has been erected near the tree's centre.
Also Read: Growing green lungs: How Thuvakkam is creating urban forests in Tamil Nadu
With its large number of aerial roots, it appears like a dense forest and not an individual tree. The present crown of the tree has a circumference of 486 m and the highest branch rises to 24.5 m. It currently has 3,772 aerial roots.
4. Kabirvad Banyan Tree in Bharuch, Gujarat
This banyan tree on a small river island in the Narmada River is associated with the 15th-century mystic-poet Kabir. Its canopy is spread over 4.33 acres and the tree finds a mention in the Oriental Memoirs of James Forbes (1749-1819).

Legend has it that two Brahmin brothers, Jeeva and Tatva, in Shuklatirth village, in Bharuch district were inspired to find a true saint. They planted a dried shoot of a banyan tree in their courtyard and believed that the person who could turn the shoot green would be a true saint.
Saint Kabir visited their village and the brother requested him to visit their house. 
Also Read: Udaipur youths turn barren lands green; help 1200 farmers go back to traditional farming
There is a temple dedicated to Kabir nearby. 
5. Adyar Banyan tree in Chennai, Tamil Nadu
This banyan tree in Adyar is the oldest existing tree in Chennai. The 450-year-old giant banyan is situated on the Theosophical Society Campus and continues to thrive despite severe storm damage to its main trunk in 1989.
The total area occupied by the tree and its offshoots is estimated to be around 40,000 square feet. People listened to the discourses of freedom fighters and intellectuals including J Krishnamurti, Annie Besant and Maria Montessori under the shade of this tree.
Also Read: Return of the native: How Maruvan is restoring Rajasthan's desert habitat
6. Dodda Alada Mara Banyan tree in Bangalore Urban district, Karnataka
About 400 years old, this banyan tree is in Kethohalli village in the Bangalore Urban district. Spread over 3 acres, the tree is about 28 km from Bangalore. In the 2000s, the main root of the tree developed some natural disease due to which it now looks like many different trees.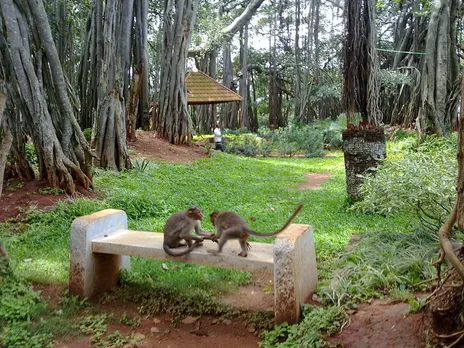 The tree is home to monkeys and other animals. There is also a temple in the epicentre of the tree and there are benches for those wanting to enjoy the shade of Dodda Alada Mara.
7. The Banyan Tree at Ranthambore National Park, Sawai Madhopur, Rajasthan
This banyan is estimated to be over 300 years old and is 65 feet high. It covers an area of 17,000 square feet and is home to many animals. 
(The lead pic featured at the top of this page has been sourced from Wikipedia. It is the Thimmamma Marrimanu Banyan tree of Anantapur, Andhra Pradesh.)
Also Read: Uday Krishna: The Hyderabad man saving old trees by translocating them to schools, factories & graveyards