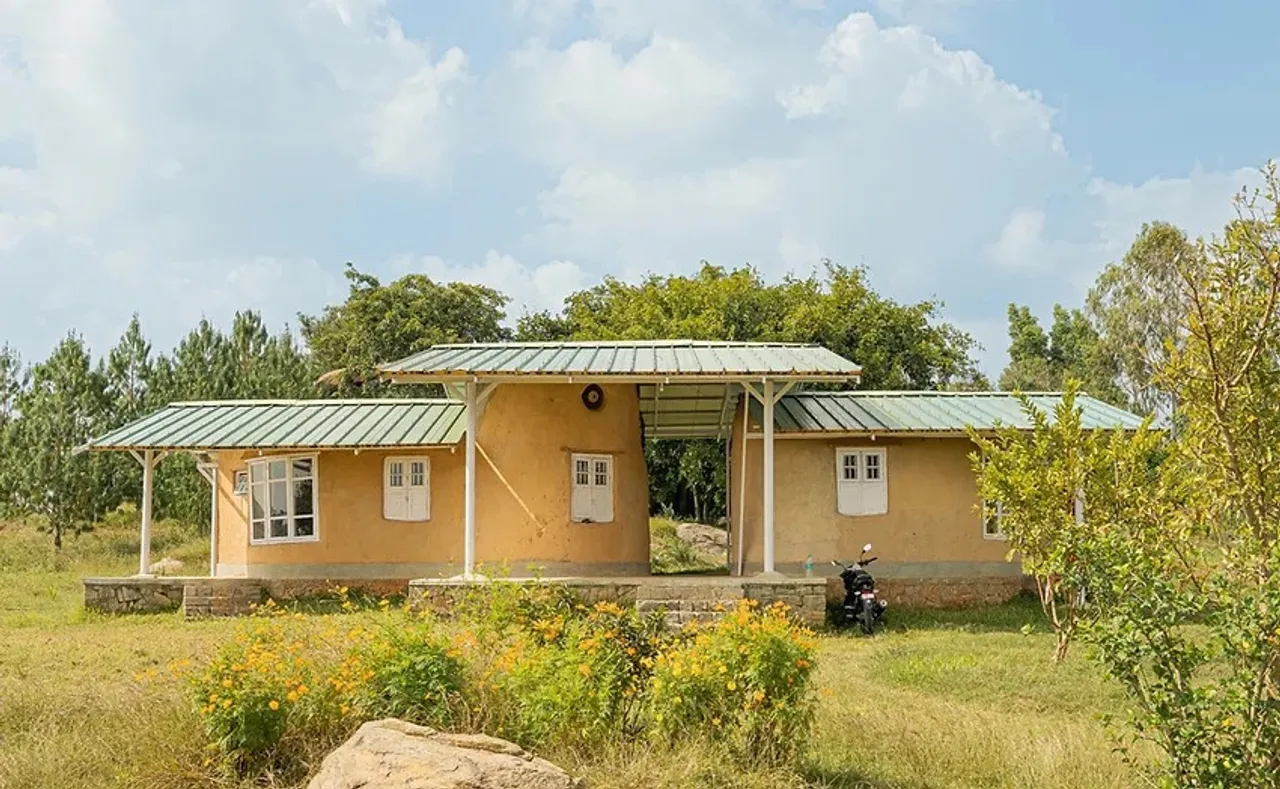 During her childhood, architect Sharanya Iyer would spend summer holidays in the sylvan surroundings of her grandparents' mud house in Thiruvudaimardur village in Tamil Nadu. The natural setting, simple lifestyle using locally available resources with minimal use of resources and waste generation stayed with her as she grew up and found expression in the sustainable homes she builds.
"There's a lot of nostalgia attached to my growing up years in my grandparents' house. I find that kind of life very authentic, very rooted in our sustainable tradition, says Sharanya.

Also Read: Malak Singh Gill: This architect creates sustainable & sturdy homes without using cement or steel
After completing her studies, Sharanya worked for a few years in some firms in India and the US but did not find creative expression. After returning from the US in 2011, she set up Studio Verge in Bengaluru in 2013 to explore architecture that was more suited to the Indian setting.
Characterless architecture
Sharanya's thinking has been bringing sustainable practices into urban settings with varying degrees. "When I returned from the US, I wanted to do something meaningful. I made a conscious choice to take it slow and not rush things to make money easily," she says.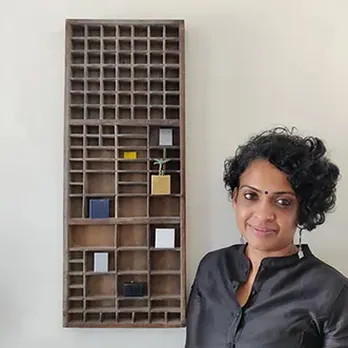 "When I began, I was very particular that I wanted to only build structures with earth or earth with stone, earth with brick… use minimal concrete," says the 41-year-old.
Also Read: Bhunga: The 200-year-old earthquake-resistant mud houses of Kutch
"But earth-only architecture has limitations. Clients wanted to satisfy lifestyle needs such as tiles in the washrooms, western style toilets, large windows and large rooms which are not possible in earth-only construction."
Sharanya's inherent interest in working with vernacular materials has led her to adapt the traditional material and techniques by blending them with current construction practices to allow for a contemporary space without compromising lighting, ventilation, space, tiling etc.
By offering clients a choice and flexibility in construction material, Sharanya hopes tha sustainable construction will be used more and not remain limited to resorts, weekend homes or farmhouses where people compromise for a short period.
Sharanya is of the opinion that a natural or sustainable building can be as contemporary and comfortable as any conventional building we live in.
Also Read: Nalukettu: Kerala's eco-friendly traditional homes
"I think we can exploit the advantages of traditional material for climatic comfort – reducing heat gain, controlling temperature and humidity as well as indoor air quality," she says.
She believes there is still a colonial hangover to make buildings a certain way.
"People complain our cities are characterless but that is largely driven by the pressure to build quickly which results in compromises and poor-quality material being used in the glass and concrete high-rises."
Construction process
Among Indian cities, Bengaluru has set a precedent in earth construction. That partly helped when Sharanya was starting out. Over the years, she has looked at composite earth construction; working with mud blocks (compressed stabilized earth blocks or CSEB) rammed earth and cobb.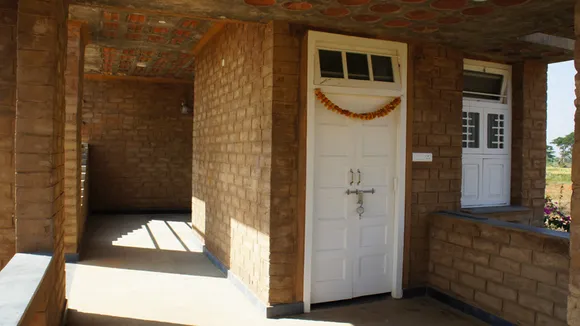 Rammed earth is earth compressed into place using shuttering on either side, a one-step process avoiding the step of making brick and then assembling. Cobb is a natural building material made from subsoil, water, straw and sometimes lime.
Sharanya encourages clients to go in for composite construction. "We vary the material. We do thicker walls in some areas, and thinner walls in others, depending on the heat gain, ventilation and sunlight. We do brick where there is a possibility of water leakage."
Also Read: How one family has taken India's 1,000-year-old temple architecture to the world
Explaining the process of constructing a mud brick building, Sharanya says soil from the site is used to make bricks. "We try to dig a pond to make a basement so we can get the soil." The soil is tested at any of the labs in the city for its composition. "If the soil is clayey it will crack, if it is sandy, it will not hold together. We add sand to clayey soil and soil to sandy soil to stabilise them so they will not melt in the rain. A small percentage of cement or lime is mixed in the soil."
The brick needs to be sun-dried and can be taken into use from the next day. Since the cement is mixed with the soil, the brick needs to be watered to cure it. For binding the brocks, Sharanya uses mud and cement-mix mortar.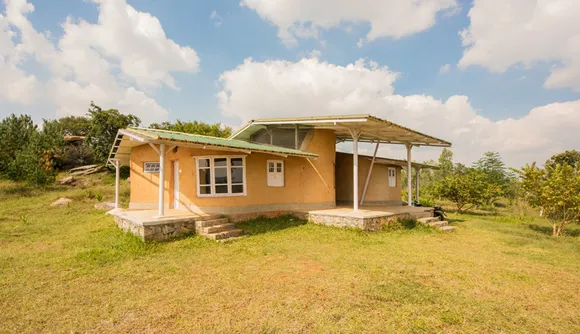 In Bengaluru, machines can be hired from contractors who come to the site and make the bricks, charging per block. In case the soil is not available, it can be brought from any large construction site.
The cost of an earth building is almost the same as that of a conventional one. "We take Rs2000-2500 per sq ft to calculate the cost," says Sharanya.
"People often ask me if a green building will be cheaper. They don't realise that what builders offer is the cheapest… the Chinese tiles, the PVC windows are the cheapest," she says.
Also See: In pictures: Morena's Chausath Yogini temple that inspired the Indian Parliament's design
The time taken too is similar. "The main time is taken in making bricks. So planning is crucial. We start making mud bricks when the foundation digging starts. Once the bricks are ready, the pace of construction is the same as any other."
Advantages of blending vernacular architecture with modern tech
An earth building offers many advantages over conventional ones. Sharanya says the mud blocks are stronger than brick as they are denser.
The compressive strength of a mud block is higher than a brick. The blocks are tested to make sure the strength is achieved. In fact, concrete is not required in a mud block building as the walls can directly take the load.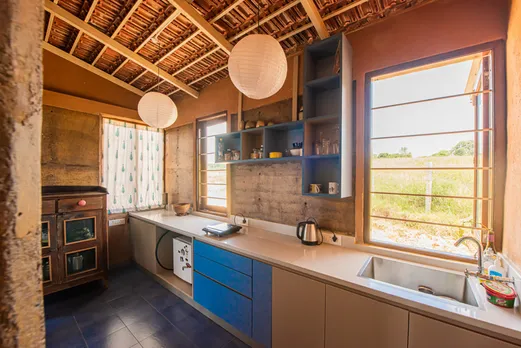 "In a conventional building, pillars are required to take the load. In an earth building, no concrete is required. As a result, you could save 15-20 percent on the cost," she points out.
If lime plaster is done on the mud, it helps absorbs toxins from the air and improves its quality.
Additionally, if locally available materials and labour are used, the building has a lower carbon and energy footprint.
Also Read: Mumbai's David Sassoon Library: A Baghdadi Jew's contribution to the Maximum City's architecture & reading culture
Sharanya prefers hands-on building on-site. So she has trained teams of masons, stone layers, carpenters, fabricators, electricians and plumbers who understand her working style.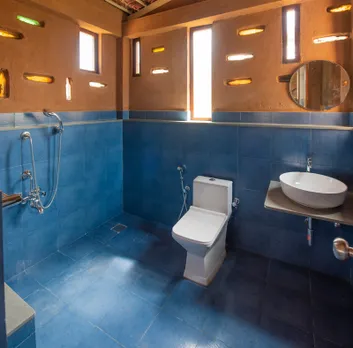 Her three teams of masons hail from Rajasthan. "To start with, I worked with various masons. Eventually, I selected three groups as they were familiar with the kind of work I was doing. They also had traditional knowledge like doing lime and surkhi plaster. So, not only did they learn from us, but they also taught us many things."
Promoting a 'green' culture
Shranaya is doing mostly residential projects in and around Bengaluru and Karnataka and in a few in Andhra Pradesh and Tamil Nadu. She also has two school projects to build classrooms with alternate materials near Bengaluru.
Sharanya teaches in two architecture colleges in Bengaluru to pass on her knowledge about sustainable materials and green buildings. In addition, she conducts workshops with children.
Also Read: Assam's Rang Ghar: Asia's oldest amphitheatre
"Our earth construction sites are safe for kids as there is no dust, chemicals or hazardous equipment. I've done several workshops with 8 to 12-year-olds where they can mix the soil, build with their own hands and connect with the earth. This helps them realise that this too can be high-tech."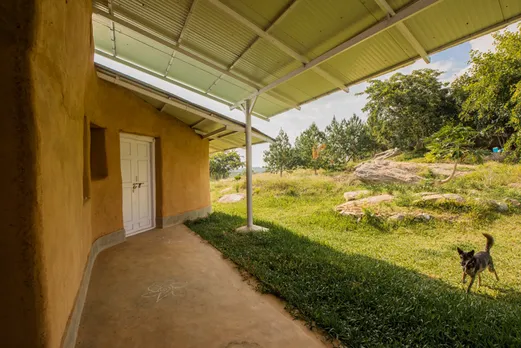 She feels that sustainable buildings should be made a part of the building code. The government can provide incentives, rebates and tax cuts to promote sustainable living.
"My hope is that one day all this will transform our cityscape and we will have varying types and extents of sustainable dwellings."
(Urvashi Dev Rawal is a Jaipur-based journalist specialising in development, gender, and political reporting)
Also Read: Rahul Bhushan: The Himachal architect reviving the 1000-year-old Kath Kuni architecture