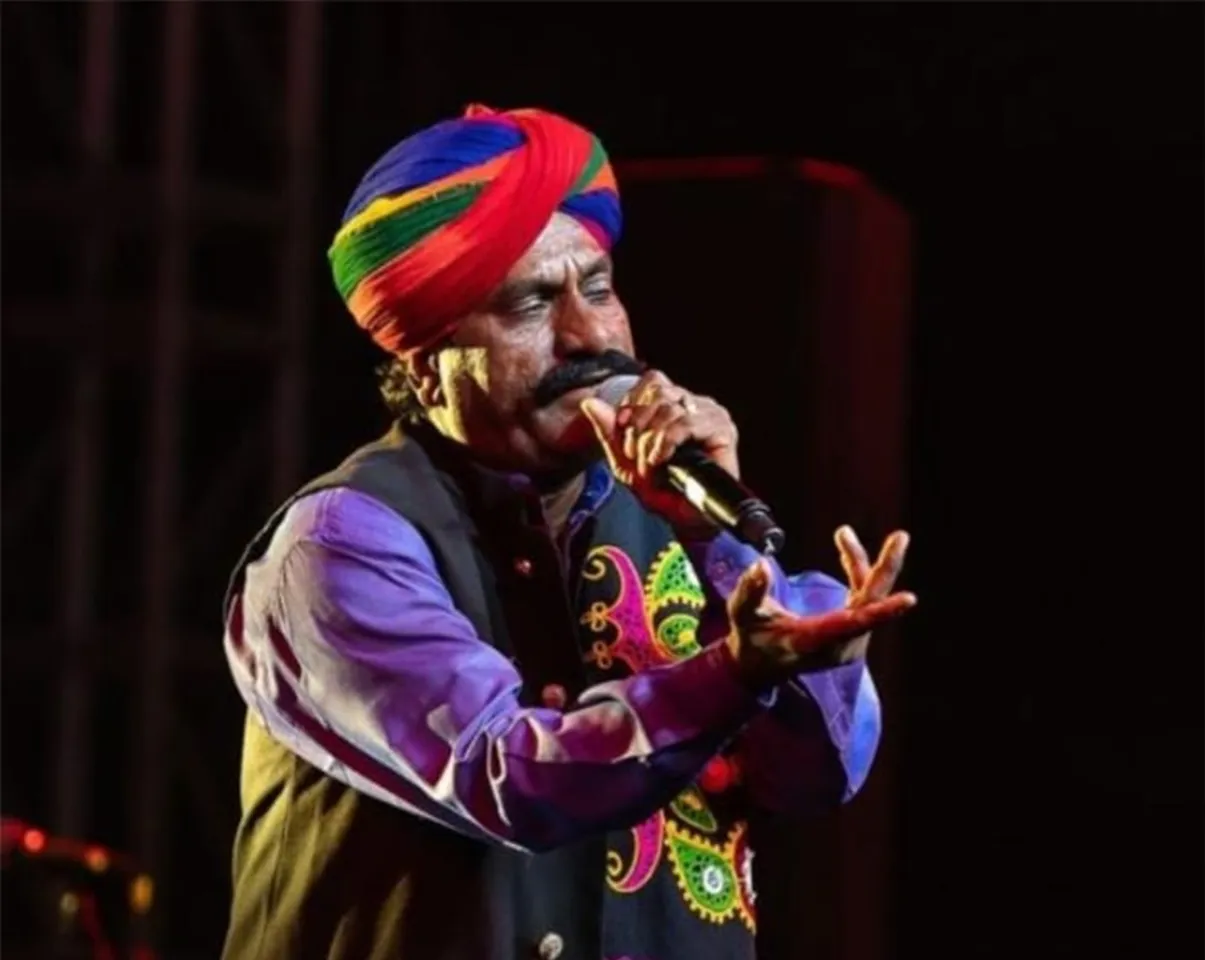 When Gazi Khan Barna was in class four, folklorist Komal Kothari visited his Barna village in Jaisalmer, Rajasthan, with some foreign tourists. Among members of the Manganiyar (also Manganiar) community, who performed folk music for the visitors, was the little Gazi who had learnt to play khartal from his father Chhugga Khan Barna.
Khartal (also khadtal) is a wooden folk instrument comprising four blocks of Sheesham (rosewood) and the Manganiyars have been using it for many centuries to produce soulful music in the barren landscape of the Thar Desert.
"Komal Sir listened to my songs and was impressed. He arranged for my visit to Shastri Bhawan in Delhi where I performed when I was in class five. When I was in class seven, I performed at the Pragati Maidan in Delhi where the then Rajasthan Chief Minister gave me Rs 501. That became a big discussion point in my community," says Gazi, who is now 55 years old.
His father, who provided him with the initial training, passed away when Gazi was 16. He was later groomed by Ustad Sadiq Khan and considers the late Komal Kothari as his mentor and credits him for his global recognition. 
Manganiyars – the community of folk musicians 
Manganiyars are a clan of hereditary folk musicians mostly concentrated in Barmer, Jaisalmer and Jodhpur districts in western Rajasthan. Their music has been kept alive for centuries due to their Rajput patrons (jajmans). 
"Our ancestors used to sing for Rajput kings. Today, we sing during all the rites and rituals from birth to death in Rajput households. In return, they give us cash, gifts, food, safa (headgear), clothes and other items," he says.
When any member of the Manganiyar community passes away, the jajmans also provide help in performing the last rites. "Manganiyars are Muslim musicians who perform for Hindu Rajputs. This practice has been in place for many generations," says Gazi, who is the eighth generation folk musician in his family. Now his three sons -- Sawai Khan Barna, Salim Khan Barna and Sartaj Khan Barna are taking forward the family tradition.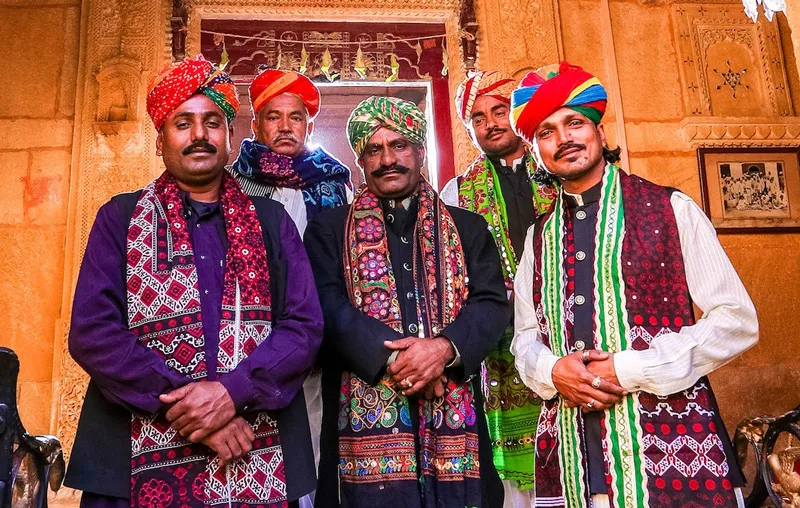 The Manganiyar music repertoire is very rich and includes Sufi songs, bhajans (devotional songs), dohas (couplets of two lines), qawwalis and other songs on rituals, festivals, seasons and activities like farming. 
From the Thar to the world
Yet, this folk art was confined to the desert until Gazi Khan was spotted by Komal Kothari, who devoted his life to the documentation of folk traditions of western Rajasthan. "Though I was poor in studies and failed in every class from sixth to eighth, Kothari sir encouraged me to continue practising the khartal. In 1984 (when I was 16), he called me to Jodhpur and asked me to perform solo with khartal without any other instrument or accompanying musicians."
Also Read: With Baul songs, Bengal's Mansur Fakir preaches the message of humanity
He gave Gazi the first international opportunity but it was not about singing songs with his community troupe. "I had to perform with an Indian puppetry group, which was travelling to Italy, Holland and France. I was assigned the task of creating the sounds of steps of camel, horse and lion, the background tunes of happiness and sadness etc., using only my khartal," he recollects. The shows were a hit and many doors opened for Gazi Khan to take the folk music of Manganiyars to the world.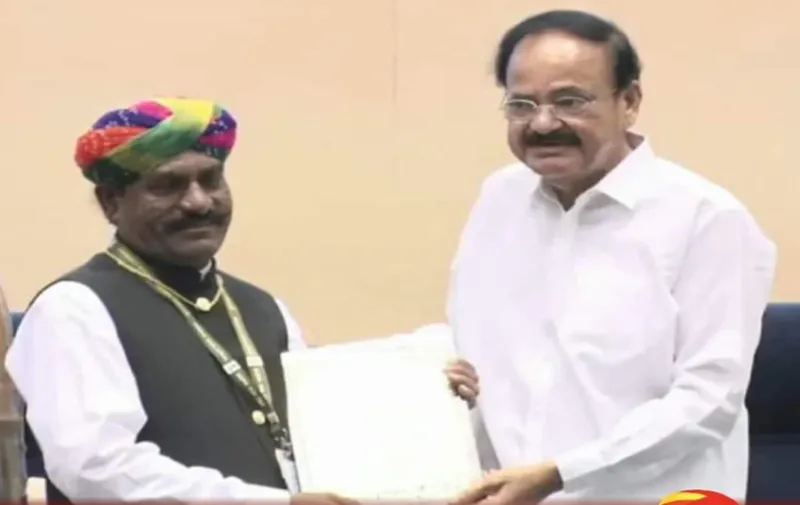 In 1987, he went to the Festival of Russia and stayed there for three months and was in Japan for 42 days in 1988. He soon achieved prominence as a percussionist in khartal.
Gazi has performed across the world, promoting the Manganiyar folk music during his 281 foreign trips in the last four decades.
He has performed in many prestigious music festivals apart from conducting workshops across the globe. Some of the great musicians and performers he has collaborated with include violinist Yehudi Menuhin, sitarist Pandit Ravishankar, theatre directors Peter Brook and Ariane Mnouchkine, music conductor Zubin Mehta, tabla player Zakir Hussain, and instrumentalist Vishwa Mohan Bhatt.
Also Read: How Ustad Moinuddin Khan is keeping the rich legacy of sarangi alive
Documenting the oral tradition of Manganiyars
"In these 40 years, I have not tried to change the lyrics of our traditional folk songs or the style of playing musical instruments to suit my national or international audience. I have retained our folk art in its pristine form," says Gazi.
"My instrument is khartal and while earlier it was used only with songs, I am the first community member to start playing it solo without any other music or songs," he says. 
His other major contribution has been the setting up of the Pehchan Folk Music Institute in his village Barna, which serves as a training ground for young Manganiyars and also as a centre for documentation of the community's folk art.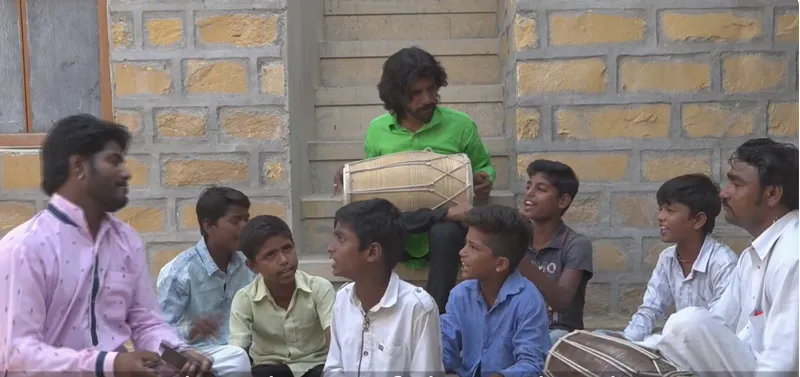 "I set up Pehchan in 1997 to share the richness of the Manganiyar culture with the world and pass it on to the future generations. I have documented hundreds of Manganiyar songs, and ragas (also raagas) and talas (or taalas), which are passed on from father to son and mother to daughter through the oral tradition in our community," he says. 
These include songs for every season of the year, for childbirth, engagement ceremony, marriage, bride's departure (vidaai), eulogizing the warriors, songs for the bride and groom, for sowing and harvesting of crops, on women's ornaments, devotional songs of Sant Kabir, Meera, and Surdas and many more. 
"We also conducted a five-day camp to document the ragas (musical notes with masculine and tranquil feel) and raginis (feminine notes with naughty feel) of Manganiyars. Some of these ragas and raginis have originated in western Rajasthan and are not part of the north Indian classical tradition," says the cultural entrepreneur. 
Also Read: Bobbili Veena: Andhra's artisans overcome challenges to keep 17th-century musical legacy alive
Their use varies on the basis of occasion and they are also classified as 'shubh' (auspicious) and ashubh (inauspicious) depending on the occasion when they are used.
Originally, Manganiyar folk music had six ragas and 30 raginis. 
"Our community has forgotten about them. After many discussions with the elders of the community, we could document only three ragas and 12 raginis while the rest have been lost. I am, however, glad that at least the future generations will have access to them. Otherwise, with time, they could have also been wiped out," Gazi says.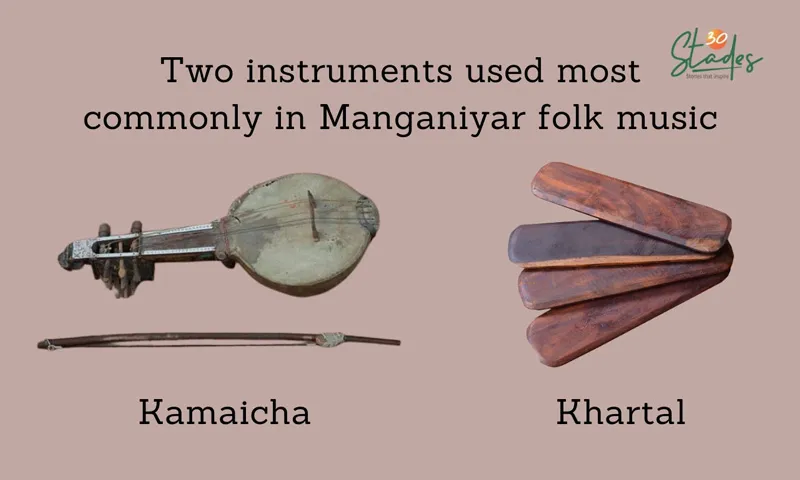 Apart from khartal, the other main instrument of Manganiyar folk tradition is the kamaicha (or khamaycha) -- a stringed instrument originally made using seasoned mango wood and played with a bow made of sheesham wood and horsehair. It is the community's identity instrument and is facing the risk of being lost because it is not being made anymore. 
"Currently, all Manganiyar musicians are using kamaichas inherited from their ancestors as new ones are not being made," he says.
Gazi Khan uses a 450-year-old kamaicha inherited from his forefathers. "I have heard from my father that this piece was sourced from 'Nathu ki dukaan' in Ahmedabad over four centuries back."
"I have heard a member of the Sutar caste (Vishwakarma community) is making it on order somewhere in Rajasthan. One piece costs Rs45,000 and Manganiyars, who mostly survive on donations from Rajputs, cannot afford it at this price," Gazi says.
Also Read: How 'Dohar' is trying to preserve folk music of Bengal & Assam since two decades
The other musical instruments of Manganiyars are Sindhi sarangi, alghoza (a paired woodwind instrument), morchang (better known as morsingh, a percussion instrument), murli or flute, surnai, dhol, dholak, sarinda (also surinda) and swarmandal or Indian harp among others. Some of these musical instruments are also used by the Langas, another Muslim community of folk musicians from Rajasthan.
"Khartal and kamaicha are the only popular instruments and the rest are not used much by Manganiyars," he says.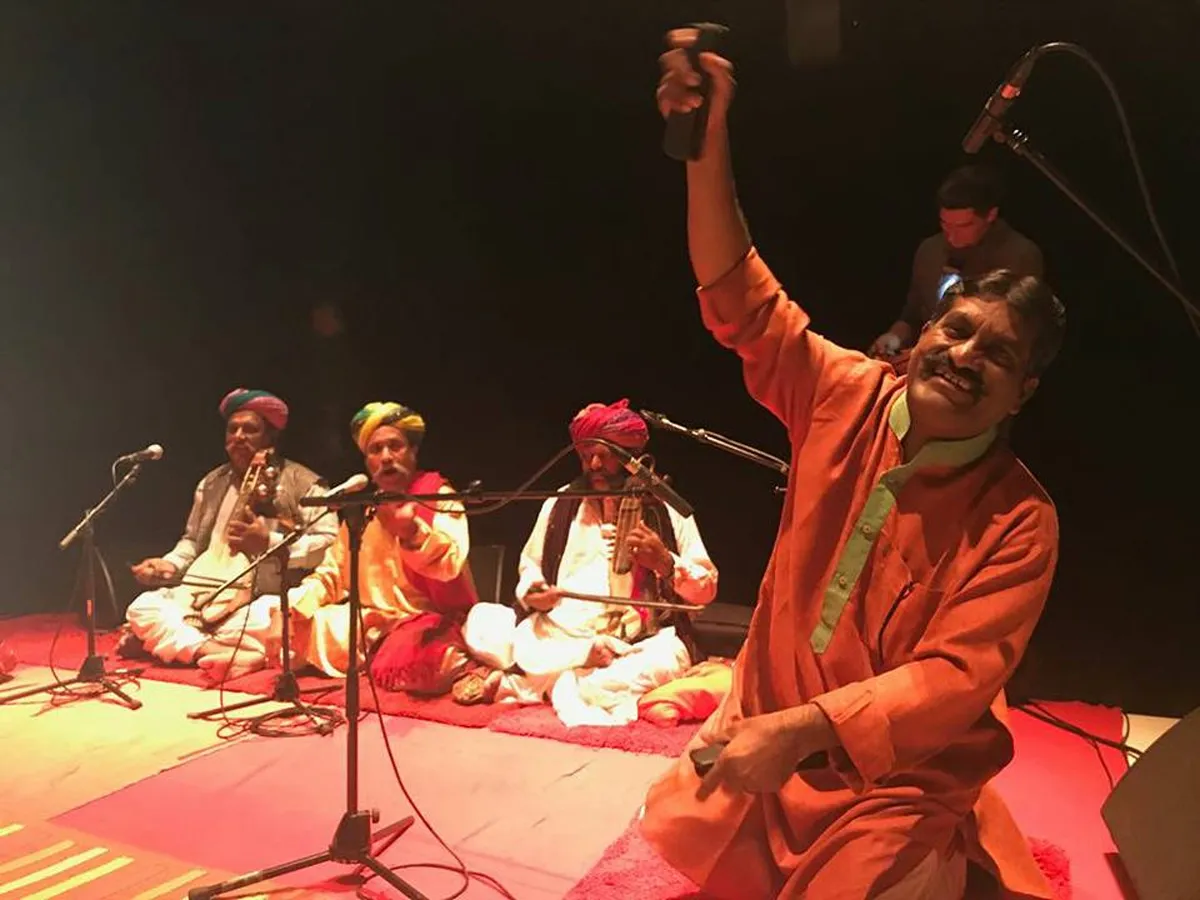 Gazi also created two musical groups – Desert Symphony and Rhythm of Desert and has live composed for many shows. "Manganiyars don't share their songs with other singers and we decide which instrument has to be played with which song," he says.
Helping the needy
Gazi's Pehchaan Institute has also acted as the centre for helping needy people during natural calamities. "In 2002, while I was on a tour, there was a drought in Rajasthan. We received funding for helping the people and I adopted 48 villages spread over Jaisalmer and Barmer where we provided food, water, cattle feed and other resources for 3.5 months," he says.
Later, he worked for the people when there were floods in the state. "My institute helped the flood-affected people with food etc. Many Manganiyars had also lost harmonium, dhol, dholaks and other instruments in water. We provided them to the victims," Gazi says. 
Also Read: Jaipur's Bhatt family struggles to keep alive the Tamasha tradition
During the Coronavirus pandemic too, the institute helped as many people as possible, including some foreigners who were stranded in the two districts.
For his contribution to the field of folk arts, he has been honoured with several awards including the Rajasthan Sangeet Natak Akademi Award in 2002, the Marudhara Ratan in 2003 conferred by Marudhara Sansthan, Kolkata, the Marwar Ratan in 2019 the Sangeet Natak Akademi Award for 2018 and Pt. Manmohan Bhatt Lifetime Achievement Award in 2019 for his contribution to the folk music of Rajasthan.
Gazi has studied only till class 8. However, he insists that education and music should go hand in hand. "All my sons have completed higher studies. I believe that both music and education are important to carry forward our cultural legacy," he says.
(Rashmi Pratap is a Mumbai-based journalist specialising in business, financial and socio-economic reporting)
Also Read: A quaint village in Hooghly becomes manufacturing hub for string instruments