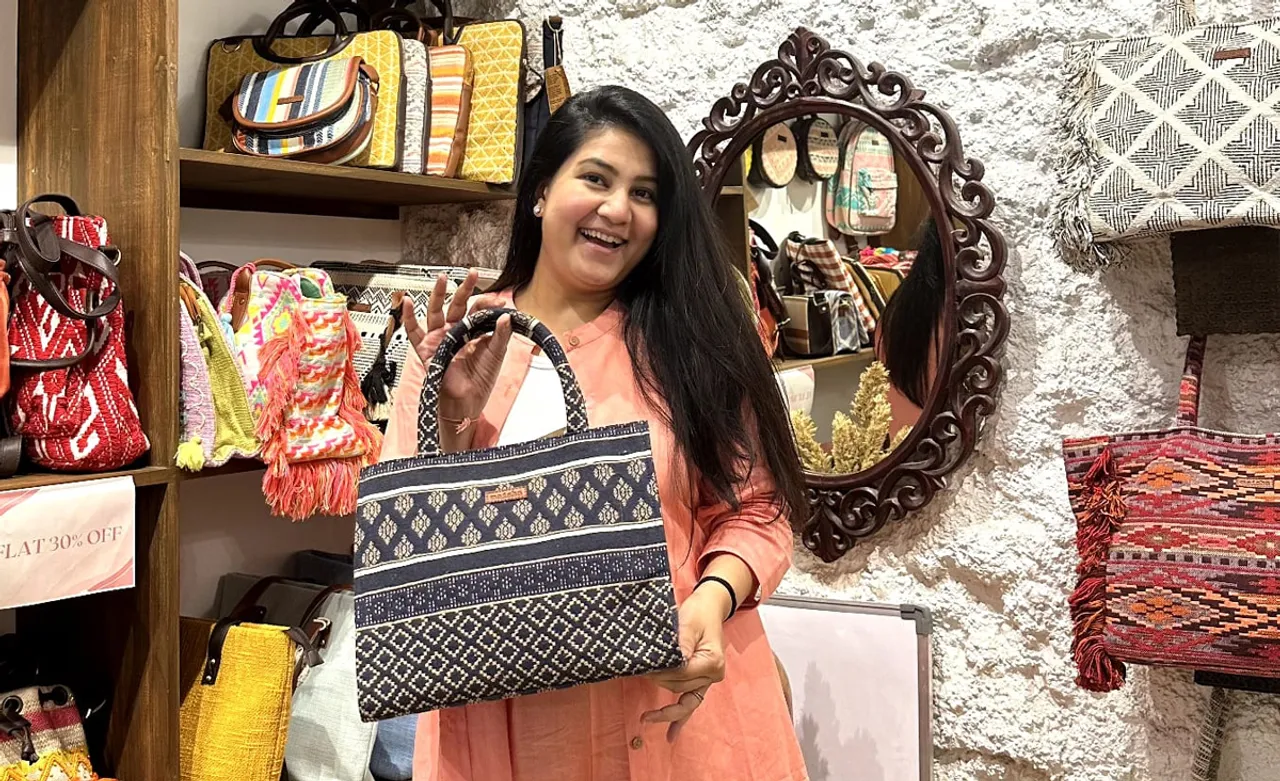 When she was a child, Esha Shah would rummage in her grandmother's closet and pick out her personal favourites. She would enjoy wearing the sarees and styling them in different ways. This is one of her earliest memories of her affair with fashion and design. 
Today, the 31-year-old successful entrepreneur is the co-founder and creative director of Maisha, a lifestyle accessory brand based in Ahmedabad. The company set up in 2018, had annual revenue of over Rs 5 crore in the last financial year. 
Maisha's product range consists of a variety of vibrant, eco-friendly bags made of cotton, jute and vegan leather. It also offers some clothing and footwear and plans to diversify into homeware (fabric planters and cushion covers) soon, says Esha, who juggles work and caring for her five-month-old baby, Agastya.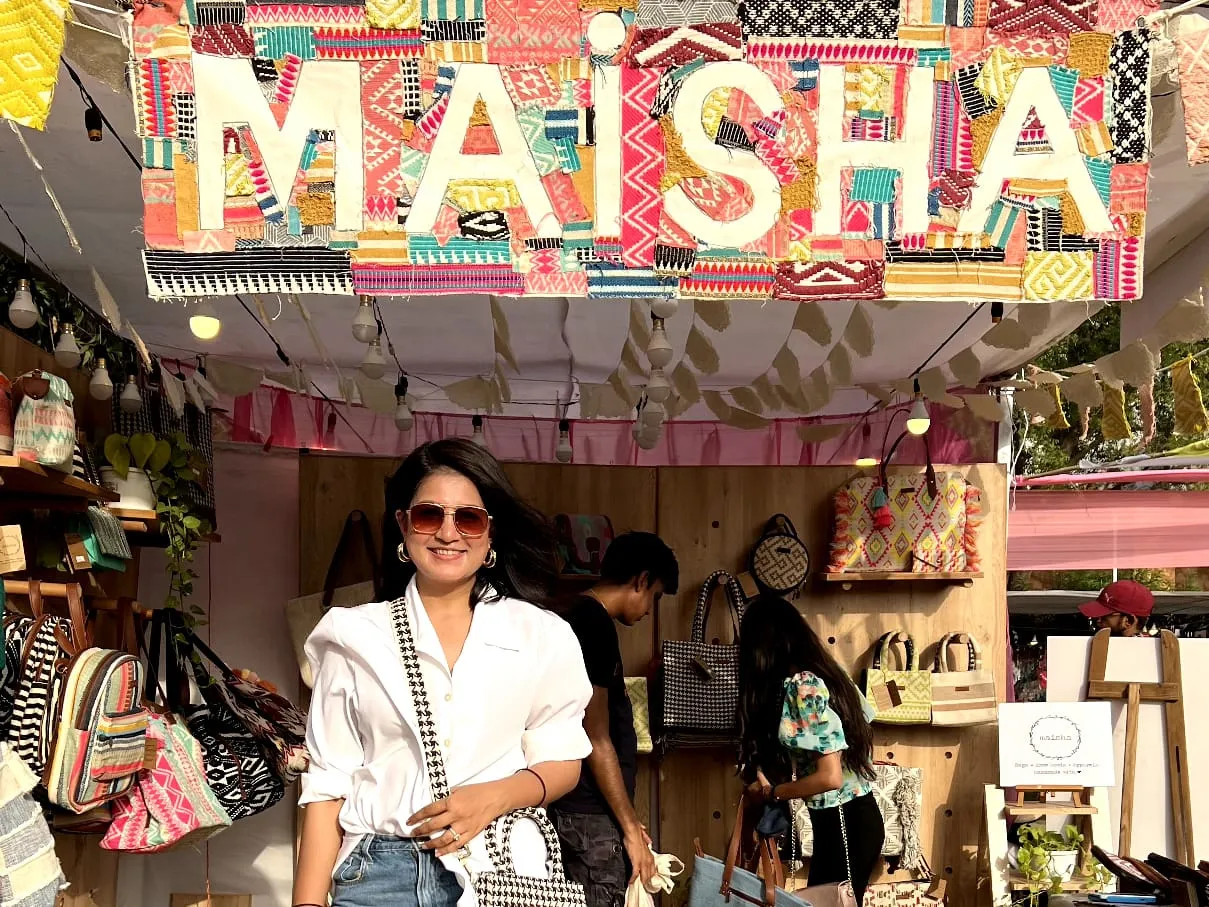 "My family always told me that I had a creative streak. Growing up with an aunt who was a fashion designer gave me exposure to a world I wanted to be a part of. After class 12, I wanted to join NIFT (National Institute of Fashion Technology). However, my father wanted me to have a conventional degree in hand. Since I loved accounts as a subject, I did BCom and then started doing CA. But after three years I realised it was not for me," she says.  
Also Read: Manjappai: Madurai couple quits Amazon & IBM to make ecofriendly cloth bags; clocks Rs 3 crore turnover while empowering Mathichiyam slum women
Esha knew she wanted to do something in the creative field. Her dream had always been to work in the area of fashion and design. She decided to quit CA studies. It was not an easy decision to make. At around the same time, she got married. Her husband, Neel Vora, was in the packaging business. He got an order to make travel totes with quotes written on them for tourgoers. Esha found the idea very interesting and offered to design the bags. The company loved her work.  
'Maisha means life'
"That project gave me the confidence that I was moving in the right direction. I started making bags on an order basis. My family was observing all this. They said: 'Go for it. We see the spark in your eyes when you talk about your work. And, also note the appreciation people have for your creations.' Encouraged, I decided to build an inventory of around 50 bags so that people could buy them off the shelf. Instead, my father gave me an order for 500 pieces and assured me that I would do great. That's how I decided to follow my dream and launch Maisha. The word 'Maisha' means life in Swahili," says Esha with a smile. 
Maisha is a family concern with Esha, her father and husband being co-founders. Her father Nayan Shah was earlier in the real estate sector but now devotes 90 percent of his time to Maisha. Esha's mother manages the home studio when she is caring for her baby. Her younger sister, who was studying in Norway, is back and has joined the business. Esha's sister and husband handle marketing and customer care. Her father handles production and operations, while Esha focuses on the creative aspects.
Also Read: Lambani: How bold Banjara embroidery with cowrie & coins travelled from Bellary to the world 
Esha has not received any formal education or training in design. She is self-taught, having learnt from videos and meeting vendors and students from fashion and textile institutes. 
Watching videos also helped the team understand how social media marketing works.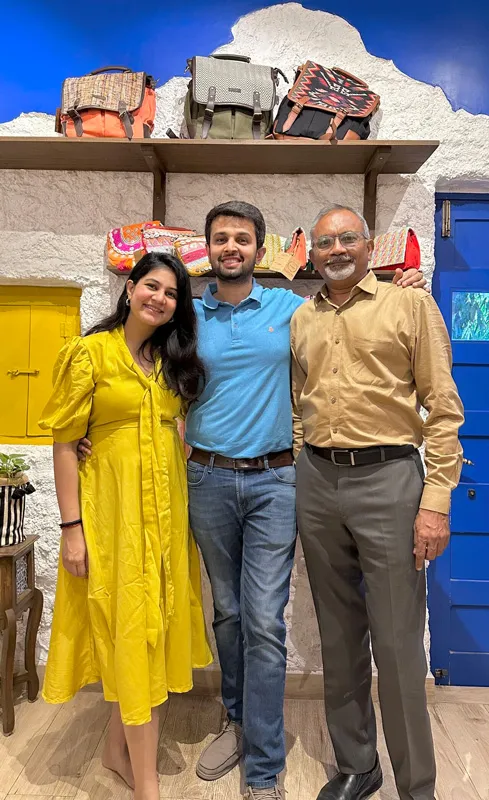 The startup has an operations team of 15 employees and a creative team of six consisting of two designers, Esha and a NIFT graduate, and a social media team. Nearly 80 percent of the employees are women. In addition, there are around 25 women to whom handwork is outsourced. The design team depends on feedback from the family and the social media team when it comes to finalizing samples. 
Aesthetics and style 
The products are designed keeping in mind the aesthetics and versatility that lie in cotton and jute. 
The Maisha collection is bohemian, colourful, vibrant, eco-friendly, work-friendly and travel-friendly, says Esha.
The product range includes handbags, clutches, box bags, jacquard bags, tote bags, sling bags, duffle bags, pouches, travel bags, cross-body bags, backpacks, wallets, baguette bags (small compact handbags), pouches, laptop bags and sleeves, cases for sunglasses, passport covers, diaries, clothing and footwear.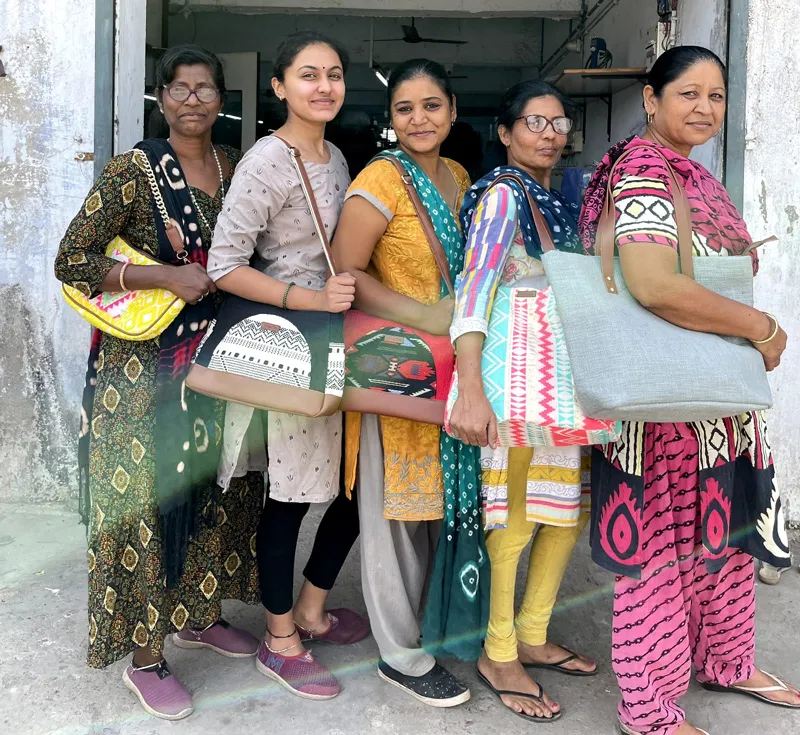 There is an exclusive collection called 'Go Social' with slings meant for dinner dates, parties and festivals. The 'AM to PM' slings come with two belts, one for work and the other to go out in the evenings, the woman entrepreneur says. 
The handwork is a mix of traditional and fusion. 
"We have traditional mirrorwork and threadwork bags. We also use a mix of beads and fusion embroidery for the 'Go Social' collection. We do not have a manufacturing unit of our own. But whatever little machine work is required, is given on a job work basis to units in Ahmedabad. In a month, we make 4,000-5,000 bags."   
 Also Read: LifeCraft: empowering Jharkhand's Kuiani women through fabric hand dyeing
Largely online business 
Most of Maisha's business is online. The company mainly gets orders from Mumbai, Bengaluru, Delhi, Pune and Chennai. It also gets orders occasionally from the northeast, Jammu and Kashmir and Kerala. The major offline outlet is the studio in Ahmedabad. The company's products are also found in stores in other places, including Goa and Puducherry. 
"We recently collaborated with an Indian brand called Rare Planet. They have stores at airports. We are currently present in six airports – Ahmedabad, Goa, Mumbai, Bengaluru, Mangalore and Dehradun. We participate in exhibitions pan-India and interact with customers on a one-on-one basis. We haven't been able to focus on international marketing. Our biggest challenge now is logistics," she explains.   
The target customer base is aged 18 to 35 years comprising college students and working professionals. The products range from Rs 449 to Rs 3599. 
Gifting is a big channel for sales. People choose Maisha's handmade bags as gifts for weddings, anniversaries, birthdays, various festivals, Women's Day, Valentine's Day and so on, says Esha. 
"During Raksha Bandhan, Diwali and Christmas, sales boom. Women in the age group of 40-50 come to our studio to buy gifts for loved ones. At times, they purchase something for themselves. We want to focus on building a collection for corporate gifting. We are planning to bring out a catalogue for corporates early next year."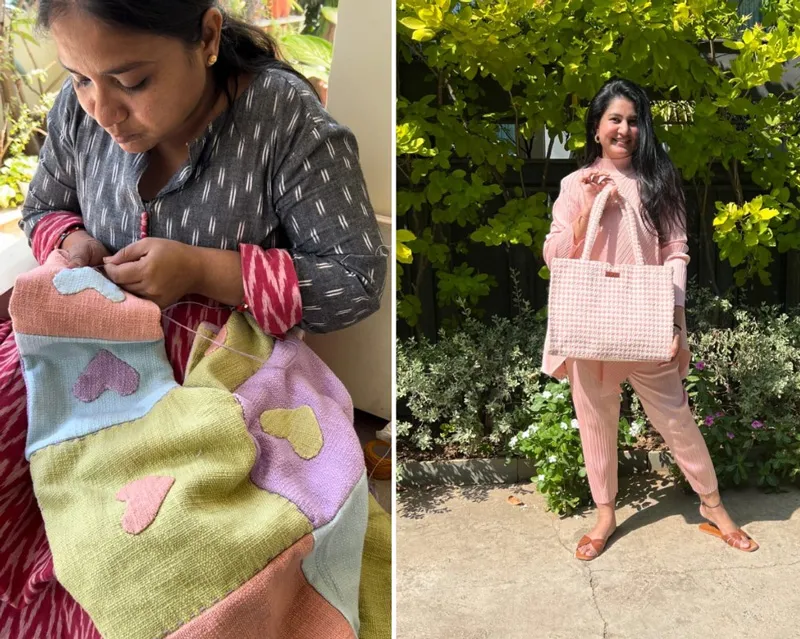 Het Shah, 27, is a regular customer of Maisha from Ahmedabad. A 'surprise planner' (related to event management), she has been buying Maisha bags since 2019. "My favourites are the box bags because they are so spacious. I am somebody who carries my whole world in my bag! The recent launch in this category has several compartments which makes it very convenient. It has compartments for a bottle and a diary as well. Initially, I was attracted to Maisha bags because they use only vegan leather. What kept me hooked on the brand was the colour palette, the finish and the vibrancy of the designs. I feel the bags suit my bubbly personality," says Het.   
Eco-friendly aspects 
Maisha is an eco-friendly enterprise in terms of materials used, processes and packaging. The bags are made of environment-friendly materials cotton, jute and vegan leather. 
Their determination not to use leather and position their products as 'cruelty-free' has won them many clients. 
Cotton lining is used instead of plastic lining. Leftover fabric is used to make scrunchies and colourful patchwork boards. Larger pieces are used to make diaries, passport covers and wallets. Cotton bags are used for packaging. 
Also Read: How Purkal Stree Shakti is quilting joys and empowering women in the foothills of the Himalayas
"We want to make an eco-friendly and sustainable brand. But we are not 100 percent there as yet. Sometimes, we have to use acrylic (polyester-based thread) to get the perfect colour for some designs," says Esha.     
Maisha's studio in Ahmedabad is also special. It was the study room in Esha's parent's home. "I wanted a place that was cosy where customers would feel at home. Also, I wanted to create a sustainable space. Nearly 90 percent of the items in the studio are pre-loved and upcycled. We buy from vendors of second-hand products. Even the window is from an old Kutchi house. Some of the articles were lying in poor condition with a dealer of waste material. We picked them up and got them refurbished," says Esha.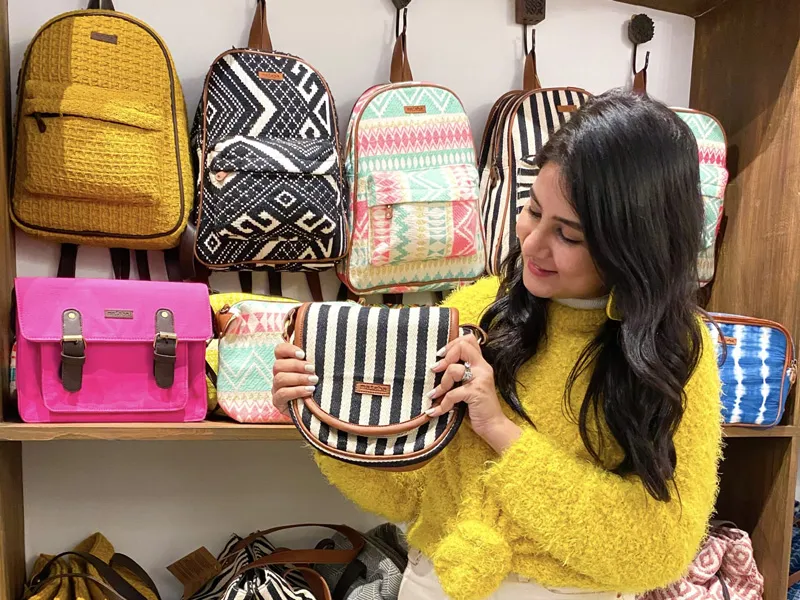 The venture is also eco-friendly and much of the work is done by hand. 
"Our bags are mostly handcrafted. We outsource our embroidery, beadwork and making and fixing of tassels to local artisans," Esha says. 
"Around 25 women work from their homes on our products. I am happy that Maisha provides them a source of livelihood. Some of them are sole breadwinners. Machinery is used minimally, to stitch the bags."
Rizwana Shaikh, 35, has been doing handwork for Maisha since its launch. "My husband is a driver and I have a five-year-old son. My mother-in-law lives with me. My monthly earnings from Maisha fluctuate but I earn up to Rs 30,000 a month at times. I do embroidery, mirrorwork, applique work and tassel work. Tassel work is my speciality. I have observed my mother do similar work. I used to work for a company but lost my job during Covid. Now, I get regular work from Maisha. Often, I work till 2 a.m. to complete the work," says Rizwana.      
Also Read: Käse Cheese: Chennai's all-women artisan cheese startup empowers people with hearing impairment; expands operations to Gujarat & Rajasthan
Shark Tank experience 
Maisha featured in season 2 of Shark Tank India. Sharing that experience, Esha says: "It is difficult to put into words the journey. Right from filling out the first application form to coming back after the last shoot, we learned so much during the process. It was an opportunity for a homegrown brand like ours to tell our story on national television. We underwent a seven-day training to prepare us for the worst grilling the sharks might give us."
Maisha asked for Rs 75 lakhs and offered 4 per cent equity. The trio of co-founders were told that they could easily get funds from a bank with the numbers they had. But they said they were there for the guidance to grow from 3X (where they are today) to 7X quickly. Amit Jain, one of the sharks, joined Maisha largely as a mentor.  
"At Shark Tank, we said our dream was to see at least one Maisha bag in every woman's closet. We aim to become the market leader in the cotton fabric-based bag industry and, eventually, an internationally recognized brand. We want every woman who is gifted a Maisha bag to tell us that it brings a smile to her face," says Esha. 
(Aruna Raghuram is a freelance journalist based in Bengaluru/Ahmedabad. She writes on parenting, personalities, women's issues, environment, and other social causes.)
Also see: Gujarat's Pabiben Rabari: from a daily wager to a millionaire entrepreneur