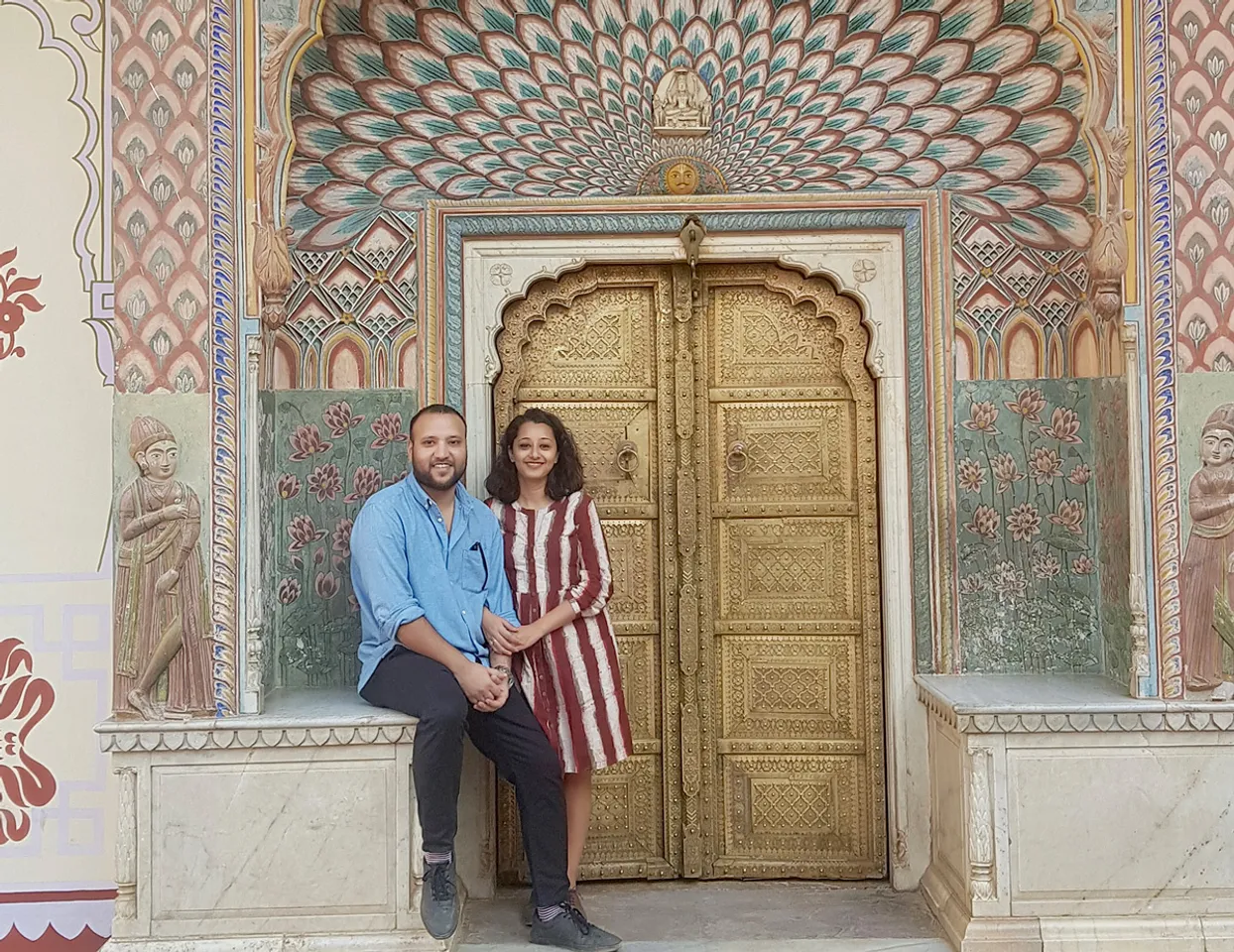 Nisar Ahmed belongs to a family of Chhipas, the community known for embossing intricate designs on fabric using wooden blocks. As a teenager, he began practising the family craft at his native village in Bijnor, Uttar Pradesh in the 1980s. But it was difficult to make ends meet. 
He and his father carried on the family tradition by executing orders provided by agents. They would usually do block printing on safa (turban for men) but earn only Rs35 per day.
"We would get work for about six months in a year. Despite my grandparents and parents being skilled in block printing, we didn't earn enough to support the family. I had to quit studies after class 11," says Nisar.
 Around that time, some people from Bijnor went to Jaipur, Rajasthan, for work. One of Nisar's acquaintances told him about better opportunities and payments in Jaipur and Nisar decided to try his luck in the Pink City. "I knew that the artisans who worked in Jaipur earned good money. When one of those families suggested that I move to Jaipur, I was happy. I was 15 years old then but lack of opportunities and poverty back home compelled me to move to Rajasthan," says Nisar.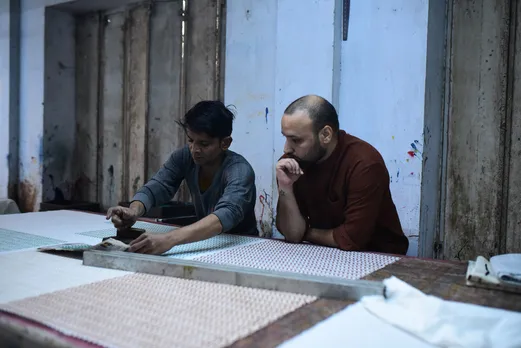 His decision proved to be a good one. He found work quickly in Jaipur and was better paid. The family's financial condition began to improve. Nisar worked for a company that exported block print fabrics. "There was a huge demand for handmade prints outside India and remains so even today. We were paid well," says Nisar.
His income, however, jumped to Rs 1,000 per day three years back when he joined Ramaae, a social enterprise working to preserve craft forms which are gasping for survival because of cheaper and faster machine production methods. Nisar's son too has joined Raamae and earns a similar amount daily.
Also Read: Bagh Print: How Khatris are keeping the 500-year craft alive along with MP's tribals 
Building the blocks
Nisar and his son are among the 30 block printing artisans who were struggling financially but are earning well now.
Raamae was founded in 2019 by Mohit Ahluwalia and his wife Jagjyot Kaur. Mohit was a sales professional and Jagjyot was an HR manager. They would travel across India, especially Jaipur, for work and leisure. They saw traditional arts and crafts of Rajasthan, especially block printing which is done in and around the state capital.
Once on a visit to Bali, the couple saw how Indian block printing was greatly admired. "We found that the Indian block printing products were much valued and sold at premium prices. There was a huge demand for them in Bali. However, the same products were not given importance in India. This surprised us," says Mohit. 
In block printing, the fabric is stamped with wooden blocks that have designs carved into them. The blocks are dipped into natural dyes and then pressed onto the fabric to create patterns.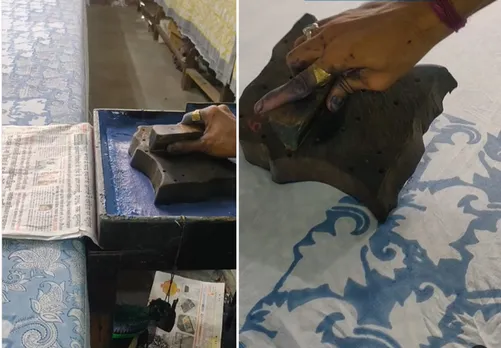 The craft traces its roots to the Harappan Civilization (3300-1300 BCE), also known as the Indus Valley Civilization. Archaeologists have discovered pieces of printed cotton, fibres, needles and spindles at Harappan sites.
Hand block printing has been carried on for centuries by skilled craftspersons. Several states have their own hand-block printing tradition. Rajasthan is famous for Bagru, Sanganeri and Dabu, Gujarat has Ajrakh and Madhya Pradesh has Bagh printing. 
After returning from Bali, the couple got busy with work but their experience in Bali stayed with them. "We would keep looking at block printing arts online and wonder why the art was underrated in India. Soon, we realised that the designs and colour combination were not very appealing for the young audience in India," says Jagjyot. 
Also Read: COVID-19: Padma Shri tie and dye craftsman for royals & Bollywood out of work after seven generations
"Moreover, the process of block printing is not eco-friendly in India. The dyes used are harmful to the environment as well as human beings," she says.
Birth of Raamae – joy amid chaos
Sometime in 2018, the couple decided to give block printing a try. Mohit and Jagjyot visited Bagru and Sanganer, the two most famous textile centres of Rajasthan, to understand the block printing process. They also visited clusters of artisans where quilting is done. They tied up with seven block printing artisans from Sanganer and began working on the products.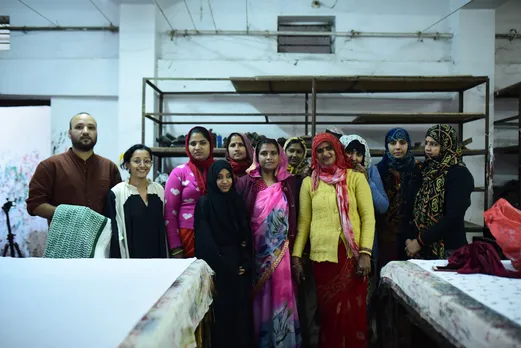 In 2019 they participated in an exhibition in Delhi with quilts handmade quilts for children and adults in two different designs. They also had cushion covers in four designs. They received an encouraging response they got was encouraging.
"It was a two-day exhibition and we clocked sales of around Rs70,000. We were expecting young customers only, but we were surprised to see that people above 50 also liked our products," says Mohit.
Jagjyot explains, "Block printing artisans tend to use four to five colours in one product, but we used only two colours. We also tried to blend designs to make them attractive to modern customers. This made the product more appealing."
Also Read: Rajasthan's Badshah Miyan takes 700-year-old leheriya craft & natural dyes to the world
Since that exhibition in Delhi, there has been no looking back for the couple. Two months after the exhibition, Mohit resigned from his job to focus on launching their new brand. "We wanted to test the waters before we could take that leap. We would earlier work during the weekends on Raamae," he says.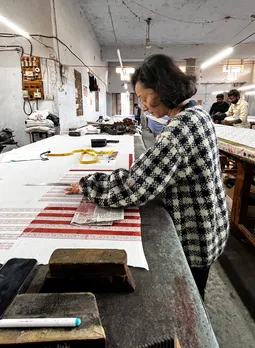 "Raamae is a Balinese word which means joy in chaos. We selected this word because the idea of starting the brand originated in Bali. While building a brand, we found joy in the chaos since we didn't have much idea about design and block printing when we started," says Mohit.
Supporting artisans
Raamae started with just seven block printing artisans. Today, four years later, 30 people are working for the enterprise in Sanganer on the outskirts of Jaipur. They work in a 5,000 sq ft block printing unit.
"Apart from the 30 artisans, we provide a livelihood to around 100 people by outsourcing our works like quilting etc," says Mohit.
Raamae's portfolio currently comprises around 60 products including cushion covers, pouches, bags, swaddles and quilts.
Raamae has three sales channels. They have their own website and also sell through other e-commerce platforms such as Amala Earth, LBB, Aza Fashions and Etsy. They also sell through retail stores across India and in the UAE and Sweden.
Also Read: Rajasthan: Titanwala family struggles to keep alive Bagru's hand block printing
The enterprise was started with an initial investment of around Rs3 lakh and generated Rs20 lakh in revenue in 2022. "The revenue in 2023 has increased by 40 percent. Almost half the sales come from our website, followed by other e-commerce platforms (40 percent) and the remaining from physical stores," adds Mohit.
Sustainable & eco-friendly textiles
The co-founders are not driven by just financial numbers. They also focus on sustainability and generating livelihood opportunities for the block printing artisans to support the craft.
Mohit says the synthetic colours that are used by many block printers can cause skin diseases and even cancer. Raamae uses natural colours derived from turmeric, iron and copper. They also use Azo-free dyes which are safe for humans and the environment.
Also Read: Pedana Kalamkari: How Pitchuka Srinivasa has taken Andhra's 15th century craft to New York's high street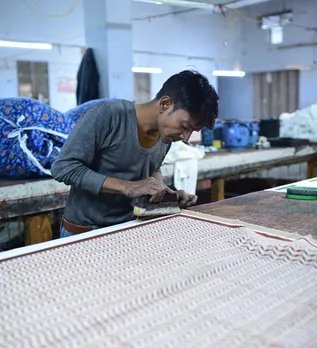 Raamae has installed an Effluent Treatment Plant (ETP) that helps them reuse the wastewater released during the process. 
They also use fabric wastes to make smaller products until the pieces become non-reusable after which they are sent to paper-making factories. 
The packaging is also eco-friendly and sustainable. "We strive hard to be eco-friendly and sustainable because we don't want to build a textile brand at the cost of the environment," says Mohit. The products are made out of cotton sourced from Tamil Nadu as it is of good quality.
The couple wants to increase the line of products. They are in the process of launching 30 varieties of products for Yoga soon. They also want to venture into other disappearing art forms to revive them through Raamae.
(Bilal Khan is a Mumbai-based independent journalist. He covers grassroot issues, LGBTQ community and loves to write positive and inspiring stories.)
Also Read: Chhapa: How this Gujarat family contemporized hand block printing to revive the dying art