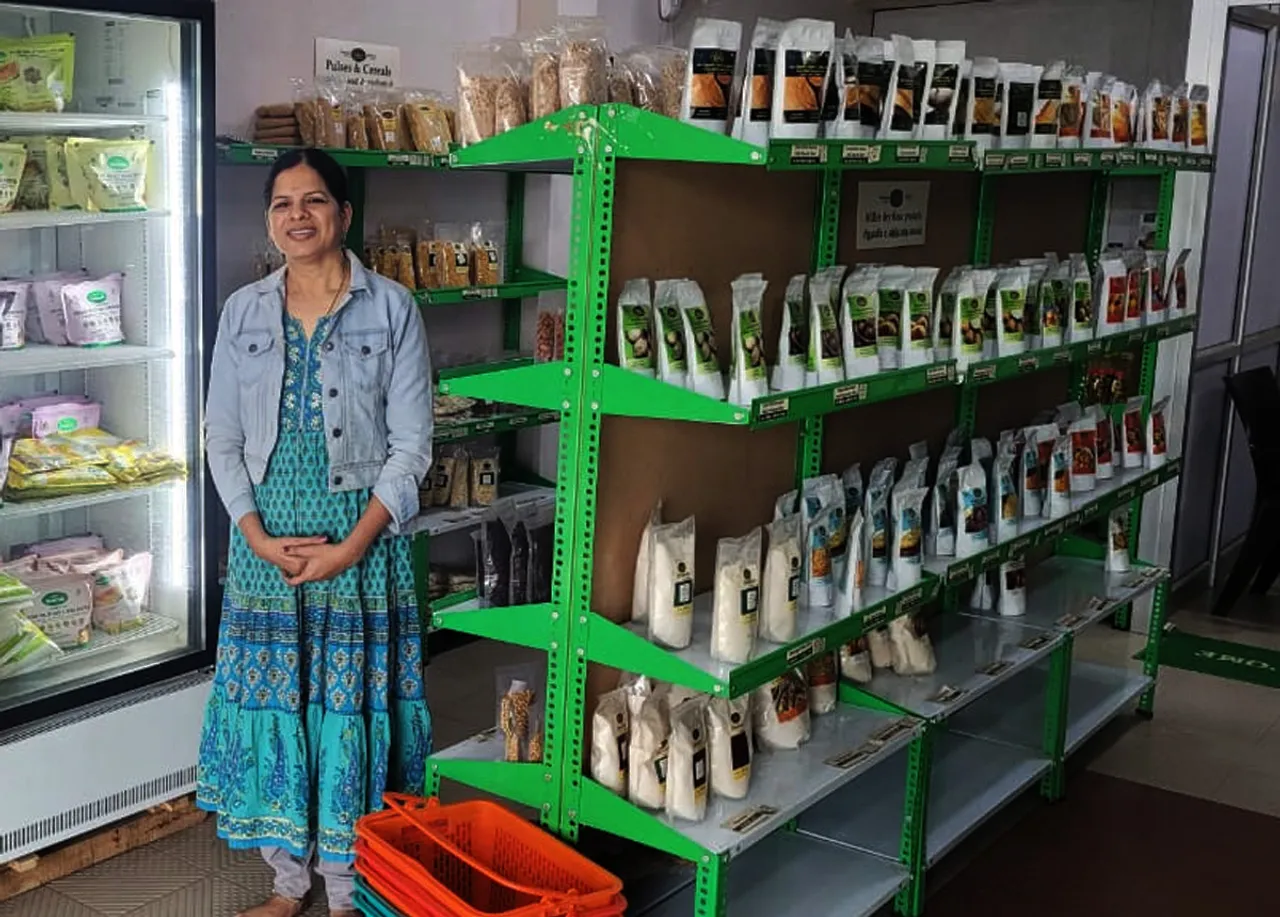 It was December 2016, and Shubhadra's millet-based ready-to-cook food factory had churned out its first batch of 200 packets of idli dosa batters. Excited to test the response to her healthy ragi batter, pearl millet batter, and other products, she went with some of her staff to a retail outlet in Coimbatore. For the first ten minutes, the shopkeeper did not acknowledge their presence. 
Later, when they showed him the products, he said, "If it's not white, it's not idli. Who will eat coffee brown or greenish idlis prepared from these millet batters? I cannot spare any space in my refrigerator to stock them."
Shubhadra heard similar replies from others, and the first batch of 200 packets of one kg each prepared by PVR Foods remained unsold. She did not undertake any production for the next three days. Whatever was produced later that month was given as a free sample to people willing to experiment with millet products sold under the Bommi Dhaniyam brand.  
"I sold 15 packets in the first month after investing Rs20 lakh in setting up the food processing plant against my family's wishes. Only my husband had supported my decision to quit a stable and high-paying job (in 2015) to venture into entrepreneurship," Shubhadra recollects.
During the first month of launch, she also wondered if she had taken the right step by quitting as the CEO and Vice Principal of Emerald Heights College for Women in Ooty, Tamil Nadu. An MTech in computer science from Anna University, she spent more than 15 years building IT departments and holding key positions including Dean and Head of Department in many colleges in the state.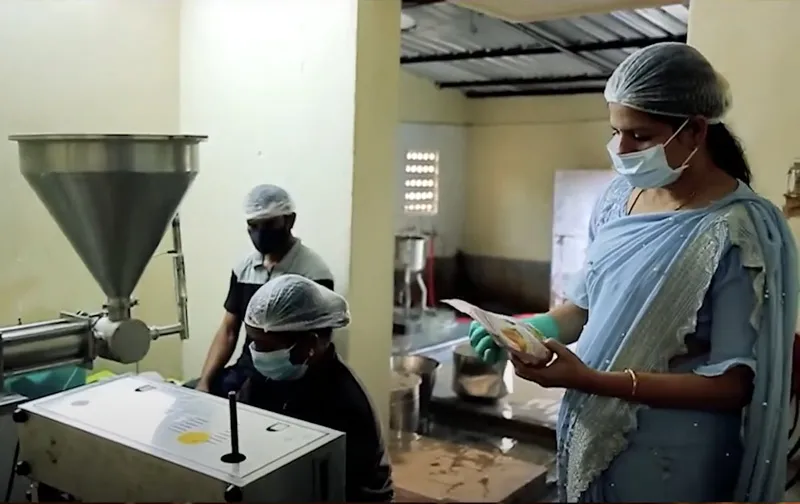 The breakthrough after a struggle
Her flair for teaching and training students was much loved by students. In March 2017, she called some of her ex-students to help her out with food stalls to demonstrate the results of her batters. "We made chutneys and during the evening hours on weekends, we would prepare dosas and idlis outside grocery and other shops. I used to pay a stipend to the students. After trying the ready preparations, people began to buy packs of the batter," she says.
Also Read: Tamil Nadu engineer turns millet entrepreneur; earns Rs 3 crore annually
"I remember that 63 packs were bought from one of the shops that month and things started to look better from then on," Shubhadra says.
Those initial six months were very tough for her as employees were leaving, there was no turnover and the remaining people had to be constantly motivated to continue work, she adds.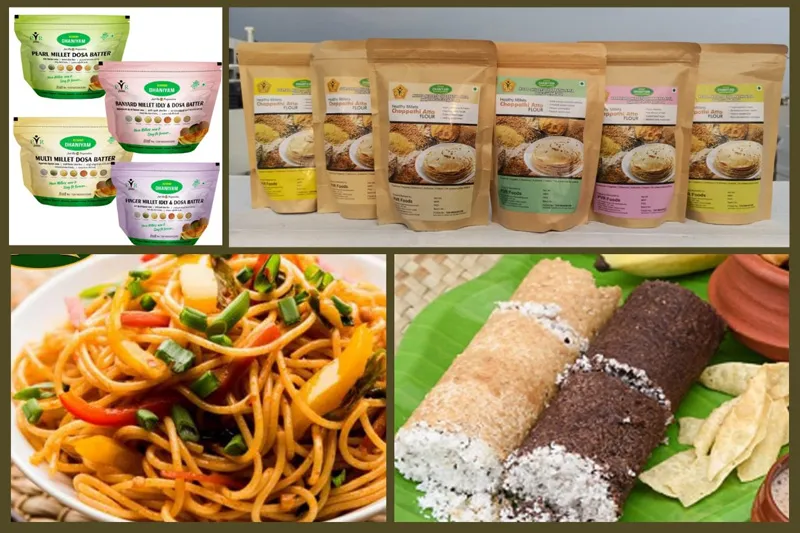 Today, Bommi Dhaniyam offers 83 types of millets ready-to-cook products in the form of millet flour, idli dosa batter, millet chapati mix, millet noodles, paniyaram, millet pongal, and puttu besides health mixes for children and pregnant women. 
The products are priced between Rs45 and 80 depending on the type of millet. PVR Foods generates annual revenues of Rs3 crore and the numbers are growing rapidly.
The seeds of millet entrepreneurship
Shubhadra was motivated to become an entrepreneur for three reasons. One, she had always been suggesting to her final year students to become job creators instead of being only job seekers. "I also wanted to do what I suggested to them," she says.
"More importantly, I wanted to create employment opportunities for women and promote healthy food as I myself had suffered from hormonal problems due to preservatives used in food products," she says.
Also Read: From truck driver to millet millionaire, how this Telangana farmer built a successful food business
Shubhadra had suffered from two miscarriages and thyroid-related issues, which her mother or grandmother did not face. "I felt the problem was in the food we were eating."
She zeroed in on millets to start her enterprise because millets are among the healthiest whole grains. They are alkaline, gluten-free, and also packed with proteins and antioxidants. 
"Millets can be grown with very little water. It is a fast and short crop and since they grow up to 5 feet, the post-harvest residue can be used as cattle feed. Millets are resilient and do not need fertilisers. It is time we bring back millets to our farms and our daily diets," she says.
Starting from scratch
After quitting her job in Ooty in 2015, Shubhadra went to the Central Food Technological Research Institute (CFTRI) in Mysore. "There, I did research on millet processing as I wanted to reduce the pain points of millet cooking so that they could be used easily by working women and even singles staying alone," she says.
Her research showed that there was a loss of fibre and 45 percent of the nutrients if millets were powdered without soaking. "After many trials, I concluded that after soaking millets for more than 8 hours and then grinding them at a slow speed, they retained 85 to 90 percent nutrition. So preparing batter was a healthier option than selling millet flour," she says.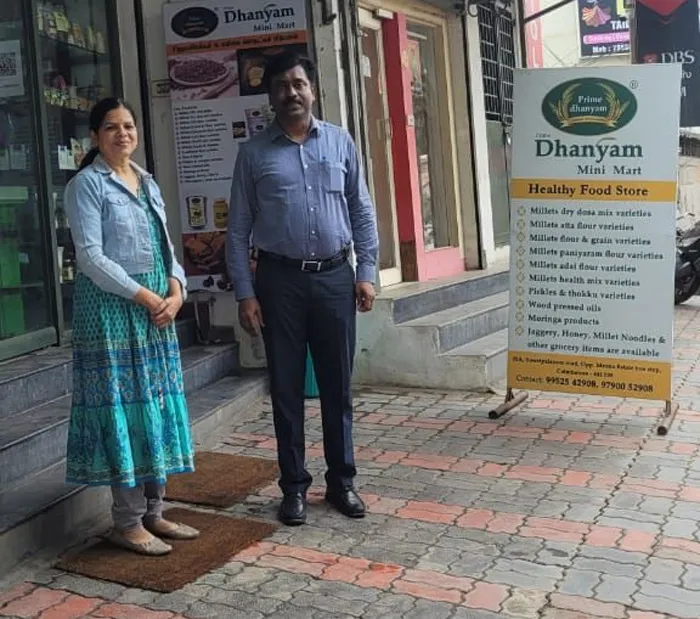 The scientist working with her, however, discouraged her as the batter has a low shelf life and would require investment in a cold chain as Shubhadra was against the use of any preservatives in her startup. 
"The batter can be stored in a cold chain for a maximum of eight days. Moreover, back in 2016, nobody was selling millet batter in various flavours. So I was told that seeding the market will also be a challenge," she recollects.
She, however, persisted and invested Rs 20 lakh in a 4,000 sq ft unit. She took land on lease and customized the machinery for sorting, grading, soaking, grinding and packaging the products. "Coimbatore is home to some of India's best fabricators. All our machines are indigenous. We designed a slow grinding machine as the heat generated during high-speed grinding leads to nutrient loss," she says. 
Also Read: Millet mompreneur: Banker turns entrepreneur to give the best to her baby; sets up zero-preservative healthy food business
At the time of launch, the installed capacity was 1,000 packs of 1kg (total one tonne) per day. "But we were unable to sell even 50 packets a day," she says.
After people began to test her products, the word about Bommi Dhaniyam spread and sales started to increase. "Some people said the aroma of the cooked items was similar to their grandmother's kitchen. Others started to buy seeing the health benefits of millets," she says.
Business and empowerment
Today, her products are sold both offline and online. The products are available online through Amazon and Flipkart. PVR Foods sells directly to institutions like hospitals, industries, and office canteens and gyms besides supplying them to retail outlets.
Also Read: Andhra MBA quits job to foray into millet business, earns in crores
"Our millet batter is used to prepare in-patient food at Coimbatore's multispecialty PSG Hospitals with 3,000 beds," she points out.
PVR Foods now produces 3,000 packets of 600 gms each per day and has the capacity to go up to 5,000 packets. 
"We use eco-friendly packaging. The packs are recyclable and can be reused for storing other items as well," Shubhadra adds.
PVR Foods was incubated by the Tamil Nadu Agriculture University (TNAU) in Coimbatore and received seed funding of Rs15 lakh under the aegis of Startup TN earlier this year. It also received a Rs23 lakh grant under the Rashtriya Krishi Vikas Yojna - Remunerative Approaches for Agriculture and Allied Sector Rejuvenation (RKVY-RAFTAAR) scheme of the Union Ministry of Agriculture for using indigenous machines and promoting healthy food.
Shubhadra currently employs 30 people including 23 women of whom four are physically challenged. "My aim is to empower as many women as possible. I dream of providing jobs to thousands of women, especially the disabled who find it difficult to find jobs elsewhere," she says.
Shubhadra has been enabling women empowerment in other ways apart from employing them at PVR Foods. 
Some women's self-help groups (SHGs) in Tamil Nadu and Andhra Pradesh are using Bommai Dhaniyam products in their food stalls to dish out quick and healthy meals and earn well. 
In Srikalahasti in the Tirupati district of Andhra Pradesh, some women are earning up to Rs8,000 per day by using our products to make dosas, millet java (a nutritious drink made using ragi or finger millet powder), porridge and other food items. "Most of their customers are truck drivers and other people working in nearby establishments. They are figuring out the health benefits of millets and eat at these stalls instead of roadside eateries," Shubhadra says.
"You just need a stove and vessels to start a millet-based healthy food stall using our products," she says with a smile. To Shubhadra, the employment she is generating directly and indirectly and the changes in people's food habits are more satisfying than the revenues generated by her millet food business.
(Rashmi Pratap is a Mumbai-based journalist specialising in business, financial and socio-economic reporting)
Also Read: How a daily wage earner set up Rs 250-crore breakfast company ID Foods