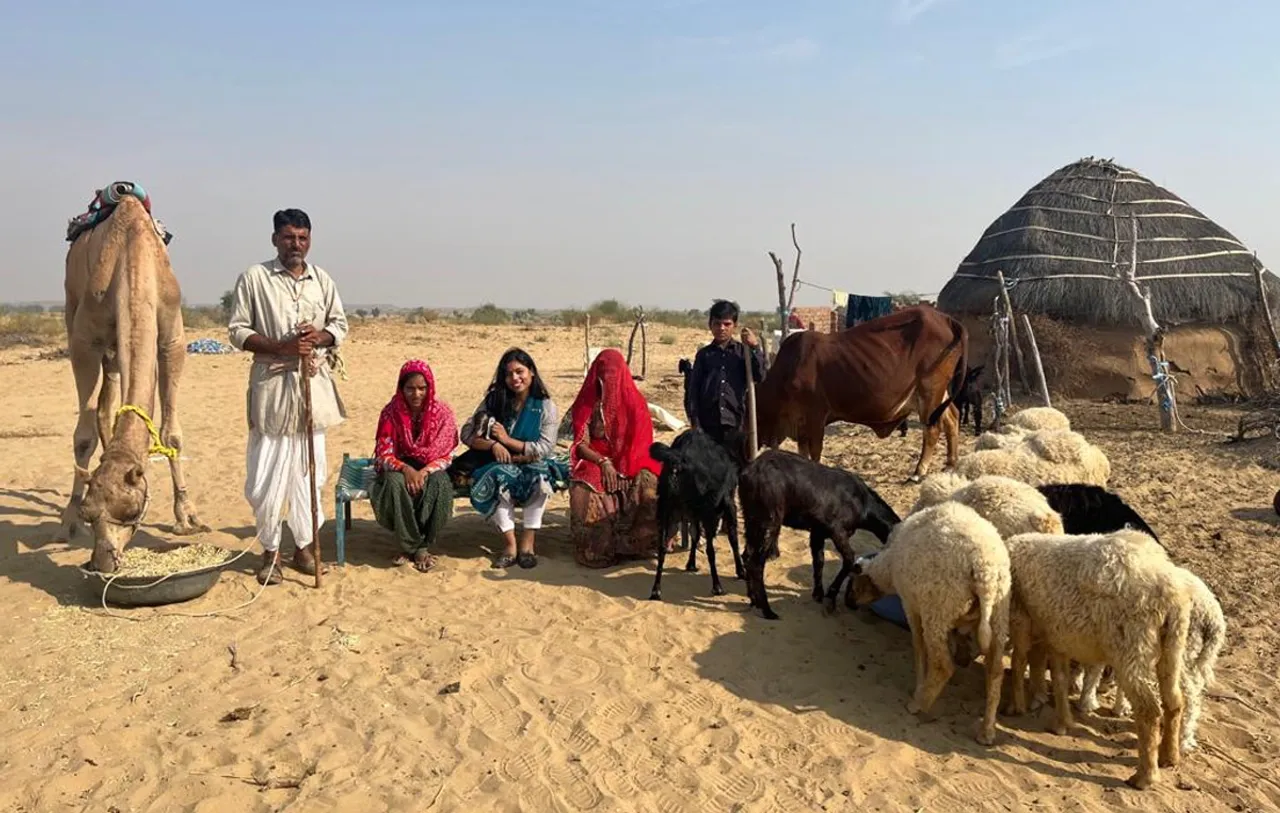 When Aakriti Srivastava graduated from Delhi's Guru Gobind Singh Indraprastha University in 2017, she was sure that she did not want to sit in a corporate office. After learning about some people working in the Thar Desert, she went to Bajju village on the India-Pakistan border in Bikaner, Rajasthan, to document the lives of local communities.
While interacting with them, she was intrigued by what enabled them to thrive in scarcity and at such high temperatures. That's when Aakriti discovered that the traditional livelihoods and living practices of pastoralists were the only solution to the problem of desertification.
"My three-year stint has become seven years of work with the pastoral communities in Thar," says Aakriti, Founder of Bahula Naturals, a farmer's collective taking agri-dairy products including camel and cow milk, artisanal cheeses, buttermilk and cold-pressed oils directly to consumers across India.
Also Read: Rajasthan's Camel Charisma builds a superfood business with camel milk and cheese
Net-zero dairy working with pastoralists
Bahula works with the Raika-Rabari (the traditional camel herding communities of Western India) besides other dairy farmers who own the Rathi cow breed. Native to western Rajasthan, Rathi is a dual-purpose cattle breed used for both milking and draught work.
"We have mobilized 4,000 cow and camel herders from Jodhpur, Bikaner and Jaisalmer regions to develop India's first net-zero dairy that starts at the farm level and reaches the consumer with zero carbon footprint," Aakriti says.
"As we are aiming at net zero, we use solar technology for all of our processes. Dairy operations are run fully using solar energy," she points out, adding that Bahula also works with 1,000 farmers in Bikaner cultivating black wheat and other crops organically.
While Bahula was registered as a private limited company with community stakeholders in May 2022, Aakriti started her work in 2018 by engaging with local farmers to scale farm and dairy production sustainably. The first leg of her journey involved sensitizing the local communities about working in harmony with nature and going back to their traditional practices.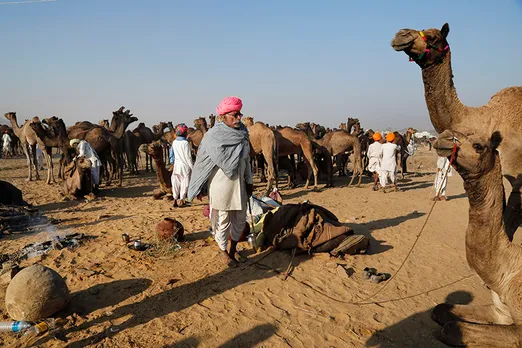 "The Indira Gandhi Canal (which brought water to Rajasthan in the 1980s) was primarily aimed at providing drinking water to the water-scarce region. But the water supply also made the local communities take up farming like Punjab and Haryana, growing two crops a year. So tractors replaced camels in the farms as well as for transportation, rendering the animal useless. The same was true of goats and sheep, which were no more a source of income generation as farming took the front seat," she says.
The result was a  rapid decline in the camel population as herders abandoned them to save money on fodder. The total camel population in India stood at 2.5 lakhs as per the Livestock Census, 2019, a sharp decline of 37.1 percent over the previous Census (2012).
Amid all this, Aakriti, with co-founders Suraj Singh and Romal Singh, decided to train the local communities in organic farming and building capacity to conserve animals and traditional practices to provide them with sustainable livelihood with dignity.
The first challenge was to convince the Raikas-Rabaris that camel milk is saleable.
"They believe they descended on earth to preserve camels and denied selling milk even though camels were dying due to lack of fodder. It took us two years to convince them that camel milk is a superfood and will not only help you conserve camels but also help the health of end consumers," she says.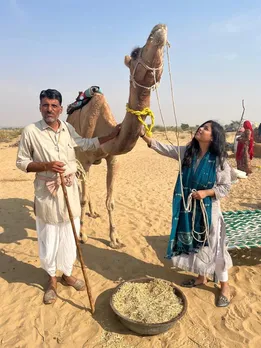 Camel milk is recommended for those with lactose intolerance or milk allergies. It is known to lower blood sugar levels, boosts immunity and is said to help with autism spectrum disorder. A camel gives between 6 and 10 litres of gives milk per day. "We milk it only once in the morning and leave the evening milk for the camel calves," she says.
Also Read: From Rs 3 per day to Rs 842 crore dairy business, how this Bengal man scripted a success story
Working at the backend
The second layer of Aakriti's work involved providing inputs like green fodder grown using hydroponics for cattle and setting up biogas plants. "We know there is a challenge of green fodder in the desert region due to which the milk yield goes down in summer. The indigenous Rathi cows are very resilient and have developed to thrive in these areas. So we brought in innovations like hydroponics (growing plants in sand or water with added nutrients but without soil). Now, 3 to 4 tonnes of green fodder is generated daily and supplied for stall-fed cows, sheep and goats," she says.
"We also take biogas to the farm level and ensure that clean fuel reaches the kitchen of farmers and the slurry can be used in the farms. We have set up 55 biogas plants in Bikaner and Jodhpur," Aakriti points out. 
For a biogas plant costing Rs 1 lakh, Rs 50,000 comes from the community and the rest through donor support. Bahula is incubated by the ICICI Foundation and Atal Innovation Mission. The ecosystem brings together other stakeholders like NGO Urmul Seemant Samiti, which has been working in the region since 2010, the Desert Resource Centre (for technological support), Selco Foundation and High Networth Individuals (HNIs). "All these partners have contributed, leading to a collective investment of around Rs 4 crore in the last six years," she says.
Also Read: Sundarini: the organic milk revolution by women of Sundarbans
"Bahula comes from the Hindi word 'bahulya', which means plurality. It is the pivot that brings together all stakeholders -- producers, innovators, academicians, government organizations and buyers to take good food to consumers from rural to urban India," Aakriti says.
From hamlets to headquarters
Bahula's biggest intervention so far has been the setting up of instant milk chillers (IMCs) at the hamlet level. "It is not possible for a dairy to procure milk from small hamlets as the milk would get spoilt due to time, distance and high temperature," she says.
Bahula's IMCs bring down milk temp to below 4 degrees in 7 seconds. Hosted by community members on their farms and run using solar energy, they are installed on demand. 
"We get the chillers at subsidized rates and we give them to community members on a contract basis," she says.
The community members host the infrastructure and are responsible for its maintenance. "Right now, we have eight IMCS in Bikaner and Jodhpur region (each with a capacity of 500 litres) through which we collect 2,000 litres of cow milk and 200 litres of camel milk every day," she says.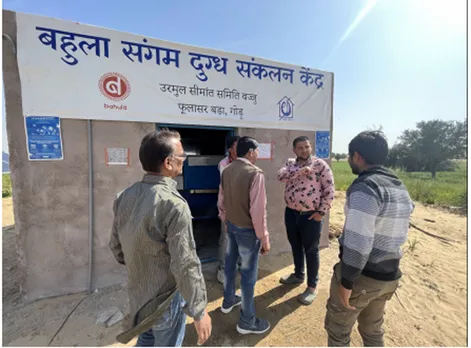 The milk is tested by community coordinators at the collection centre as well as at the processing unit at Bajju, which has a daily capacity of 7,000 litres. Community members responsible for supplying fodder, collecting milk and testing it have now become micro-entrepreneurs.
Pramila Devi from Beroo village of Jodhpur is one of them. Despite belonging to the Raika-Rabari community, she had no experience in herding camels or cattle due to the rapid transition towards non-pastoral life.
"Seven years back, I purchased one Rathi cow and did not even know how to milk it. I learned with experience and today, I have 50 cows and calves," says Pramila, who has studied till class 10.
"Apart from tending to my cattle and selling the milk to Bahula, I have learned to test milk at the collection centre using a computer, prepare receipts for milk received and also learned about milk processing," she says. Bahula pays Rs40 per litre for camel milk and around the same price for cow milk with minor variations depending on the fat content. For every litre of milk Pramila chills, she gets Rs4 as transportation cost.
Also Read: How all-women dairy Shreeja has created one lakh milk entrepreneurs in Andhra Pradesh
Pramila underwent training to grow hydroponic grass and then started training others to prepare green fodder without using soil. "Due to lack of rains here, mixing green fodder with dry fodder in cow feed results in better quantity and quality of milk," says the mother of four girls and a boy.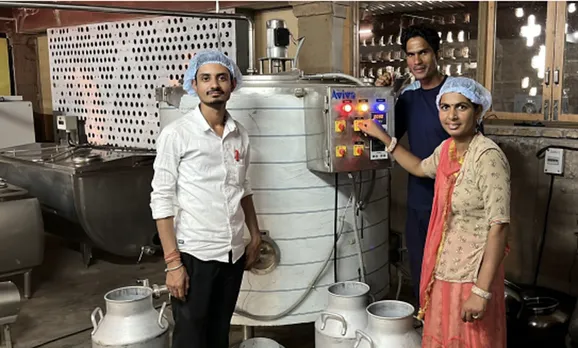 She says small-scale farmers were not able to sell milk earlier as middlemen did not give good rates and it would get spoilt before being taken to outside markets. "There was exploitation, which has ended as Bahula gives us higher rates than the market. We just have to focus on quality," she says, adding that she earns around Rs 12,000 per month.
All the payments made to dairy farmers by Bahula go into the accounts of women herders of the household as they do the bulk of milking and cattle maintenance work. "They are paid every 15 days, giving women more voice in decision-making," Aakriti says.
Camel milk products
Bahula Naturals sells its ghee, buttermilk, butter, curd and other items directly through retail outlets in Bikaner, to homes and through its e-commerce website.
Its most popular items made with camel milk are ghee, biscuits and artisanal cheeses like Halloumi, Feta, aged cheese Cheshire etc.
"We use most of our milk to prepare cheese, especially hard cheeses which are aged for three to six months. We are selling them across India and also supplying to some hotels in Delhi and Goa," she says.
While a 200-gm pack of Camel Milk Halloumi cheese and Feta cheese is priced at Rs 500 each, aged Cheshire costs Rs 899. An 85-gm pack of camel milk ghee costs Rs255 while 400gm A2 cow hand-churned ghee is priced at Rs750.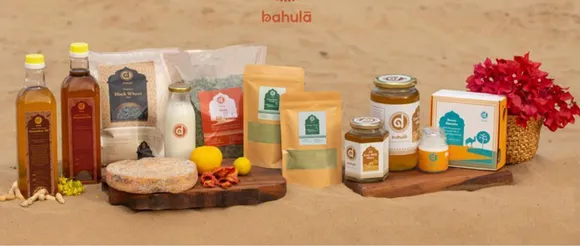 "We are also working with 1,000 farmers in Bikaner for cultivating black wheat which grows in the desert, is gluten-free and is a non-GMO (genetically modified) food," she says.
While farmers in the same area get Rs 2,000 to Rs 2200 per quintal for regular wheat, black wheat fetches between Rs 2,800 and Rs 3,000 per quintal. "We started two years back and we are the only ones buying back black wheat from farmers. Alongside, we are working with growers to produce mustard oil, groundnut oil etc.," she points out.
The efforts of Bahula have borne fruits. Consumers now have easier access to a superfood. And herders are excited about the prospects of camel milk and its products. "The regular income from camel and cow milk is now inspiring pastoral youth to take up their traditional occupation instead of going to cities to work as labour. There is a change in mindset where youth from pastoral households now want to become micro milk entrepreneurs," says Pramila.
(Rashmi Pratap is a Mumbai-based journalist specialising in business, financial and socio-economic reporting)
Also Read: Gujarat: How this lawyer-turned-organic farmer made her family's dairy business profitable