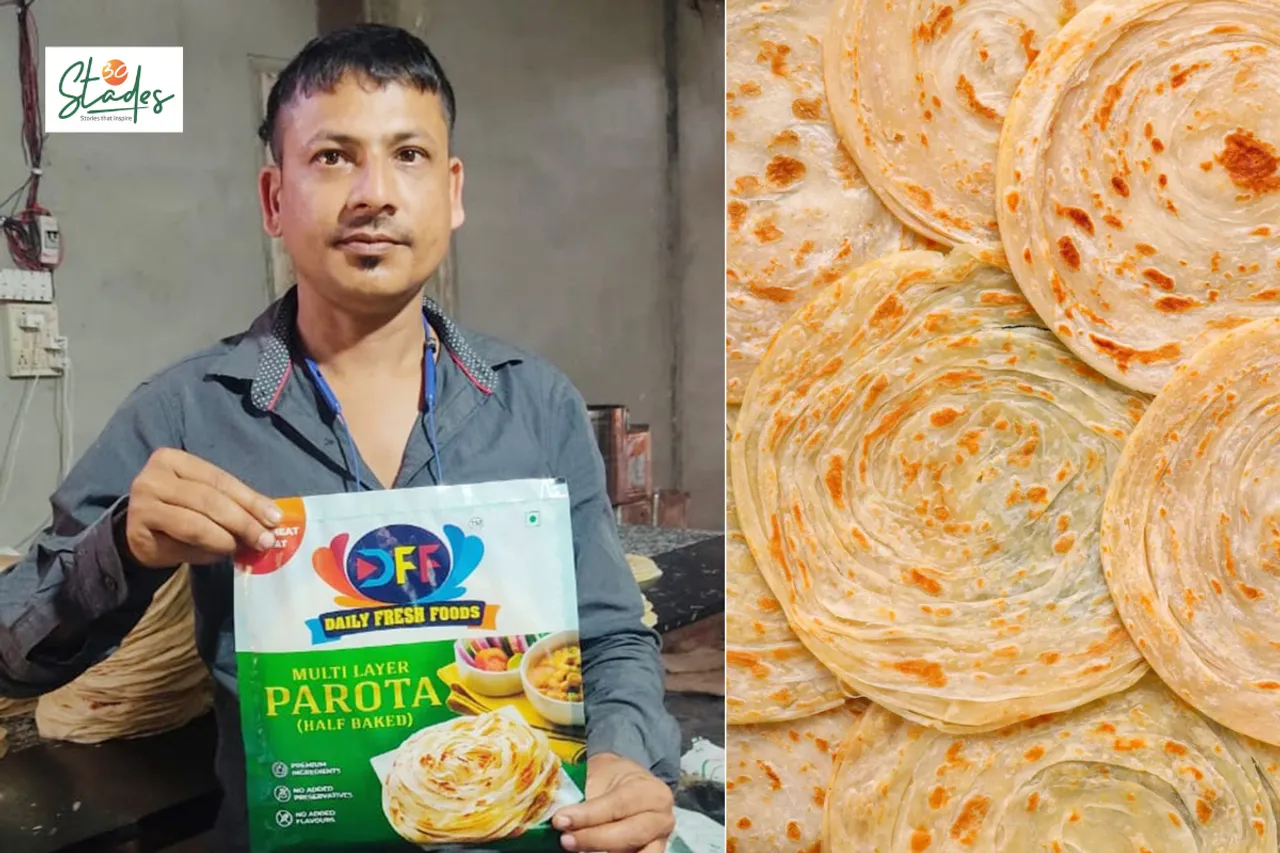 Diganta Das was a hotel security guard in Bengaluru twelve years ago, earning a daily wage of Rs 300. Today, he is an established food entrepreneur, running a parotta manufacturing business in Biswanath Chariali, Assam and earning lakhs every month.
Parotta is a flaky layered flatbread made from refined or whole wheat flour. Commonly served in Kerala and Tamil Nadu, parotta (also parota) is now popular across India as a heat-and-eat packaged food.
Diganta realised the strong demand for parotta in the North East and set up Daily Fresh Food last year. In just six months, the venture is profitable, clocking sales of Rs 6 lakh per month. 
The company produces around 2,000 half-baked parottas daily which are marketed across Assam and also sold in Itanagar and Naharlagun in neighbouring Arunachal Pradesh.
Also Read: Tage Rita: Arunachal woman entrepreneur making India's first organic kiwi wine Naara Aaba
"I am grateful to the people of the Northeast for their enthusiastic response. I didn't anticipate that people in this sparsely populated region would like our half-baked parottas so much,'" says the 32-year-old business owner.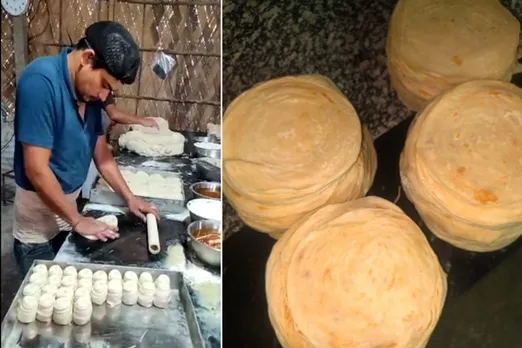 While the Parottas can be prepared with whole wheat as well as refined flour, Diganta says people of the Northeast prefer the latter. "We use maida, purified water, refined vegetable oil, ghee and iodized salt for preparing the soft, multi-layer parottas," he says.
Labourer to entrepreneur
Diganta belongs to Dakshin Borghuli in Biswanath District, Assam. He grew up in a poor peasant family that struggled to make ends meet. Of three siblings, Diganta is the youngest and only son. While Sumila Das, his mother, is a homemaker, his father Naren Das was a farmer. Diganta went to Gopalpur Nehru Uchchatar Madhyamik Vidyalaya, where he completed his matriculation in 2001.
With few job opportunities in his hometown, Diganta relocated to Bengaluru in 2011 in search of a job. He worked as a hotel security guard and room service boy for a year.
In 2012, he joined the iD Fresh Food in Hoskote, Bengaluru. Starting with selling idli-dosa batter, iD Fresh Food is today a well-established brand in the instant food segment, offering parottas, chapatis, chutneys, curd, bread and other items.
Diganta was employed as a manual worker at iD Fresh Food and his work included unloading cargo from the van, sweeping and dishwashing. 
"One day, I went to the company canteen and had my first parotta. It was so tasty that I ended up eating seven of them," he recollects.
When some staff went on a month-long leave, there was room for Diganta inside the manufacturing facility. He was asked to do the packaging and was later trained in 'mixing' the dough. He did mixing work for three months and was then promoted to roll the multi-layer parottas.    
Also Read: Kashmir's local bread-baking thrives as kandurs serve up delectable breads
He was sincere in his work and completed all the tasks for which he was hired. His sincerity caught the seniors' attention. "Working there, I developed an interest in making parottas and understood the whole process from scratch," he says.
"Around that time, an Assamese supervisor by the name of Faizul Haque left the firm and founded his own business, Combells in Bengaluru. He invited me to join him," says Diganta.
Diganta says Haque taught him the basics of marketing and helped him learn the various facets of running a business.
After working with Haque for five years, Diganta reconnected with one of his friends Surya Thapa, who had also started as a manual labour in iD Fresh Food and the two started exploring a business together.
Since Thapa was drawing a monthly salary of Rs 40000 at that time, he could accumulate the working capital required for the company.
Starting from scratch
The friends decided to relocate to Vijayawada in Andhra Pradesh. They surveyed the entire market in South India and found that Vijaywada had zero competition. Therefore, they decided to start their business of parotta in Vijayawada. 
Surya contributed about Rs10 lakh, and Diganta got a 20 percent share in the company. They set up the DFF (Daily Fresh Food) company on January 12, 2017. 
"Although the market responded favourably, the lockdown hit our business hard. In addition, I was unable to see my pregnant wife at home," says Diganta.
The business shut down during the lockdown. Diganta lost his capital and became bankrupt. Amid the pandemic in March 2020, his friend Surya paid for an airline ticket for Diganta and he managed to reach home to his wife and newborn.
Also Read: Himachali Rasoi: How a software engineer is reviving the traditional cuisine of Himachal Pradesh
Diganta was dejected but refused to give up. He quickly joined a carpenter workshop and started supporting his family.
Alongside, he began to study the neighbourhood market to understand the scope for selling Parottas. After a year, he realised there was a demand for the product. So, he again turned to Haque for assistance. Haque, who was also manufacturing parottas at his Guwahati unit, agreed to provide the packets to Diganta for sale in Biswanath Chariali.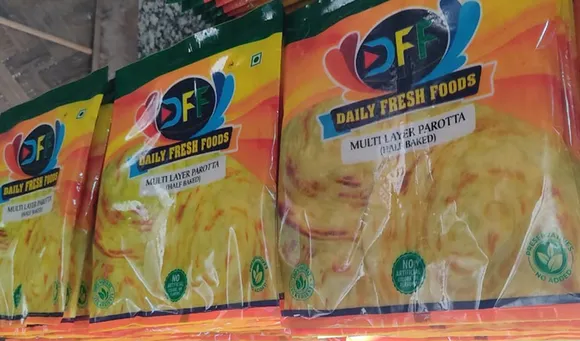 Every day, Diganta would leave his home in Gohpur at 5 in the morning to reach Biswanath Chariali, which is 61 kilometres away. 
He would carry two big bags of parottas on his scooty and deliver the packets to all the small and big roadside eateries, restaurants, general shops and stores, on his way. He collected the money while returning home in the evening.   
Diganta says he was buoyed by the response as sales started picking up. "I then got in touch with Surya who was in Andhra and told him about the business prospects in Assam. In September 2022, Domber Thapa, Surya and I established a partnership enterprise by the name of Daily Fresh Food. While I focus on the market, Domber takes care of production. It is a great success," says Diganta.
Also Read: Triguni Eze Eats: How 79-year-old Radha Daga's ready-to-eat meals travelled the world with Indigo airline
The business of parottas
The parottas are half-fried and the packet mentions the method of sautéing them by adding some butter, ghee or oil. Once it's done, the Parotta has to be flapped with hands to open up the layers.  
The company makes parotta packs in two sizes: five and ten pieces, with an MRP of Rs 60 and Rs 100, respectively. From this unit, on average, 280 packets of five and 60 packets of ten parottas are distributed each day. 
The size of each parotta ranges between 9 and 10 inches because it is manually produced. The shelf life of these parottas is three days at room temperature and 15 days in the freezer because no preservative is used.
Diganta has taken a 200 feet x 60 feet kitchen space on lease. It has an industrial frying pan, two cooling stands, a mixing machine and two granite tables that are between 5 and 20 feet long beside other tables. All the employees are provided with free meals.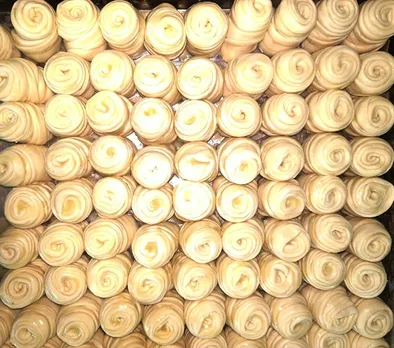 While 10 people work in the kitchen, eight are involved in marketing. Some of them work on a commission basis. The firm pays each of its eight workers a salary of Rs 10,000 per month, while those on commission, earn about Rs 30,000 each. The company generates daily sales of Rs 20,000 or about Rs 6 lakh a month.
With no storage facility, Diganta's firm prepares and sells the food daily and there is no refrigerated stock. The production starts at 1 am and the parottas are ready for supply by 4 am. 
Diganta uses Assam State Transport Corporation for transporting the packets to Tezpur, Gohpur, Nayanpur, Sonitpur, Lakhimpur, Dhemaji, Silapathar, Dibrugarh, Tinsukia, Gauhati, and Sadiya. By noon, the parottas reach all the destinations.
Diganta handles all the marketing work by himself. "We are now going to expand to Jorhat and other places shortly," he says. His plans include creating ready-to-eat batter for idli and dosa, semi-cooked puris, and chapatis. Within a month, he is planning to launch rose cookies as well.
His advice to the next generation is that if one has an optimistic outlook, nothing is impossible. 
(Partho Burman is a Kolkata-based award-winning journalist. He writes inspiring human interest and motivational stories.)
Also Read: How this advertising professional-turned-chef is reviving the royal cuisine of Malwa