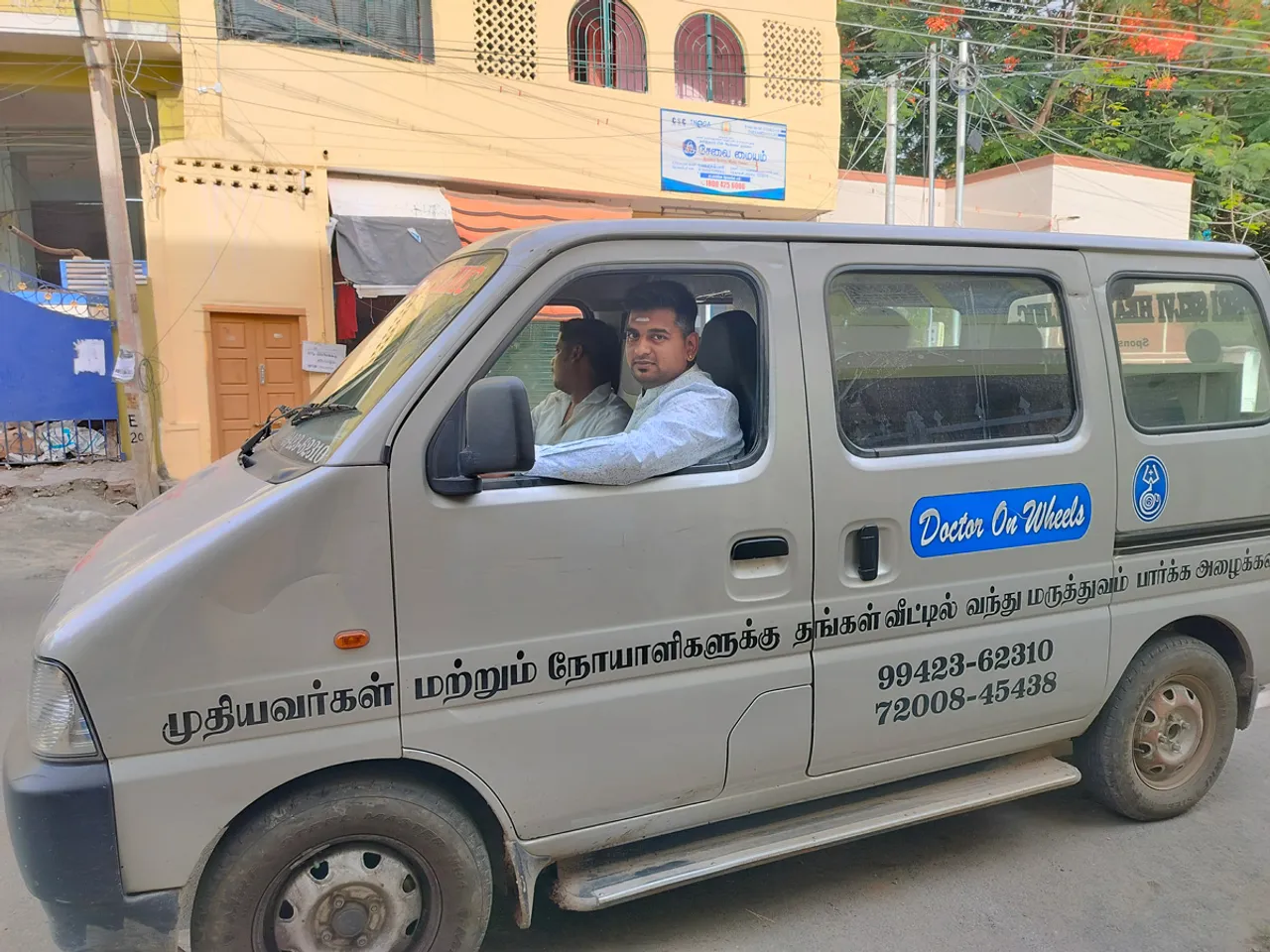 In 2016, when Dr. C. Swaminathan was working at a corporate hospital in Madurai, Tamil Nadu, he saw patients and their families burdened by the treatment costs and the hardships of post-hospitalisation care. Taking the elderly or specially-abled individuals from home to hospitals is not easy as many of them are wheelchair-bound or unable to walk without support, which adds to the problems.
"My father-in-law suggested that I consider checking patients at their home. Around that time, startups like Zomato were coming up, and I thought if food could be delivered to the doorstep, why not quality healthcare at a modest cost?" says 34-year-old Swaminathan, who has treated over 25,000 patients so far.
Born in Trichy, Swaminathan grew up in Canada, where he completed his schooling. In 2006, he came to India to pursue medicine and completed his MBBS from a private institute in Salem. He then did his post-graduation to be an emergency physician and diabetologist and moved to Madurai for work.
After witnessing how senior citizens and their families struggle to visit hospitals, only to be attended by doctors who don't have time to hear out the patients, Swaminathan decided to bring in healthcare services that could ease their problems. 
His model combines the compassion of a healer with the knowledge of modern medicines, delivering affordable healthcare at the patients' doorsteps.
"I spend about 35-40 minutes with each patient and listen to them. The patients just want to open up to somebody. Doctors need to be good listeners but they hardly do that."
Also Read: How to create your own medical emergency fund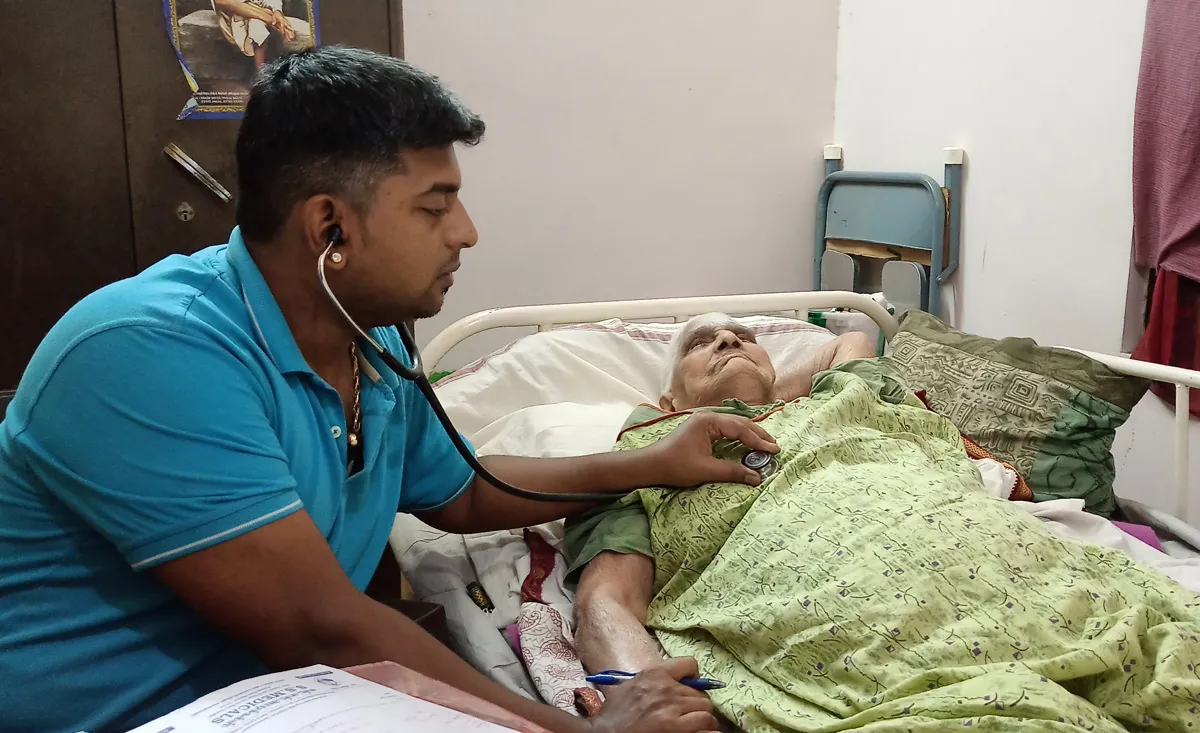 Doctor on Wheels was born in 2019 to bring back the concept of family physicians who visit patients' residences. The initiative completes its fourth year on September 16, 2023.
How the model works?
The Doctor on Wheels team attends to around 25 calls on any given day. The initiative is an extension of the Selvi Health Clinic. The clinic timings include 10 to 11.30 am, and 6 to 8.30 pm, while Doctor on Wheels visits homes between 3 am and 9 am, 3 pm and 6 pm and 8.30 pm and 10 pm. "In between, I freshen up, hit the gym, and sleep for a couple of hours in the afternoon," says Swaminathan who works for about 18 hours a day.
With his services exclusively limited to senior citizens and people with special needs, Swaminathan was determined from day one of his clinic that they would attend to house calls. Before the current ambulance was gifted by a former patient in 2021, he attended to the patients in his car. 
"We started with basic treatment and it took us six months to understand and organise what the patients expected from us. Other doctors in the area showed resistance towards my initiative, but persistence to pursue this noble cause brought me here. Today, I have got doctor friends who help me with their opinions on respective specialisations," he says.
Just when the initiative took off in 2019,  COVID-19 hit, making Swaminathan's clinic the only one to be opened every day. He treated 700 cases, out of which 696 recovered, and he also conducted free vaccine camps.
"About 500 people have benefitted from it. We continue to organise over 50 camps a year."
Also Read: Delhi nurse narrates his life experience as a COVID-19 warrior
On a day-to-day basis, Swaminathan and his team provide their patients with post-hospitalisation care, palliative care, end-of-life care, post-chemotherapy care, pain management, senior care, lab services including the collection of samples from home and radiology services like ECHO, X-Ray, ultrasound, and physiotherapy. 
Despite offering a wide range of doorstep facilities for the elderly, Swaminathan charges only Rs 300 to Rs 800 for his services which are restricted to a 20 km radius around Madurai. "I am stationed at SS Colony and sometimes we go to Dindigul in rare cases or on Sundays." He says.
"Since commuting costs are rising, we charge Rs 300 for visits in my area and Rs 800 for faraway places. When they book, we tell them the costs straight up. We travel about 60-120 km every day."
Is it an alternative to a hospital?
Time and again, in conversation with Swaminathan, the doctor emphasises that Doctor on Wheels is not a substitute for a hospital despite the barrage of good intentions they work with and facilities. 
"Not all cases can be treated at home. Where we differ is consultation and treatment. What we do is identify the problem and tell them the treatment they have to get," he says.
Also Read: 65-year-old woman turns barren land into organic farm of medicinal plants, earns Rs50 lakh annually
"We help by reducing the cost of ward charges in hospital admission. While the cost of hospitalization could be Rs 80,000 to Rs one lakh, we try to save that by providing home care for a few thousand rupees. We can only replicate the treatment at home we cannot bring the sophistication of a hospital. We can provide oxygen cylinders and monitor the patients. But when they need tertiary care, we ask them to visit a hospital of their choice and help them with transportation through our ambulance free of cost," says the doctor.
The ambulance is fitted with all ICU equipment, including oxygen cylinders, defibrillator, suction apparatus, infusion pumps and emergency medicines.
Team of good hearts
While Swaminathan may be the man in focus, his team works equally hard to ensure that medical services reach the patient on time. His team comprises his father-in-law Chandrasekhar and wife Gomathy, who manages the administration, physician assistant Azhagu Meena, driver Jyothi, two senior nurses Thamirai Selvi and Yamuna, nurse and ICU trainer Sivagami, cashier Kasiraja, pharmacist Sheikh Dawood, physiotherapist Aasai Thambi, lab-in-charge Thiyagaraja, along with two trainee nurses Veeralakshmi and Aneesha.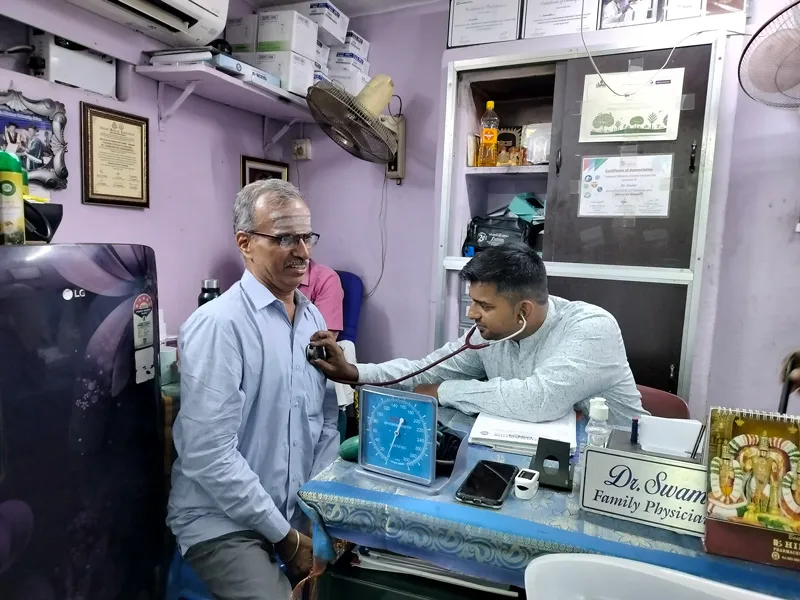 Yamuna Dhandapani, who has been working with Swaminathan for the last seven months, says the job gives her happiness as well as satisfaction. "Ever since I joined here, I don't know if I need to visit the temple to see God in its sacrosanct space. I have worked for many doctors, but Sir (Swaminathan) is very kind and deals with patients with utmost calmness," she says.
A single mother of two, Yamuna studied ANM nursing. She says she gets to interact with her patients, something that she hardly gets to do while on ward duty. 
"I got this job when I did not have any sources to fend for myself. The blessings we get from the patients make me love my job," says Yamuna, who attends to at least 20 patients daily.
Echoing the voices of many
Doctor on Wheels not only comes as a boon for empty nests but also for people like Srimathy, who is a homemaker living with her parents and in-laws, along with a college-going daughter. Having known him since September 2020, Srimathy regularly consults Swaminathan for any health issues of the elders. 
Also Read: Retirement planning: 5 tips to retire rich
"All four of them were treated by the doctor during the COVID-19 at home (in 2021). My mother was affected by the virus and weekly treatment was done by the doctor. My mother had a stroke, and he prescribed the right medicines and diet. Even now the doctor comes for monthly check-ups. We can call him anytime. Even if he cannot come, the team attends to us at the earliest," she says.
Srimanthy recalls the time when her 88-year-old father-in-law suffered diarrhoea. Unable to walk or transport him to hospital, she was helped by Doctor on Wheels. The prescribed medicines brought the octogenarian back to good health soon.
"I have a college-going daughter and my husband is no more. He passed away due to Covid in July 2020. At that time I did not have the doctor's contact. Perhaps if I had, I could have consulted him. Now, I am the caretaker of my family and Doctor on Wheels has been a boon for me. The fee is nominal and he sometimes charges only for the medicines."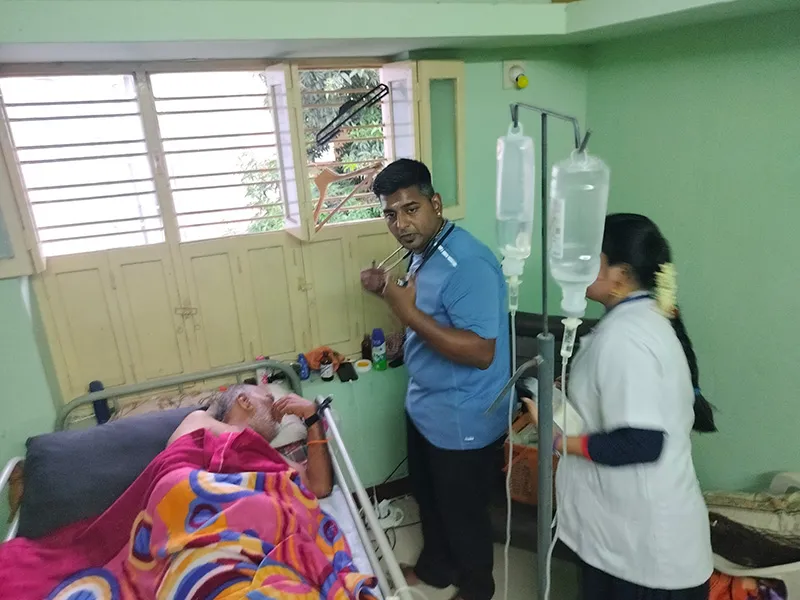 A good deed goes a long way
Swaminathan now wants to train more doctors so that the initiative does not end with him. On asked about moving back to Canada, he says with a laugh, "I fell in love with my country once I came here and now I don't want to move back."
He wants young doctors to consider this service model. "An entire generation is going to age and become senior citizens soon. This is the need of the hour. A lot of kids are living abroad, and we live in the era of empty nests."
The doctor is now envisioning a hospice or care centre for old patients who require day treatment, secondary care, therapies, and a lot more. With thousands of things running in his mind, what keeps him calm? "My family takes care of me. I listen to music; my son is a stress buster. I am laid back and carefree and I don't take anything to my heart. I know not everything is in my hands. Tomorrow is not a guarantee and I try to wake up, do good things and stay happy," he signs off.
(US Anu is a Madurai-based writer. She specialises in stories around human interest, environment and art and culture.)
Also Read: Doctor in the morning, farmer in the evening: How Hyderabad's Dr SR Madhavaram earns crores from organic farming of dragon fruit; helps other growers improve incomes