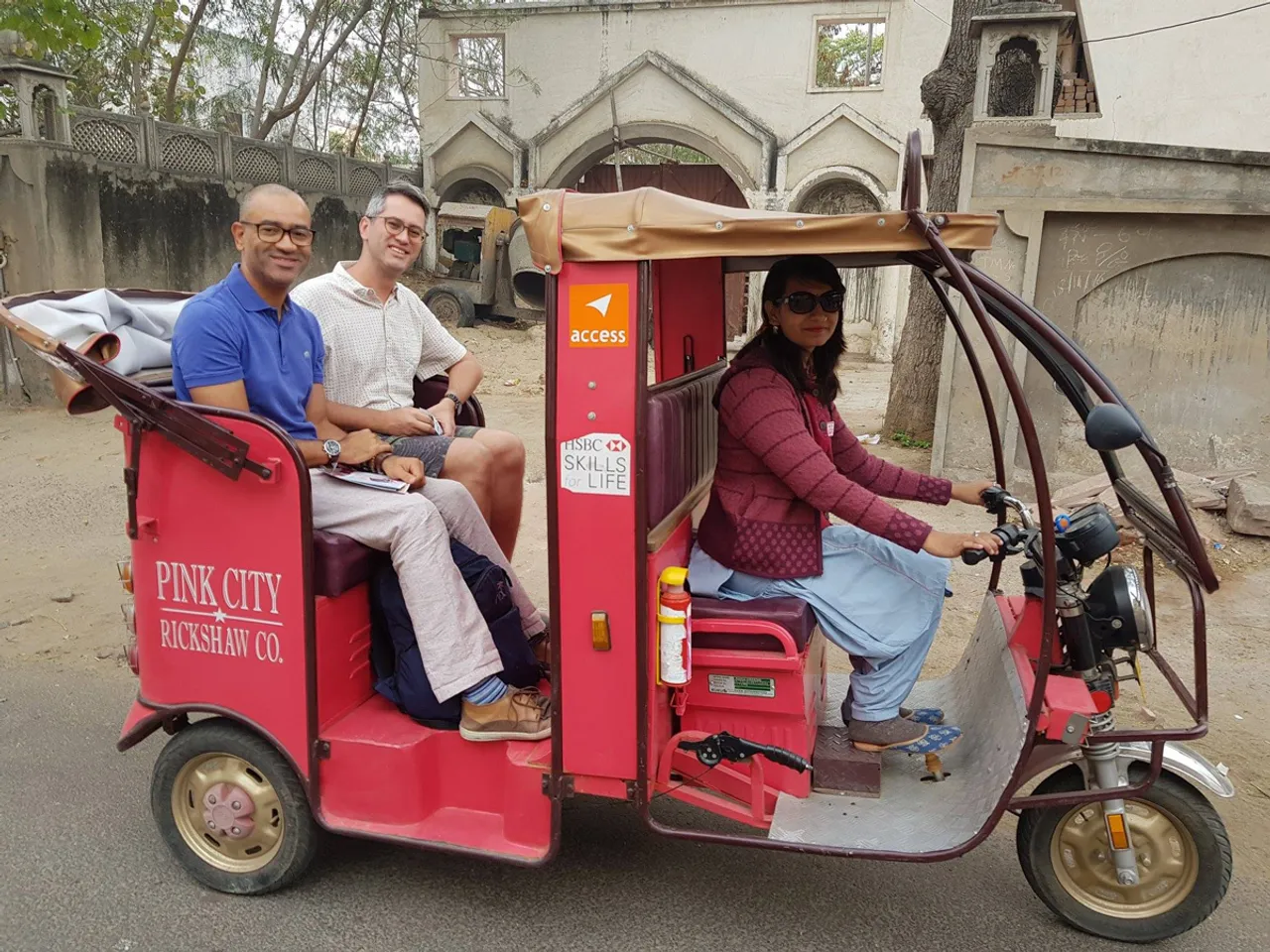 Vasanta, living in a slum in Jaipur, worked hard to provide for her three children. But her income from working in a small shop could not take care of even the family's basic needs. Her husband left her to navigate the challenges of single parenthood. Overwhelmed with a lack of financial resources, Vasanta contemplated taking her own life. 
Just around that time, in 2019, she learned about The Pink City Rickshaw Company, which was training underprivileged women from poor socio-economic backgrounds to drive e-rickshaws in Jaipur.
She joined the non-profit, learned driving and began to earn around Rs 7,000 to Rs 10,000 per month by taking tourists around the fabled city. This not only provided her with self-confidence and self-esteem but also resulted in financial security for her family. 
Similarly, Renu Sharma, who was working long shifts as a nurse with a meagre salary, came across a job vacancy for a rickshaw driver in a newspaper ad. But becoming a driver in the patriarchal society of Rajasthan is neither easy nor acceptable. Her family disapproved of it but Renu was firm. She wanted fair wages for her hard work and applied for the job. 
After a three-week training, she joined the company and now earns enough to provide a good upbringing for her two daughters.
Sustainable tourism empowering women
In a bid to promote women's empowerment and sustainable tourism, the Jaipur chapter of not-for-profit ACCESS Development Services launched the Pink City Rickshaw Company in 2017. 
This initiative has provided employment to 200 women from low-income households in Jaipur. They drive e-rickshaws, which use batteries instead of petroleum or diesel and neither emits any smoke nor cause pollution.
The women drivers are not just employees; they are also proud equity holders in the company that they own and manage themselves. The Pink City Rickshaw provides these women with an opportunity to break the cycle of poverty and earn a dignified livelihood.
Also Read: Abira: Pune's all-women enterprise where slum dwellers handcraft ecofriendly products for global brands
Alongside, it offers an eco-friendly way to experience the charm of Jaipur's walled city. With their enthusiastic women drivers, the company provides well-planned tours of the old city's major tourist attractions, offering visitors a chance to soak in the local culture and explore the hidden gems of Jaipur's streets. They offer a variety of tours including heritage, food, craft and shopping tours.
Driving e-rickshaws was considered a male-dominated profession, but founder and chief executive officer Vipin Sharma wanted to change that perception. 
In 2017, Sharma began reaching out to women living in Jaipur's slums like Jawahar Nagar, Jagatpura, Jaisinghpura, and Jal Mahal, offering them a chance to be a part of his venture. 
With an initial funding of around Rs 50 lakh from the HSBC Bank, Pink City Rickshaw began its journey towards creating dignified income-earning opportunities for women in Jaipur.
Also Read: Dehradun: How Purkal Stree Shakti is quilting joys & empowering women in the foothills of the Himalayas
Gulab Devi Mahawar, 41, said driving independently fills her with a sense of empowerment. Her children and family who had objected to the idea initially are also proud of her as her salary doubled, and the tourists were happy with her services.
The Pink City Rickshaw model
The company prioritizes women who have been working as maids, nurses, or shop helpers for a meagre salary of Rs 2,000-3,000 per month. Women aged between 18 and 45 are preferred, as they can adapt to the working conditions and pick things up quickly. However, the company does not discriminate based on age and has trained women as old as 55.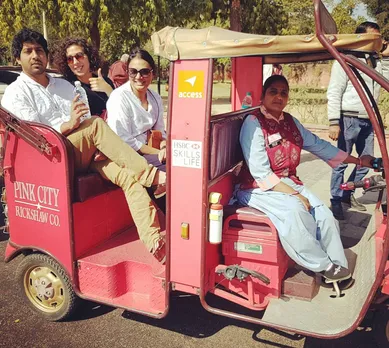 Gopesh Joshi, the marketing manager of Pink City Rickshaw Company, says the women must have a basic understanding of the Hindi language so that they can interact with guests or guides accompanying them. 
The company offers a 15-day training module where the women are taught how to drive e-rickshaws, traffic and safety rules, and how to maintain the rickshaw. An additional 7-day training program teaches soft skills and communication techniques for interacting with tourists. 
The company also helps the women understand different routes, how to use GPS systems and the basics of digital banking. They have successfully trained 200 women so far.
Also Read: Samoolam: How Usha Varia's social business crocheted a success story while empowering rural women in Bihar
Changing mindsets 
Pink City Rickshaw started with 35 rickshaws and 50 women, and although some members migrated to other places or started driving their own rickshaws, the number of women working with the company has remained stable over the years. It has provided these women with a means of supporting themselves and their families, something they may not have been able to do otherwise.
Unfortunately, the women faced discrimination and derogatory comments from the male community, but Pink City Rickshaw has taken strict actions against it. 
"Men often comment on us saying 'Should men wear bangles if women are driving rickshaws'," says 36-year-old Poonam Devi.
"Upon returning home, the comments often bother us but then we have to run a family and it doesn't matter in the long run," says Poonam, who has been associated with the company for five years.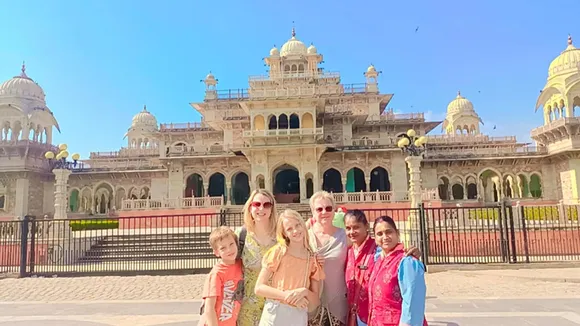 The company has partnered with various social organizations to ensure the safety of the rickshaw drivers and has provided helpline numbers for the women to call in case of any issues. The company usually sends women in groups and it receives the support of the local administration. 
The women's pay varies depending on the number of rides they take up. They usually earn around Rs 7,000 to Rs 10,000 per month during the peak season. 
While the company receives over 150 rides every month between September to March, it manages around 30-40 rides per month during the off-season. 
Also Read: Peoli: NID grads' slow fashion brand hand spins success story with natural yarns; empowers Uttarakhand women
E-rickshaws with a difference
The iconic pink rickshaws were designed to resemble a bugghi, which is a traditional cart that was pulled by horses. "Rajasthan is a place of royal families and palaces. We have tried to replicate the same comfort in our rickshaws. It accommodates two persons and has special shock absorbers," explains Joshi. One rickshaw costs around Rs 2.25 lakh. 
The pink e-rickshaws have been modified to include a foldable rooftop, mobile charger socket, water bottle storage, and a locker for passenger belongings. 
The e-rickshaws have an app with pre-identified routes to ensure the safety of both passengers and drivers.
When the pandemic struck, the streets of Jaipur were deserted and the Pink City Rickshaw Co. had to halt its operations. The custom-designed e-rickshaws that were once the pride of the city were rendered useless at that time. But amid that chaos, Gopesh Joshi took it upon himself to revive the project, determined to make a difference in the lives of the women drivers who depended on it for their livelihood.
Also Read: Indian Yards: Bengaluru couple quits top MNCs for the love of hinterland; empowers indigenous women of the Nilgiris through Macramé craft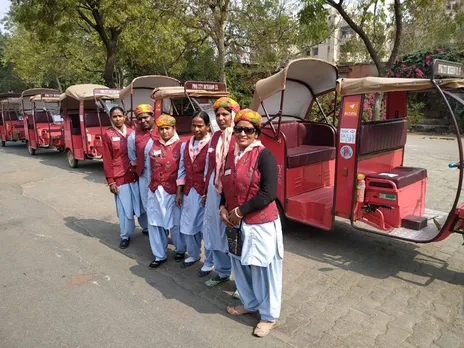 Joshi's unwavering spirit paid off as he managed to collect around Rs 12 lakh from ACCESS Development to repair the rickshaws. With the necessary approvals from the CEO, he breathed new life into the project and got the wheels moving once again. The women drivers, who had been struggling to make ends meet during the pandemic, were overjoyed to be back on the road and earning a living.
But Joshi's vision didn't stop there. He saw an opportunity to expand the project beyond Jaipur and bring the same empowerment to women in other parts of the country. 
With plans to set up operations in Goa, Hampi, Mysore, Jodhpur, Udaipur, and Varanasi, the Pink City Rickshaw Co is set to scale new heights.
There were still some who resisted the idea, but as the money started flowing in and the women drivers began to trust the project, the tide began to turn. The Pink City Rickshaw Co. is a shining example of how social entrepreneurship can drive positive change in communities and create new opportunities for those who need it the most.  
(Riya Singh is a Ranchi-based journalist who writes on women empowerment, environment & sustainability)
Also Read: School dropout woman entrepreneur skills 4,000 Kashmiri women in crewel embroidery