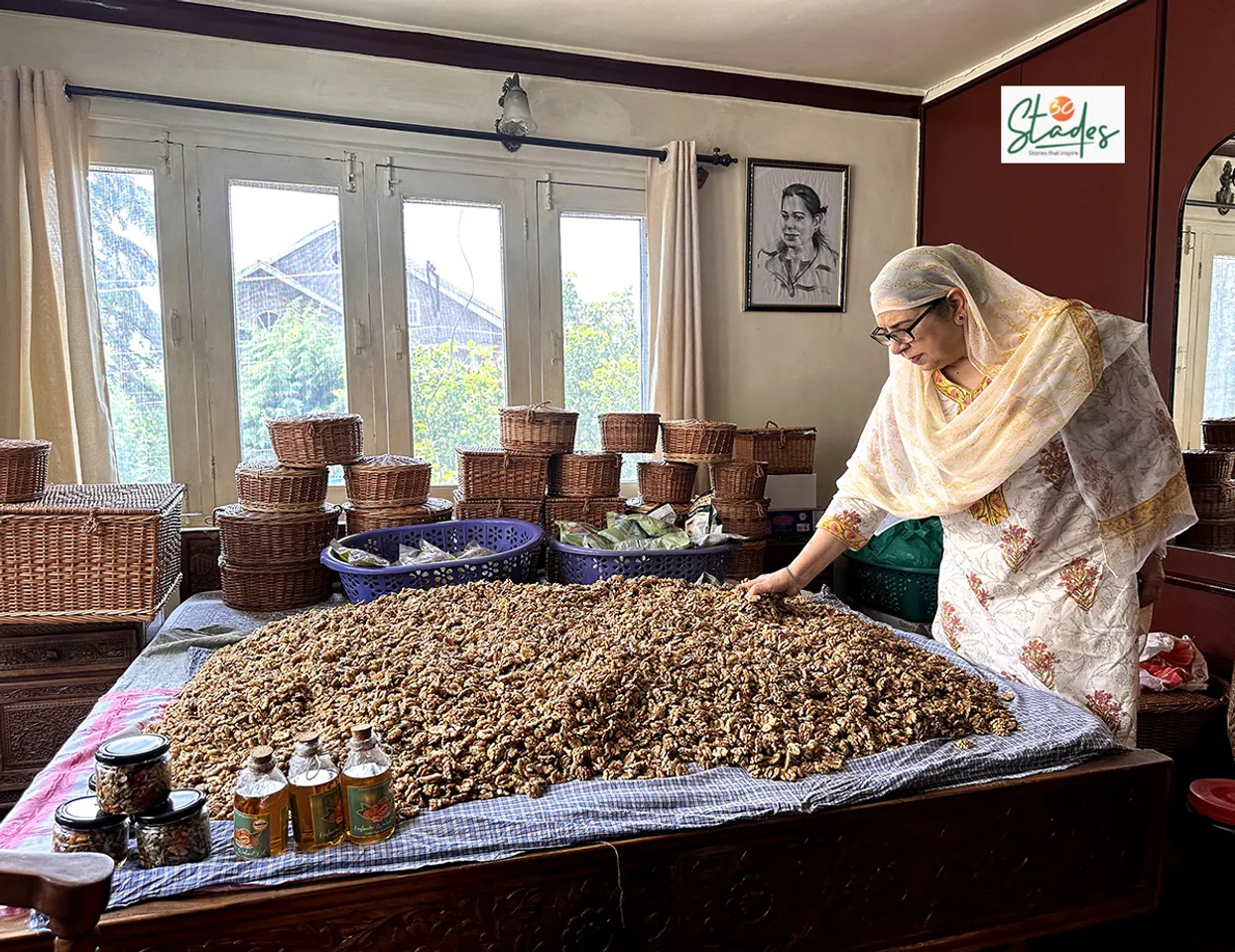 On a warm May afternoon in Srinagar, Anisa Bilal is selecting the best kernels from a heap of walnuts at her home in Srinagar. She sourced the walnuts from Kupwara, the district well known for its high-quality dry fruits. Owing to their wild and organic cultivation, these walnuts have a distinct nutty flavour that is missing in imported dry fruits. The kernels are carefully packed and couriered to an address in Chennai.
Anisa is 67 and she began her entrepreneurial journey post-retirement with the launch of Wild Valley Foods in 2021. With a B.Ed. degree and post-graduation in Urdu, Anisa taught at two Government Girls' Higher Secondary Schools in Srinagar during her 32-year teaching career – one in Kothi Bag at Lal Chowk and the other in Amira Kadal.
"After retirement, I didn't want to sit idle. I wanted to utilize my time well and also do something for the people of Kashmir. It's never too late to make a new start," Anisa says.
"Retired people are considered unproductive. However, I wanted to prove it wrong," she adds.
Feeding the food startup
The Kashmir valley is abundant in natural products and is known for its organic wild honey, saffron, fresh and dry fruits, herbs, a wide variety of beans, etc. "I decided to connect the local farmers and their natural products, mostly harvested in small batches, with people across and outside India through Wild Valley Foods," Anisa says.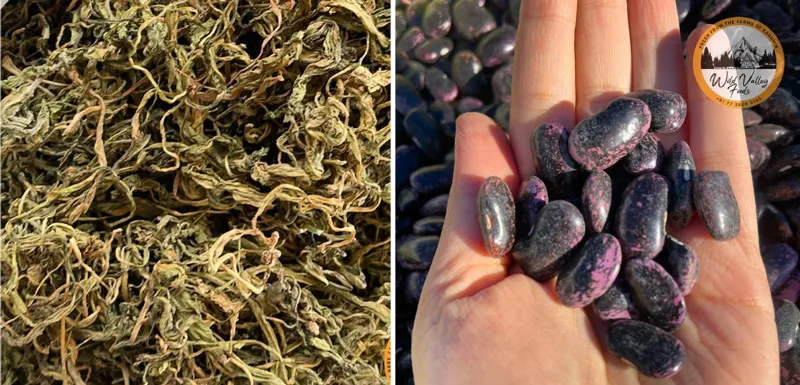 She had no prior knowledge about selecting the best quality dry fruits, saffron, honey, or raw seeds. "But my passion and dedication to the food business led me to learn about our native products, their sourcing, conducting quality checks etc.," she adds.
Anisa used her retirement funds and savings to start on a small scale with only five products – almonds, walnut, honey, saffron and some pulses. "In 2021, I started Wild Valley Foods Instagram page with zero followers but with a strong determination to promote and sell Kashmir's products from my home," she says.
Also Read: From ragi momos to snails, how tribal food is becoming the ambassador for Jharkhand's indigenous culture
In less than two years, her follower base has grown to 7,500. "Most of the orders come from Instagram and we also receive them through WhatsApp and our Facebook page," she says.
The journey from zero to 7,500, however, was far from easy. From hills to valleys across Kashmir, Anisa travelled to meet the farmers growing indigenous crops without chemicals to source the products.
"I travelled to Pampore in Pulwama for finding the best saffron, to Kargil for procuring the best quality cumin seeds (jeera), to Ladakh for apricots and beyond Kamalkote in Baramulla to get Gucchi - the world's costliest mushroom found in Kashmir," she says.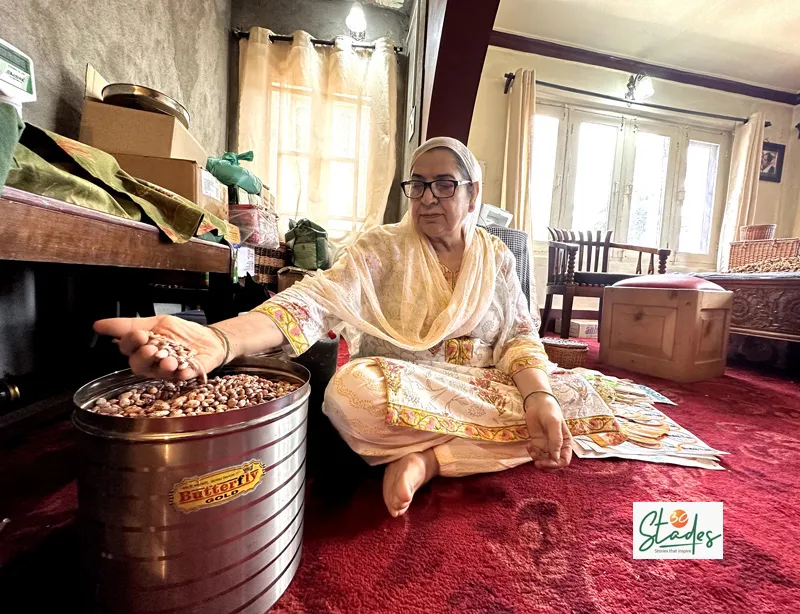 Introducing Kashmir's native foods to the world
One of Anisa's aims is to introduce the little-known indigenous foods of Kashmir to the world through her startup. Like the Gucchi or morel mushrooms, which have an earthy and nutty flavour, are not cultivated commercially. They grow in clusters in the wild on decaying wood and are loaded with minerals, iron, copper and vitamin D. They retail at Rs2300 for 100 gm.
"The rarity and labour-intensive process of picking Gucchi from the wild makes them one of the most expensive mushrooms in the world. We are able to procure only about a kg to 1.5 kg from a single farmer," she says. 
One of her products is Himalayan mountain garlic sourced from the hill ranges of the valley. With a hard outer covering, this garlic is considered to have seven times more potency than regular garlic. "This special variety is hand-harvested from the high mountains of the Himalayas," Anisa says. It is sold online for Rs 2200 per kg.
Also Read: From 9-to-5 job to making artisanal cheese, how Nitin Dayalu built Old Hill Foods in the Himalayas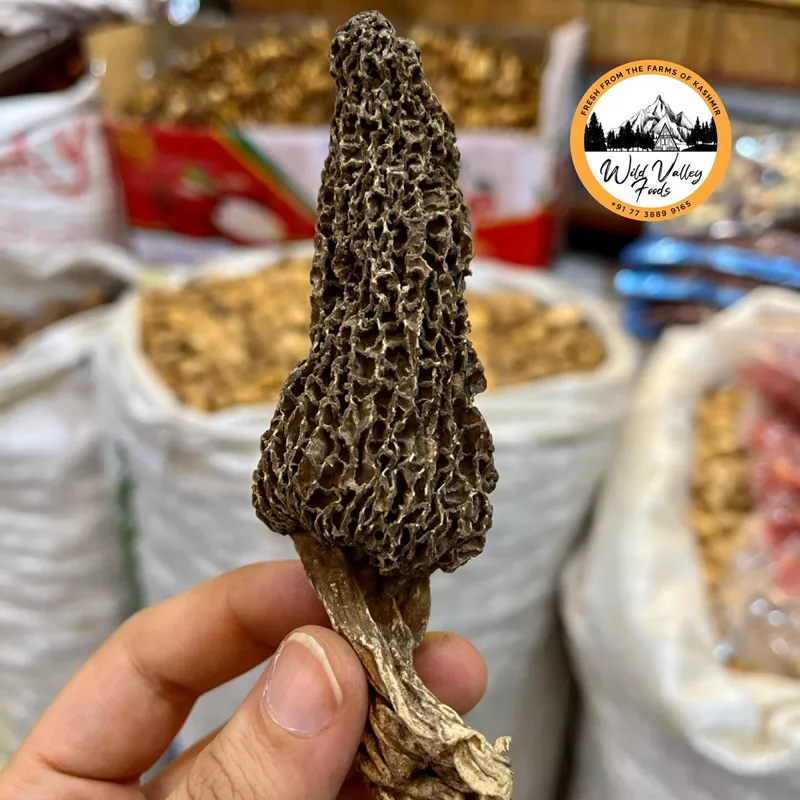 "Our native foods are full of minerals and antioxidants. Through my startup, I want to introduce the youth to our culinary heritage. It is better to use healthy natural products than eat junk food," Anisa says.
Wild Valley Foods also sells Kashmiri Hund or dandelion greens, which are sun-dried and need to be soaked in water before cooking. "These greens are a favourite in Kashmiri cooking and are usually eaten in combination with mutton. Their slight bitter taste gives the dish a unique flavour," she explains.
Their Kashmiri red rice, locally called Zagg Batt, is grown in a small village called Tangdhar in Kashmir. Located on the border with Pakistan, it is also known as the 'last village of India'. Kashmiri Red Rice gets its name from its small red-coloured unpolished grains that are sought for their superior texture and taste, Anisa says.
Also Read: Aamon: Tribal women in violence-hit Bengal province triple incomes with organic rice; revive traditional varieties
Impacting local livelihoods
Honey-soaked nuts, dried rose petals, dried quince apple slices, various types of Kashmiri broad beans, Afghan black raisins, Mabroom dates, dried cranberries, almond oil, apricot oil, chillies and Kashmiri Hokh Syun (dried vegetables) are among the products sold by Wild Valley Foods. "We have sold as far as South India and in Dubai among the overseas markets. We have more international orders in the pipeline," she says.
"The sales are growing much faster than I had anticipated. With trusted farmer partners in place, sourcing is easier now," Anisa says.
She works with 15 farmers on a regular basis, procuring their output at higher-than-market rates. She also employs other local people. "The products are cleaned, sorted and stored in glass and steel jars. My employees help with packaging and couriering the products. I use a local courier company as the idea is to generate maximum employment opportunities here," says Anisa, whose son and daughter help her whenever required. Her husband passed away four years back.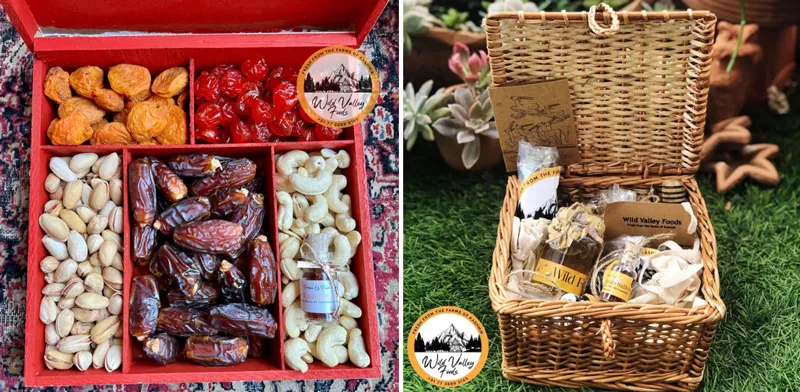 While Anisa employs four women for sewing cotton bags for packaging, she buys bottles for packaging saffron, honey, nuts and gulkand from local shops. The gifting boxes and baskets are procured from artisans in the valley. "For gifting, I use eco-friendly willow wicker baskets handmade by artisans, both men and women, in Ganderbal. I also use paper mache boxes as it creates livelihood opportunities for local craftspeople and also familiarizes others with Kashmir's cultural heritage," she says.
But this is not all. Anisa says she is expanding her product range by introducing ground masalas like that for Kashmiri Rogan Josh and adding more vegetables to her Hokh Syun repertoire. "I plan to do a lot more. It's better to do something than sit idle," she says with a smile. With her work, Anisa has proven that age is just a number.
(Wasim Nabi is a Srinagar-based freelance multimedia journalist)
Also Read: Triguni Eze Eats: How 79-year-old Radha Daga's ready-to-eat meals travelled the world with Indigo airline