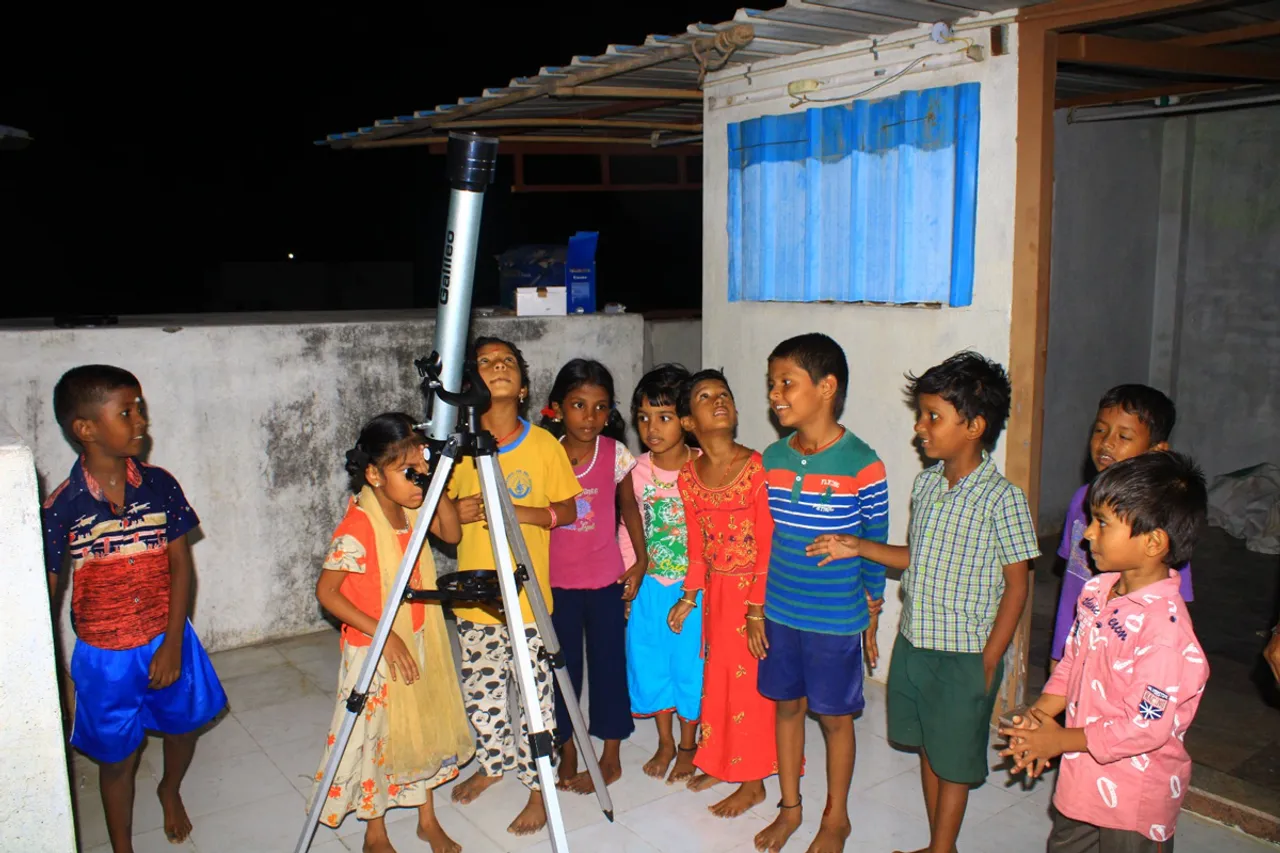 Art heals. And if the passion for art is discovered early, it can also become your career. This is the case with 25-year-old Chennai-based motion and graphic designer Vigneshwaran, an alum of Madurai Seed. Thanks to the Karumbalai-based NGO, Vigneshwaran could discover his talent for paintbrushes and canvas, and make a career by taking his art on paper onto a computer.
"I come from a struggling family and was not able to afford tuition. I joined Madurai Seed first as part of its summer camps. Eventually, I enrolled myself there in the fifth standard and continued until class 12. In fact, it was here where I discovered my passion for art and design," says Vigneshwaran who hails Madurai Seed for making him what he is now. 
Vigneshwaran, who comes from an economically disadvantaged family, says, "I used to spend most of the time there and learned much more beyond studies." While he later pursued his B.Com and came back to volunteer to teach high school students, it was also the time he debated on pursuing his real passion, photography, and designing. But how did he discover his likings?
"I used to draw since childhood. The NGO's magazine called Pudhuyugam is put together by children. When I saw it for the first time in fifth grade, I too wanted my drawings to be part of it. Once my interests were discovered, they selected me for a 7-day workshop in Tiruvanamalai, where I learned arts and design," he says. 
Madurai Seed taps into the potential of its students in specific areas. "If someone has an interest in photography, they give them the charge of covering an event," says Vigneshwaran who did a two-year design course while volunteering at Madurai Seed.
Also Read: How Barmer's NGO Fifty Villagers is helping underprivileged students become doctors
The NGO not only was responsible for Vigneshwaran finding his true calling but also for understanding his needs. "The moment I wondered how I could survive with the art I make on paper, it instigated me to think about learning digital software. At that time, I had drawn a visiting foreigner, Andrea, as a gift. She was impressed and sponsored me and I did a two-year course!" says the ecstatic designer.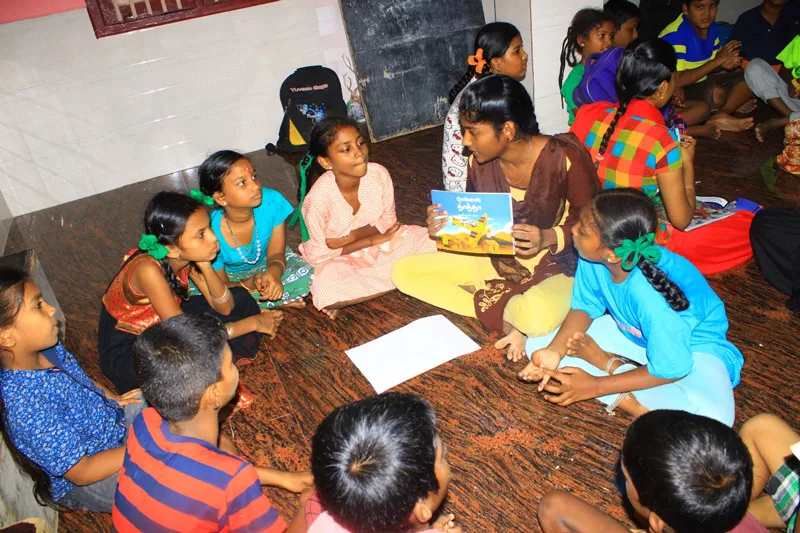 This is just one of the many success stories of Madurai Seed which is in its 25th academic year now.
About 1,000 students have benefited from the NGO so far. Currently, 182 students (22 college-going and 160 school-going) are enrolled with Madurai Seed. 
How did Madurai Seed start?
Operating in Madurai since 1999, the organisation is the brainchild of AS Karthikbharathi, also a resident of the same place, which comprises a population of domestic labourers, scavengers, and other physical tasks. Students attend classes in the evenings after their school hours. 
"While the surrounding area is developed, Karumbalai is still en route to development. About 25 years ago, before starting this, the literacy level was very low," says Karthikbharathi, whose parents were labourers. 
Once a child labourer himself, Karthikbharathi was the only one among eight siblings to continue his education after the seventh grade. 
After his schooling was stopped due to financial struggles, Karthikbharathi joined an aided school. It was at this time in 1992 that he joined as a volunteer at the Tamil Nadu Ariviyil Iyakam government programme, which paved the way to growing awareness of education. 
"I was 13 and used to teach adults who didn't know how to read and write. This further instigated me to study and when I was in class 12, I worked with another foundation that disseminated education." 
Also Read: Raju Kendre: Farmer's son connecting youth from tribal & marginalised communities with India's top educational institutions
But as fate had other plans, Karthikbharathi failed in class 12. It did not, however, distance him from education. Instead, his work with the students reignited the fire within him to pass the exams and take up Tamil literature while pursuing under graduation at The American College in Madurai. As he joined the NSS, Karthibharathi initiated a project where every student was offered to take evening classes for those who could not afford it.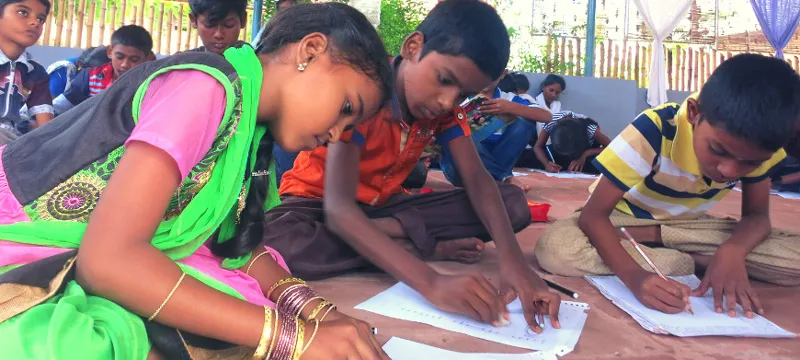 "I got a good response and initiated education centres for students in Karumbalai and other places. It became successful and I got the best volunteer award. I was able to acquire leadership qualities but after finishing college, I was in dilemma whether to continue the centres I started or pursue higher education. I pursued an MA and also started Madurai Seed as a foreign aid project in 1999. I began to concentrate on Karumbalai and it has been 25 years since then!" heaves Karthikbharathi. 
As of 2023, 22 college-going volunteers who studied here are taking classes during the evening. They are paid a stipend and their college fee is sponsored by the NGO. Five of them are pursuing B.Ed.
Process, classes and volunteers 
In Madurai Seed, the members aim to not segregate the students based on their marks, thus avoiding discrimination between "bright" and "dull" students. 
While schools today conduct multiple tests even for kindergarten admission, Madurai Seed is different. "We only assess whether the student shows regularity, their financial status, and most importantly, their interest to learn," says Karthikbharathi, while giving the example of volunteer student Bhavani. 
Also Read: Listening, teaching & inspiring: How Chennai's TQI is mentoring students in 30 districts
Bhavani, 21, whose father is a labourer, is one among his three daughters and also hails from Karumbalai. "In her batch, about 26 people finished 12th, but only three of them are volunteering and able to be sponsored. We also would like to have students who show their willingness to contribute to the NGO continue to work with us," the founder says.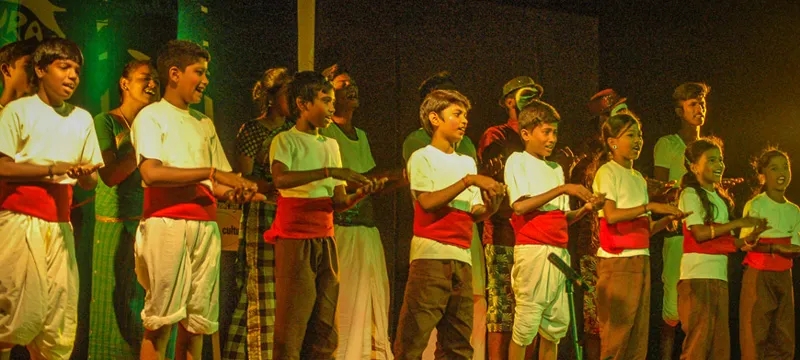 Bhavani, who studied at the NGO since class three, says, "I got to know about Madurai Seed through a volunteer. Since then, I have been associated with it. I finished my B.Sc Maths and I am now pursuing B.Ed. I also teach math to five students in classes 11 and 12.
With this year the NGO hosting 22 college students and 160 school children, Karthikbharathi believes that space is indeed essential for a good environment of education. 
In Madurai Seed, classes don't range from 1 to 12. Instead, the students are put in categories -- Vandugal Arangam (1-4th standard or 6- 9 years), Vergal (5-8th or 10-13 years), Kanavugal (from 9-12th or 14-17 years), and Thedalgal Arangam centred around personality development programmes.
"Thedalgal holds a special place because it focuses on areas like theatre, creative workshops and photography classes," says Vigneshwaran.
Life lessons 
Madurai Seed not only aims to fill in the shoes of a regular educational institution but also wants its students to have all-rounded growth. Alongside tuition and extracurricular activities, it also teaches students how to save. 
Also Read: Sakhi for Girls' Education: 100% pass, zero dropouts among girls in Mumbai slums
Named Thenkoodu, the children's bank aims to help them learn the importance of savings and take up the responsibilities of their expenses. 
Each student is provided a passbook and the minimum saving amount is as low as Re 1. The students earn 20 percent interest on their savings. 
"This bank has helped me to save and with the interest, we could buy a schoolbag or book at the end of the year. Each group also has a voted president through which we are entrusted with responsibilities and building leadership qualities," says Vigneshwaran.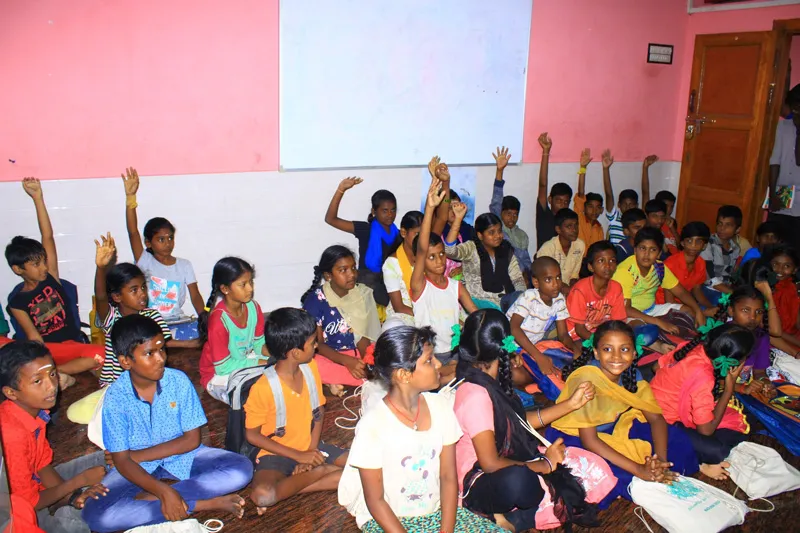 However, what Vigneshwaran highlights is one's ability to learn and gather the courage to talk in front of anyone. "You can speak your heart out without thinking about being judged. Maybe if schools had all these, a Madurai SEED would not have been needed. But for underprivileged children, this place has more than just a favour. Even for computers, I was exposed to them early on that when it came to my school, it wasn't a new thing to me."
As Karthikbharathi concludes, Madurai Seed has broken the notion that only bright students can occupy the front row or only good-looking ones can perform onstage. And just by his side, we hear the voice of Manoranjini, a 12th-grade student, who eagerly says, "One day, I aim to become a civil lawyer."
(US Anu is a Madurai-based writer. She specialises in stories around human interest, environment and art and culture.)
Also Read: Coimbatore's Kalvi Thunai: How a retired couple's zero-fee education centre is giving a bright future to thousands of underprivileged children