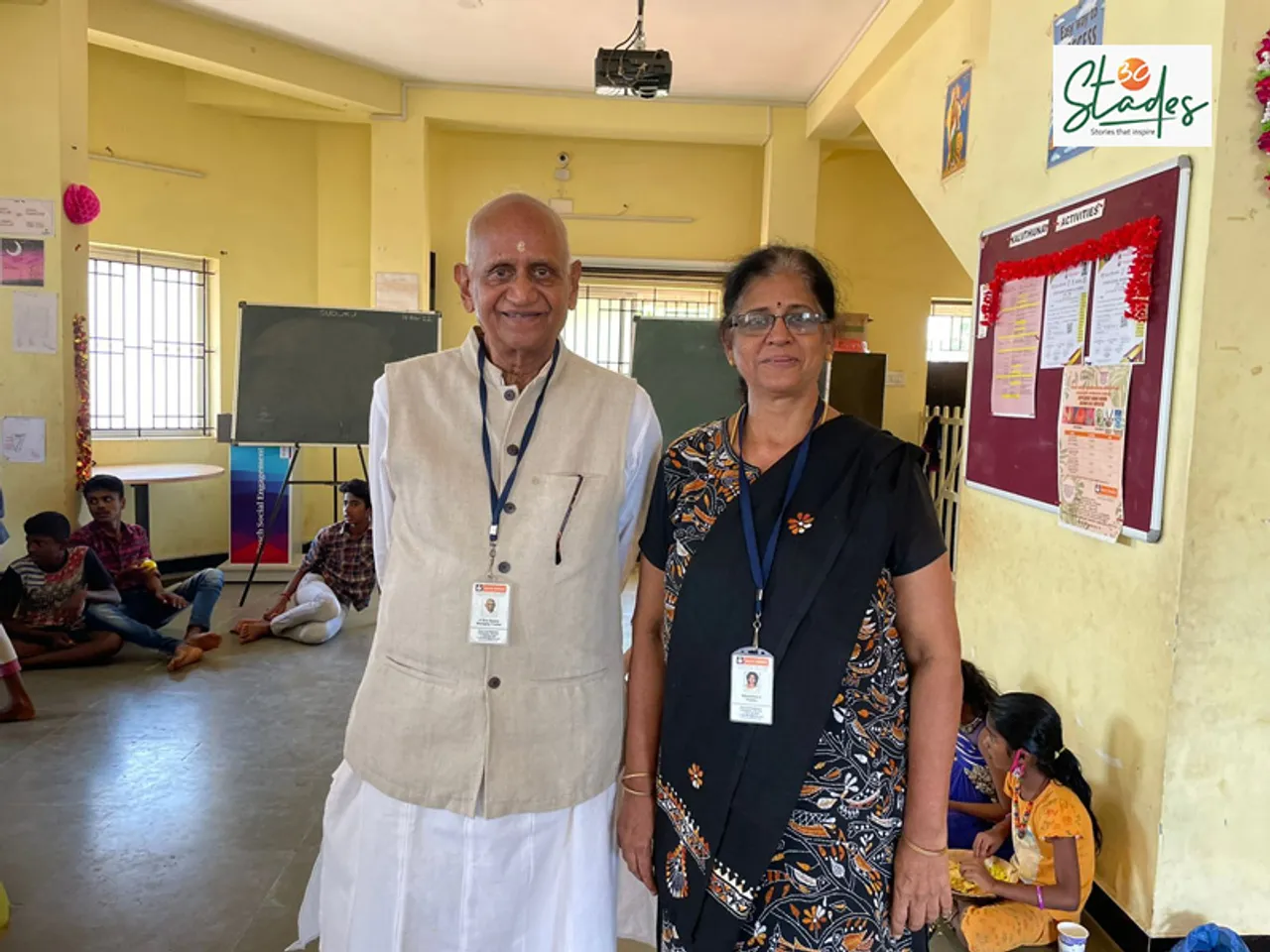 On a Saturday morning, in a yellowish-orange stucco building on a barren patch of land in the suburbs of Coimbatore, around 50 children can be seen trying their hand at Sudoku – a logic-based number-placement puzzle. A teacher has hand-drawn two puzzles on two blackboards and the students try to fill the boxes. 
After Sudoku, a teacher teaches spellings of eight-letter words by playing Hangman – the game technique that increases vocabulary. The older children, meanwhile, are participating in a team-building exercise conducted by an HR consultant volunteering with Kalvi Thunai, a zero-fee after-school centre where underprivileged children receive education assistance.
"The numbers today are just a fraction of our student strength," says V Siva Swamy, 73, who along with his wife Mahalakshmi, started Kalvi Thunai in 2014. A public charitable trust, Kalvi Thunai translates to "education assistance" in Tamil and it only accepts children from government schools. 
Also Read: How Barmer's NGO Fifty Villagers is helping underprivileged students become doctors
Educating the underprivileged
Swamy says, "We have 150 students, from class four to 12, who study here from 4.30 pm to 8.30 pm. We have 10 teachers on rolls with us. Students from each class have one teacher allotted to them, while students from classes 11 and 12 alone have two teachers—one for science group and one for commerce group".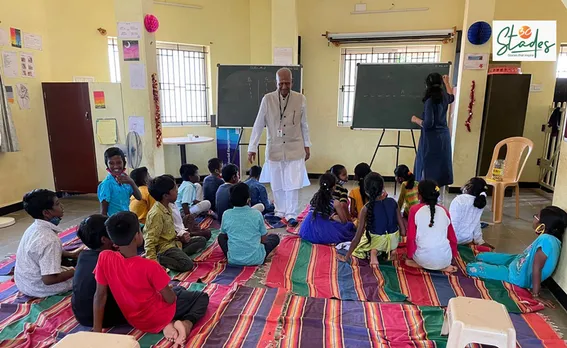 The teachers mainly go over the lessons children studied in school, clearing their doubts, explaining concepts again for better understanding and ensuring that children finish their homework. "Going to school after finishing our homework and preparing for a test makes a world of difference in how we feel about school and studies," confesses the centre's class six teacher Nandhani. 
"My parents were poor and could not afford tuition. I did not know how to revise my lessons and sometimes I didn't understand what was taught in the class. So I could not complete my homework," she explains. 
Also Read: Raju Kendre: Farmer's son connecting youth from tribal & marginalised communities with India's top educational institutions
Nandhani joined Kalvi Thunai in 2014 in class nine, completed her education with the centre's guidance, went on to do her B.Com, and then returned to Kalvi Thunai as a teacher. Nandhani became the first girl in her family to complete class 12 and get a college degree.
From home to the tuition centre
Swamy says Kalvi Thunai started very small in 2013 after he and Mahalakshmi moved into a retirement home called Covai S3 in 2010. "Mahalakshmi began teaching our housemaids' children and it was lovely seeing them improve. Knowing her passion for social service, we decided to buy a small building and convert it into a free tuition centre for poor children," he adds.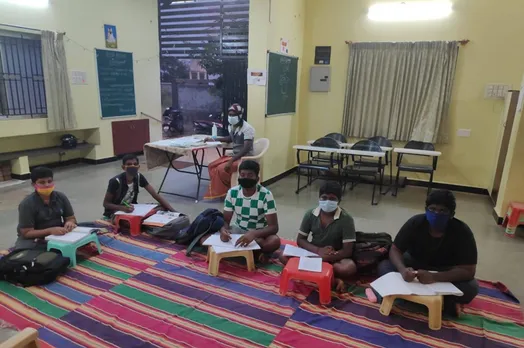 Mahalakshmi says they began getting students through sheer word of mouth. "When the number of students began increasing, we began recruiting teachers," she says. While five of the 10 teachers have completed their post-graduation degrees, teachers of junior classes have completed their graduation. 
Also Read: Abha Kunj: Zero-cost education gives a better future to Indore's underprivileged kids
Soon after starting the centre, Swamy and Mahalakshmi began facing challenges. "Many students come from problematic households, including an alcoholic or abusive parent. Some wanted their children to start earning," says Swamy. 
With tuition being free, there were chances of it not being taken seriously. So, the couple began focussing on offering holistic learning. "This includes offering children a sumptuous snack after their class, like channa, biscuits with south Indian snacks or a variety of rice. We have storytelling sessions every Friday and spoken English classes every Sunday morning to make the subjects interesting. We also have events, fun-based learning, art and craft sessions etc." says Mahalakshmi. 
Also Read: Listening, teaching & inspiring: How Chennai's TQI is mentoring students in 30 districts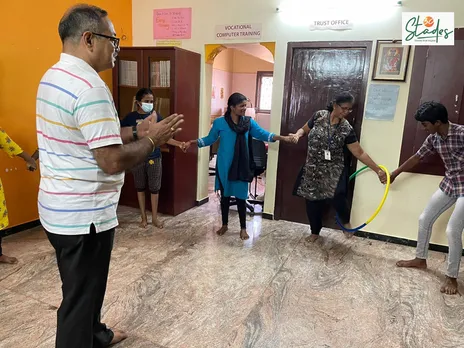 "We conduct cultural programs, take students to field trips, have game sessions and let them have fun." 
Focus on building skills
"Our mission is to ensure that children complete their schooling and they join a program focussing on skills," says Swamy. 
"I advise students to join a skill-based programme rather than a tier-three engineering or art college, which will cost the poor family anywhere between Rs 30,000 to Rs 70,000 a year, and usually leave the students without a job."
With this aim in mind, Kalvi Thunai launched vocational courses in 2017. 
Also Read: To Sir, with Love: Bhopal journalist empowers underprivileged girls through education
"For CA foundation we have the support of husband-wife team Sujatha and Sathayamurthy from Indus Valley as volunteers. We also offer coaching in MS Office, Tally, Aari embroidery and a three-month soft skills program designed by Bosch using the services of qualified teachers.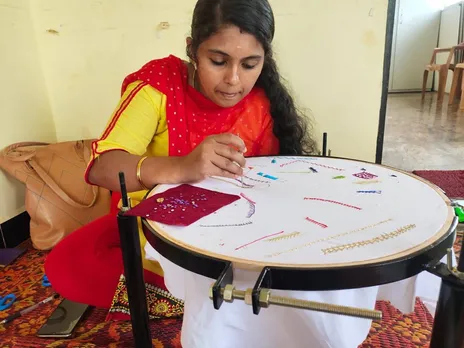 "Many students from the Bosch program, including a girl who could afford only one set of clothes, have now transformed into smart, well-dressed sales, front office and back-office personnel at top brand showrooms," says Swamy. 
"Our students are working at Lifestyle, Louis Phillipe, and Pantaloons among other brands."
Even during the pandemic, Swamy and Mahalakshmi, refused to give up. "We realised many of our students had begun going to work and not attending online classes conducted by the government education department. We along with our dedicated teachers went house-to-house, offering to take tuitions for our students at their homes," says Swamy. 
Also Read: From chalk-and-talk to doing-and-learning, how Bangalore's Mantra4Change is transforming education in under-resourced schools
"There was a lot of resistance, but we gathered groups of eight to 10 students, made them come to one house in the neighbourhood and conducted classes," he recalls.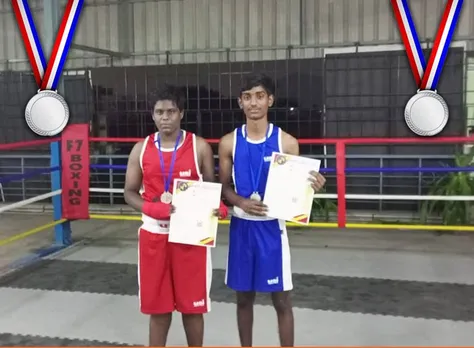 From November 2021, the couple said things began to normalise. "Teachers and children began returning in full strength. Our centre which had become silent, is now bustling with happy sounds of children chatting, laughing, getting doubts cleared and shouting out answers to quizzes and telling stories," says Mahalakshmi.
"We are on the WIPRO CSR panel, so they give us Rs 5 lakh a year, other regular donors give us Rs 3 lakh a year. The remaining 3 lakh is usually met through ad hoc donations, interest from our corpus fund among others," says Swamy.
 In fact, they were one of the first NGOs to get back their 80G exemption certificate when all the NGOs were asked to reapply.
Also Read: How free education became a passport to London and Rome varsities for underprivileged Kerala boys
Priyadarshini, a class 12 student, who has been coming to the centre for the past six years, recalls how her brother joined a training program with Titan through Siva Swamy's recommendation and guidance after completing his class 12 exams with Kalvi Thunai's coaching. "I don't have a father and my mother earns hardly Rs 3,000 from her job. My brother now sends Rs 5,000 from his monthly stipend to support us. He got into Titan because of Swamy sir," she says.
The teachers too say it feels special teaching in this centre. "I have not seen an NGO-run education centre being operated with so much dedication and professionalism. The results of this can be seen mainly in the children's happy faces, their confidence when they walk in here and interact with us and their marked improvement in academics," says coordinator and teacher Sindhu Rani. 
Also Read: Bharti Foundation provides zero-cost education to over 40,000 underprivileged kids
During their free time, Swamy and Mahalakshmi along with the support of Meera Menon who lives in Indus Valley, offer career counselling to their students of classes 10, 11 and 12 and help them choose careers, and skills or jobs that offer growth opportunities. 
"There is no dearth of jobs in India, specifically in Coimbatore and Tamil Nadu, but landing a job with scope for growth and lasting in the job till you see growth is what students need guidance and motivation in. That is when their life begins to change," signs off Swamy.
(Pratiksha Ramkumar is a Coimbatore-based journalist, specializing in writing on public health, agriculture and social issues. She is passionate about telling stories of inspirational people and events.)
Also Read: Sakhi for Girls' Education: 100% pass, zero dropouts among girls in Mumbai slums