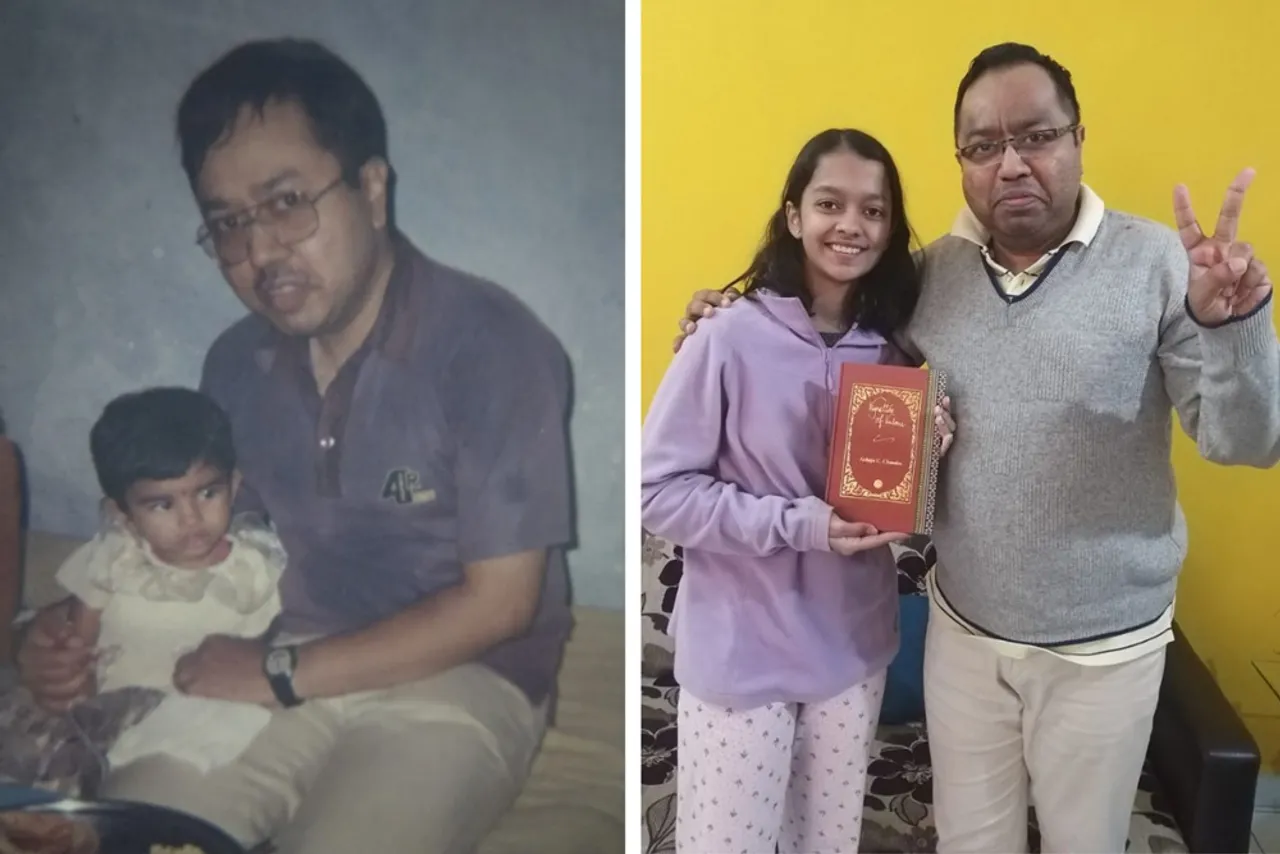 French writer Victor-Marie Hugo's famous quote on education goes thus: "He, who opens a school door, closes a prison."
However, 46-year-old journalist Abhijit C. Chandra – who has been battling schizophrenia since childhood and also has other health issues – possesses neither the wherewithal to establish an academic institution nor the authority to shut down a correctional facility.
Inspired by the Indian Army since his primary schooldays when he studied within the immense cantonment at the Southern Command Headquarters, Pune, his goal is simple - betterment and empowerment of girls through education.
"My idea is to educate girls at least until graduation so that they may obtain decent employment and be self-reliant," he says.
Read more: Sakhi for Girls' Education: 100% pass, zero dropouts among girls in Mumbai slums
'Bouquet of Life' is a collection of middles penned by him and 'Vignettes of Valour' is a selection of reports filed by him based on his interviews with Indian Armed Forces' officers, veterans and martyrs' families.
Having been educated in Maharashtra, Andhra Pradesh, Tamil Nadu and Delhi; Madhya Pradesh was his maiden exposure to a 'developing' state and Abhijit chanced upon utter nightmares of paucity while working for a national news agency.
Also Read: From chalk-and-talk to doing-and-learning, how Bangalore's Mantra4Change is transforming education in under-resourced schools
Supporting the neglected girl child
Particularly saddening was the condition of girls and women in Madhya Pradesh. There were heart-rending stories of neglect, brutal assault and also an instance where an indigent farmer yoked his daughters to a plough.
While working in Bhopal, he found a rakhi sister in Savita Soni, the daughter of a lady who ran a tea kiosk outside Abhijit's office. He began financially assisting her education and even started saving for her marriage. However, fate willed otherwise.
Also Read: How i-Saksham's young education leaders are driving change in Bihar's most backward districts
Savita's suicide in September 2004 at the tender age of 14 came as a blow that was shocking in its suddenness and indescribable in its intensity.
"People used to call her Gudiya but I called her Savi," Abhijit says.
Some weeks later, a 'kanya bhoj' was arranged at his residence. "I sat with the girls as they ate. Seeing them talking, laughing and enjoying the meal, it struck me that though my Savi would never return, I could maybe make a difference in other girls' lives," Abhijit recalls.
Also Read: How i-Saksham's young education leaders are driving change in Bihar's most backward districts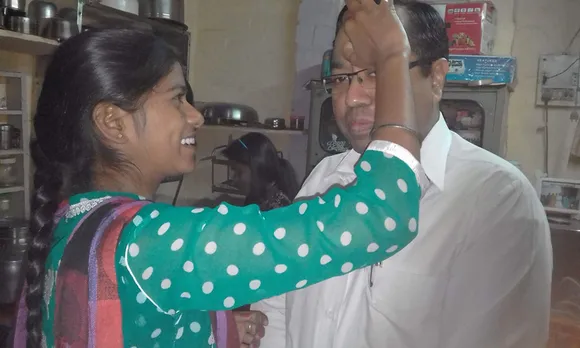 The beginning was made with Jyoti Prabhari, the little daughter of his maidservant Kanchan.
Today, Jyoti – a married woman – has completed a B.Sc. (Nursing) course with help from the state dispensation.
Also Read: How Barmer's NGO Fifty Villagers is helping underprivileged students become doctors
And this has been Abhijit's way to improve the lives of underprivileged girls – support them by not only financing education, but also help them with studies, guide them in selecting a vocational or professional course as per their abilities and helping them as and when needed.
Transforming lives
Abhijit also financed the higher secondary and further education of Savi's niece Aarti Soni who is now completing her M.Com and preparing for the Civil Services Examination. As Abhijit appeared four times for that exam – and prepared for nine years while simultaneously employed – he is a guide.
Jyoti Sen is another of Abhijit's protegees. She is the maternal granddaughter of his barber Nathuram whose daughter returned to her parents' place after being ill cared for by her drunkard spouse. This Jyoti has completed her B.Com and is preparing for the banking entrance exam.
Also Read: Bharti Foundation provides zero-cost education to over 40,000 underprivileged kids
He purchased dozens of books for Anushka Basu – the daughter of an erstwhile colleague who died unnaturally. Anu is in her final year and also readying for the Civils. Abhijit is also a teacher to his senior colleague's child Pranjal Jain, a salesman's son Ankush Singh and maidservant Vandana among others.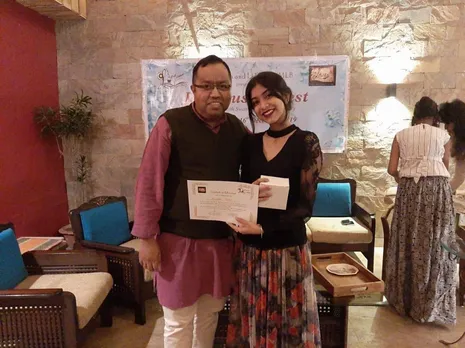 Jyoti Prabhari's cousin Vandana Atude – a mill worker's daughter – approached Abhijit for financial assistance vis-à-vis her college education and he helped her for a year. Providentially, Vandana got married into a financially-stable family.
Also Read: Gyanada: where children from Mumbai's slums code, compute and create apps
When Jyoti Sen desperately needed Rs 15,000 for her sophomore year annual fees, Abhijit's former colleague Subha J. Rao stepped in and requested a golden-hearted businessman Nandakumar Ganesh to help.
Another ex-colleague Sanjiv Kumar Sinha also pitched in and wrote about Abhijit's work on his Facebook page thereby getting about a dozen people to contribute. They included Vibhuti and Arthi, the latter made a generous contribution from the United States.
Also Read: Listening, teaching & inspiring: How Chennai's TQI is mentoring students in 30 districts
"I received a total of almost Rs 90,000 which greatly helped in financing Jyoti Prabhari's health requirements as she is going through a complex pregnancy," says Abhijit.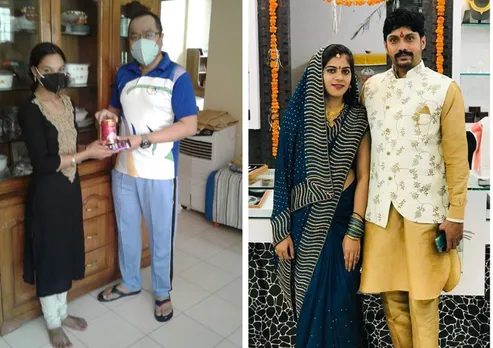 He does not teach in a classroom set-up as he says pupils do better with individual attention. "My auditory and visual hallucinations constitute a challenge but I shall overcome," he says.
Also Read: How free education became a passport to London and Rome varsities for underprivileged Kerala boys
"The government gave the slogan of 'Each One Teach One' as part of the literacy mission. I feel we should raise the cry 'Each One Adopt One' and look after individuals holistically instead of banking on the government and the administration to do everything," he adds. 
Abhijit's current projects include the college education of Aarti's cousin Ritika and Jyoti Sen's coaching class fees. Ritika desires to eventually assume the mantle of an Indian Police Service officer. With a teacher like him, realising their dreams must definitely be a tad easier for his students.
(Urvashi Dev Rawal is a Jaipur-based journalist specialising in development, gender, and political reporting)
Also Read: Abha Kunj: Zero-cost education gives a better future to Indore's underprivileged kids