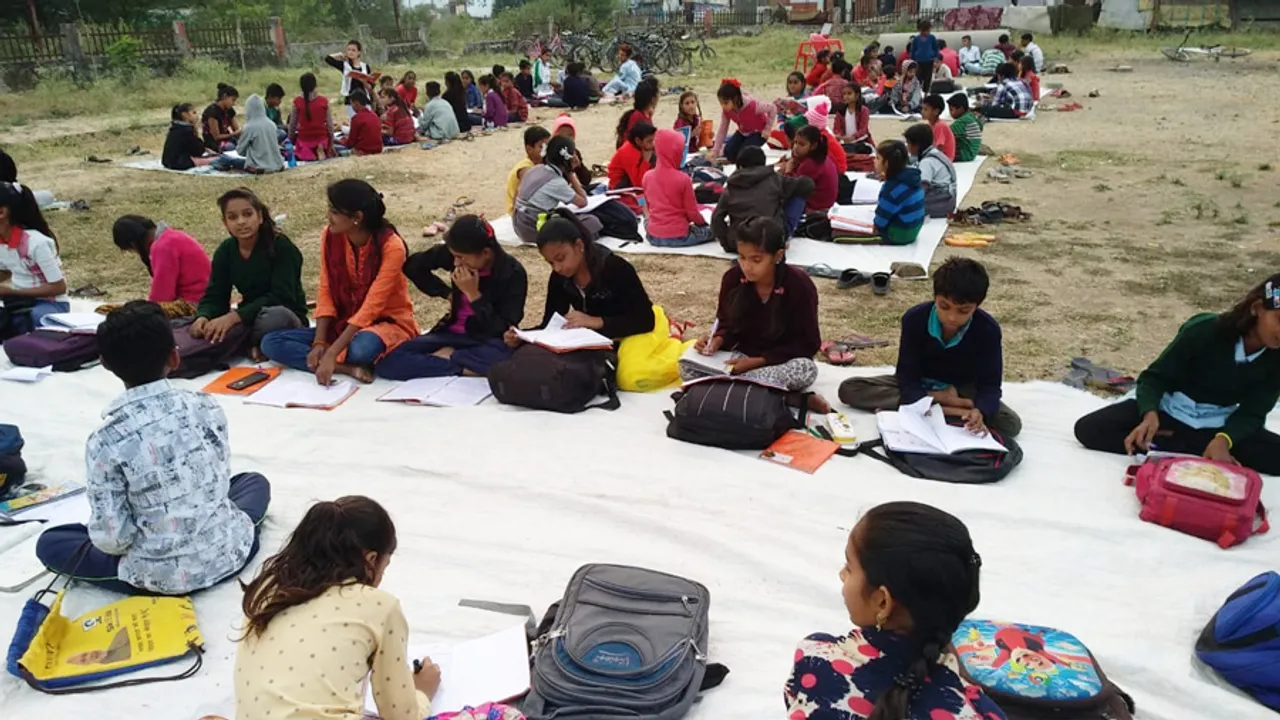 A long stretch of road outside Dr Lalita Sharma Anant's house in Indore, Madhya Pradesh, starts buzzing with life every morning. Hundreds of children pour in with books, bags and hopes of a bright future. Some of these children have lost their parents while others cannot grasp what is taught in the municipal school. And some others have never been to a formal school.
Abha Kunj, an NGO set up by Dr Lalita, has been hosting open-air learning classes since 2009 for everyone with a thirst for knowledge. With a batch of 500 students each year, Abha Kunj has benefitted around 1400 families in the last 12 years. The classes start in the morning and continue through the day as students come in batches depending on their school timing
Also Read: Lockdown: Kashmir's teachers run open-air classrooms as Internet ban rules out online education
Incident that changed thousands of lives
Dr Lalita, a former associate law professor at Devi Ahilya University and St. Paul's Institute in Indore, was satisfied with the quality education she was imparting at her colleges until the day some minors roaming around her house caught her attention.
"I saw them when I visited my house on the outskirts of the city. Most of them were young; they indulged in smoking and gambling, were shabbily dressed and loitered around the neighbourhood. Some had lost their parents while others had to earn a living at a young age. The deplorable condition of the youngsters, who are the country's future, saddened me," she recalls.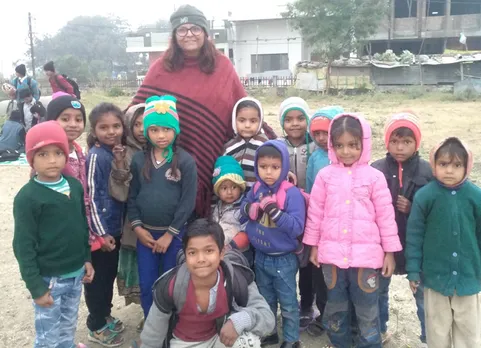 While such instances often set people thinking, rarely do they take any action. However, Dr Lalita decided to bring about a change. Shortly after this incident, in November 2009, she made a group of eight student volunteers from her colleges and acquaintances to counsel the parents of these children and allow them to study.
Also Read: Sakhi for Girls' Education: 100% pass, zero dropouts among girls in Mumbai slums
The efforts worked and she started with a class of 15 students under her roof; anyone having an appetite for learning was welcome to her free home classes.
When the roads began cramming with students, she shifted to a huge public garden near her house.
Also Read: How i-Saksham's young education leaders are driving change in Bihar's most backward districts
How Abha Kunj teaches & trains students
The annual batch of 500 students is divided into 32 groups, each headed by a senior volunteer. They take classes simultaneously under the blue skies. The NGO not only focuses on the literary development of students but also instils lifelong virtues by assigning simple chores like cleaning the garden or installing dustbins in the locality.
For senior volunteers, the NGO also provides skill training, digital training and vocational courses early in the morning.
Also Read: Bharti Foundation provides zero-cost education to over 40,000 underprivileged kids
Varsha Bijori, a 20-year-old, B.Com final year student who has benefitted from these training sessions says, "The digital training sessions have enabled us to create our projects, handle computers, and complete our assignments." After college, Varsha is back in Abha Kunj to teach the younger lot.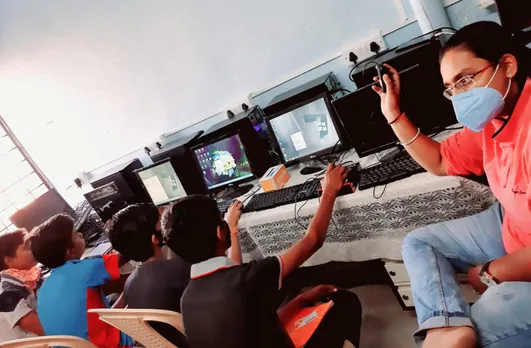 The senior volunteers payback by giving literacy classes to junior students. Dr Lalita, a non-believer of 'one size fits all', personally assesses each student to discern their interests and capabilities, based on which they are grouped. They are offered creative lesson plans and activities for holistic development involving life skills as well. The students are engaged in role-play, craft activities, group projects that stimulate empathy, teamwork, communication, etiquette, and problem-solving skills.
Also Read: How Bihar's Lahanti Club is preserving Santhali culture
Special attention is given to the newcomers who take around three months to settle down before they mingle with other students. "Initially we keep them in separate groups where we work on their language, habits, and behaviour.
"At times, we have to clean their nose and comb their hair. However, it is surprising how these small elements later reflect in their personality," says Dr Lalita. She won the national award for '100 most impactful women in India' in the category of education in 2016.
Apart from the training sessions, Abha Kunj also hosts counselling sessions by professional psychologists to counsel the parents who don't allow their girl children to study further, or to help students battling depression, poverty, and other ills. Regular health check-up camps are organised for better hygiene and nutrition awareness.
Lives that have changed for the better
Many students associated with Abha Kunj since childhoods are now pursuing higher education in prestigious institutions; some have taken up jobs in the education and social sectors.
Also Read: How free education became a passport to London and Rome varsities for underprivileged Kerala boys
22-year-old Kajal Chandel, an office assistant in Abha Kunj says, "I had to drop out of school after class 8 when my father met with an accident and was left paralysed. Dr Lalita helped me continue my studies. She has been a true mentor and guided me in every step; had it not been for her I wouldn't have completed my studies."
Also Read: Build digital capacity in the education sector
Abha Kunj continues to support its student chain by providing for their needs. Senior students facing financial difficulties get incentives, varying from Rs1,000 to Rs5,000, for teaching the junior kids. From providing stationery, to help find jobs, or pay school fees, Dr Lalita pays close attention to each of her student's needs.
During COVID19, some of the volunteers started a series of mohalla (neighbourhood) classes to teach the students who could not access online education. Some others began the production of masks and PPE kits to support their families. The students nurtured under Dr Lalita's selfless guidance meet her expectations of giving back to society from where they have learnt.
(Rishika Agarwal is a Patna-based writer specialising in art, culture and human interest stories)
Also Read: How Barmer's NGO Fifty Villagers is helping underprivileged students become doctors