In November 2019, students from a cluster of under-resourced schools in Anekal, Bangalore, showcased models of windmills, hydroelectric power generation, eco-village and more at an event, called Tinkerer Mela, attended by their teachers, parents and other community members.
Two months before that, their teachers had exhibited their handmade teaching innovations, shifting education away from rote learning and chalk-and-talk to practical application and conversation.
Also Read: How free education became a passport to London and Rome varsities for underprivileged Kerala boys
The NGO's work has resulted in higher student enrolment at these schools besides increasing the involvement of their families in various activities.
Quality education
Providing quality education in under-resourced schools facing a crunch of financial, physical and human resources and poor learning outcomes is a challenge across India. It was to address such systemic issues that Bengaluru-based Santosh More along with Khushboo Awasthi started Mantra4Change in 2013 to bring about a qualitative change in education.
Also Read: How i-Saksham's young education leaders are driving change in Bihar's most backward districts
"We realised that education is the key to bring about a transformation in an individual's life that can help break the cycle of intergenerational poverty. That propelled Khusboo and me towards the social sector," says Santosh, who worked from 2006 to 2009 as a software engineer with Infosys.
They share resources between schools for optimum utilisation of physical and human resources.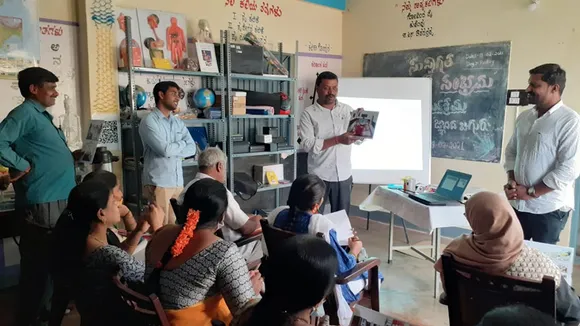 "We focus on developing the core competencies of teachers in three to five sessions spread over a month," says Rizwana, a block resource person at Mantra4Change.
Also Read: Bharti Foundation provides zero-cost education to over 40,000 underprivileged kids
The NGO also helped teachers tide over the challenges of online teaching during the pandemic by providing them with laptops and projectors, she points out.
Mantra4Change works with two types of under-resourced schools. One, the low-budget private schools where the fee is around Rs1000-Rs 1500 a month and two, schools in the public education system, Santosh says.
"In Karnataka, we are doing only prototypes; so we are present in one block and Tumkur district," he adds.
An important aim is to check high school dropout rate, which stood at 17 percent at the secondary school level in India, as per the 2019-20 report by Unified District Information System for Education (UDISE).
Also Read: How Barmer's NGO Fifty Villagers is helping underprivileged students become doctors
"The first major dropouts happen at the end of grade 8 when the child doesn't perform well in school and the parents find no point for them to continue, which we don't subscribe to because we believe that every child has a potential," says Santosh.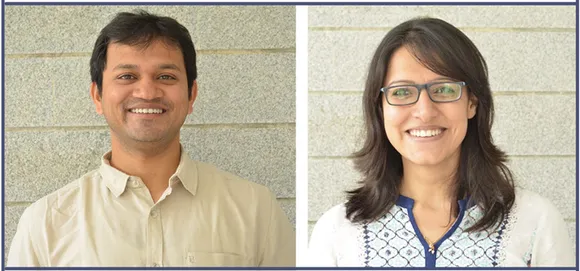 Another reason is that many children, especially during the pandemic, are getting married at an early age. Marriage of girl children during the pandemic has increased, says Santosh who entered the education sector by securing a Teach for India Fellowship in 2009.
Thereafter, he worked with the Bengaluru-based NGO Janaagraha before co-founding Mantra4Change with Khusboo, who has masters from the Tata Institute of Social Sciences, Mumbai. 
Also Read: How Bihar's Lahanti Club is preserving Santhali culture
Cracking the school education system
"We started with the idea that quality education is the right of every child. But to ensure that it is available on a large scale, we need to work with the system. In the initial phases, we tried to understand the education system right from the block to the district and state levels. We started work with two schools in Bangalore," says Santosh.
Also Read: Gyanada: where children from Mumbai's slums code, compute and create apps
"We work within the system because if we try to bring change, it will be short-lived but if we work with actors in the system, they can design their own change solutions," he adds.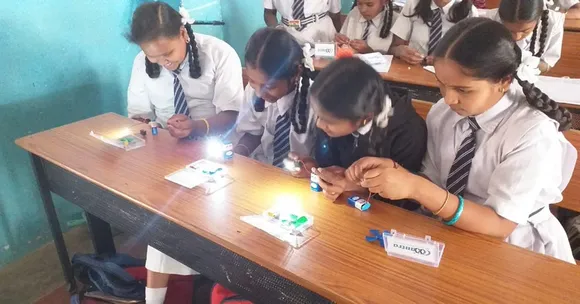 So Mantra4Change tries to disseminate the ability among the stakeholders to solve problems. "And that, I would say, is where Mantra4Change stands out," says Santosh.
Also Read: Lockdown: Kashmir's teachers run open-air classrooms as Internet ban rules out online education
The projects of change
Mantra4Change has several projects to bring about change at the grassroots level. School Transformation and Empowerment Project (STEP) works with school leaders, teachers, students and the community to improve learning, attendance and results in under-resourced schools over a period of two years.
In 2017, the Project for Active Cluster Engagement (PACE) was started that looked at education clusters or administrative units comprising 10-15 schools, creating a platform for teachers to work together and share resources and competencies. This had enhanced the quality of all the schools in a cluster.
Also Read: Kerala: How Sobha's CSR arm shifted underprivileged students to online education
While STEP and PACE are prototype programmes, Systemic Transformation for Resilience, Innovation, and Developing Education Ecosystem (STRIDE) is its state programme.
STRIDE involves designing interventions for education with the government and developing partnerships with civil society organisations. They leverage technology platforms, enable data-driven decision making and increase the reusability of assets to offer solutions.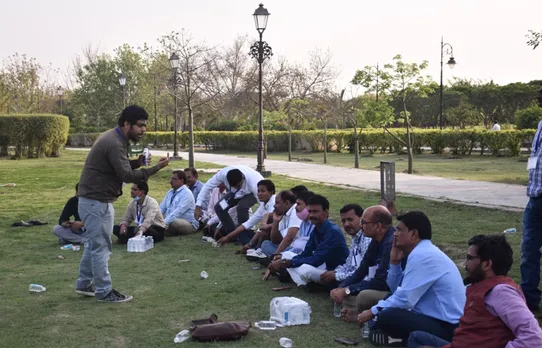 Apart from these programmes, Mantra also trains teachers, focusing both on pedagogy and content.
"We learnt a lot from Azim Premji University on how to create more effective content that could be given to the teachers. And they should be able to then design and develop their own way of teaching," he says.
Also Read: Abha Kunj: Zero-cost education gives a better future to Indore's underprivileged kids
Teachers are always in a rush to finish the curriculum.
For the public good
Most of Mantra4Change's programmes are on DIKSHA (Digital Infrastructure for School Education), which is an initiative of the National Council of Educational Research and Training (NCERT).
This helps meet the requirements of scalability.
"We also try to identify and incubate more organisations that can work within their geographies on systemic issues," he adds.
Also Read: Sakhi for Girls' Education: 100% pass, zero dropouts among girls in Mumbai slums
Their EduMentem programme identifies, incubates and trains organisations and gets them to understand education transformation. Mantra then works with those organisations for three years so that they can improve the education systems in their respective geographies.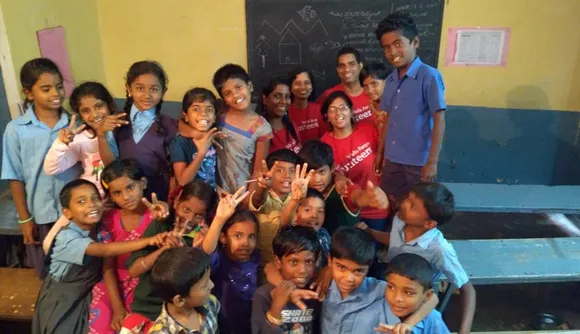 Partnerships all the way
Rucha Pande, Chief Operating Officer, Mantra4Change, says: "We engage with stakeholders in the field - whether that's a school, or a state education department; planning and designing programmes or developing new ideas, and engaging in cross-learning - both within the organisation as well as outside."
For funding, Mantra4Change sends out proposals to organisations and looks out for people who would like to invest in their work.
"Through our work, we have not only seen an improvement in certain practices like supporting teachers and involving the community but also how stakeholders reclaim their agency, feel more confident and recognise their potential. And that is the true impact - when all of us feel empowered to care about our children, and supported enough to do something for them," she says.
(Sravasti Datta is a Bengaluru-based independent journalist, who writes art, culture and human interest stories)
Also Read: Listening, teaching & inspiring: How Chennai's TQI is mentoring students in 30 districts