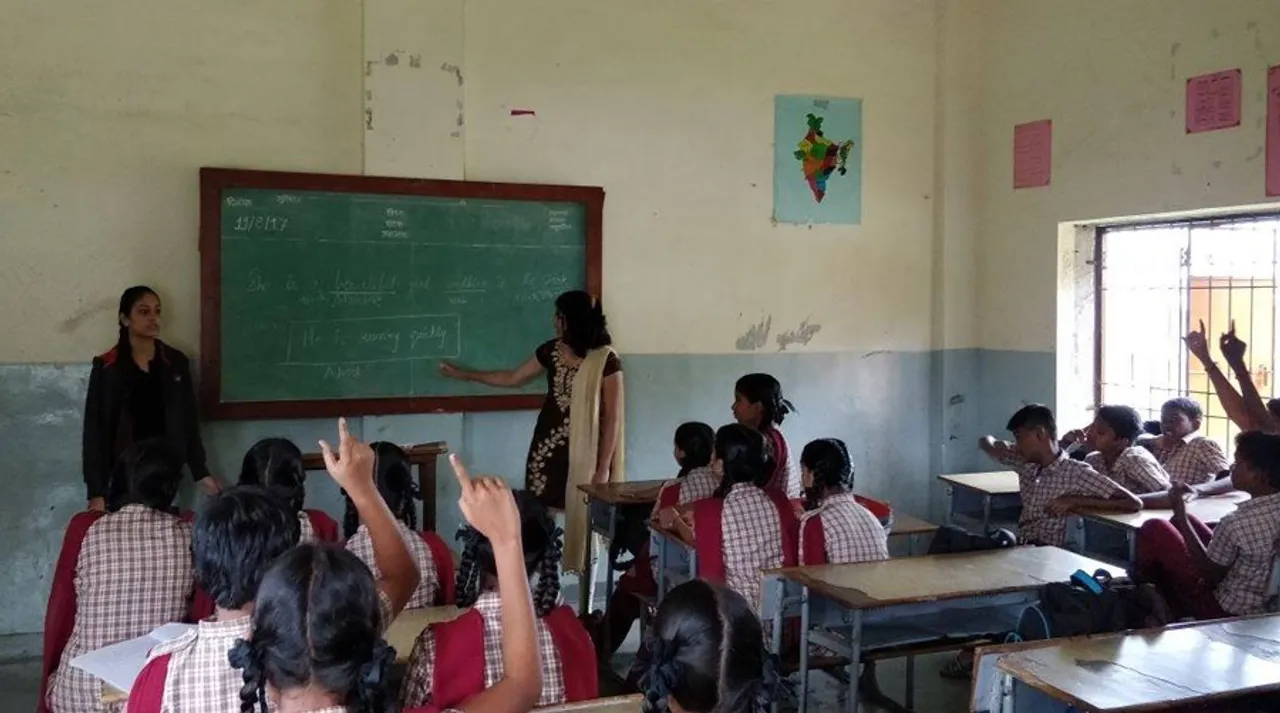 When G. Ramasubramaniam was in class 12, a company conducted a coding competition at his school in Chennai. One of his friends, who was participating in the competition, would call Ram often to share his joy after getting a code right. And he would also call Ram whenever he felt low. After two months of hard work, his friend won the competition and went on to compete at the national level. 
At the end of the academic year, he took Ram home and introduced him to his mother, saying: "Mom, this is Ram, who was and will be responsible for my win." That set Ram thinking.
Just a couple of months later, he visited the government school in his village where his mother taught. He asked the young students about their dreams. "When I was leaving, kids came running, saying 'Ram anna, we want your autograph'."
Also Read: How Barmer's NGO Fifty Villagers is helping underprivileged students become doctors
From listening to volunteering
That incident yet again underscored the fact that the youth wanted to be heard, wanted to share their dreams and aspirations. "What had I done to turn my signature into autograph – just listened," says Ram, who currently works with a software firm in Bengaluru. 
The habit of listening to others stayed with him even during his college years, where he would often connect with people and hear them out. Over time, he realised that most people faced two similar problems – spoken English and stage fear.
To address this, he joined hands with college friends S.S Kandavel and Madhusudhan Balasubramaniam to design their very first project named Express. They created a gamified module, which included news reading, movie dialogues translation and acting to boost spoken English skills. That was the beginning. 
Also Read: Sakhi for Girls' Education: 100% pass, zero dropouts among girls in Mumbai slums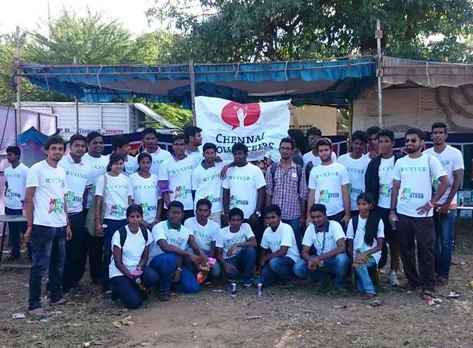 The network of Express volunteers and participants grew organically and in 2010, Talent Quest for India (TQI) Trust was born. TQI, a Chennai-based non-profit, is a team of youth volunteers who work towards creating socially responsible leaders. 
"We have catered to over 30,000 students, engaging 3,000 youth leaders to deliver holistic development and social awareness programmes. Recently, we formed a team in Haryana," says Ram, founder and chief listening officer at TQI.
During the Covid19 pandemic, when most of the school-going kids began online classes, those who had no access to the internet or smartphones were left out. TQI then started the Express Phone Mentoring programme that connects college students with these underprivileged kids.
Also Read: How i-Saksham's young education leaders are driving change in Bihar's most backward districts
The volunteers offer half-an-hour one-on-one sessions to these students for a month. Starting with 15 students, the programme has now reached 800 children being trained by volunteers from 150 colleges.
Each morning, children eagerly wait for a phone call from their mentor, who teaches them new words, tells stories, and engages them in educational activities.
Mentoring for success
Phone mentoring, however, is a small part of TQI's initiatives that are transforming both young college students and underprivileged kids through volunteering, trusting them with responsibilities, mentoring, and most importantly listening to them.
Also Read: Bharti Foundation provides zero-cost education to over 40,000 underprivileged kids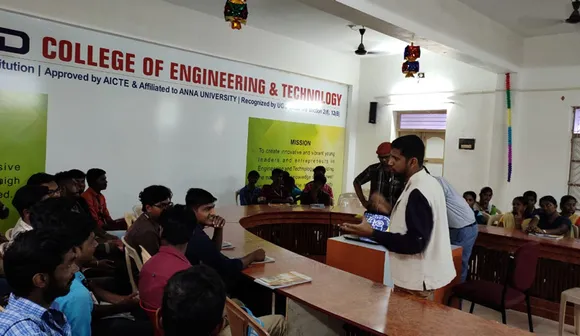 The core values of TQI include non-judgmental listening, appreciating talent, sharing knowledge without prejudice, and spreading smiles. 
TQI volunteers in districts approach principals in schools and apprise them about the various activities that can be conducted for students. Once the school agrees, the volunteers create teams; they pick projects based on their niche and conduct workshops, activities, seminars, debates, competitions focused on an event or a cause like mental health, hunger, water conservation, etc.
Also Read: Gyanada: where children from Mumbai's slums code, compute and create apps
The volunteers develop skills like leadership, collaboration and soft skills that they further impart to school kids from class 6 to 12. Yeshwanth Rajan, 23, who works as a project manager says, "I got to know about TQI from my seniors. After working on a few projects, the core team contacted me to manage bigger projects. They believed in me and now I am invited as chief guest in top colleges. It's a different feeling."
TQI has been running several projects including Express, Express Phone Mentoring, Ullas, Daan Utsav, Chhote Scientists, Kanaa, and One Year One Cause.
TQI trains its volunteers to conduct science workshops, educate young kids about different career options, and scholarships available. They host learn-o-thons where they train their volunteers on social and entrepreneurial skills, resume writing, updating LinkedIn profiles.
Also Read: How free education became a passport to London and Rome varsities for underprivileged Kerala boys
The team ensures that people are sensitized about the causes and they together build a better society.
Changing lives
"TQI's vision is to commemorate true volunteering skill and prove that it can bring about a huge impact through very small steps that don't necessarily involve money transactions," says Ram.
He recently started a business and has been associated with TQI for the past four years. "It might sound like a joke that TQI helped me a lot in different phases of life. Having no IT knowledge, since I studied civil engineering, I spent 20 minutes speaking about TQI in a job interview at Infosys, bagging the position," he adds.
Also Read: Lockdown: Kashmir's teachers run open-air classrooms as Internet ban rules out online education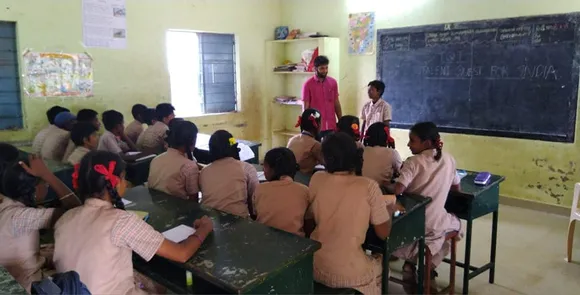 TQI has a decentralised structure where each volunteer is a leader. The volunteers make their teams in the district and report the developments to the zonal head who further updates the project managers. All of them are college students with different seniority levels. The project managers update the core team about the activities conducted on the ground.
Ashla Selvam, 21, who studies at PSG college of arts and science, Coimbatore, and handles social media for TQI, says the work has made her better organised. "We follow a timetable and are allowed to work at our pace. Working for TQI never felt like work; it makes me happy and there's no pressure," she says.
Also Read: Kerala: How Sobha's CSR arm shifted underprivileged students to online education
The operating cost for TQI is zero. However, travelling expenses or other financial requirements for hosting events or activities are met through crowdfunding. The majority of funds are donated by the core team members who have full-time jobs.
The accolades added to TQI's portfolio include United Nations V-Awards India (2019), REX Karmaveer Chakra award instituted by ICONGO in partnership with the United Nations.
(Rishika Agarwal is a Patna-based writer specialising in art, culture and human interest stories)
Also Read: Abha Kunj: Zero-cost education gives a better future to Indore's underprivileged kids